Predicting the Biggest Flops of the 2012-13 NBA Offseason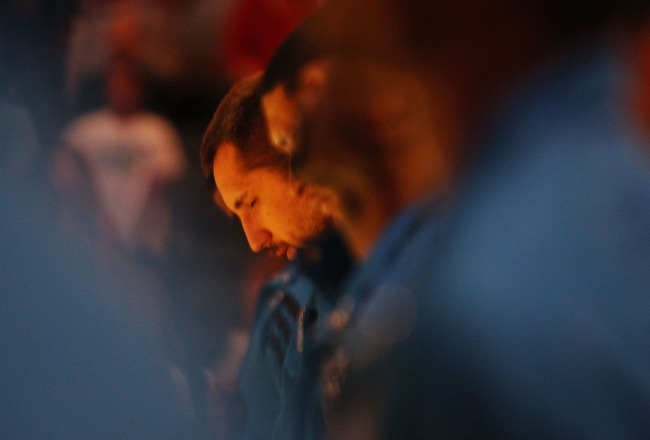 Marc Serota/Getty Images
The Summer of 2012 will be remembered for quite some time. Superstars found Los Angeles, All-Stars moved all across the country and the Miami Heat became an even more dangerous team to face. Regardless of where you looked, teams improved and the landscape of the NBA shifted.
Not all is right in the world, though. A solid number of the offseason moves that we've been speaking of won't work out as planned.
Whether a player was overpaid or simply placed in the wrong situation, there is room for failure for quite a few NBA ballers. Some are big names, while others are simply being held with high expectations for what is to come in 2013.
So who won't pan out? For that answer and more, shift your eyes to the following slides!
Ryan Anderson, New Orleans Hornets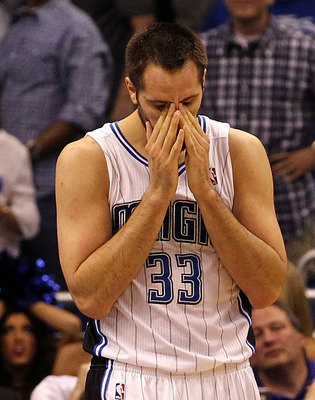 Sam Greenwood/Getty Images
Position: Power Forward
Age: 24
Experience: 4 Seasons
When Ryan Anderson won the 2012 Most Improved Player of the Year, he instantly became a top choice for the label of next big thing. Unfortunately, Anderson proved to be something else when Dwight Howard went down with an injury.
A glorified role player.
This is not to suggest that the former California Bear cannot thrive in New Orleans. He's one of the game's best shooters and is a much better rebounder than he's given credit for.
Unfortunately, he's also overwhelmingly weak off of the dribble.
As Anderson arrives in New Orleans, that could be a serious anchor on his abilities. No longer will he have an overwhelming power in the paint on offense. As a result, he will be the number one focal point of opposing interior defenses.
A task that he has not proven capable of handling.
For that reason, it's difficult to project anything but a struggle for Ryan Anderson during the 2012-13 NBA season. Eric Gordon is a dynamic scorer who should be able to take some of the pressure off of Anderson, but the defensive attention he faces will be too much for him to handle.
A turnaround in 2013-14 could come. During his first year in New Orleans, however, a serious drop in production is set to transpire.
2011-12 Season Averages
21.23 PER, 16.1 PPG, 7.7 RPG, 0.8 SPG, 39.3% 3PT
Omer Asik, Houston Rockets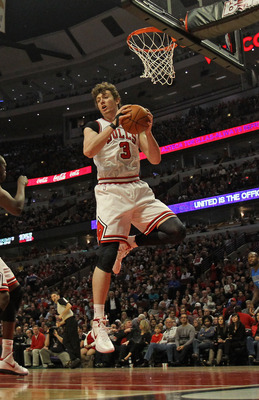 Jonathan Daniel/Getty Images
Position: Center
Age: 26
Experience: 2 Seasons
Omer Asik is a defensive-minded center with outstanding energy and a consistently infectious effort. He's active on the glass, a very talented shot blocker and has 21 games of postseason experience in his two year career.
Unfortunately, Asik is expected to be the Houston Rockets' starting center. This comes just one season after he averaged a mere 14.7 minutes per game.
As Asik makes the move to Houston, it's difficult to justify the $25.1 million he's receiving over the next three years. It's also easy to label Asik as a potential bust with the Rockets expecting him to go from a scarcely used role player to an NBA-caliber starter in the span of one season.
Quite the unfair situation for a player whose talents are undeserving of any negative recognition.
Over the next three seasons, Asik will be labeled as one of the most overpaid players in the league. His contributions will be welcomed, however, as his rebounding and defending skills will play well behind an offensive-minded group of perimeter players.
Reputation will not dictate the caliber player in this instance.
2011-12 Season Averages
13.44 PER, 14.7 MPG, 3.1 PPG, 5.3 RPG, 1.0 BPG
Nicolas Batum, Portland Trail Blazers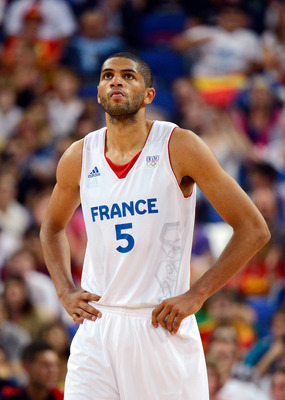 Ronald Martinez/Getty Images
Position: Small Forward
Age: 23
Experience: 4 Seasons
When you observe a Portland Trail Blazers box score, one of the names that jumps off of the paper is Nicolas Batum. His contributions are limitless, as he finds a way to stuff a stat sheet from one end to the other.
Unfortunately, Batum isn't being paid to be average in every category. He was handed a max contract because of what many believe to be star potential.
At some point, however, the word potential begins to lose it's value.
Nicolas Batum may only be 23, but he's also entering his fifth year in the league. Through that time, he has proven to be a fundamentally raw player whose defensive upside is far higher than his actual contributions.
For all of that length and athleticism comes poor footwork and a tendency to bite on ball fakes.
So will Nicolas Batum respond to the Portland Trail Blazers' leap of faith by making the leap to elite? Unfortunately, the answer is no. At least not during the 2012-13 NBA regular season.
The Portland Trail Blazers remain a team surrounded by uncertainty. With a new head coach and a rookie point guard, there is no telling how the offense will flow. With Batum coming off of a very disappointing London Olympics, there's also no telling whether or not he has progressed.
Until proven otherwise, your best bet is to assume he hasn't.
2011-12 Season Averages
17.32 PER, 13.9 PPG, 4.6 RPG, 1.4 APG, 1.0 BPG, 1.0 SPG, 39.1% 3PT
Landry Fields, Toronto Raptors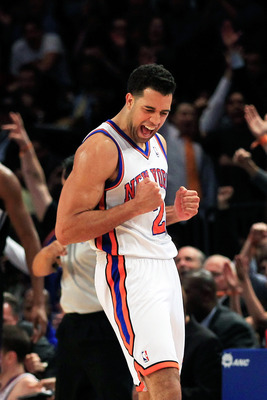 Chris Trotman/Getty Images
Position: Guard/Forward
Age: 24
Experience: 2 Seasons
Contrary to popular belief, Landry Fields is a perfect fit for the Toronto Raptors. His defensive-minded approach is met by great size and length on the perimeter.
Unfortunately, Fields is not being paid like a welcomed role player. He's receiving greater than $18 million over three years to be a starter who contributes second tier quality minutes.
This is not to say that Fields is not capable of such a season-long performance. He's a hard-working player who is almost always in on a play while on the defensive end of things. He's also an inconsistent shooter that never knows when not to pull the trigger.
Not exactly what the Toronto Raptors need when their defense is elite but offense inconsistent.
Should he right these wrongs, Fields could pull his own name off of this list. The fact of the matter is, he has not proven worthy of the money he is receiving. Instead, he's proven to be more of a role player whose statistics are inflated by a high amount of minutes.
Fields is simply a victim of monetary desire. As a result, he's destined to become one of the year's true flops.
2011-12 Season Averages
12.07 PER, 8.8 PPG, 4.2 RPG, 2.6 APG, 1.2 SPG
Wesley Johnson, Phoenix Suns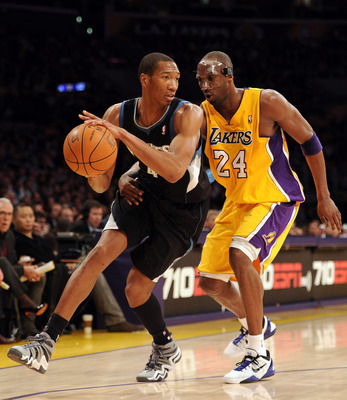 Harry How/Getty Images
Position: Shooting Guard
Age: 25
Experience: 2 Seasons
This past July, the Phoenix Suns completed a trade with the Minnesota Timberwolves and New Orleans Hornets. In doing so, they cleared a significant amount of cap space and acquired Wesley Johnson.
The instant reaction to this move was that Johnson was entering a situation in which he could finally find his stride. As loyal fans always do, supporters around Phoenix came out and claimed that this move could go down as one of the steals of the offseason.
Apologies for my pessimism, Suns fans, but that just isn't going to happen.
Wesley Johnson is too slow to defend the average shooting guard. He's also too frail to play small forward. For that reason, the position-less Syracuse alum is bound to struggle as he shifts his play to Phoenix.
Quite frankly, it's difficult to comprehend why Suns fans have high hopes for Johnson. He'll be working alongside former Minnesota Timberwolves teammate Michael Beasley, so a change of scenery isn't exactly in the works.
The same player who he's struggled to build chemistry with for two years will be right beside him for a third year of struggling.
Although it's difficult to label the Suns' trade as a poor one, the player they received should have tempered expectations. He's not in the best situation for his abilities and, to put it simply, nothing has changed from a year ago.
Wesley Johnson will, once again, disappoint in 2012-13.
2011-12 Season Averages
8.08 PER, 6.0 PPG, 2.7 RPG, 0.7 BPG, 39.8% FG
Jason Kidd, New York Knicks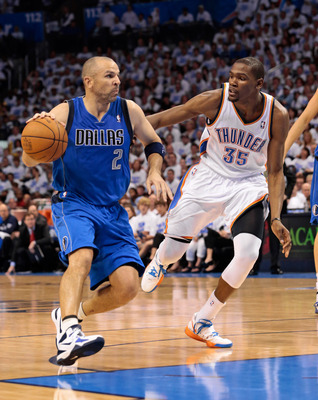 Brett Deering/Getty Images
Position: Point Guard
Age: 39
Experience: 18 Seasons
Jason Kidd is one of the greatest point guards to ever grace the NBA. He's Top 10 all-time in assists, steals and three-point field goals. Kidd is also a former NBA champion, 10-time All-Star and has led the NBA in assists in five different seasons.
Just because he's a legend, however, does not mean that he is safe from placement on this list.
Jason Kidd is coming off of the worst season of his career. His 13.11 Player Efficiency Rating had him ranked 47th amongst point guards. It also marked the second consecutive season in which his PER declined.
His average of 5.5 assists per game was the lowest mark of his illustrious 18-year career. His previous low was 7.7 during his rookie year.
The common argument on behalf of this signing is that it will improve the quality of the young players around him. With Jeremy Lin gone and his fellow point guards with a surplus of experience, the New York Knicks have lost that value.
Even if Pablo Prigioni is a rookie, the 35-year-old has been torching Team USA for roughly a decade.
The fact of the matter is, Jason Kidd isn't even expected to beat out Raymond Felton for the starting job. Instead, he's considered to be a role player whose veteran experience will change the Knicks forever.
With his efficiency down and the quality of his minutes dwindling, however, Jason Kidd's name appears to be outweighing his value.
2011-12 Season Averages
13.11 PER, 6.2 PPG, 5.5 APG, 4.1 RPG, 1.7 SPG
Lamar Odom, Los Angeles Clippers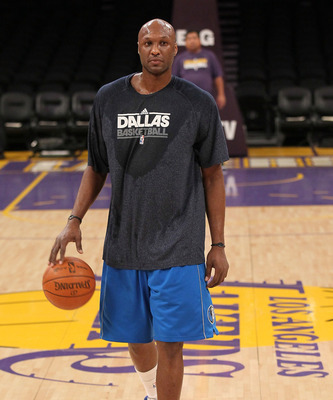 Stephen Dunn/Getty Images
Position: Forward
Age: 32
Experience: 13 Seasons
Optimism was the instant result when the Los Angeles Clippers acquired Lamar Odom via the Dallas Mavericks. Despite his horrific 2011-12 NBA season, fans instantly jumped on the bandwagon and labeled him as a potential contender for comeback player of the year.
Although he will be a name involved in the voting process, it will not be due to his quality play. It will be a result of the fact that he can only possibly go up from where he was a season ago.
The biggest reason that Lamar Odom will fall short of the greatness he's expected to achieve is the role he's being placed in. Odom may take on the offensive duties that he's accustomed to, but fans have mistaken his statistical achievements for being sound in certain areas.
For instance, the fact that many believe him to become the team's undersized center. More importantly, how the team projects him to be one of their lead interior defenders.
With his length and underrated lateral quickness, it's not hard to see why Lamar Odom is believed to be a quality defender. The fact of the matter is, Odom has never thrived when placed in the paint to defend a post-up scorer.
The skill remains and the upside is there. Due to his role and fragile mentality, however, Lamar Odom will fall short of lofty expectations.
2011-12 Season Averages
9.26 PER, 6.6 PPG, 4.2 RPG, 1.7 APG, 0.4 BPG, 0.4 SPG, 35.2% FG
Keep Reading