New York Yankees vs. Toronto Blue Jays September 19-20 Series Preview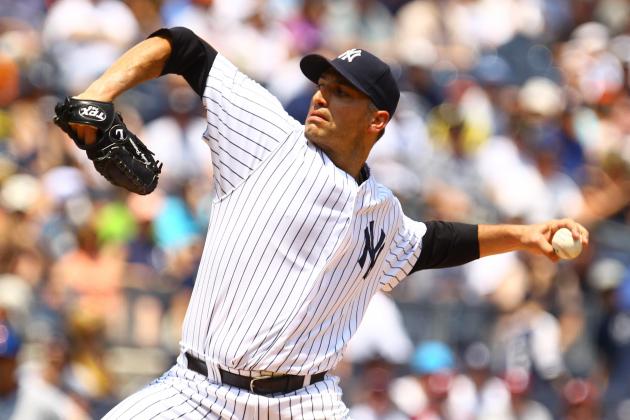 Al Bello/Getty Images
Andy Pettitte returns from the disabled list to make the series opening start today against Toronto.
The Toronto Blue Jays are a big part of what stands between the New York Yankees and another American League East division title. The Yankees will try and dispatch their division mates to the north en route to another postseason and they'll get help from an old friend who returns to start this afternoon at Yankee Stadium.
The Yankees are 6-5 against a weak Toronto team this season, with seven games left in the season series. The Blue Jays come in with nothing to play for other than personal pride and the chance to give their fans something to cheer about by putting a dent in the Yankees' postseason hopes.
Toronto will trot out two left-handed pitchers against New York, hoping to see see the Yankees' weaker "B" lineup that is filled with hitters the likes of Steve Pearce and Andruw Jones. The Yankees have mostly struggled against southpaws over the last two months, as evident by their weak performance against Felix Doubront at Fenway last week.
The Bombers rebounded nicely on Sunday at the Stadium by destroying highly-touted Tampa Bay lefty, Matt Moore, frustrating him through three innings and even agitating the young fireballer into throwing at Curtis Granderson's head.
Toronto, like all of the AL East teams, have been greatly impacted by injuries and it's shown in their record. Toronto has been without star Jose Bautista since late August, though Bautista has played only six games in the 2nd half of the season. Bautista injured his left wrist while at the plate on a swing back in mid-July against New York.
Brett Lawrie, Adam Lind and JP Arencibia have all missed large stretches of time during the second half of the season, eliminating the Jays from playoff contention for a 19th consecutive season.
Toronto is hobbling to the end of the season and their pitching staff is practically praying things will end. Toronto ace Ricky Romero has endured a disastrous 2012 after getting off to a very nice start in his first three MLB seasons. Henderson Alvarez, Wednesday afternoon's starter, has been up-and-down of late, showing the inconsistency of a young starter.
Yet for all of Toronto's faults, they're still incredibly fifth in the majors in home runs. The Yankees should not take them for granted, particularly big sluggers like Edwin Encarnacion, Brett Lawrie and Colby Rasumus.
The Yankees are hoping to pounce on their prey and beat down the Jays at the Stadium continuing to build on the last two series victories. Curtis Granderson, Russell Martin and Alex Rodriguez have come alive for the Yankees at the right time as they near another AL East division crown.
The Yankees are hoping to gain ground on Baltimore and Tampa and find a late season surge while Toronto is playing out their slate of games looking to see what players may be contributors or starters for their squad in 2013.
Here is an offensive tale of the tape and a breakdown of the pitching match-ups:
By the Numbers (Major League rank through games played on September 18th):
Team OPS (On Base + Slugging Percentage):
Yankees: 2nd
Blue Jays: 19th
Team Home Runs:
Yankees: 1st
Blue Jays: 5th
Runs Scored:
Yankees: 2nd
Blue Jays: 11th
Batting Average:
Yankees: 11th
Blue Jays: 25th
Batting Average with Runners in Scoring Position (RISP):
Yankees: 19th
Blue Jays: 9th

Top Hitters:
Yankees: Robinson Cano (.300 BA, .911 OPS, 30 HR, 77 RBI); Derek Jeter (.323 BA, .810 OPS, 15 HR, 55 RBI, *leads MLB in hits); Curtis Granderson (.235 BA, .816 OPS, 39 HR, 92 RBI)
Blue Jays: Edwin Encarnacion (.279 BA, .947 OPS, 40 HR, 102 RBI); Brett Lawrie (.278 BA, .733 OPS, 9 HR, 43 RBI); Colby Rasmus (.231 BA, .712 OPS, 22 HR, 73 RBI)
Begin Slideshow

»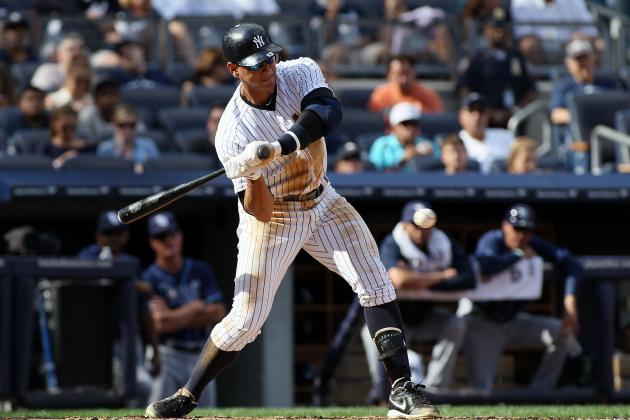 Alex Trautwig/Getty Images
Alex Rodriguez is coming up big of late for the Bombers.
Russell Martin remains hot for the Yankees and his huge three-run homer on Sunday afternoon proved the difference in the Yankees energizing 6-4 victory over the Rays. Alex Rodriguez is also consistently putting together a fine month of September.
A-Rod is 7-for-20 over his last five games with one homer and six RBI. It's been A-Rod's ability to drive in runs via the base hit and sacrifice fly that is helping the Yankees to get extra runs they often were not getting during their skid in August and early September.
Curtis Granderson has five home runs in his last seven games and is finally finding the power that the Yankees have come to expect from their 31-year old star. Derek Jeter continues to fight through a pesky bone bruise on his left ankle and is shining brightly in September with a 12-game hit streak, including seven multi-hit games over that stretch.
David Robertson and Rafael Soriano have been downright dominant over their last three appearances, playing a big role in closing out games in Tampa and Boston. The Yankees have come to heavily rely on their eighth and ninth inning studs over this year and God knows where the Bombers would be without them.
For Toronto, it would be remiss to overlook the season that Edwin Encarnacion is putting together. His 40 home runs are tied for second-most in the majors and he has two bombs in his last three games. Encarnacion has flat-out been one of the best hitters in baseball this season. He's currently third in the AL in OPS.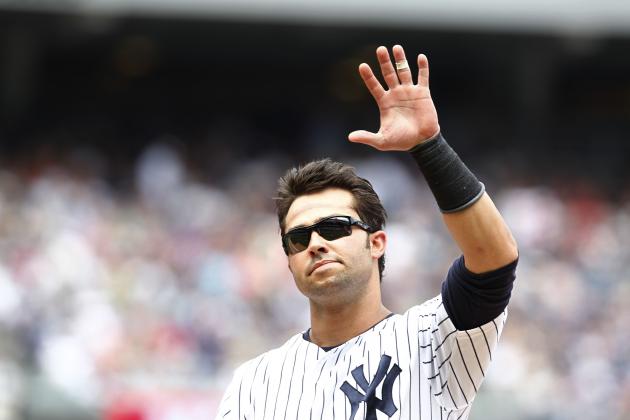 Jeff Zelevansky/Getty Images
Nick Swisher may soon be waving goodbye to the Bronx and hopes to do so on a hitting tear. He'll need to get hot.
Yunel Escobar has had a disappointing season and now things off the field have made it even worse. Escobar was suspended by MLB for three games for putting a gay slur on his eye black during last Saturday's game against Boston. Completely unacceptable.
Kelly Johnson has also had a very mediocre season north of the border. Johnson once looked primed to have a promising career, demonstrating loads of power from the second base position and speed as well. Johnson is hitting a lousy .222 on the season and will likely be gone once the season is over.
Nick Swisher is hitless in his last four games as he continues a miserable month of September in Yankee pinstripes. Swisher has a meager .420 OPS this month and, if in fact this is his last hurrah with the Bombers, he needs to turn things around and quickly if he wants to leave on a good note.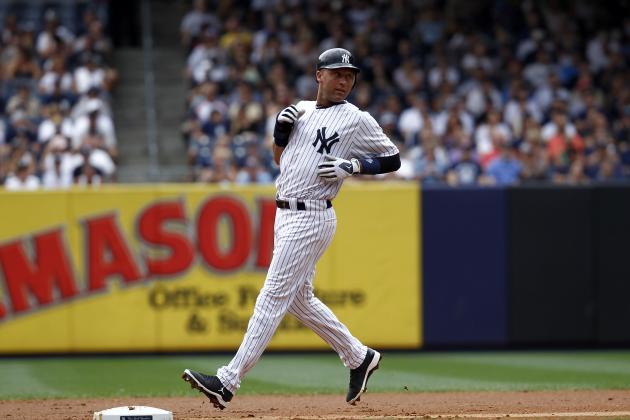 Jeff Zelevansky/Getty Images
Derek Jeter won't let the Yankees fail.
The Yankees entered Tuesday night's play with a mere half-game lead over the feisty Baltimore Orioles and the opportunity to take advantage of a beleaguered Toronto squad that has been weakened by injury. The Yankees, on the other hand, have Pettitte and Ivan Nova back and look to be getting healthy at the right time.
The Yankees absolutely need to win a series like this and, while their approach should be one game at a time, they realistically can win all three games. Pettitte, Hughes and Sabathia are a formidable three pitchers to trot out and the Bombers lineup will face three pitchers having mediocre seasons.
Edwin Encarnacion is one of the top hitters in baseball and his home run hitting prowess this season has been on display for all, including the Bombers. The Yankees must avoid contact with him at all costs and let Blue Jays like Adam Lind or Moises Sierra beat them.
Baltimore has two more games on the west coast in Seattle, one of which will come against one of the top pitchers in the game, Felix Hernandez. By late Thursday evening, it's reasonable to believe the Yankee could have a two game lead in the division if they can produce at the plate and on the mound.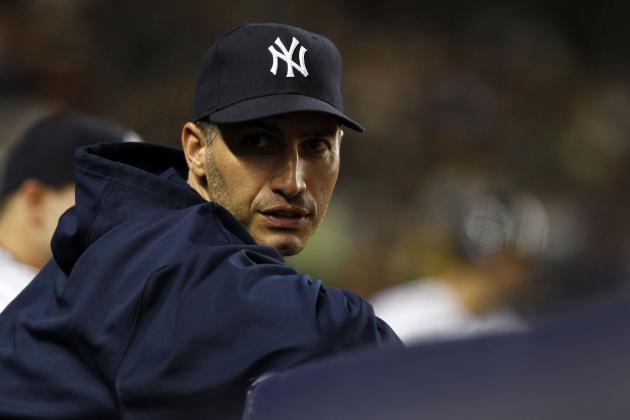 Jeff Zelevansky/Getty Images
The Yankees Universe turns their lonely eyes to you, Andy Pettitte.
Wednesday September 19th, 1:05pm
This afternoon's game has the feel of being all about Andy Pettitte as the baseball world's eyes will turn to the Bronx to see if the big lefty with the Texas drawl still has more bullets in his arsenal. While Pettitte may only throw pitches, the reality is that the Yankees' expectations will still be very high.
Pettitte appears healthy and many fans will be on the edge of their seats hoping that he has fully healed from his broken fibula suffered in late June against Cleveland. Of nearly equal importance, every game means a ton right now for New York. Pettitte's next four starts will go a long way toward determining the Yankees 2012 season fate.
The Yankees face their lone right-handed pitcher in this series in Henderson Alvarez who—at 22 years-old in his first full major league season—has pitched to a 4.91 ERA in 168 and two-thirds innings pitched. Alvarez has one of the highest ground ball-to fly ball ratios in the majors and pitches to contact.
The Yankees will need to wait him out and get his pitch count up as Alvarez has walked 51 batters on the season.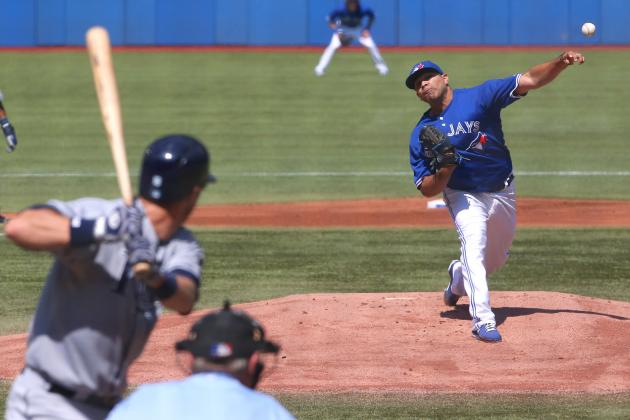 Tom Szczerbowski/Getty Images
The Yankees hope to pounce on Ricky Romero early.
Wednesday September 19th, 7:05pm
Ricky Romero is having an uncharacteristically poor season. Only 27 years old, the lefty from Los Angeles has gotten rocked over four of his last six outings. Incredibly, the two games during that stretch that he's pitched well have both come against the Yankees.
Romero has surrendered five earned runs over 14 innings in his last two starts against the Yankees (both Yankee wins) and has given the Blue Jays a chance to win. His live fastball and change-up have helped to keep the Yankees' hitters off-balance.
Stop me if you've heard this one before: David Phelps is suddenly back in the rotation—again. Due to the rain out on Tuesday night, Phelps will make his 10th start of the season and hope to build off a very successful five and two-thirds innings against Boston last week.
Phelps actually came into get two key outs during the seventh inning of the Yankees 6-4 victory on Sunday over Tampa Bay. Phelps has certainly rolled with the punches this year and done nearly everything the Yankees have asked of him. He deserves an opportunity to make the starting rotation in 2013.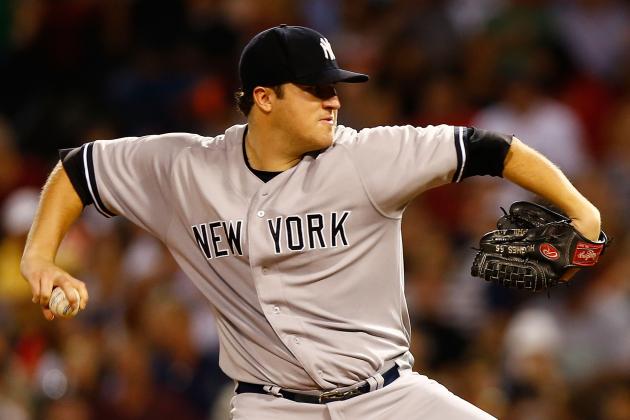 Jared Wickerham/Getty Images
Phil Hughes has been dealing for the Bombers and hopes to continue his winning ways.
Thursday September 20th, 7:05pm
The Yankees finish off this three-game set hoping to sweep Toronto and will rely on the red-hot Phil Hughes to deliver the goods. Hughes is back under a 4.00 ERA and has won three of his last four games. Hughes pitched one of his best games of the season last week in Boston, striking out seven and allowing no runs over seven and one-third innings.
Former Yankee Aaron Laffey—yes Laffey actually made appearances in 11 games for the Bombers in 2011— takes the mound for Toronto hoping to throw five innings for the first time in nearly a month. Laffey has started 13 games for Toronto this season and may be pitching for a chance to start games for the Jays next season or elsewhere.