L.A. Lakers Disaster Plan for a Season-Ending Injury to Any of Their Big Star 4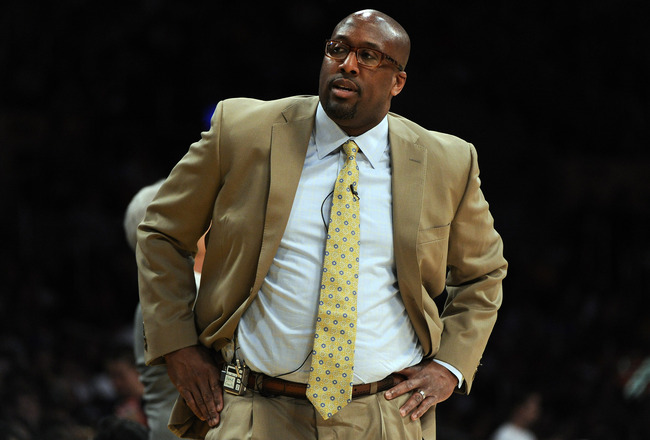 Should an injury occur, Mike Brown will have some tough decisions to make.
Harry How/Getty Images
The Lakers have set themselves up to be one of the few NBA powerhouses heading into next season.
Adding Dwight Howard and Steve Nash to a starting lineup that already possessed Kobe Bryant and Pau Gasol created a foursome of unique quality that's rarely seen in the NBA. Add to them an upgraded bench and returning veterans sure to be more comfortable in Mike Brown's schemes and the Lakers are, indeed, a super team ready to contend for the championship.
However, despite the strengths of this team there's always a need to put contingencies in place. Over the course of a long, grueling NBA campaign things often go wrong. And, typically, it's the team that can overcome their hardships the best that end up on top.
This is especially true when it comes to injuries.
This last season provides multiple examples, but let's quickly zoom in on the Miami Heat and the Chicago Bulls. The former survived an injury to Chris Bosh in the middle of their playoff run by changing gears and going small—ultimately prevailing to win the Championship. The latter suffered an injury to Derrick Rose, never recovered and found themselves bounced out of the first round.
Granted, there were other circumstances at play (not to mention one of those players came back to help his team), but the larger point remains: teams need to be able to overcome injuries if they're to survive in the NBA. While losing a player of mass importance has catastrophe written all over it, the team that can find a workable solution is usually the one standing at the end of the day.
So, while no one wants to focus on what can go wrong, it's important that coaches around the league have contingencies in place to deal with these scenarios. That includes Mike Brown when looking at his roster of high profile veterans.
What would the Lakers do if they lost one of their big 4 to injury? Let's explore...
Dwight Howard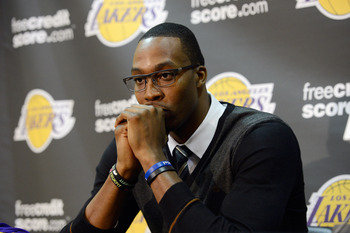 Kevork Djansezian/Getty Images
Mike Brown and his team will get a sneak preview of what it's like without their new franchise center when training camp opens and Howard is still rehabbing his back.
In a way, then, we'll see first hand what the plan would be if Howard were unavailable to the team for the season's entirety.
First, of course, would be finding a starter to "replace" Howard.
By all accounts, Jordan Hill would be the man to step into the starting five in Dwight's absence. While Hill isn't anywhere near the player Howard is -- shocking, I know -- he is the best reserve big man who can come closest to approximating what Dwight brings to the floor each night.
Hill is a defensive minded big man who tirelessly attacks the glass at both ends of the floor.
Last season, in the games he played for the Lakers, his total rebound rate was only a point below Dwight's while is offensive rebound rate was an astonishing 19.7 (this translates to Hill grabbing one of every five available offensive rebounds while he was on the floor).
Defensively, Hill has good enough feet to hedge and recover when guarding the pick and roll while also possessing enough short area quickness to help off his man and challenge shots at the rim. Offensively, Hill possesses little utility outside of put backs and easy baskets his teammates set him up for, but the good part is that he rarely steps outside of this role to force the action on O.
Moving Hill into the starting lineup obviously affects the Lakers' big man rotation, but having Antawn Jamison in house certainly eases some concerns.
With Jamison's scoring punch the Lakers should still be able to put up points, though they'd certainly become more of a perimeter oriented team with Jamison soaking up so many minutes in Dwight's absence.
This efficiency downgrade would be concerning and the Lakers would have to severely adjust their style, likely relying more on Gasol post ups and two man actions with Kobe and Nash to make up for losing the game's premier big man.
In the end, losing Howard would be a huge blow, but the Lakers could find ways to compensate. Downgrading from Howard to any other player defensively would be an issue. but the combination of Hill and Gasol protecting the paint would be serviceable.
Losing Dwight's devastating pick and roll play and explosive finishing ability would hurt the offense, but a greater focus on Pau Gasol in the post and creativity between Nash and Kobe could help pick up the slack.
Steve Nash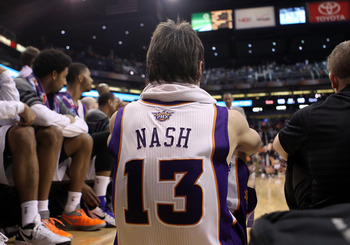 Christian Petersen/Getty Images
Steve Nash is the point guard upgrade the Lakers have long been looking for, so losing him would be a blow the team would struggle to overcome.
The Lakers have a fair amount of depth behind the former Sun, but none of those players are particularly talented and none possesses anything close to the game that Nash brings to the table.
The likely candidate to step into the starting lineup, should Nash not be available, is Steve Blake.
Blake has earned the trust of his teammates and Mike Brown by playing hard and mostly to his strengths. Blake rarely forces shots, tries to control the game's tempo, and understands his biggest role is to simply organize the Lakers' sets and provide an outlet as a spot up shooter.
The issue, however, is that Blake's shooting has been inconsistent as a Laker. His inability to make defenses pay while providing little offensive boost in other areas has made him mostly a liability on offense.
Yes, he can be a steadying hand when bringing the ball up and calling out the Lakers' sets but his inability to threaten the defense off the dribble and lack of dynamic play making ability for others means he's relegated to standing around the arc waiting for a spot up chance.
Beyond Blake, the Lakers options are Chris Duhon and Darius Morris, with one of them likely being pushed into the back up role to Blake were Nash to be shelved.
Duhon's shown, historically, that he can hit the three-point shot but the rest of his game is very similar to Blake's, and thus not a guy you want playing heavy minutes. Last season, Stan Van Gundy played Larry Hughes at point guard ahead of Duhon, so thrusting him onto the floor for next season's Lakers seems like a bad idea from the outset.
Morris is entering his second year and has flashed some promise, but still seems unready to be a steady contributor. He has good size and flashed a developing off the dribble attack game in Summer League this past July, but his lack of an outside shot means he has trouble getting defenders to respect him enough to open up driving angles.
In an open court style that didn't require him to spot up and hit jumpers, Morris could be a solid change of pace point guard. But, the Lakers haven't yet shown they're willing to play that style consistently and Mike Brown's not proven to be the type to hand the reins to a young player to run his second unit.
The result, then, of Nash being out would be an even greater reliance on Kobe to be a perimeter creator and do it all wing man while he was surrounded with players like Blake and Duhon.
They'd be relied upon to provide spacing by hitting shots while the Lakers bigs (and Kobe) tried to create a sustainable offense. This would look eerily similar to last season's Lakers only without Ramon Sessions. In other words, it wouldn't be pretty.
Pau Gasol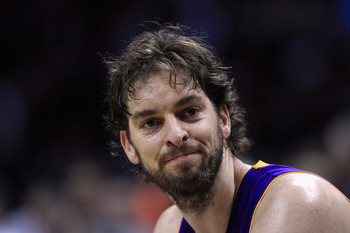 Streeter Lecka/Getty Images
Much like the scenario where the Lakers lose Dwight Howard, one that involves Pau Gasol in street clothes is both troubling and one that can be worked around to some degree.
Without the Spaniard, the Lakers still have a reasonable trio of big men to fill in the gaps to step in and provide some production, even if no single player can approximate all that Pau brings to the table.
With Pau out of the lineup the Lakers would likely start Antawn Jamison in his place. With the Lakers instituting the Princeton Offense, Jamison's perimeter oriented game that mixes in slashing and some post ups would be a good compliment to Dwight Howard and the rest of the starters.
Jamison could space the floor on offense, be a viable third (or fourth) scoring option next to the remaining trio of stars and play to his strengths next to a group of guys that inherently make his game better.
Backing up Jamison would likely be a combination of Jordan Hill and Metta World Peace.
Last season, Hill showed that he could play next to either Gasol or Bynum by simply playing off the ball and feasting on the space created by his more celebrated front court partner. Next to Howard, Hill could still float around the elbow and the shallow baseline and look to score off put-backs and easy passes when his man leaves to help.
Metta could also slide up to power forward and soak up some minutes if needed. Last season, the Lakers rarely played Metta as the PF, but when they did it proved to be a worthwhile experiment as both their offensive and defensive efficiency numbers were very good.
If MWP can return to his mean shooting percentages from the outside, he can be a solid floor spacer while also having a quickness advantage against many of the PF's he'd be facing. Plus, on defense, he has the natural strength to battle players in the post and the length to contest shots of bigger opponents.
Of course, losing Gasol would mean the Lakers would suffer in countless ways that no one on the roster could really make up for. Pau is one of the best passers in the league at any position and his ability to be an offensive initiator would mean more responsibility would fall on Howard to be a passer from the low and high post.
Gasol is also an underrated rebounder who consistently averages double digit boards. While Hill could likely hit the glass at a similar rate, Jamison has never proven to be the rebounder that Gasol is (especially on the offensive glass).
Ultimately, the Lakers would be hard pressed to find a way to manage without Pau for the long haul, but could find ways to replicate at least some of his production. Combined, Jamison and Hill could come close to giving the team his points and rebounding while Metta could provide some additional stats in each category while also adding some play making.
That said, replacing a skilled seven footer is never easy and the Lakers would certainly be worse off without the big Spaniard.
Kobe Bryant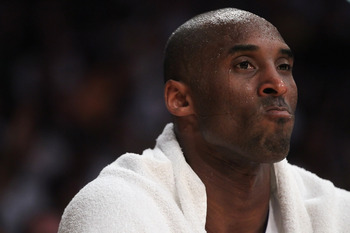 Jeff Gross/Getty Images
It seems unfathomable to think of Kobe being out for longer than a handful of games in any season. He's played through injuries his entire career and seems to revel in finding a way to beat an ailment and find his way back to the court.
However, if he were ruled out, the Lakers would have an interesting dilemma on their hands.
First off, the Lakers would have to slide Jodie Meeks into the starting lineup to replace Mr. Bean. Meeks is nowhere near the all around talent that Kobe is, but does provide a solid skill set of his own to help the Lakers.Meeks' shooting ability would be a nice addition to a starting lineup that would need all the spacing it could get to aid Howard, Nash, and Gasol in their offensive endeavors.
Second, Meeks ability to run off screens and occupy his man can be a valuable asset to any offense. The little openings created when a man curls off a pick or flares to the corner for a jumper can make all the difference to a playmaker like Nash or big men like Howard and Gasol who thrive on exploiting positioning by gobbling up open space.
Meeks has also shown to be a good (not great, but good) defensive wing that can step in and guard the man that Metta World Peace isn't chasing. All in all, Meeks could likely approximate half of the production Kobe provides on offense and play up to eighty percent of Kobe's ability on defense. It's certainly not ideal, but it's something positive.
Where things start to go off the rails is in finding a suitable back up to Meeks in Kobe's absence.
Last season, when Kobe was injured near the end of the year, Devin Ebanks stepped into the starting lineup to replace him and provided mixed results. Ebanks proved to be a good slasher off the ball, capable of hitting his mid-range jumper, and that he could rebound and defend at a nice level.
However, Ebanks lacked other needed guard skills (his handle, for example, was below average) and showed little ability to create shots off the dribble for himself or his teammates. This led to Ebanks losing crunch time minutes to Steve Blake and ultimately him being viewed as more of a small forward. Whether he can step in and provide more than he did last year would be a key part of how successful any Kobe-less stint would be.
From a team-wide perspective, however, there are some things that could be viewed as positives even with the huge negative of Kobe being out of the lineup.
First of all, a key question going into the season is how would Kobe mesh with Nash. I'm of the mind that Kobe would adjust just fine to playing next to Nash but a question that hasn't been asked enough is how Nash would adjust to playing with such a ball dominant backcourt partner.
If Kobe were to be sidelined, this is a question that wouldn't need answering. Nash has always thrived being his team's primary creator and any scenario without Kobe would allow Nash to remain in a role he's thrived in.
Second, both Howard and Gasol have also both thrived being players who get ample touches in the post (and, in Howard's case in the pick and roll) and with Kobe out of the game they would likely see an uptick in their usage. Getting both more chances to work with the ball in the post, should only benefit both players.
All that said, let's not go too far down that path without acknowledging the fact that everyone still likely suffers without Kobe on the floor. Last year, Kobe still demanded attention from multiple defenders and was the focus of many defensive schemes.
Teams never left Kobe to double team and more often than not shaded help in his direction even when they never outright sent a second defender to him. The level of focus on Kobe meant that his big men had more space to operate when he shared the floor with him and his fellow perimeter mates got more open shots.
Without Kobe, the Lakers could likely find ways to still have an efficient offense and get the stops they need on the other end of the floor. They'd miss his ability to create shots at the end of the shot clock or in the closing seconds of a game but some of that would surely be mitigated by Steve Nash.
However, the attention he draws and the totality of his production would still be missed. Not to mention the fact that the Lakers wing rotation would struggle mightily after thrusting Meeks into more minutes.
Keep Reading

Los Angeles Lakers: Like this team?