Minnesota Twins: The Ideal Lineup with Players Currently on the Team's Roster
Marilyn Indahl/Getty Images

You know what? I like how the offense is coming together at the end of the year.
On Sunday, the Minnesota Twins' lineup card looked like this:
1. Denard Span (CF)
2. Ben Revere (LF)
3. Joe Mauer (1B)
4. Justin Morneau (DH)
5. Ryan Doumit (C)
6. Chris Parmelee (RF)
7. Trevor Plouffe (3B)
8. Alexi Casilla (2B)
9. Pedro Florimon (SS)
Here are five reasons why I like this lineup.
Begin Slideshow

»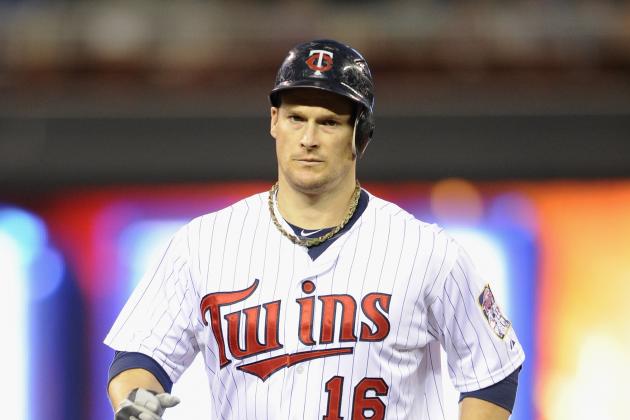 Hannah Foslien/Getty Images

The obvious omission from Sunday's lineup was Willingham, who has hit 34 home runs—a career high.
Here's why I like it:
He can be used as trade bait next year.
Willingham has hit 20-plus home runs five times in his career, but he is 33 years old. The Twins signed him to a three year deal and while they may not want to trade him in Year 1 of the deal, setting a bad precedent, they may be willing to trade him in Year 2.
Minnesota has two promising bats—Parmelee and Plouffe—that are both in their 20s, and Doumit, 31, is signed through 2014.
Plouffe and Doumit both have had career years, and Parmelee raked in Triple-A this season.
I'm not trivializing Willingham's contributions to the team this year. I'm just saying he may become expendable, and assuming he plays anything like he did this season, the Twins could get a lot in return for him.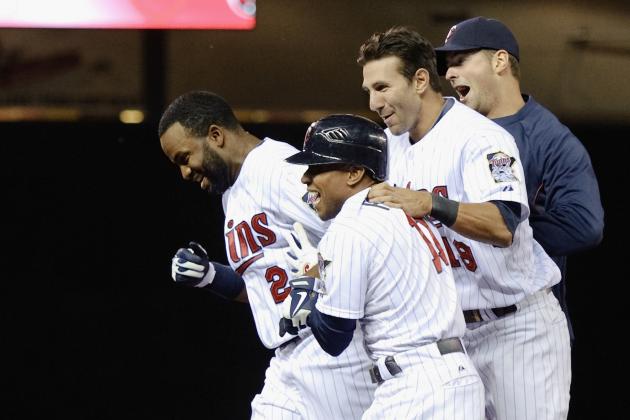 Hannah Foslien/Getty Images

Yeah, there's a contingency of Twins fans that believed that Span was expendable at the trade deadline and Minnesota should have sold high on him.
After all, Revere certainly is capable of playing center field (Star Tribune beat writer La Velle E. Neal suggested the Twins should package a highlight reel of his best catches) and has enough speed for the leadoff spot.
But in Span's absence, Revere's batting average dropped to .300. He his a much less patient hitter than Span, and on top of that, Minnesota has struggled to find a reliable No. 2 hitter.
Gardenhire has tried Casilla, Carroll and Co. in the 2-hole, but none of them stuck.
The Span-Revere tandem is the team's best bet in the future.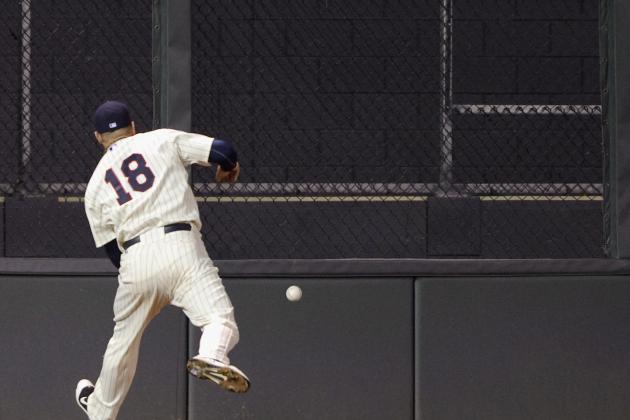 Hannah Foslien/Getty Images

After Doumit's three-error game in left field on Thursday, Minnesota is likely to limit his time in the outfield.
That means he'll be playing catcher or be the designated hitter on most nights.
Morneau is going to either be a DH or at first.
And Mauer is a catcher at heart; he needs time at first and DH in order to stay healthy.
With Morneau's history of concussions and Mauer's trouble with his knees, this kind of lineup could keep the M&M boys healthy for a long time.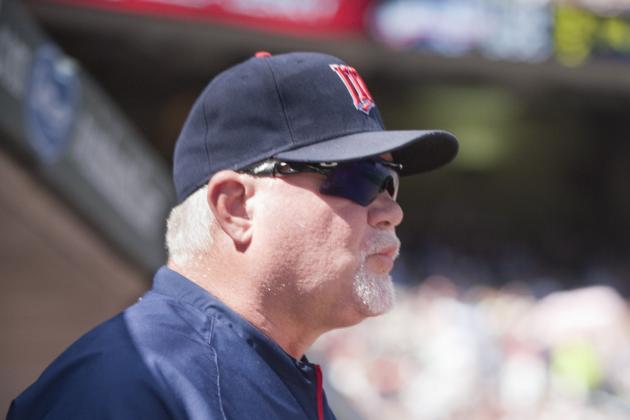 Marilyn Indahl/Getty Images

"I like our infield situation," says manager Ron Gardenhire.
"We've got some pretty talented people here: Esobar and Lexi, Jamey Carroll's solid, Flori and we can put Doze in the mix and I think we can figure out two that can play together."
Eduardo Escobar came over in the Liriano trade and can play third and short. He's young, 23, but also small (5'10", 160).
Casilla debuted for the Twins in 2006, and at age 28, has shown ups and downs in his career. He can make athletic plays in the field, but is inconsistent with his bat.
Jamey Carroll is not going to be with the team for very long. He's 38, but is a good mentor for the younger players.
Florimon has been a pleasant surprise this season. Since being called up, the former Baltimore Oriole has been solid defensively and even shown a little life at the plate. He'll get a long look at spring training.
Dozier came up as a shortstop this season and had his fair share of highs and lows. He's got range, but has to cut down on errors and increase his batting average. There is some talk of him moving to second.
Minnesota leads the league in double plays despite all the changes in the infield.
Defensively, at least, this team should be good down the middle.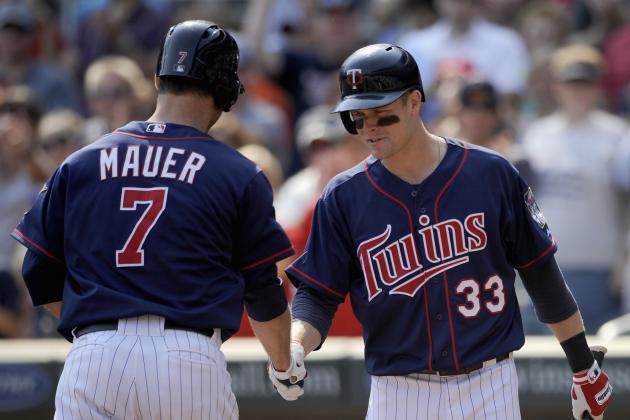 Hannah Foslien/Getty Images

Yes, the Morneau and Mauer contracts are large, but when they're healthy and productive, you can see why.
Either way, this lineup is, for the most part, homegrown and a good sign that the Twins are able to develop hitters.
That means the Twins can focus their spending on pitching. While GM Terry Ryan says that the team won't have a free-agency bonanza, they would be wise to put a little money into a shoddy rotation.
All quotes were obtained first-hand.
Tom Schreier writes a weekly column for TheFanManifesto.com.