It's always difficult to follow up a groundbreaking performance.
On Monday, Pedro Florimon had the game of his life. The 25-year-old former Baltimore Oriole went 2-for-4 with a double and a triple in the 23rd game he's played this season.
"He's showing he can pull some balls through the hole when he has to," said manager Ron Gardenhire. "That was a nice night."
He also had two impressive defensive plays. One was a one-hop throw from the hole in the sixth, and the other was a barehanded play in the seventh.
"The bare-hand was surprising," said Sam Deduno, the pitcher on Monday. "Pretty good."
"[It was] a really, really tough play," added Gardenhire, "one of those acrobatic things where your body has to do all kinds of things to get rid of the ball."
The big day took a toll on Florimon's body.
"I hope he's able to play tomorrow," said the skipper. "He took a beating out there: got hit in the head [by an errant pickoff attempt] and I know his back was a little sore. I know he jammed his foot last night walking in the dark trying to find his bathroom so we has a little beat up coming into the game."
Come again?
"He probably didn't want me to tell you," he said, smiling, "but I don't think he will pay much attention to your articles or TV."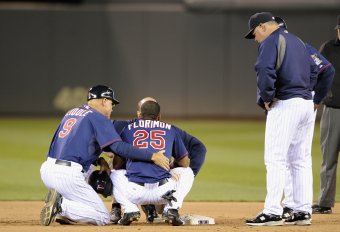 Hannah Foslien/Getty Images
***
Florimon was back out there on Tuesday.
"He came in today and said he was a little sore here and there," said Gardenhire on Tuesday, "but he's ready to play."
The first play he was involved in was a wild pitch in the second inning that took a favorable hop off the backstop, only to be thrown well wide of second by catcher Ryan Doumit.
Florimon was not able to reach the ball, which allowed Salvador Perez to reach third. The error was assessed to Doumit.
His first at-bat came in the third inning.
Patient at the plate, Florimon took a ball and two strikes before swinging the bat. His first swing of the night sent him back to the dugout.
Defensively, he remained untested until the fourth inning, but when Hosmer ground ball was hit hotly in his direction with Jeff Francoeur on base, he took it upon himself to turn a double play. He scooped the ball cleanly and in a fluid motion got to the bag, touched it, dodged Francoeur and threw a laser to first baseman Justin Morneau.
Alcides Escobar hit directly at him in the fifth, and he calmly fielded it and threw the ball to Morneau for the first out of the inning.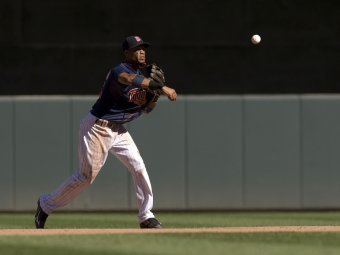 Marilyn Indahl/Getty Images
Mastroianni and Eduardo Escobar led off the bottom of the fifth with back-to-back walks, bringing Florimon to the plate with two men on and no outs.
Again, he struck out swinging.
Giavotella hit a wormburner directly at him in the sixth. Again, he hit Morneau squarely between the threes.
It wasn't until the seventh that he was really tested on defense.
Salvador Perez hit a ball sharply between Florimon and Eduardo Escobar, the third baseman. Florimon scampered over, snagged the ball standing up and tossed it to second baseman Jamey Carroll for a force out at second.
The double play was not turned, but Butler had led off the inning with a single off of reliever Luis Perdomo. His play curbed a potential rally.
"He was all over the field," said the manager, "made some great plays again. "The kid can flat-out pick it out there."
The next batter, Mike Moustakas, hit a dribbler to Morneau, who flipped it to Florimon. Florimon elected not to toss the ball back to first for what would have been an impressive double play.
His cautious approach paid off.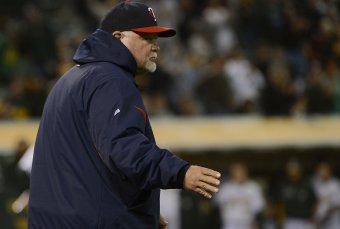 Thearon W. Henderson/Getty Images
Francoeur flew out to end the inning shortly after the play was made.
After striking out twice in his first two at-bats, he had a chance to make something happen offensively in the bottom of the seventh with Mastroianni on second.
He grounded out to Giavotella, however, who made a hard throw while falling backwards to record the third out.
He closed out the top of the ninth with a throw to second, and in the bottom, he lined out to the first baseman with an out and a man on.
It was a tough game that night. The team lost 9-1, Diamond gave up 10 hits in six innings, the baserunning was sub-par and Josh Willingham lost a ball in the night sky.
Florimon provided the silver lining.
"He's a fun part of the game to watch," said the manager.
It's always hard play after a great outing, but like that double play he fielded, Florimon took it in stride.
All quotes were obtained first-hand.
Tom Schreier writes a weekly column for TheFanManifesto.com.