Ohio State Football: Winners and Losers from the Week 3 Game vs. Cal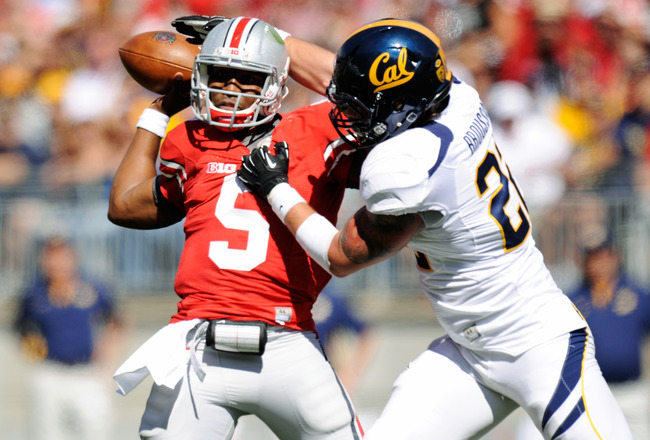 Jamie Sabau/Getty Images
In a game they were favored to win by 17 points, the Buckeyes needed all 60 minutes to survive an upset-minded Cal team yesterday in Columbus.
Devin Smith's 72-yard touchdown catch with just under four minutes to go lifted the Buckeyes to a 35-28 victory.
Let's take a look back and evaluate the winners and losers from Ohio State's Week 3 win over Cal.
Winner: Braxton Miller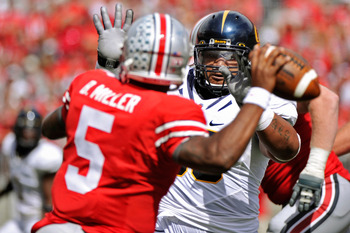 Jamie Sabau/Getty Images
Miller had another fantastic game for the Buckeyes, completing 16 of his 30 passes for 249 yards with four touchdowns and one interception. He also added 75 yards and another touchdown on the ground.
Without Miller, the Buckeyes would have lost this game. He accounted for all five of Ohio State's touchdowns, and when Cal decided to sell out against the rush and take away his running lanes in the third quarter, no one stepped up for the Buckeyes.
Ohio State's success will continually be linked with how well Braxton plays, but through three games, the sophomore quarterback has delivered.
Loser: Curtis Grant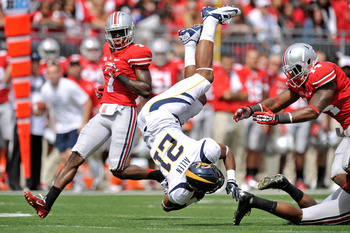 Jamie Sabau/Getty Images
Urban Meyer and the coaching staff really needed Curtis Grant to take a big step this year, but through three games, the sophomore linebacker has made very little impact on the field.
Grant came into the Cal averaging just three tackles a game—an embarrassingly low number for a starting middle linebacker—but he only registered one tackle against the Golden Bears.
It's only part of the issue with Ohio State's defense, but having a player that unproductive in the middle is certainly not helping the Buckeyes.
With Storm Klein's return to the team, Grant's spot in the starting lineup could be in jeopardy.
Winner: Ohio State's Offense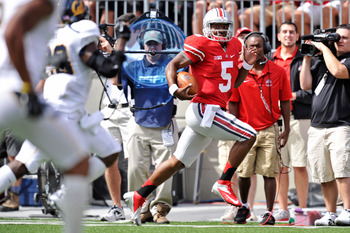 Jamie Sabau/Getty Images
Ohio State's offense was a big winner Saturday, specifically because of the big plays it generated.
Last week against UCF, Braxton Miller didn't complete a single pass over 20 yards. Against Cal, Miller and the Buckeyes completed five passes of 20 yards or longer, including Devin Smith's game winning 72-yard touchdown catch.
Things started rolling for the Buckeyes when Miller made three Cal defenders look silly on his way to a 55-yard touchdown run.
Despite a rough third quarter, Miller and the offense created some big and exciting plays.
Loser: Ohio State's Defense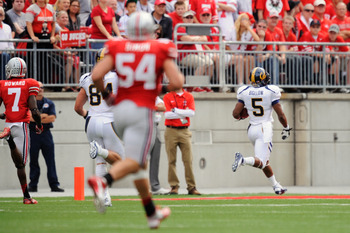 Jamie Sabau/Getty Images
Ohio State's defense uncharacteristically gave up some huge plays to Cal.
The Golden Bears racked up 512 yards of total offense, the most an Ohio State defense has surrendered since 2005 (against Minnesota). Cal threw for 286 yards and gashed the Buckeyes' defense for 224 yards on the ground.
Through three games, it looks like Ohio State has some legitimate issues on defense. Poor communication in the secondary allowed Cal quarterback Zach Maynard to complete 70 percent of his passes despite facing constant pressure from Ohio State's blitz package. Poor tackling allowed Cal running back Brendan Bigelow to rush for 160 yards and two touchdowns on just four carries.
Winner: Devin Smith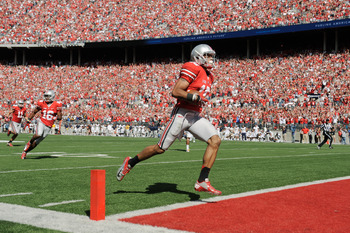 Jamie Sabau/Getty Images
Devin Smith has become Mr. Big Play for Ohio State's wide receiver corps.
After leading the team in receiving yards last year as a true freshman, Smith has picked up right where he left off so far in 2012.
Through three games, Smith has 233 receiving yards and is averaging just a hair under 18 yards per reception. Not only did he likely haul in the catch of the year in Week 1 against Miami, his fourth quarter heroics on Saturday helped the Buckeyes avoid a disastrous loss to Cal.
Loser: Luke Fickell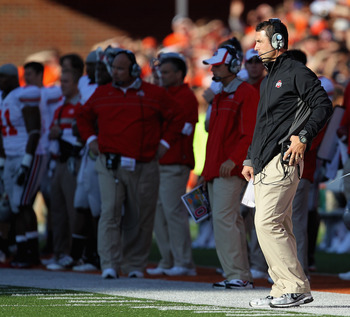 Jonathan Daniel/Getty Images
This could extend to the entire defensive coaching staff, but as mentioned earlier, something is clearly wrong with Ohio State's defense.
The Buckeyes currently rank 66th in the country in total defense. That's a staggering number to think about, especially when Ohio State routinely ranks in the top 10 for overall defense on an almost annual basis.
Urban Meyer added new coaches like Everett Withers and Kerry Combs to Ohio State's staff this year, but Fickell was supposed to help the Buckeyes ease into that transition. So far this year, nothing has been easy and the Buckeyes' defense has been a mess all year.
Winner: Jonathan Hankins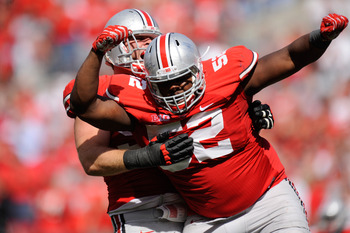 Jamie Sabau/Getty Images
Ohio State's massive defensive tackle has played spectacularly this year, but his game against Cal was out of this world.
Hankins had 10 tackles against the Golden Bears, just three behind Ohio State's leading tackler (Ryan Shazier). Doing that from the defensive tackle position is incredible, but on top of that, he applied constant pressure on Zach Maynard by collapsing Cal's defensive line single-handedly on multiple plays.
Braxton Miller gets a lot of attention for his playmaking ability, but Hankins has been Ohio State's best player on the other side of the ball and deserves just as much attention.
Loser: Ohio State's National Image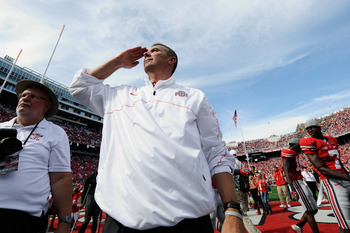 Jamie Sabau/Getty Images
Ohio State's close call against Cal cost the Buckeyes four spots in this week's AP Poll.
Meyer and the Buckeyes entered their Week 3 matchup with the Golden Bears ranked No. 12 in the country, but they now sit at No. 16 after the seven-point victory.
On top of that, Ohio State is—justly or unjustly—tied to the rest of the Big Ten in the minds of people around the country. So far as a conference, the Big Ten has embarrassed itself on the field. The conference has just four victories over teams from AQ conferences and Notre Dame, and Northwestern has three of those victories.
Despite the dip in the rankings, Ohio State became the highest ranked team in the conference after Michigan State failed to get anything going in a loss to Notre Dame.
Keep Reading

Ohio State Football: Like this team?