NBA Titles Should Not and Will Not Define LeBron James' Legacy as a Superstar
Mike Ehrmann/Getty Images
Once he hangs up his laces, LeBron James' legacy will be defined by many, many things. But one thing it shouldn't be, and ultimately, will not be defined by is the number of NBA titles he wins.
But that isn't exactly good news for LeBron.
LeBron's legacy will instead be defined by the kind of reputation he continues to build on the court as a leader and the records he continues to break, courtesy of being one of the most athletically gifted players in the history of the game.
More importantly, his legacy will always be defined by the following statement that he made, with a little bit of a smirk on his face:
"This fall, oh man, this is very tough. This fall, I'm going to take my talents to South Beach and join the Miami Heat."
The moment those words left the Chosen One's lips, his legacy was tarnished forever. Whether he likes it or not, that moment changed his career.
Having your legacy tarnished by a single decision shouldn't have come as a surprise to LeBron though, because it happens quite often in professional sports.
How Many Championships Will LeBron James Have at the End of His Career?
Tiger Woods is defined by his off-the-green affairs, instead of the number of major championships he's won.
Pete Rose is defined by the betting scandal in which he was involved rather than his prolific accomplishments on the field.
Kris Humphries will never be remembered for his on-the-court production. He will instead always be remembered as another casualty of Kim Kardashian's larger-than-life personality.
Okay, maybe Humphries wasn't a great example. But it does go to show just how detrimental a one-time decision can be to a player's legacy—regardless of the sport or the era in which the player played.
More often than not, the things a player says or does off the court are more important than the production he brings to the court, and while that's a shame, it's just part of the society we live in.
Even if LeBron wins six, seven or eight championships, the media will shift the focus from those titles to the fact that he wouldn't have achieved that level of success if he had stayed in Cleveland.
His critics won't crown him as the heir apparent to MJ's throne. They will instead hold him back from that honor because "Jordan would never have done what LeBron did by joining Wade, Bosh and the Heat."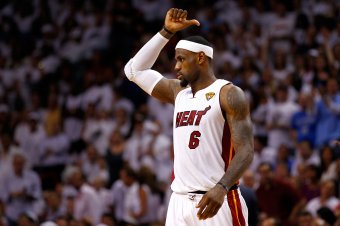 Mike Ehrmann/Getty Images
While it was unintentional, LeBron defined his legacy once and for all on July 8, 2010 when The Decision aired on ESPN.
There is nothing that LeBron can do, on the court, or off it, that will change the fact that his legacy will always be defined first by joining the Miami Heat, and second by whatever he actually accomplishes during his NBA career.
In a perfect basketball world, LeBron would only be judged by the effort and production that he puts forth on the court. If that was the case, there would be no one who could argue that he is one of the best to ever play the game.
Unfortunately for LeBron, we all live in an imperfect world—a world that likes to find fault instead of giving praise when it's due. A world that prefers blaming others than recognizing that we all, in our humanity, make mistakes.
No matter what LeBron accomplishes over the next 10 years of his life, his legacy in the NBA will be defined by two words—the decision—rather than how well he plays the game, and that is truly a shame.
While his legacy won't be defined by NBA titles he's won, LeBron would be in a better place if it were, because the way things look now, there's no limit to how many championships LeBron will end up with.
This article is
What is the duplicate article?
Why is this article offensive?
Where is this article plagiarized from?
Why is this article poorly edited?

Miami Heat: Like this team?