Minnesota Twins: Necessary Changes for Twins' Future Success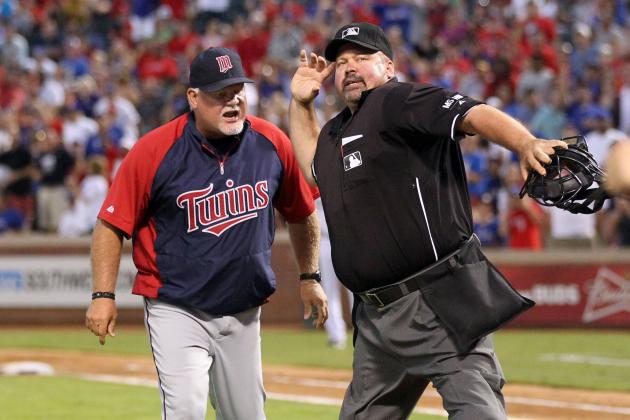 Layne Murdoch/Getty Images

The Minnesota Twins need to make a change going into 2013 and beyond. After a disastrous 2011 and an equally dismal 2012, it is clear that something needs to be done in multiple areas of the team.
The Twins have been in the basement of Major League Baseball for two seasons now, and righting this ship is going to take some work. That work needs to start as soon as the 2012 season is over. Some things should have been taken care of seasons ago.
Here are the top areas that the Twins need to change in order to have a hope of competing even to improve their record in 2013 and the near future.
Begin Slideshow

»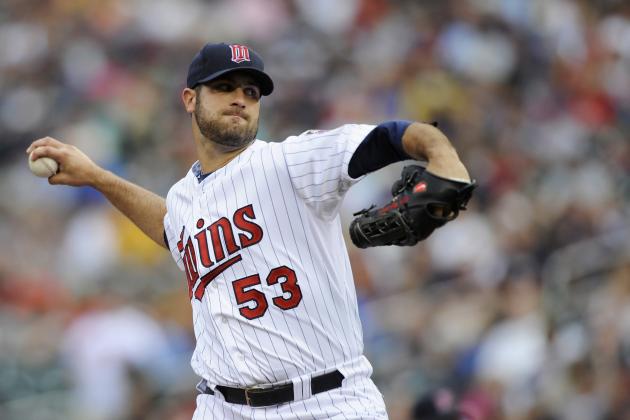 Hannah Foslien/Getty Images

2012 Record (as of 9/13): 37-67, 5.49 ERA.
Number of Different Starting Pitchers Used: 11
While the idea of overhauling the starting pitching on this team may seem obvious, it didn't seem so to the Twins' front office coming into 2012.
Yes, you can't foresee injuries like Scott Baker's or Carl Pavano's; however, Nick Blackburn's ineptitude in several seasons prior to 2012 or the erratic nature of Francisco Liriano's pitching should have set up red flags a long time ago.
Scott Diamond seems to be a lock in for the rotation next year. Samuel Deduno and Cole De Vries will have a shot. I am not sure Liam Hendriks should, unless he can really impress as September progresses. It seems that he topped out at triple-A and has been unable to establish himself in the majors through his first 17 starts.
P.J. Walters has been lackluster since his call up this fall, leaving some doubt for his future. Esmerling Vasquez has not impressed. Period.
What They Need: A veteran, front-end of the rotation pitcher. While Diamond has been good in his first year with the club, he is not ace material. Now, when I say "veteran," I do not mean whoever is cheap. No more scrap-heap players. The Twins can't settle for another prospect either. They need to spend the money and pick this rotation up by its bootstraps with an established starter.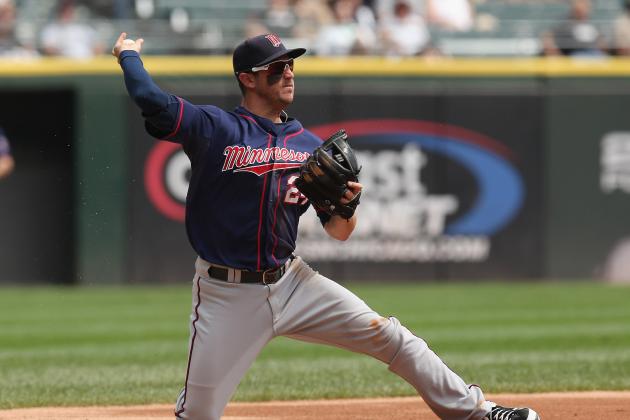 Jonathan Daniel/Getty Images

Trevor Plouffe Batting 2012 (as 3B): .261 BA (.237 overall), 17 HR (21 total), 42 RBI (48 overall) in 77 games.
Plouffe Fielding (as 3B): .938 Fld%, 13 errors in 78 games in field.
With the departure of Danny Valencia, Trevor Plouffe took over at third base for the Twins. Prior to injuring his thumb and landing on the disabled list, Plouffe launched 19 home runs and collected 38 RBI with a .262 BA. After returning from the DL, Plouffe is batting .180 with 2 HR and 22 strikeouts in 100 AB.
Plouffe's inconsistency at the plate has extended into the field at third base as well where he has committed 13 errors this season.
The Twins have been without an everyday third baseman since Corey Koskie left and now Plouffe has created some doubts both defensively and offensively.
What They Need: If, and that is a big IF, Trevor Plouffe can pull it together at the plate for the final part of the season, it would seem the starting job coming into 2013 would be his to lose. If he can't, the Twins will once again be searching for a third baseman. A steady glove is a must at a position where the Twins have committed 21 errors, second only to the shortstop position where there has been 23 errors—15 belonging to Brian Dozier.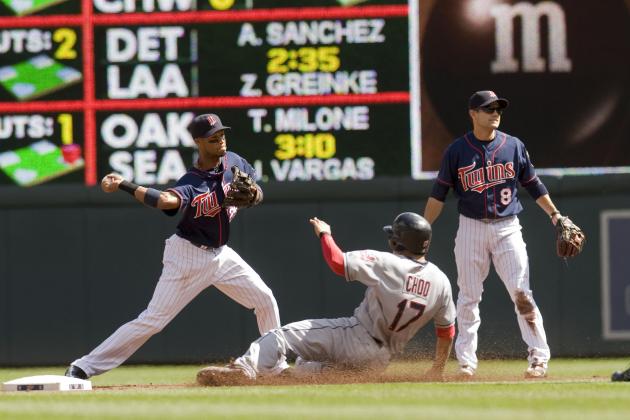 Marilyn Indahl/Getty Images

2012 Shortstop Errors: 23
2012 Second Base Errors: 16
Number of Different Shortstops: 5
Number of Different Second Basemen: 7
Who is the shortstop/second base combo of the day? Casilla and Carroll? Nishioka and Dozier? No, wait it is Florimon and Escobar...right?
With too many possible different combinations to keep straight, the Twins have to be looking to set the middle infield once and for all.
Each year, shortstop always seems to be an issue. Brian Dozier tried his hand at it but was sent back to the minors when he lost his swing. A platoon of other players have filled the gap but now Pedro Florimon is showing promise. What will the Twins do with Dozier?
With Alexi Casilla's contract expiring after this season (to this writer, it can't come quickly enough) and assuming they don't try to resign him (they shouldn't...), the team needs to find a viable option for the foreseeable future and hopefully without spending a ridiculous amount on another subpar utility infielder like Casilla.
What They Need: If Florimon proves to be a steady shortstop, move Brian Dozier over to second base. He made his fair share of errors this season at shortstop but made more than a few solid plays in the field in his rookie season. Jamey Carroll is a good utility man but isn't an everyday player. Eduardo Escobar hasn't proven himself in the batter's box and shouldn't be in the majors to begin the season next year.
Dozier is playing winter ball this year to work on his swing and if he can find it again, clean up the defense a little...we can look for Florimon and Dozier to be a good middle infield for the Twins in 2013 and beyond.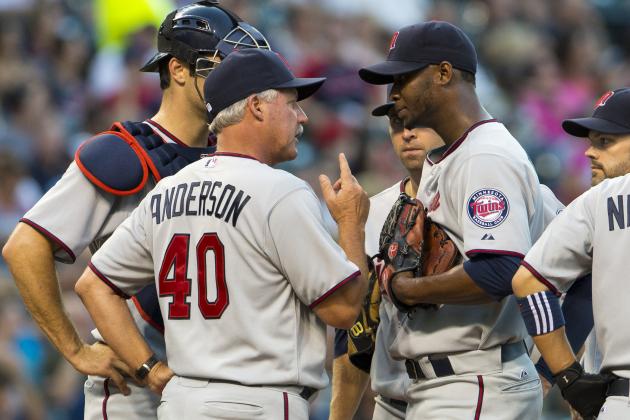 Jason Miller/Getty Images

2012 Starters: 37-67, 5.49 ERA. 2012 Relievers: 23-17, 3.78 ERA. .278 BAA total, 173 HR allowed.
2011 Starters: 46-71, 4.64 ERA. 2011 Relievers: 17-28, 4.51 ERA. .281 BAA total, 161 HR allowed.
Rick Anderson, the pitching coach of the Minnesota Twins, has presided over some of the best years we have witnessed here in Twins territory as far as pitching with Johan Santana's Cy Young awards and some of the worst in recent history.
While it is indeed true that since joining the Twins in 2002 that the team's collective ERA has dropped and walks have dropped, the last two years have seen a serious decline in the quality of Twins' pitching and the pitchers themselves.
The age old mantra of "pitch to contact" for the Twins no longer seems to be fooling anyone in MLB. Quite frankly, I'm sure some teams look forward to hitting against us. The Twins' pitchers are surrendering more home runs than anyone this season except Toronto.
This year, the Twins rank dead last in the AL in pitching. 2011 they were second to last in the same category.
The adoption of the "pitch count" and the monitoring of said count seems to reign supreme with the pitching staff. Twins starters rarely make it into the late innings and if they do, it is even rarer to see them go for a complete game. Whether it be by the design of bean counters watching pitch counts or by poor conditioning, it is Anderson's responsibility.
What They Need: The pitching corps has grown stagnant. To breath some new life in to this group of pitchers, the Twins need a new face to head up our hurlers. Bert Blyleven would bring some fire and toughness to a group that seems to lack both.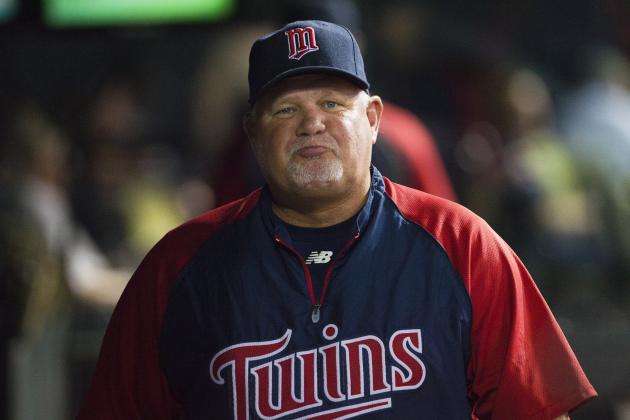 Jason Miller/Getty Images

2012 Record (through 9/13): 60-84
2011 Record: 63-99
Career Record: 926-839, .525 Win%
Playoff Record: 6-21, one series win.
In a previous article I wrote concerning Ron Gardenhire, I asked the question whether or not the Twins should be saying goodbye to the manager. I asserted that the way back to contention for the Twins is to have a change at the managerial position—I still believe that to be true as do many fans.
Regardless of his success prior to 2011, Gardenhire has either been with the club too long or lost some control. Either way, his style is not working anymore during the season and apparently during spring training as the Twins have committed more base running errors and mental mistakes than I can remember. These are things that are worked out in spring training (on a typical team) but evidently Gardenhire is not addressing them or spending enough time on them.
His "buddy buddy" approach to the game does not get results nor is it professional. Referring to your players as "Plouffey" or "Morney" in interviews is not something I could picture Jim Leyland doing, that is for sure. I do know that some people find it endearing; however, the Twins players need someone to light a fire under them, instead of saying, "More than anything else it's getting a better feeling about yourself going into the winter," when talking about how they are going to finish the season.
What They Need: More than anything, the Twins need a fresh start and that begins with changing managers. Someone like Paul Molitor would be great and would definitely create some excitement around the team. If not Molitor, someone who can get the team back to defensive fundamentals and smart baseball—maybe Gary Gaetti.
Notice how I didn't say "smallball."
Hannah Foslien/Getty Images

This is the intangible that the Twins have not had since the departure of Torii Hunter and maybe even Michael Cuddyer to a certain extent: a leader.
Joe Mauer and Justin Morneau are not known as vocal leaders in the clubhouse, but this team needs someone to step up, hold people accountable and get some passion into this team.
Too often does this team seem to get down if runs are scored on them early. They don't bounce back from errors or tough breaks. This is where a leader comes to rally the troops and turn the ship around.
The Twins need a leader. There is no price you can put on having that player that you can rely on to get the team back on its feet. If the Twins want to become a team worth watching and a team that other clubs worry about playing, they will need someone who can carry the team on their shoulders and get them revved up.
"Jump on my back. I'll carry you."—Kirby Puckett
The Twins need some of that back in the clubhouse.