Sergio Martinez vs. Julio Cesar Chavez Jr.: Middleweight War Live from Las Vegas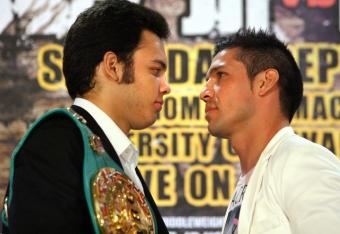 Photo courtesy of: www.boxingscene.com

This Saturday night, the middleweight championship showdown between Sergio Martinez and Julio Cesar Chavez Jr will go down live from the Thomas and Mack Center on the campus of UNLV in Las Vegas, Nev.
I will be ringside to give you live updates on the middleweight title clash as the action unfolds.
Chavez Jr. (46-0-1, 32 KOs) is one of the most popular Mexican fighters around and will be sure to have a fairly large fanbase in attendance (the fight is on Mexican Independence Day weekend).
Coming into the biggest fight of his career, Chavez Jr. is fresh off his impressive stoppage of Irishman Andy Lee this past June in El Paso, Texas. Chavez Jr. will look to keep his undefeated record in place against Martinez.
Martinez (49-2-2, 28 KOs) is coming into the fight on four-fight early stoppage streak. In his last bout against Matthew Macklin in March, Macklin's corner threw in the towel after he was dropped multiple times late in the bout.
The two will be fighting not only for middleweight supremacy, but also for pound-for-pound rank. The winner will be a legitimate top three or four fighter in the world.
With the tremendous hype surrounding the bout, the Thomas and Mack is sold out (19,186 tickets, per Las Vegas Sun). This new record eclipses the old record (19,151; 1999 heavyweight title fight between Evander Holyfield and Lennox Lewis).
Stay tuned to this live blog for all the fight-week action, including the weigh-in on Friday afternoon and all the fight-day happenings leading up to the main event on Saturday.
You can catch the fight live on HBO pay-per-view beginning at 9 p.m. ET at a cost of $49.95. You can also order the live stream online for $49.95 at VOD iNdemand.

Follow Mick on Twitter: Follow @mickakers
Waiting for the press conference to begin. I will have a full wrap up later tonight.
We have a new WBC middleweight champ! Sergio Martinez won a hard fought affair. Great fight.
The results are in.
117-110 118-109, 118-109 for Sergio Martinez unanimous decision.
We await the official results.
Round 12:
Chavez Jr. is again stalking Martinez but is not landing the shots he did in the previous round.
The two trade power shots, setting up an exciting finish.
Chavez Jr.. knocks down Martinez!!!
Chavez continues to punish Martinez and throws him to the canvas and the ref rules it a no-knockdown.
Chavez ends the round with a flurry and wins a big 10-8 round.
Wow what a finish!!!
Draw 103-103
Round 11:
Smae old story as Chavez continues pursuit, Martinez keeps him at bay.
Chavez opens on Martinez on the ropes and mounts a powerful flurry igniting the crowd.
Martinez tries to answer, but Chavez Jr. lands the better shots.
Chavez Jr. takes this round with his dominance of Martinez on the ropes.
Martinez 95-93
Round 10:
Chavez Jr. comes out pushing the action once again but is taking jab after jab again, not landing many shots of his own.
Martinez's speed is looking to be the big difference here in the fight, as he is finding it tough to land any punches before being hit.
Martinez is luring Chavez Jr. into his trap, as he keeps moving around the ring with Chavez Jr. in pursuit, but Chavez Jr, can't seem to land anything.
Martinez ends the round with a flurry and takes the round.
Martinez 86-83
Round 9:
Martinez comes out in Round 9 pushing the action again, but no shots of any power have been landed early on.
The crowd is booing at the lack of action halfway through the round.
Chavez Jr. begins to chase Martinez around the ring, but is getting caught with jabs every time he tried to make a move on Martinez.
Martinez is waiting for Chavez Jr. to make a move and stops him in his tracks each time with a stiff jab.
Martinez 76-74
Round 8:
Chavez Jr. is looking to push the action but is not landing any punches that merit Martinez's attention.
Chavez Jr. continues his pursuit of Martinez and lands a power shot, only to be countered by Martinez.
Chavez Jr. has Martinez on the ropes and lands three-or four shots before Martinez gets his off the ropes.
Chavez Jr's aggressiveness wins him the round.
Martinez 66-65
Round 7:
Martinez is having his way with Martinez early on, hitting Chavez Jr. at will.
Martinez continues his onslaught and has Chavez Jr. backing up and is clearly feeling the power of Martinez.
Chavez Jr. responds towards the end of the round opening up on Martinez himself, but in the end it is not enough to steal the round.
Martinez 57-55
Round 6:
Chavez Jr, is looking to push the action here early on and lands some solid shots with Martinez on the ropes.
Chavez again opens up on Martinez and is having his best round of the fight.
Martinez opens up on Chavez Jr.. after the flurries and is pulling out this round once again.
Round 5 is too close to call and I have to score it even.
Martinez 47-46
Round 5:
Round 5 starts out slow with both fighters looking to establish dominance of the ring.
Chavez Jr. lands the best punches of the round so far half way through Round 5.
Not much action has taken place in this round but Chavez's little flurry steals him the round.
Martinez 38-37
Round 4:
Martinez begins the round stalking Chavez Jr. once again, but doesn't land anything of real significance.
Chavez is walking Martinez down, but is eating more punches than he is dishing out.
Chavez Jr. has Martinez on the ropes, but fails to land more than a few clean punches.
Again, Chavez Jr. has Martinez on the ropes and lands a few more shots, but is countered this time by Martinez and his quicker hands.
The two slug it out in the middle of the ring at the end of the round and Martinez lands a power shot as thebell sounds.
Martinez 39-37
Round 3:
The two start the round trying to land in the center of the ring to no avail.
Chavez Jr. excites the crowd with a decent shot, but Martinez throws back with a combo of his own.
Martinez lands some hard shots on Chavez Jr. and then has his hands down at his side trying to lure Chavez Jr. in again.
Chavez lands a counter body shot then a left and a right, his best flurry of the round.
Martinez once again wins a round be being the more active fighter.
Martinez 29-28
Round 2:
Martinez comes out and is the aggressor once again.
Martinez gets Chavez Jr. on the ropes and excites the crowd with a flurry of punches.
The crowd is chanting Chavez-Chavez-Chavez trying to get him going in the fight.
Chavez Jr. gets Martinez in the corner and lands his best punches of the fight.
Chavez continues to press the action in the center of the ring, now we have a fight.
Close round, but I give that one to Chavez Jr.
Even 19-19
Round 1:
Round starts out with Martinez chasing Chavez Jr. trying to get a flow to the fight going. Chavez Jr. seems content to let the fight come to him, as he throwing very few punches early on.
Chavez Jr. lands a solid counter left hook, showing his first real action of the fight so far.
Martinez is more active but is not landing most of the shots he is throwing.
Martinez lets his hands down and is almost daring Chavez Jr. to hit him.
Not much action, but Martinez won that round by being more active.
Martinez 10-9
The fighter intros are going on and we are moments away from live boxing between Sergio Martinez and Julio Cesar Chavez Jr.
Here we go the main event between Sergio Martinez and Julio Cesar Chavez Jr. is about to begin.
After 12 rounds of high action, back-and-forth boxing, the vacant WBO super featherweight title was won by Ramon Martinez (26-1-1, 16 KOs) beating Miguel Beltran Jr. (27-2, 17 KOs) via split decision.
The judges scored it 116-111 Beltran, 114-113 Martinez and 114-113 Martinez, giving Martinez the split decision.
The fight could have went either way, as the two battled it out round-after-round.
A point was deducted from Beltran for hitting behind the head in Round 11 and that deduction most likely cost him the win.
Great back-and-forth bout going on between Roman Martinez and Miguel Beltran Jr. right now. Perfect prelude to the main event which is up next.
Crowd goes crazy as they show Juan Miguel Marquez on the Jumbotron.
Miguel Beltran Jr. and Roman Martinez are now battling it out for the vacant WBO featherweight title.
While the internet was acting up Matthew Macklin (29-4, 20 KOs) disposed of Joachim Acline (33-3-1, 19 Kos) in the first round, knocking him down twice then after a flurry of punches the referee, Jay Nady called a halt to the bout at the 2:36 mark of the first round.
In a bout with just a few flashes of excitement, super bantamweight, Guillermo Rigondeaux retained his WBA title with a unanimous decision over Roberto Marroquin.
With a slow first few rounds, Marroquin woke the crowd up when a stiff right hurt Rigondeaux, but didn't mount much of an attack after the initial shot.
Rigondeaux then hit Marroquin with a sharp blow sending his knelling to the ground, giving him a 10-8 round.
Marroquin wobbled Rigondeaux's legs one more time in Round 9, but didn't have any significant blows after that.
Rigondeaux finished the fight strong, knocking Marroquin down again in Round 12 with a right hook and won the bout via unanimous decision. The three judges scoring the bout, 118-108, 118-108 118-109.
The Argentinian fanbase is out numbering the Mexican fanbase so far in the crowd that is still half empty.
This article is
What is the duplicate article?
Why is this article offensive?
Where is this article plagiarized from?
Why is this article poorly edited?