All-22 Review: Chemistry with Gates, Floyd Is Key to Success for Philip Rivers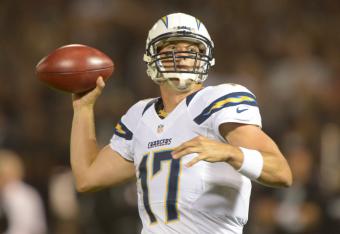 Kirby Lee-US PRESSWIRE
Philip Rivers had a career-high 20 interceptions in 2011, and even though he also had 27 touchdowns, people were wondering if Rivers had peaked at the age of 30. The San Diego Chargers brought in Robert Meachem and Eddie Royal to try and replace some of the production Vincent Jackson took with him to Tampa Bay, but it will take time for Rivers to trust them like he trusts Antonio Gates and Malcom Floyd.
On Monday night, Rivers proved that he can be an efficient quarterback who avoids turnovers, but it will come at the expense of taking multiple deep shots.
Jackson was the trusted deep threat (18.4 yards per reception in 2011), but that is gone and the result was fewer deep passes on Monday night in Oakland. Rivers took a deep shot and completed it to Meachem, but he wasn't forcing deep throws to Jackson, and the result was an efficient passing night and no turnovers.
Gates and Floyd were targeted 14 times on Monday night with the other tight ends and receivers combining for a total of five targets, according to Pro Football Focus. Rivers looked to Gates and Floyd as his primary option and then dumped passes off to the running backs if they were covered.
Here is a sampling of plays from Monday night's game.
Play No. 1: Floyd's Drive-Extending Completion
The Chargers faced 2nd-and-13 and needed to get enough yards to make it a manageable third down. The Raiders are in man coverage on the outside, with one single-high free safety. Strong safety Tyvon Branch is going to cover Gates one-on-one.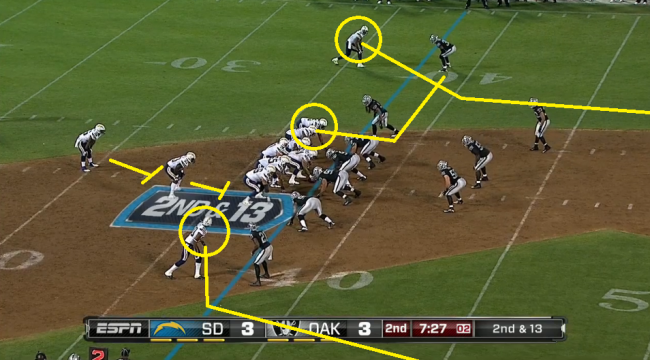 Here's a schematic of the way the Raiders are defending the Chargers on this play. The free safety can only cover so much ground, meaning Rivers will have a lot of space on the outside where the defensive back will not have any help.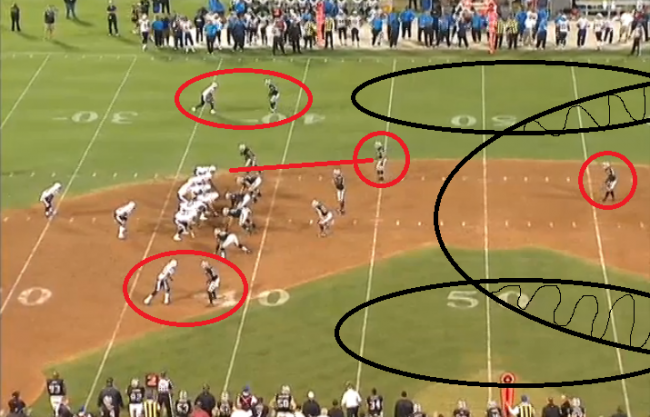 Rivers sees Floyd get outside of Ron Bartell and knows that a back-shoulder throw will be impossible for Bartell to defend.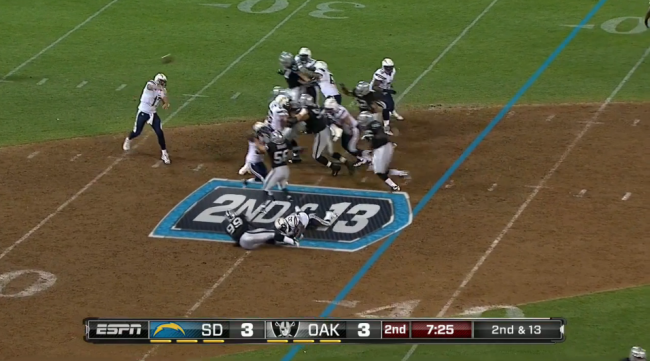 Bartell's back is turned to the play, and he knows his free safety will not be able to help him if Floyd gets a step on him down the sideline.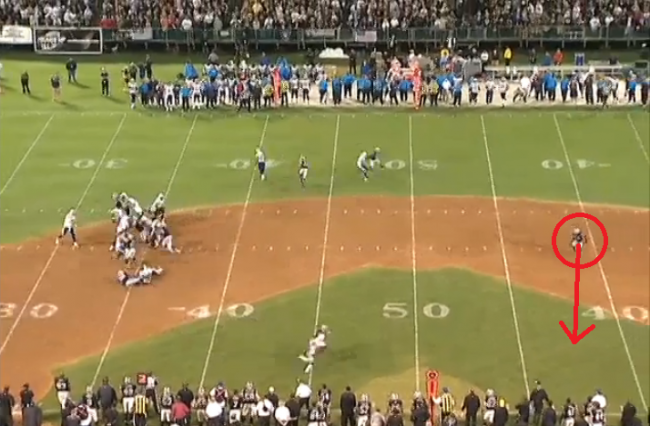 The throw by Rivers is perfect. Bartell, even though he had tight coverage on Floyd, is not in a position to make a play on the ball. The free safety is powerless to get over and help, and Floyd makes a great leaping grab.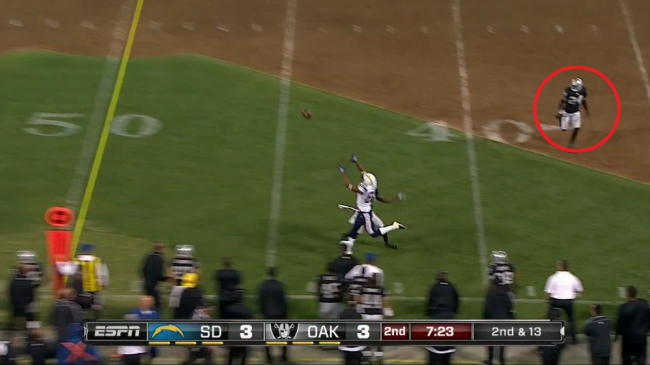 The result is a first down that extends the drive. Rivers trusted that Floyd would be able to get body position and make the catch, and he put the ball in a place where only Floyd could make the catch.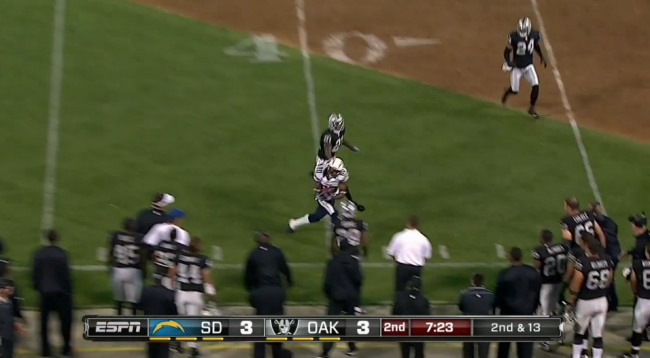 Play No. 2: Gates' Completion Sets Up the Touchdown
It's 3rd-and-5, and the Raiders are playing virtually the same defense as the last play except Gates is on the right side, the linebackers are blitzing and Branch is playing closer to the line of scrimmage.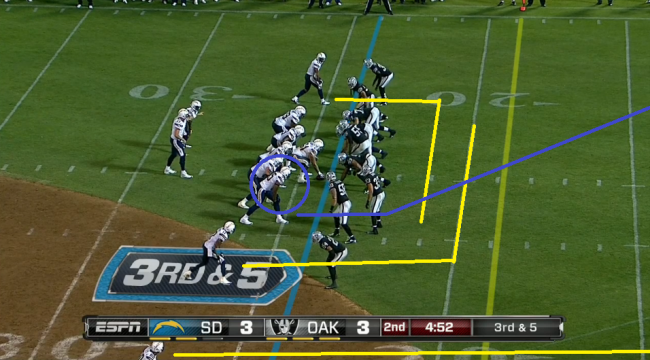 The free safety is shading the strong side where the Chargers have Gates and two wide receivers. It leaves an open area for Gates if he can get a step on Branch.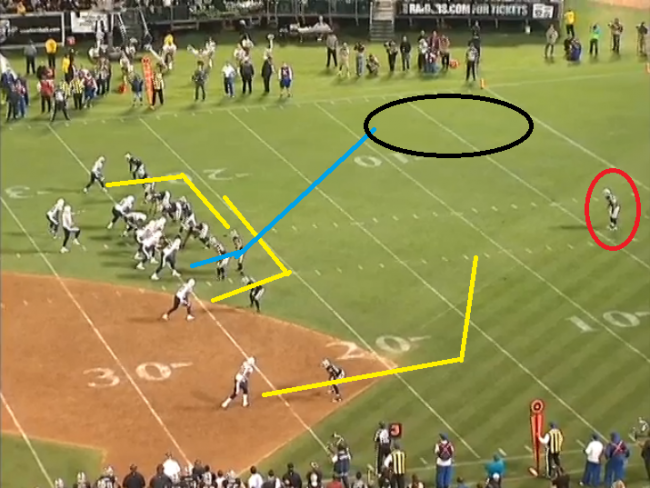 The most difficult thing to do in man coverage is run across the field, so the Chargers send three receivers through the same area to create separation and hopefully find a receiver open for a first down. Rivers had all three of the crossing receivers open on this play, but Gates was the No. 1 read, and he got good initial separation from Branch.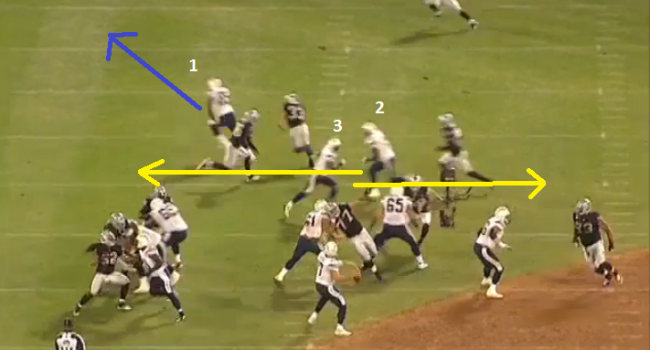 Branch does a good job of making up ground, but Rivers' throw was good enough to make the completion and set up the Chargers only touchdown of the game.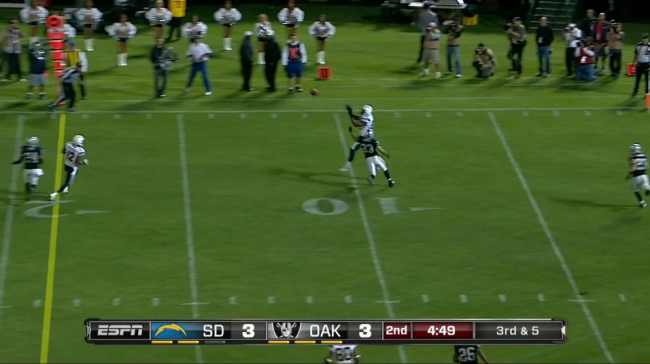 Play No. 3: Floyd's Touchdown Catch
The Raiders switched to a Cover 2 zone inside the red zone, so Rivers is going to have to find a crack in the coverage.
Rivers recognizes the coverage and knows the cornerback to his left will be drawn forward by the crossing tight end and will not continue to run with Floyd who is being picked up by the free safety. His other receivers are blanketed, but he's basically going to have a one-on-one with Floyd against Matt Giordano.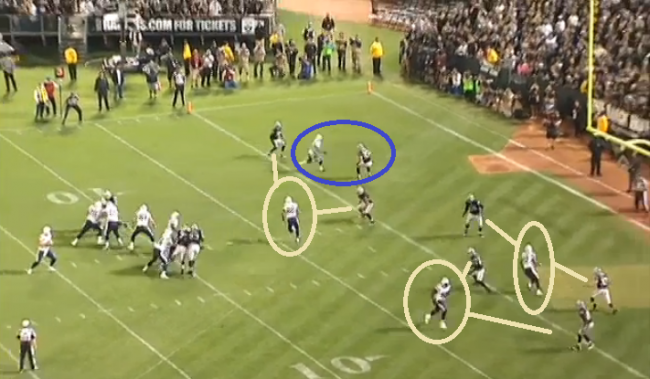 Giordano runs the route with Floyd, and nothing is open. Rivers is going to get pressured, and he doesn't have a receiver open, except, Floyd knows his job is to get to a spot and then drag the back of the end zone.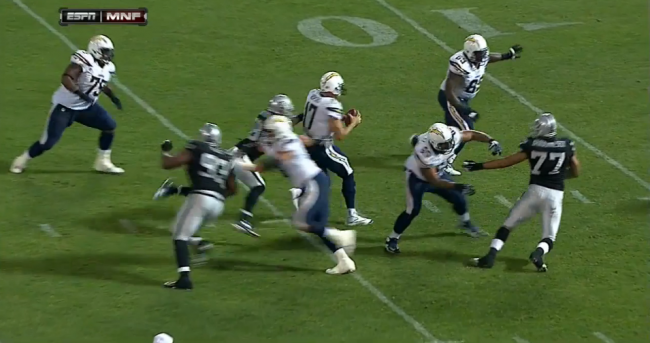 Rivers slips the sack and gets enough on the pass to find Floyd for the touchdown. Floyd also moved toward the pass knowing that Rivers was under duress and might not get much on the throw. It's a play that Rivers and Floyd only made because they both understood the coverage and were on the same page.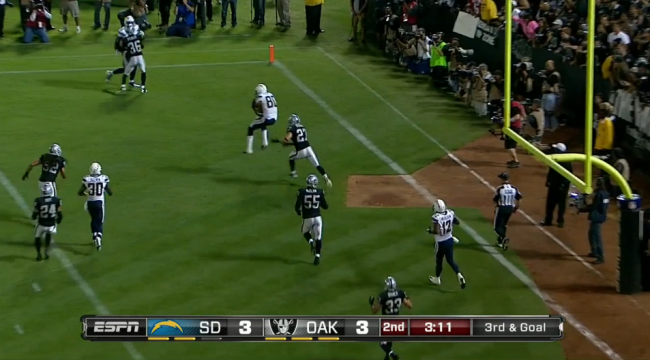 Rivers is going to depend on Floyd and Gates a lot this season. He'll occasionally take deep shots to Meachem and might try to get Eddie Royal the ball on screens, but he trusts Gates and Floyd. The result will be fewer big plays down the field but should also result in fewer interceptions.
This article is
What is the duplicate article?
Why is this article offensive?
Where is this article plagiarized from?
Why is this article poorly edited?

San Diego Chargers: Like this team?