While he may be dejected by a recent injury, Baltimore Orioles outfielder Nick Markakis had to be smiling from ear-to-ear Wednesday night at Camden Yards.
With one thwack of Nate McLouth's bat in the bottom of the ninth inning, the Orioles overcame a first-inning leadoff homer by B.J. Upton to beat the Tampa Bay Rays 3-2.
In a must-have grudge match, Baltimore used outstanding pitching, clutch hitting and clever fielding to take the first two of three games from the Rays.
Miguel Gonzalez pitched six strong innings for the birds, surrendering two earned runs and striking out four. He outdueled rookie right-hander Alex Cobb, who fought through wildness for 4.2 innings before getting the hook.
As usual, the bullpen was terrific. Darren O'Day, Pedro Strop and Jim Johnson combined for three scoreless innings. Johnson got his second win of the season.
Tampa's bullpen was also outstanding, keeping the game tied at two apiece heading to the ninth inning.
But in the ninth inning, 20-year-old rookie Manny "Magic" Machado took over—first with his glove, then with his bat.
In the top of the frame, Rays infielder Jeff Keppinger singled to center field off Johnson. Keppinger was pinch-run for by Rich Thompson who later stole second.
Then, in a play that will go down in the memory banks of Orioles' fans, Evan Longoria hit a creeping ground ball to Machado at third base. Machado bare-handed the ball and faked the throw to first.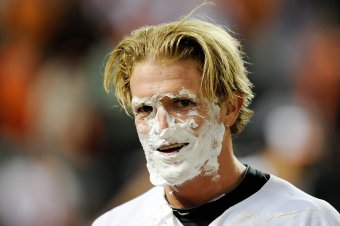 Patrick McDermott/Getty Images
Thompson, who thought Machado threw the ball to first, rounded the bag hard at third.
Like a wily veteran (not quite the rookie), Machado tossed the ball to J.J Hardy who was covering third.
A pickle between third and home ensued, which Thompson lost to Matt Wieters.
As if holding the fort were not enough, Machado then came up in the bottom of the ninth inning and delivered a single to left off Kyle Farnsworth.
Shortly after, Robert Andino laid down a sacrifice bunt to move Machado into scoring position.
The stage now set for McLouth, this Michigan native knocked the air out a Farnsworth fastball, crushing it off the right field wall—just left of the foul line.
Meeting McLouth at home plate with happy teammates was Chris Davis. The breakout slugger picked McLouth up and threw him over his shoulder like a ragdoll.
With the walkoff hit, McLouth went 2-for-5 with an RBI on the night. Since taking over at the leadoff position, McLouth has batted .352 (6-for-17).
More impressive, in the last 10 games, McLouth has batted .371 (13-for-35).
With the win Baltimore goes to 80-62, which is the same record as the New York Yankees, who beat the Boston Red Sox 5-4.
With the loss, the Rays fall to 77-65. They are now three games behind Baltimore and New York in the AL East.
Related Baltimore Orioles Articles:
Markakis' Injury Will Not Derail Resolute Orioles
5 Huge Takeaways from Orioles-Yankees Series
7 Potential Wild Card Pitching Matchups for O's
Buck Showalter Must Win AL Manager of Year