5 Huge Takeaways from Orioles-Yankees Series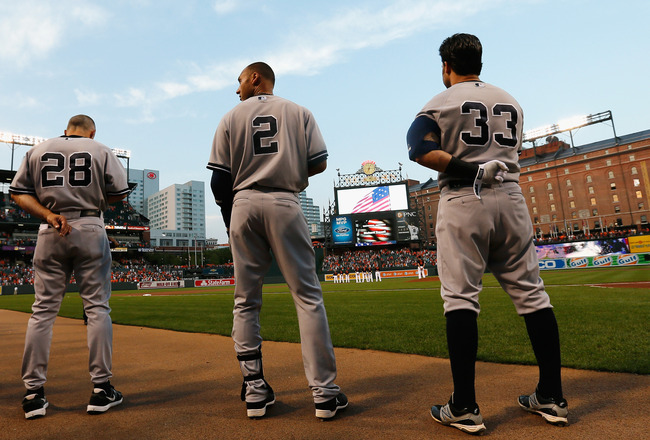 Rob Carr/Getty Images
Oriole Park at Camden Yards was an inspiring sight last weekend. Under an umbrella of mostly beautiful weather, a nice mix of Baltimore Orioles and New York Yankees fans filled this park to capacity.
A sea of orange blended with pinstripes as the Orioles and the Yankees grappled for control of the American League East division.
For a Yankees team marred by injury and pitching issues, this series was a test of will to hang on to the top of the perch.
For the Orioles, this series was a true test of resolve to determine if they could withstand the pressure of a proud Yankees team that always seems to dig deep when ballgames matter most.
This exciting series ended in a stalemate, with the Yankees maintaining a slim one-game lead over the Orioles in the division.
Regardless, this series revealed five big lessons about both teams. These lessons are the subject of this slideshow.
1. The Orioles Are Not Going Away
Rob Carr/Getty Images
For all the trash-talking heard last weekend at Camden Yards, Yankees fans know Baltimore is not going to simply vanish into the depths of the AL East.
Despite losing Nick Markakis to injury, the Orioles have proven all year long that someone will step up to help navigate this team to victory.
The media has asked when the wheels would fall off. This team should be in the cellar of the AL East; how do they keep winning?
The Orioles excel because they have intangibles many other teams lack. This team is selfless. This team has chemistry. This team is accountable and fights through adversity. More critically, the Orioles have leaders who treat their players like grown men.
From a leadership and force-management perspective, the Orioles are a fascinating team to watch. They may not be the most talented bunch, but this team has defied the odds.
2. The Yankees Have True Grit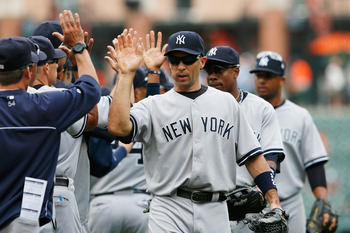 Rob Carr/Getty Images
The Yankees are most dangerous when pinned against the ropes. Lately, this team has faced criticism.
The Yankees are old. They are slow. Their pitching staff is awful. The Yankees are on the verge of a collapse of epic proportions.
In Sunday's 13-3 win over Baltimore, the Yankees showed exactly why they are still a force. Incredible plate discipline and the use of small ball wore down Zach Britton and the rest of the Orioles pitching staff.
The end result was carnage (13 runs, 14 hits, eight walks) and a critical split in this series.
At the end of the weekend, the Yankees left Baltimore the same way as they arrived—in first place.
3. Orioles/Yankees Love Home Run Derby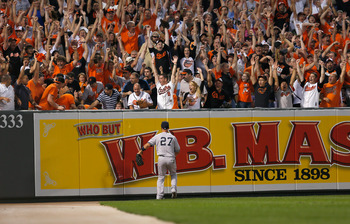 Rob Carr/Getty Images
I have seen some home run-heavy series', but the way the ball was flying out of Camden Yards over the weekend was unreal. For baseball fans that dig the long ball, this was a dream series to watch.
There were 18 home runs in the series. The Orioles had 12. The home runs were not dainty, either.
On Thursday, Matt Wieters, Robert Andino, Mark Reynolds and Adam Jones all swatted big-time blasts in Baltimore's 10-6 win.
On Friday, Alex Rodriguez popped a monster shot deep into the bullpens in left-center field. He hit another moonshot to dead center field Saturday. Lew Ford did as well for the Orioles that same night.
Curtis Granderson came off the bench Sunday to deliver a clutch bomb over the left-center field wall.
Even Derek Jeter got in the act, smashing a home run late in the fourth and final game of the series.
4. Joe Girardi and Buck Showalter Care for Their Players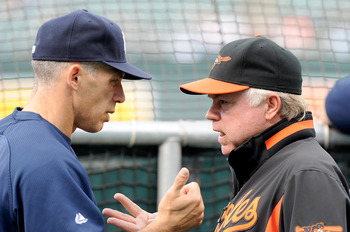 Greg Fiume/Getty Images
Yankees skipper Joe Girardi is typically a cool customer. Buck Showalter could easily trademark the words "poker face."
I admire both men because they truly care about their players. This was clearly shown after Game 3 of the series.
After Yankees pitcher CC Sabathia broke Nick Markakis' thumb with a low-90s fastball in the fifth inning, Markakis vanished in obvious pain into the Orioles' clubhouse.
In the eighth inning, cameras caught Markakis returning with a splint on his thumb. In an act rarely seen in sports, an obviously distraught Showalter put his arm around Markakis like a father would with a son.
After this fiercely fought game (with a controversial ending) Girardi answered questions from New York reporters. Girardi looked frustrated and was short with his answers in this four-minute interview, but he remained professional as he accounted for his ballplayers.
Girardi's behavior was typical of a skipper trying to balance winning a pennant with defending his players from reporters.
Say what you will about Showalter and Girardi. I would go to war with either man any day of the week.
5. A Rivalry Has Been Restored
Rob Carr/Getty Images
For Orioles fans that have endured years of misery, playing a meaningful game against the Yankees in September is inspiring.
For Yankees fans, watching the Orioles rejoin them atop the AL East standings is a completely foreign thought.
Like most dogs despise the smell of citrus, many fans faithful to the Yankees or the Orioles do not like each other very much.
While message boards and comments to controversial Yanks/O's game recaps are rife with vitriol and tit-for-tat arguments, a little-known fact is that the Yankees lineage traces to the Baltimore Orioles of the early 20th century.
While some fans on both sides of the aisle could care less, the fact these two teams share such a rich history makes this rivalry even sweeter.
A healthy rivalry between the Orioles and Yankees is not only fun to watch, but it is also great for the game of baseball.
Keep Reading

New York Yankees: Like this team?