Washington Redskins: 3 Up-and-Coming Impact Players to Watch This Season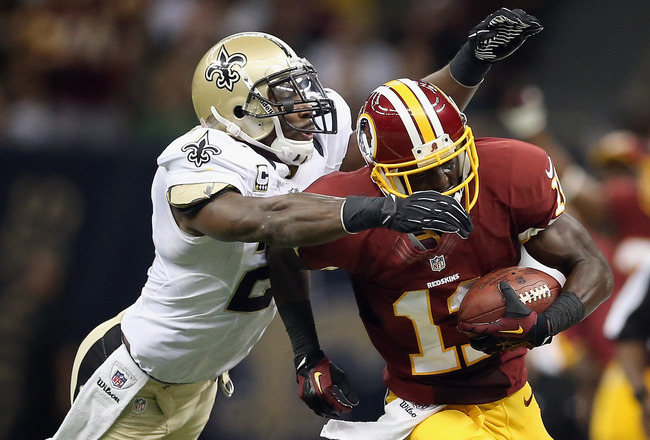 Ronald Martinez/Getty Images
Every team has three classes of impact players: (1) its established stars who are expected to perform (Orakpo, Fletcher, etc), (2) its highly touted rookies who are also expected to perform, with more allowance for mistakes (RG3) and (3) its unexpected impact players. Unexpected contributors emerge every year, but they are not always easy to to predict.
Sometimes players are fortunate enough to showcase their talent in practice and earn playing time where they shine. For others, their contributions come in crunch time when a key veteran goes down. This piece will focus on three up-and-coming players for the Washington Redskins who will deliver far more than is expected of them this season.
Alfred Morris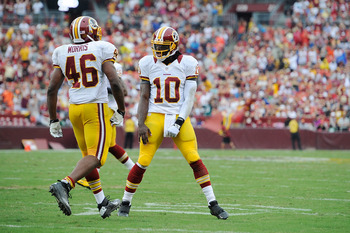 Patrick McDermott/Getty Images
Alfred Morris is the clear first name that should pop into everyone's minds for a list like this. Morris has shown the world that the Redskins' coaching staff believes in him after he beat out three backs who all demonstrated ability last season (Hightower, Helu, Royster). Despite their incumbent inside track, Morris was able to flash his toughness and stamina as a feature back.
Morris carried the lion's share of the load in Week 1 with 28 carries for 96 yards and two touchdowns. Morris is a tough and rugged runner who takes the beating that 30 carries a game will give you and provides steady production. It's amazing to think that just a few months ago, Morris was not even sure if he would be playing running back for the Redskins.
In an interview I conducted back in May, Morris mentioned that he was receiving training at both running back and fullback. Apparently, the Redskins had not yet decided how to feature Morris in the offense. Well, now his role is very apparent, and despite Shanahan's propensity for rotating backs, expect to see big things out of Morris this season and going forward.
Aldrick Robinson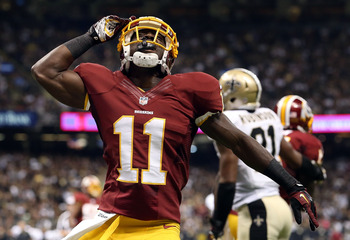 Ronald Martinez/Getty Images
There were many receivers that fans were eager to see in the Week 1 matchup against the Saints; Aldrick Robinson was not high on many lists. Robinson came into this season barely making the roster, beating out Anthony Armstrong for one of the final roster spots. Robinson saw very little action last season but changed many opinions with his performance on Sunday.
From the first snap, the Redskins ran a quick, short route passing game that allowed Robinson to excel. On just four receptions, Robinson was able to post 52 yards and a touchdown. With injury concerns looming for Pierre Garcon, Robinson may get another chance this weekend to flash his speed against the Rams.
The Redskins' plans for how to use their receiving corps has been altered, and the new focus is clearly on elite speed. Lucky for Robinson, he fits right into that equation since he has the tools to beat any defender deep and just needs to develop a connection with RG3. Once that relationship is established, there is no telling how big of a season Robinson could have.
Madieu Williams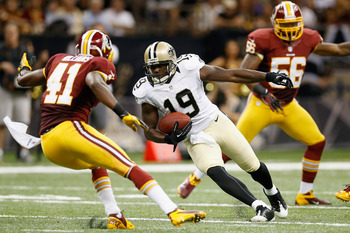 Chris Graythen/Getty Images
The Redskins secondary is hardly considered the strength of the defense, but that leaves plenty of room for new players to shine. The front seven is cemented with leaders like Fletcher and Orakpo, but they are still searching for leaders on the back end. With Brandon Meriweather out 2-4 weeks, and Tanard Jackson suspended for the season, Madieu Williams is in perfect position to emerge as a leader on defense.
Williams showed off his talents on Sunday by leading the Redskins with five solo tackles and a pass defended. Williams brings a great combination of quick instincts, route recognition and a punishing tackle. Even on failed plays, like the Jimmy Graham touchdown, Williams was in perfect position and got a hand on the ball (Graham just got two).
The Redskins have been desperately searching for a leader in the secondary since the passing of Sean Taylor. LaRon Landry failed to rise to the occasion, and none of the corners have demonstrated proper consistency. Watch for Williams to improve each week this season and rise to the challenge that Jim Haslett has presented.
Keep Reading

Washington Redskins: Like this team?