5 Questions That Remain Unanswered for Jacksonville Jaguars After Week 1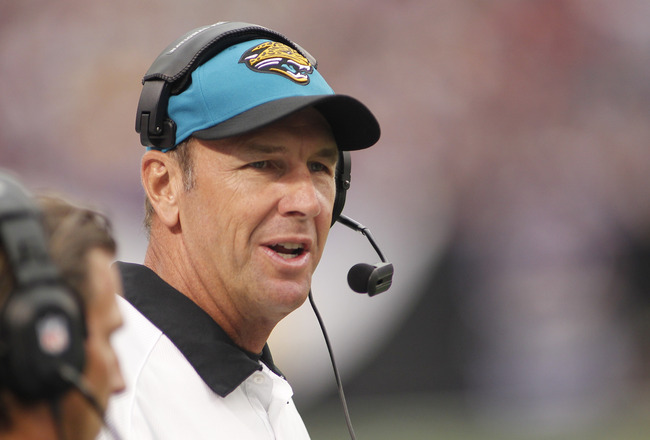 Andy King/Getty Images
Despite taking a 26-23 loss in overtime to the Minnesota Vikings in Week 1, the overall performance from the Jaguars was encouraging moving forward, except for losing to a three-win team from a season ago.
The Jaguars took the Vikings to the limit in the Metrodome and showed improvement from the team that won five games a year ago.
All that seems to be left to do is learn how to close out and win games, but that is easier said than done.
Although there were some positives to take away from the loss, a silver lining if you will, there were still some things that left myself, along with Jaguars fans wondering.
Questions that were being asked throughout the offseason went unanswered after Week 1.
There is still time to answer these questions as it was only one game, but here are five of those questions that were left unanswered.
Is the Pass Rush Really Improved?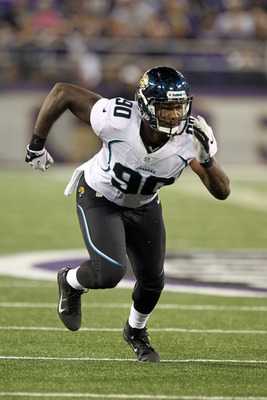 Mitch Stringer-US PRESSWIRE
Although the Jaguars recorded two sacks on Vikings' quarterback Christian Ponder, the pass rush did not disrupt him enough as he comfortably completed 20 of his 27 pass attempts for 270 yards.
The Jags drafted Andre Branch to be a force from the defensive end spot. After the first game at least, he was anything but.
Branch recorded one tackle and that was it. Credit does have to go to the Minnesota offensive line, but I expected to see a little more from the rookie.
Now, it was only one game and Branch is still adjusting to the speed of a real game, as opposed to the preseason.
He still has time to answer this question and I believe in time he will.
But at the end of the day, it is a question that has yet to be answered.
Is Justin Blackmon Ready to Be a Main Target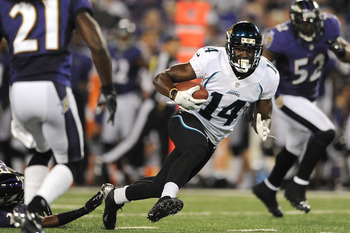 Patrick Smith/Getty Images
Another rookie who didn't have an explosive debut was receiver Justin Blackmon.
Blackmon surprised everyone, including myself with what he showed during the preseason coming off a holdout.
Now I wasn't expecting Blackmon to have a debut like Anquan Boldin had once upon a time, but I expected to see a little more.
He caught three passes for 24 yards during his first NFL game.
Blackmon is supposed to be a top rookie receiver and his first game did not show any indication of that.
Like Branch, Blackmon will have more time to adjust to the regular season.
The more comfortable he gets, the better I think he will be.
Was Laurent Robinson a Good Pickup?
Patrick Smith/Getty Images
Laurent Robinson was the big free-agent pickup for the Jags during the offseason to solve their long standing problem at receiver.
Robinson was brought to the Jags after 54 receptions, 858 yards and 11 touchdowns in 2011, where he looked every bit of a legit No. 1 option.
Robinson has yet to show that throughout the preseason and the first game of the regular season.
He never separated himself from the rest of the receiving corps. as far as ability during training camp, and during Week 1 he caught five passes for 66 yards.
That isn't a terrible game, but I figured he would be able to do more against a Minnesota secondary that was very bad last season.
Robinson still has much to prove to show his worth as the Jaguars' top free agent from the offseason.
Has the Secondary Improved?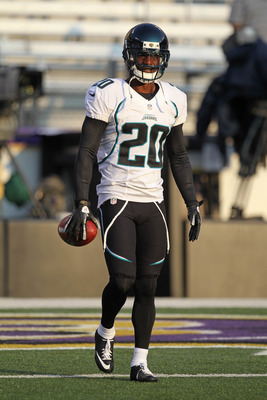 Mitch Stringer-US PRESSWIRE
Although the secondary was without Derek Cox because of injury, it still should have been able to slow down Ponder and the Vikings' offense on numerous occasions, especially the last drive of regulation.
Giving up that field position in such little time is inexcusable for a unit thought to be improved during the offseason with the addition of Aaron Ross.
Did Ponder improve during the offseason? Possibly. If that was the case then no one can take anything away from him and the offense.
But there are better quarterbacks who wouldn't been able to pull off what the Vikings pulled off at the end of regulation.
The secondary also allowed him to throw only seven incomplete passes, which is very good no matter what quarterback is being talked about.
The secondary showed some holes at times during the preseason, namely the New Orleans game and the Baltimore game, but those can be chalked up to a pretty good offense in Baltimore and a great one in New Orleans.
Minnesota's offense, especially its pass offense, does not measure up to either of those offenses and yet it gained nearly 300 yards through the air.
Did the Team Make Anyone Believe They Can Contend?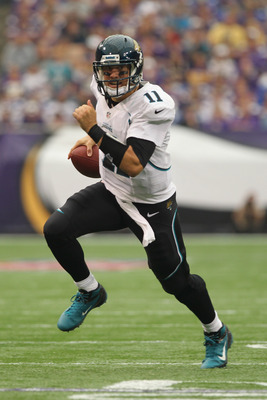 Brace Hemmelgarn-US PRESSWIRE
Despite all of those specific questions that are yet to be answered, the most important is whether anyone saw enough from this team after one game to believe it could contend in the AFC.
The Jaguars looked like a better team from a year ago, but came up short in the one category that really matters: the win.
The road does not get any easier from this point for the Jaguars.
They lost to the worst team in the NFC North Sunday, but they still must go up against the Lions and Bears at home, and the Packers on the road.
They must also still go up against the Texans twice, the Raiders, Bengals and Jets.
The team has taken some steps forward, but will it be enough to contend for a playoff spot?
Keep Reading

Jacksonville Jaguars: Like this team?