Cowboys vs Seahawks: 12 Keys to the Game for Dallas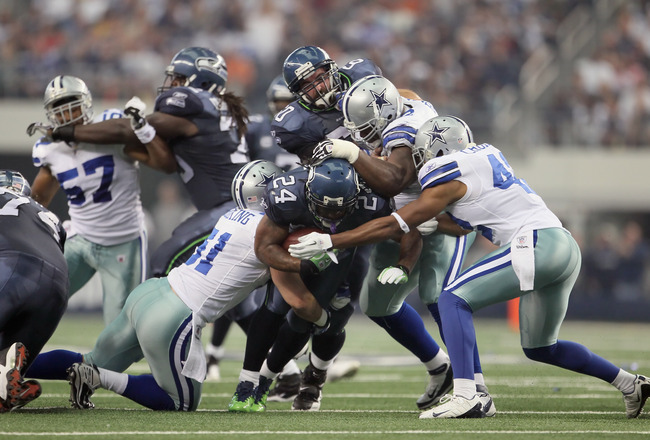 Jeff Gross/Getty Images
This Sunday the Cowboys have their eyes fixed toward a record of 2-0 as they prepare to take on the Seahawks of Seattle.
These two teams met last season in a game that featured plenty of turnovers and more than 300 combined rushing yards. Dallas beat Seattle 23-13 to improve to 4-4, a record that ultimately led the Cowboys away from the playoffs.
But this season they are hoping for a different result.
The Cowboys are catching Seattle in Week 2 instead of Week 9 and will have a new defense to face off against the Seahawks' young quarterback Russell Wilson.
Before Dallas makes its quest to CenturyLink Field, let's take a look at 10 keys to the contest on Sunday.
A Steady Cowboys Offensive Line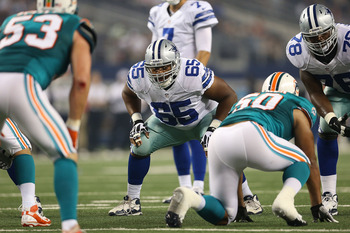 Ronald Martinez/Getty Images
The key for the Cowboys offensive line will be to find a groove and remain in that spot. If the line can go for long stretches where it brings stability, it should build off that.
CenturyLink Field is known for its noise, so players who are prone to false-start penalties should focus some of their energy on the snap count.
But the bottom line for this group of players is they have to continue to grow and gel. Protecting Tony Romo and opening holes for DeMarco Murray are first priorities, but also maintaining proper footwork, knowing the play that's called, focusing on the snap count, recognizing blitzes and stunts and etc.
There is so much that goes into opening that hole that breaks Murray for 50 yards or keeping a linebacker off Romo's back. So while I believe the line is mediocre, I commend it for keeping his jersey mostly clean against an aggressive Giants defense.
Now it has to do it again against Seattle.
Keeping Russell Wilson Confused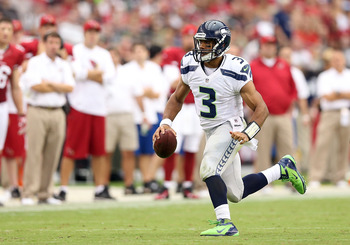 Christian Petersen/Getty Images
Wilson's stats against the Cardinals are gaudy but they are good enough. He kept his team in the game, threw one touchdown and almost brought his team back for a victory.
His numbers were average, 18 completions for 153 yards. Nothing special on paper, but he did enough on the field to keep Seattle competitive.
While I will refrain from throwing shade toward the Cardinals defense, the Cowboys' defensive effort should be much more sophisticated than Arizona's.
Dallas has two lockdown type of cornerbacks in Morris Claiborne and Brandon Carr who can provide needed coverage to Larry Fitzgerald and Andre Roberts.
If the Cowboys' defensive line can keep the pressure on Wilson and not allow him enough time to go through his progressions, he should be in for a long evening.
Cowboys defensive coordinator Rob Ryan enjoys blitzing the quarterback, and Wilson should see a fair share of linebackers racing toward him in the backfield.
Forcing him into bad mistakes will be key for the Cowboys on Sunday.
Steady Diet of DeMarco Murray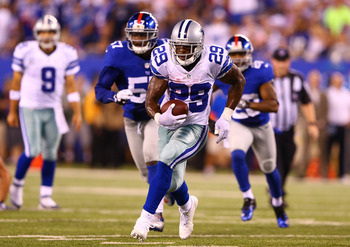 Al Bello/Getty Images
Against the Seahawks last season, Murray rushed for 139 yards on 22 carries. He averaged almost seven yards per carry and provided a needed spark for the Cowboys offense.
That game was also one of the Cowboys' more balanced efforts as Cowboys head coach Jason Garrett called 31 passes to 29 rushes. Well, minus three as Romo accounted for a few because he scrambled away from pressure.
Murray had an almost identical stat line against the Giants in Week 1 and will need to have the same type of performance on Sunday against the Seahawks.
Using Jason Witten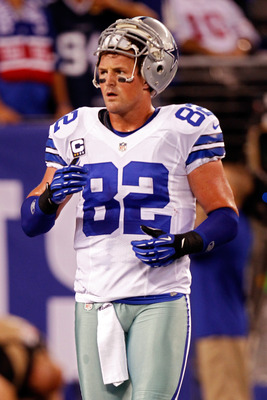 Jeff Zelevansky/Getty Images
How the team will use Witten, I'm not exactly sure. He is still recovering from an injured spleen and it remains to be seen when he will be back to 100 percent.
He caught two passes against the Giants for just 10 yards and may have the same effort against Seattle. But it kept the Giants defense honest as it had to account for his presence on the field.
Witten is set to play and his role may be the same as it was against New York—just to play as a decoy.
I expect him to have a larger impact on the final stat line, but Dallas just needs for him to take pressure away from Romo, Austin and Bryant.
A Healthy Miles Austin
Jeff Zelevansky/Getty Images
Austin had a touchdown catch in Week 1. He also had 73 yards on four catches. So that injured hamstring isn't holding him back to much.
It's still important that he get back to 100 percent as soon as possible.
Having all of the team's offensive weapons on the field at once means less defensive pressure for Romo and the offensive line.
Last season against Seattle Austin barely made a dent. He was targeted just three times and ended the game with 53 yards on two catches.
His impact this season has to be larger as the Cowboys will be in a hostile environment.
Defensive Pressure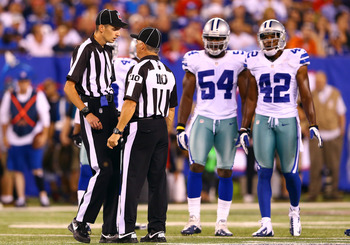 Al Bello/Getty Images
According to a stat on ESPN.com, the Cowboys dialed back the blitzes against Giants quarterback Eli Manning.
It worked.
Manning was sacked three times and had trouble getting into a rhythm. He expected Dallas to bring more heat as it blitzed him nearly 40 percent last season.
Manning feasted on the pressure and completed over half of his passes against the pressure.
Can Wilson do the same? What type of pressure will Ryan bring against the rookie? Will he blitz him early and blitz him often?
Ryan will figure out how Wilson handles the pressure throughout the game and find the right balance as to when to send pressure.
Tony Romo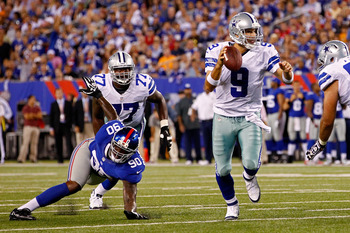 Jeff Zelevansky/Getty Images
Romo is smack in the middle of the prime of his career. It seems that everything is coming much easier to him and he has a solid grip around the offense.
He was efficient against the Giants, threw three touchdown passes and had just one turnover.
One of Romo's main weaknesses is when he has pressure directly in his face. Against the Giants, he was pressured heavily on one play where he saw it directly and he threw an interception.
He never saw the linebacker and turned the ball over.
Romo has to continue to keep his game clean and efficient against the Seahawks. I fully believe he'll do so and that we sill see another grand performance from Mr. Tony.
Lack of Penalties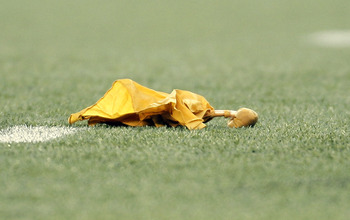 Winslow Townson/Getty Images
That's pretty straightforward, isn't it? Dallas had 13 penalties against the Giants and cannot continue to have that type of performance moving forward.
The Cowboys had a number of false starts that went against the offensive line that should not carry over into Week 2.
Dallas has always had a problem with being a disciplined squad when it comes to receiving yellow flags.
I will never believe that teams can afford penalties and turnovers, but if the Cowboys have to get it out of their system, do it against Seattle and not Baltimore.
Creating Turnovers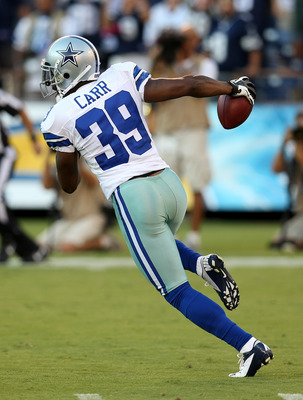 Stephen Dunn/Getty Images
Dallas caused three turnovers against Seattle last season. Former Seahawks quarterback Tarvaris Jackson threw three interceptions that aided the Cowboys in their 10-point victory.
A similar performance is needed. Dallas doesn't have to create three turnovers to win the ballgame, but the team that wins the turnover battle usually wins the game.
Dallas should see a steady flow of Marshawn Lynch on Sunday thus taking the ball out of Wilson's hands.
But if Seattle head coach Pete Carroll puts the ball in Wilson's hands, the Dallas defense has to make him pay for that decision.
Getting Dez Bryant Active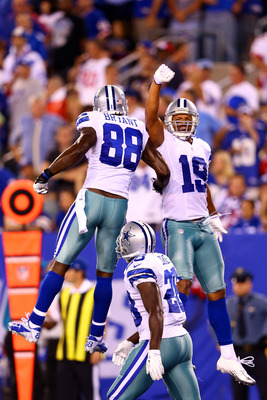 Al Bello/Getty Images
Bryant had a pretty good game in Week 1. He had four catches for 85 yards and no touchdowns.
His longest catch was for 38 yards and he averaged a healthy 21 yards per catch.
For Dallas to be successful through the air, Bryant will have to find himself open spots. Last season Bryant had a problem with finding success in the second half. He would make all of his noise in the first half and disappear when the third and fourth quarter arrived.
This season Bryant has to be more consistent and not allow defenses to take him out of the game.
He's to talented, strong and skillfull to allow for that to happen this season.
Look for a big game from Bryant against Seattle.
Clock Control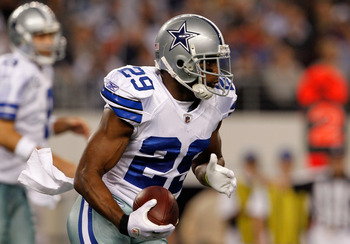 Tom Pennington/Getty Images
Last season when these two teams met, Seattle won the time battle as it held the ball for 30 minutes compared to 29 minutes for the Cowboys.
The Seahawks home-field advantage is a little stronger than that of the Cowboys, as the on the field noise can be deafening.
To cut down on potential false-start penalties and to remove the crowd from the game, the Cowboys will have to control the clock.
Feeding Murray, Jones and Tanner will help in that battle. Sending the Seahawks on three-and-outs and frustrating any offensive momentum they try to conjure should take the noise from the field.
Kevin Ogletree Remaining Consistent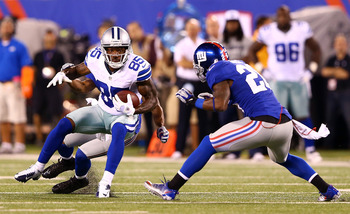 Al Bello/Getty Images
Ogletree's stat line against the Giants read like an old Miles Austin or Michael Irvin line.
He had eight catches and two touchdowns on the night. With the Giants focusing most of their attention on Bryant, Austin and Witten, that freed Ogletree up to macerate the Giant's defense.
Ogletree shouldn't have such an easy time on Sunday against Seattle, but if he goes without notice, his numbers should remain the same.
He has to remain consistent if the team is to take him serious moving forward.
Keep Reading

Dallas Cowboys: Like this team?