Tampa Bay Buccaneers: Can Josh Freeman Lead the Bucs to Glory?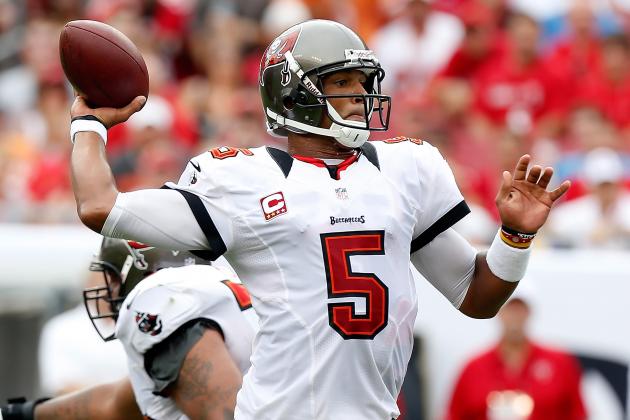 J. Meric/Getty Images
Josh Freeman certainly has the talent and wherewithal to lead the Bucs to victory and it starts with curbing his tendency for turnovers.
It might be too early to speculate whether or not the Tampa Bay Buccaneers will make the playoffs this season, but for quarterback Josh Freeman to lead them there, the formula is clear.
The Bucs don't have a sparkling offense with many playmakers. Their defense shut out the Carolina Panthers in the first half and picked off Cam Newton twice in the second half en route to a 16-10 victory in Sunday's home opener.
Tampa Bay will not score 25 points per game this season. Freeman probably won't make the Pro Bowl. But with help from his defense, he can lead his team to the playoffs for the first time since 2006.
Begin Slideshow

»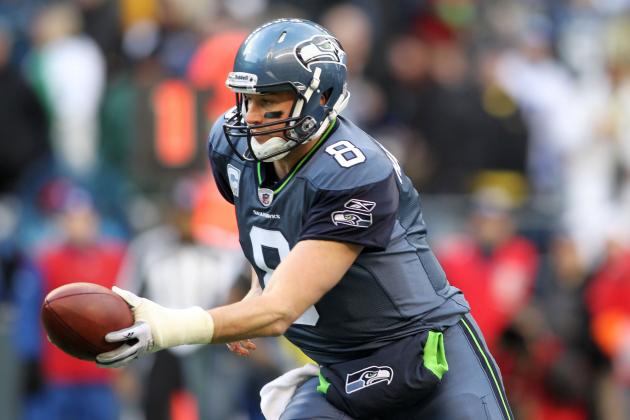 Jonathan Ferrey/Getty Images
Matt Hasselbeck did not produce gawdy numbers in 2005, but he managed to lead Seattle to the Super Bowl.
In fact, he doesn't need to play gloriously to lead the Bucs back to glory.
Think Jim McMahon in 1986. Think Trent Dilfer in 2000. How about Matt Hasselbeck in 2005? These are quarterbacks who did not need to win games with their arms; they were able to manage games, making the necessary throws at the appropriate times.
Take Hasselbeck, for instance, who in 2005 completed nearly 66% of his passes on the season, finishing with a quarterback rating of 98.2 while leading the Seattle Seahawks to the Super Bowl. Most importantly, he did not make glaring mistakes, throwing nine interceptions to 24 touchdowns.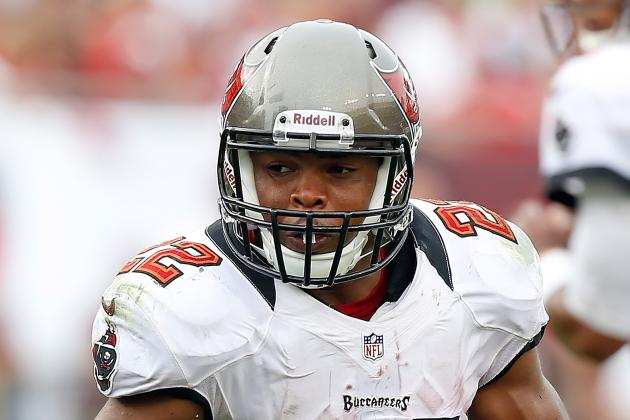 J. Meric/Getty Images
If Doug Martin has a great year, you can be quite certain that Freeman will, as well. It works both ways.
Between Walter Payton, Jamaal Lewis and Shawn Alexander, the aforementioned quarterbacks had top rushing attacks that were utilized. In 2005, Alexander had 1,880 yards to ease Hasselbeck's load.
Those quarterbacks were expected to throw in particular situations. When implored, they played soundly, throwing accurate passes taking only necessary risks.
Doug Martin had a solid performance for the Bucs against Carolina, rushing for 95 yards on 24 carries. Like Freeman, however, don't expect him to be among the top 10 in individual rushing yards at season's end.
Martin is a rookie out of Boise State and there will be a learning curve to his development as a starting running back. It will be up to Freeman to make him play better by playing efficiently as a passer.
Freeman's career has been rather confusing. In his last three seasons, his completion percentage and average passing yards have steadily increased, but his touchdown-to-interception ratio is alarming.
In 10 games in 2009, Freeman finished with 10 touchdowns, 18 interceptions and a passer rating of under 59.8 in his rookie campaign. No surprise there.
He broke out with an eye-opening 2010 season in which he threw 25 touchdown passes to six interceptions. That is extremely efficient.
It is difficult, then, to explain why last season he threw for 16 touchdowns and 22 interceptions. After all, he was accurate, completing 63 percent of his passes.
J. Meric/Getty Images
The Bucs defense was swarming on Sunday, holding DeAngelo Williams to negative yards rushing.
It must have had something to do with a Buccaneers defense that ranked last in the league in points allowed, rushing yards allowed and rushing touchdowns allowed. That is to say that Freeman played from behind often.
Furthermore, the Tampa Bay backfield and offensive line did not provide much help, considering the Bucs rushed for about 91 yards per game in 2011.
Following Tampa Bay's stymieing of a rather potent Panthers offense on Sunday, it appears promising that the Bucs' D has recommitted itself. Although Carolina played without starting back Jonathan Stewart, it is impressive nevertheless that Tampa allowed one rushing first down and 10 total rushing yards on 13 carries.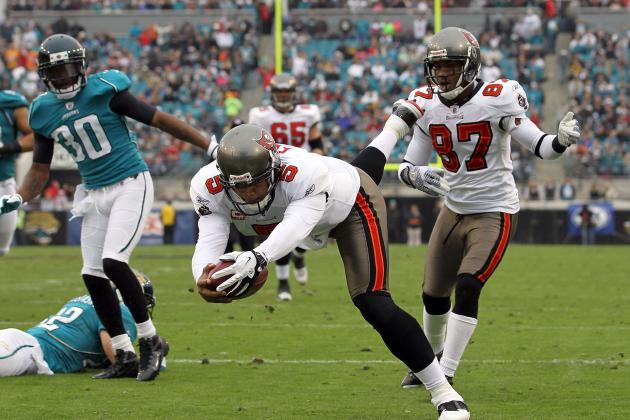 Sam Greenwood/Getty Images
Freeman happens to play exceptionally better with a lead, when his team is able to hold on to one.
By controlling opposing rushers, Tampa has a better chance of controlling time of possession. More possession leads to a steadier offense in which Freeman doesn't have to overextend his play.
In 16 games last season, Freeman threw 65 passes while his team had the lead compared to 486 when the Bucs were tied or trailing (12%). In 2010, 25% of his passes were thrown with a lead, completing nearly 64% of his passes for a rating of 114.4 with eight touchdowns and no interceptions.
Possession must be put at a premium for Freeman to be successful. Fewer interceptions will cultivate more opportunity to wear defenses down with the running game.
If the Bucs' defense plays as it did in Week 1, it won't matter how many yards or touchdowns Freeman throws. As long as he remains efficient, Freeman certainly has proven he has the ability to lead Tampa Bay back to the postseason.