New York Yankees vs. Boston Red Sox September 11-13 Series Preview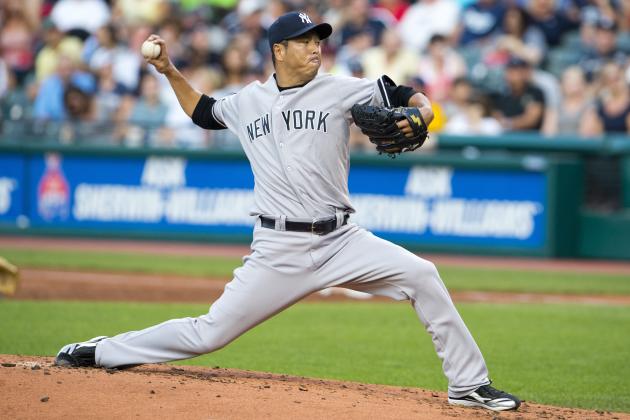 Jason Miller/Getty Images
The Yankees hope Hiroki Kuroda is sharp in the series opener as the Yankees look to vanquish the bottom-dwelling Red Sox.
The Yankees have blasted their way to the highest home run total in the majors, and they're currently tied for first in team OPS. Yet they have had odd struggles batting with runners in scoring position. This problem has plagued the Bombers all season long and they enter this series at just 17th in the majors.
The Yankees are 8-4 against Boston this season, with six games left in the season series. The Red Sox come in with nothing to play for other than personal pride and the chance to give their fans something to cheer about by putting a dent in the Yankees' postseason hopes.
The 2012 season did not start out with low expectations for the Sox—in fact, quite the opposite. Boston was considered to be a front-runner to win the division. Injuries, clubhouse discord and poor performance has derailed the Sox season.
Ownership also blew up what were the Red Sox earlier this summer in the deal that sent Josh Beckett, Adrian Gonzalez and Carl Crawford to Los Angeles.
The Red Sox have been decimated by injuries—from Jacoby Ellsbury to Dustin Pedroia to Will Middlebrooks—and it's shown in their record. David Ortiz was having an exceptional season, once again hitting over .300 and belting 23 home runs, until an Achilles strain sidelined him for the rest of the year.
Cody Ross and Pedroia have been bright spots in the lineup, but Adrian Gonzalez had been a disappointment at first base, particularly when you consider Boston was paying him just under $22M. Jacoby Ellsbury is just hoping this season will end. Ellsbury was one of the best players in all of baseball last season.
What a difference a year makes. This season, Ellsbury has missed two months due to injury and since coming back has been a lackluster hitter for Boston. Yet for all of Boston's faults, they're still incredibly ninth in the majors in team OPS. The Yankees should not take them for granted.
The Yankees are hoping to pounce on their prey and beat down the Red Sox at Fenway by reviving their lineup and getting hitters like Curtis Granderson and Nick Swisher back on track. Russell Martin has come alive for the Yankees at the right time as they near another AL East division crown.
When baseball's biggest rivalry comes up, you can throw out the proverbial records. These should be long, grinding games that will keep fans up until way past 10pm. The Yankees are hoping to gain ground on Baltimore and Tampa and find a late season surge.
Here is an offensive tale of the tape and a breakdown of the pitching matchups:
By the Numbers (Major League rank through games played on September 10th):
Team OPS (On Base + Slugging Percentage):
Yankees: T-1st
Red Sox: 9th
Team Home Runs:
Yankees: 1st
Red Sox: 11th
Runs Scored:
Yankees: 2nd
Red Sox: 6th
Batting Average:
Yankees: 10th
Red Sox: 7th
Batting Average with Runners in Scoring Position (RISP):
Yankees: 17th
Red Sox: 6th

Top Hitters:
Yankees: Robinson Cano (.303 BA, .9411 OPS, 29 HR, 74 RBI); Derek Jeter (.324 BA, .816 OPS, 15 HR, 50 RBI); Curtis Granderson (.235 BA, .806 OPS, 35 HR, 86 RBI)
Red Sox: Dustin Pedroia (.289 BA, .797 OPS, 14 HR, 58 RBI); Cody Ross (.280 BA, .857 OPS, 20 HR, 73 RBI); Jarrod Saltalamacchia (.225 BA, .745 OPS, 23 HR, 53 RBI)
Begin Slideshow

»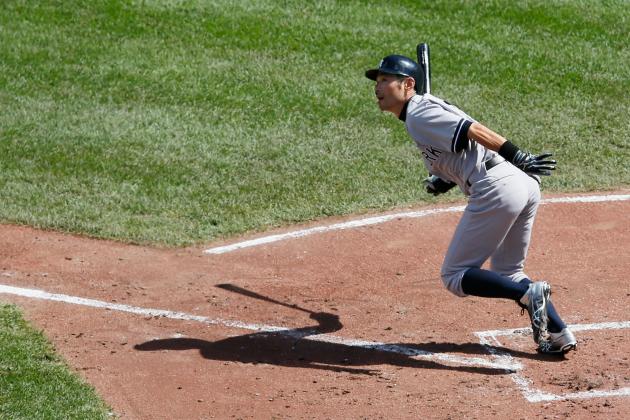 Rob Carr/Getty Images
Ichiro smacked the ball all over Oriole Park, racking up eight hits in the crucial series.
Fortunately for the Yankees, three of baseball's all-time greats are delivering when it matters most. Their catcher has finally come along just in the nick of time. Alex Rodriguez, Ichiro and Derek Jeter are all red-hot and helping to power the Yankees lineup while other hitters slump.
Ichiro has been a different player for the Yankees than he was in the Emerald City this year. In 45 games, Ichiro is basically a .300 hitter (.299 to be exact) and he's coming off a series in Baltimore where he went 8-for-14 and came up with several key hits.
Alex Rodriguez has not had a hitless game in nearly two months. OK, it's not as good as it sounds. A-Rod missed six weeks from late July to early September but he's come off the disabled list red-hot. In seven games back, he has eight hits and two home runs.
Derek Jeter has five multi-hit games in his last six with three of those games producing three-hit nights. Jeter is having such a fine season—particularly at this stage of his career— he's left many speechless with his performance. What else can you say? The man is an all-time great. The Yankees are hoping he stays red-hot into October.
Russell Martin is on a six-game hit streak, including three multi-hit games, two home runs and eight runs batted in over that stretch. Martin is off the interstate and emerging as one of the top options of late in Joe Girardi's batting order.
Dustin Pedroia and Cody Ross are not exactly hot but they're hitting well. They've helped to pick up the slack this year for so many of the injuries and poor performances in the Boston lineup. Pedroia has four multi-hit games in his last seven (including two homers) and Ross has four extra-base hits in his last five games.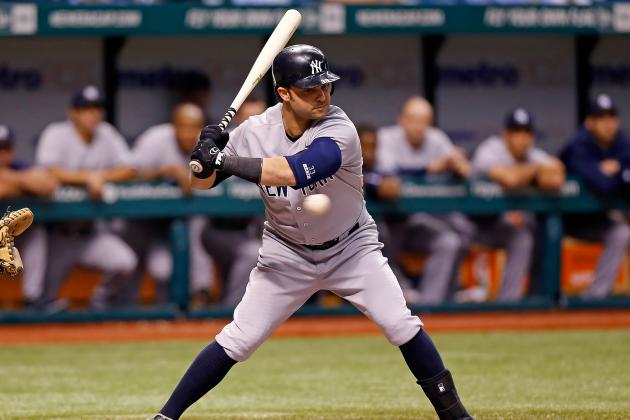 J. Meric/Getty Images
Nick Swisher is 0 for his last 28 at bats.
Nick Swisher is mired in a terrible, ghastly funk. His brutal stretch is so bad that he does not have a hit in his last 28 at-bats. Swisher has only two hits in his last 43. It was only a few weeks ago that Swisher was getting very comfortable in the no. 2 hole in the Yankees lineup. Now, he's not getting on base and it's really affecting the Yankees run production.
The belief is that Swisher should snap out of it soon and the day off yesterday likely helped. Swisher had an excellent series last time the Yankees were in Beantown in early July. Swish-a-lish had four hits, one homer, five runs batted in and six walks. The Yankees would sure like to see that production now.
The entire Red Sox team is cold. Four straight losses, gaping holes in the lineup and a pitching rotation hanging on by a thread. Yet Jon Lester still presents a formidable threat to the Yankees tonight. And playing at Fenway Park, this Sox lineup can still muster some runs. But as a whole, the Red Sox lineup is ice cold.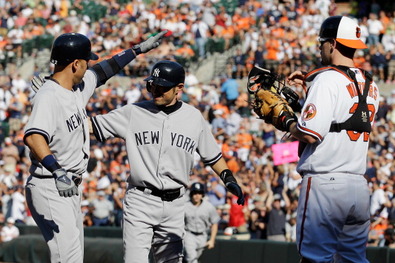 Rob Carr/Getty Images
Derek Jeter and the Yankees need to gain more separation from Baltimore and Tampa Bay.
The Yankees hope to win a series against a Boston Red Sox team that is one of the worst in baseball this season. When's the last time you can remember saying that? While the Orioles and Rays toil for three grind-em-out games in Baltimore this week, the Yankees face the AL East cellar-dwellers looking for a sweep.
Is it feasible? That depends on what Yankees team decides to show up. The Yankees have had their share of let downs and in-game meltdowns—both from the players on the field and their manager—over the last six weeks. It's time to move forward and the Bombers are hoping that yesterday's day off puts things in clearer perspective.
The Yankees cannot afford any more let down games or late-game meltdowns or simply— poor hitting in big spots. The Bombers face two lefties in this series but that shouldn't necessarily mean we see more of Andruw Jones, Jayson Nix and Steve Pearce.
Joe Girardi has to put the best possible players on the field to win games at this point, not necessarily those who might on paper appear to be the best match-ups. The season will continue to be on the line until the last pitch is thrown in October.
For the Yankees, the question is, will that last pitch be Wednesday, October 3rd at Yankee Stadium against these same Red Sox or will it come later in October? What the Yankees do over these next three games will help to determine that answer.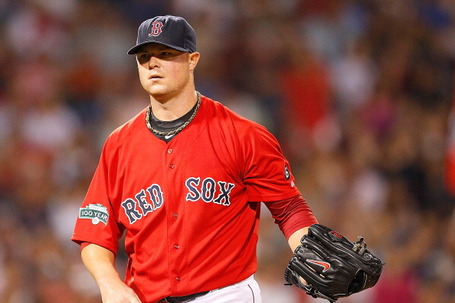 Jim Rogash/Getty Images
Jon Lester is having a down season but shut down the Yankees in mid-August.
Tuesday, September 11th 7:10 p.m.
Jon Lester is having a horrendous 2012, no two ways about it. Few and far between have had the dominant outings that Lester was known for in recent seasons yet he has improved recently. He has lowered his ERA by one-half run since his outing against the Yankees on July 28th.
Hiroki Kuroda has been the Yankees' best starting pitcher this season and a vital part of the team's success. He leads Yankees' starters in quality starts, innings pitched and wins above replacement (WAR). Kuroda has been absolutely sensational but the Yankees will need him to recapture his magic from the middle of the summer once again.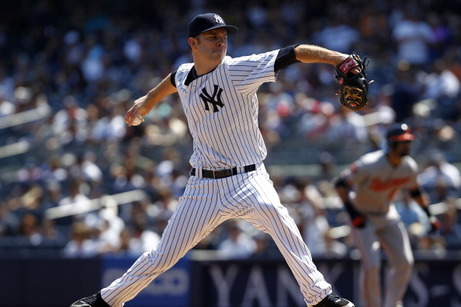 Jeff Zelevansky/Getty Images
Which David Phelps will the Yankees see at Fenway on Wednesday night?
Wednesday, September 12th 7:10 p.m.
Aaron Cook has started 14 games for the Red Sox this season and has been terrible. Cook is the antithesis of a strikeout pitcher and relies heavily on a two-seam fastball. It's a pitch he uses almost exclusively. The Yankees can't afford to let him get away with the mistakes that he makes quite often.
The Yankees are hoping Phelps can continue his strong rookie campaign and keep the Sox at bay with his sneaky fastball and superb control on his breaking pitches. The problem lately is that Phelps' control has abandoned him. Phelps has walked eight batters in his last two starts and the Yankees are relying on him to regain his form and give them length into the later innings.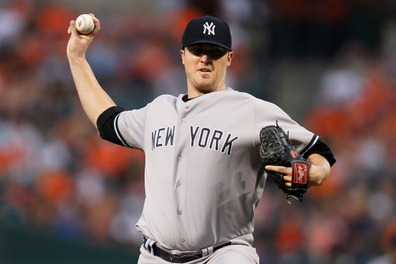 Rob Carr/Getty Images
Phil Hughes is now one of the most trusted arms on the Yankees.
Thursday, September 13th 7:10 p.m.
The Yankees will get to the postseason if Phil Hughes can keep delivering starts similar to the ones he's delivered over the last couple of weeks. Hughes has 16 quality starts on the year and four in his last five games. The reality is, Hughes has been there this whole year and has become one of the Yankees most reliable pitchers.
He leads the team in wins.
He may mix in a sub-par outing like he did on September 2nd against the Orioles but more often than not, Hughes has been sharp and he's given the Yankees the opportunity to win most of the games he's started. The Yankees have a lot of confidence that Hughes is the man to help get them to the playoffs and if they get there, expect him to start a game.
Felix Doubront has racked up a lot of strikeouts and sports a 10-8 record, though he's mixed in some clunkers. In fact, Doubront has been on a very rocky stretch of late and interestingly enough, his last good outing came against the Yankees in late July. He's given up 146 hits in 134.2 innings pitched and, like Phil Hughes, is prone to giving up the long ball