All it took was one game and now everyone is "Griffining?" Sixty minutes of play, four Andrew Luck turnovers and one upset of the New Orleans Saints, and let the debate begin.
Was Andrew Luck really the clear cut No. 1 overall pick? At the time, the Colts decision almost seemed unanimous.
Robert Griffin is more athletic, has a quicker release (arguable) and he can throw a great deep ball.
This is not an indictment on Andrew Luck either. By all accounts, Luck will be a great quarterback one day. However, we've seen players like him before; he's the kind of quarterback that you look up in a dictionary.
Robert Griffin's ceiling is higher. Players like him come along as often as a Browns winning season. . He has the athleticism and Olympic style speed of Mike Vick, the touch of Aaron Rodgers and the intangibles of Drew Brees, all the while remaining extremely humble.
That said, a quarterback like Robert Griffin hasn't won a Super Bowl. It's the quarterbacks like Andrew Luck that have won in the past.
Football isn't like baseball, it doesn't have medieval thinking. The game is evolving, offenses are becoming wide open, coordinators are getting more creative and utilizing the talent they have and defenses are in a vulnerable position due to rule changes.
Griffin should have been the No. 1 pick because he has the ability to change the game. Mike Vick had the opportunity too, but Atlanta mishandled their talented star and he has had trouble staying healthy.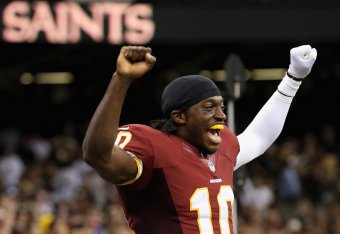 Ronald Martinez/Getty Images
Cam Newton can be mentioned in that category too; however, RGIII has the better arm. Soon college quarterbacks like Logan Thomas from Virginia Tech and Geno Smith from West Virginia University are going to be valued higher than the likes of Matt Barkley out of USC, Landry Jones out of Oklahoma and Aaron Murray out of Georgia.
RGIII's first game as a Redskin left the entire country in awe. He was everything that was expected of him and then some.
Is this article premature? Absolutely, but that's the beauty of the NFL. We analyze week by week and right now Griffin is the star.
Is it unfair to criticize Andrew Luck already? The Indianapolis Colts are completely starting over and Luck is the focal point.
Griffin is the Redskins' franchise player, but his team has significantly more talent on the field.
Over the years, college gimmicks have never really translated to the NFL. The Wildcat had its 15 minutes, but the option never came to fruition professionally, nor did the spread offense.
But yesterday we saw something different. The pistol formation was a common occurrence for the Redskins offense. Running options and a variety of bubble screens were on display, something that is very rare in today's NFL.
This could be the new age of the NFL and a talent like Robert Griffin has the potential to change it and draw Redskins Nation into a complete frenzy. We'll see.