Breaking Down the Roles of the Chicago Bulls Bench
Taj Gibson
Kevin C. Cox/Getty Images
The Chicago Bulls have solid pieces on its new-look reserve unit, but placing those pieces in the right roles to form a cohesive unit is a difficult challenge.
Building a successful bench is like solving a complex equation. The players are the variables, and winning is the solution.
Luckily for Bulls fans, head coach Tom Thibodeau is the professor. He may have to experiment with different lineups, and it may take some time, but eventually Thibs will find the perfect role for each player.
The Bench Mob of the past two seasons was one the of the reasons why Chicago earned the No. 1 seed in the Eastern Conference each year. That unit had a player who could handle the floor general duties, a lights-out shooter from downtown and terrific perimeter and interior defenders.
This untested substitution squad has big shoes to fill, but there should be at least one player who could handle each one of the aforementioned tasks. Here is a breakdown of each of the roles on the Bulls bench heading into the 2012-13 NBA campaign.
1. Backup Point Guard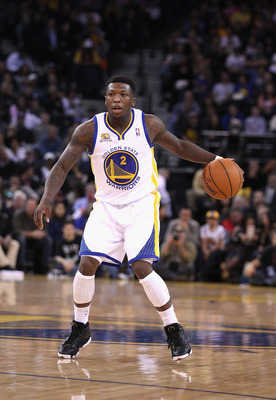 Nate Robinson
Ezra Shaw/Getty Images
The Chicago Bulls rely on the point guard position to create much of the team's offense because the player who is supposed to handle the majority of that duty is Derrick Rose.
With Rose out, free agent acquisition Kirk Hinrich moves into the starting lineup, filling the void left by C.J. Watson.
Even with Rose absent last year, Watson played an integral part in the team's offense. He and Rose were realistically the only two players on the team who could consistently create scoring opportunities for themselves and teammates off the dribble.
Some critics point out that Watson struggled with turnovers and decision making, two weaknesses you won't find in high-quality NBA point guards. But one thing Watson was able to do was score.
Watson averaged 14.7 points per 36 minutes last season, and he was the only player on the Bench Mob that could consistently drive to the rim, shoot from outside or pull up for a mid-range jumper.
With Hinrich expected to start, the Bulls added another veteran, scoring point guard in Nate Robinson. Robinson will handle most of the backup point guard duties while first-round draft pick Marquis Teague takes some much-needed time to develop.
Robinson is similar to Watson and John Lucas III because all three players can heat up quickly, and each could light up the scoreboard for a short period of time. They may not be the best point guards for generating opportunities for their teammates, but with Chicago's well-documented offensive struggles, scoring points of any kind is a positive contribution.
Robinson has averaged 17.6 points per 36 minutes during his 7-year career. If he can continue to perform with that type of production, he will be a solid backup point guard until Rose returns and bumps Hinrich to the bench.
2. Shooters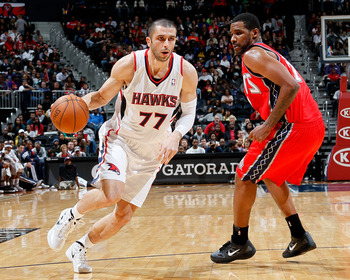 Vladimir Radmanovic
Kevin C. Cox/Getty Images
The former Bench Mob consisted of one catch-and-shoot threat from downtown. This season, the Chicago Bulls have two terrific 3-point shooters.
Marco Belinelli and Vladimir Radmanovic were added to the roster during the offseason while the team traded Kyle Korver to the Atlanta Hawks. The Bulls will miss Korver's ability to light it up from downtown, but they hope the combination of Belinelli and Radmanovic will fill the void.
Individually, neither player is the same type of shooter as Korver. Belinelli is a career 39.3 percent shooter from beyond the arc and Radmanovic fires 38 percent from deep. Korver nails 41.3 percent of his shots from 3-point land.
Korver struggled at times with the Bulls because defenses were able to key in on his shooting strength. Opposing teams knew that no other player on the floor was capable of heating up like Korver, and they knew Korver was weak off the dribble. To defend that, they switched off screens and suffocated Korver on the perimeter.
Now that the Bulls have two shooting threats on the bench unit, defenses cannot key in on defending one designated shooter from the perimeter. If they play together, both players will command attention and spread the floor.
Belinelli is better at creating his shot off the dribble than Korver, and he will get plenty of opportunities to show off that skill with defenders trying to guard the three-point line.
Also, the combination of two players allows Tom Thibodeau to go with the hot hand. Too many times last season he was forced to go with Korver in important situations when the Bulls needed points from distance, even if Korver was cold from the arc that night.
With the option of rotating Radmanovic at either of the forward positions and of playing Belinelli as the reserve 2-guard, Thibs can opt to keep either player on the floor with multiple lineups if one is shooting the ball better than the other.
3. Wing/Perimeter Defense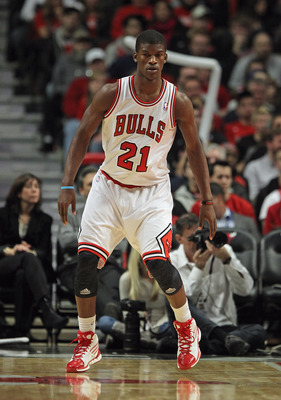 Jimmy Butler
Jonathan Daniel/Getty Images
The foundation of the Chicago Bulls' success the past two seasons has been strong defense from top to bottom on the roster.
That isn't going to change as long as Tom Thibodeau is the head coach.
A vital piece to the Bench Mob last season was Ronnie Brewer, who filled in at starting shooting guard for most of the season due the often-injured Rip Hamilton. Brewer is one of the best wing defenders in the NBA, but ultimately the Bulls decided that his offensive inconsistency wasn't worth another contract.
Enter Jimmy Butler.
Chicago was pleased with what Butler did in limited action as a rookie, and the front office felt that he produced enough to earn a spot in the rotation this season. His emergence helped the Bulls shave plenty of payroll by dismissing Brewer because Butler is still playing under his rookie contract.
Butler can spell Luol Deng or Hamilton at the shooting guard or small forward position. His long, athletic frame and basketball instincts will be enough to defend opposing wings for a short period of time. He has plenty of offensive potential, which was on display during the NBA Summer League in late July.
Butler will need more experience before becoming an elite defensive player, but he has all the tools to become a lock-down perimeter defender. If he makes another giant leap in his game this season, perhaps the Bulls will look into trading Deng and moving Butler into the starting lineup before the 2013-14 campaign.
Taj Gibson is also a valuable asset in this department. Gibson is athletic enough to guard bigger small forwards on the perimeter or strong players in the paint. He spent plenty of time on LeBron James in the 2011 Eastern Conference Finals, and he has proven that he is capable of defending an opposing team's best player for short stretches.
The combination of Gibson and Butler will not be much different from the duo of Gibson and Brewer in defending wing players. Brewer may be the better pure defensive player at the moment, but Butler is rising towards his potential and offers much more offensive versatility than the former Bench Mob shooting guard.
4. Interior Defense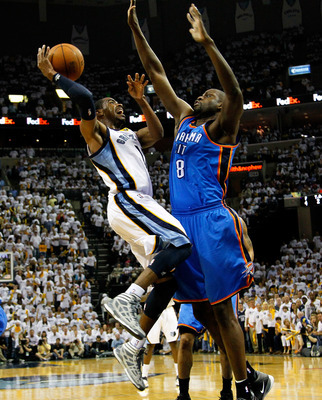 Nazr Mohammed
Kevin C. Cox/Getty Images
Since the early days of basketball, power forwards and centers have had a knack for getting in foul trouble.
That's why a team can never have too many big men.
The past two seasons, the Chicago Bulls had the luxury of inserting the best second-team, frontcourt duo in the NBA with Taj Gibson and Omer Asik. Both were so valuable on defense that Tom Thibodeau elected to close out some of the team's wins with both players on the floor for much of the fourth quarter.
Asik is now a Houston Rocket, and the Bulls replaced his roster spot with veteran center Nazr Mohammed. Asik is clearly a better interior defender, but he was not worth $25 million to fill the backup center role.
Mohammed gives Chicago a big body and six extra fouls a night. Joakim Noah, Carlos Boozer and Gibson will likely handle most of the frontcourt duties, but Mohammed should still be expected to contribute about 15 minutes per game.
Mohammed is a strong rebounder with limited offensive ability. He was signed to provide beef in the post, to help on the boards and to contest shots at the rim. Mohammed will also contribute on the offensive glass and can at least catch the ball on the block (which was more than Asik could offer on offense).
If one of the Bulls' top big men gets in foul trouble, Thibodeau has a veteran center who could handle extended minutes on any given night.
Even without Mohammed, Gibson is a better interior defender than most other NBA teams have on their benches. He alone gives the Bulls a vital shot blocker, and his athleticism will allow him to alter shots in the paint from just about anyone.
Mohammed and Gibson form a formidable frontcourt combination off the bench. The Bulls minimized the loss of Asik by finding a solid veteran center for a reasonable price.
5. X Factor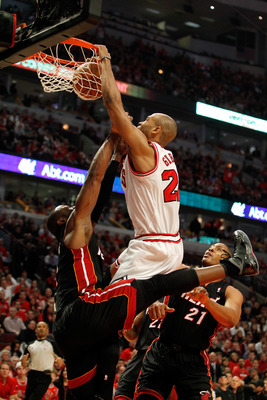 Taj Gibson
Gregory Shamus/Getty Images
If you're looking for a sleeper for NBA Sixth Man of the Year, look no further than Taj Gibson.
The fourth-year power forward is easily the Chicago Bulls' most important piece off the bench. With Derrick Rose out and Omer Asik gone, Gibson will be expected to play around 30 minutes a night.
At 6'9" and 225 pounds, Gibson also has the length and athletic ability to fill in at small forward or center. He can guard big small forwards like LeBron James and Carmelo Anthony, and he isn't afraid to take on opposing centers.
It's difficult to argue that there is a more versatile defender on the Bulls roster than Gibson. That alone makes him the most valuable commodity on the reserve unit.
But if Gibson can take the next step offensively, he will be a lethal two-way player. Look for Gibson to improve his mid-range shooting in pick-and-pop situations, and to add a wider variety of post moves to his arsenal.
This is a huge year for Gibson with restricted free agency looming at the end of the season. If he makes major strides toward reaching his potential, it gives the Bulls a lot of flexibility in deciding Carlos Boozer's future with the team.
Much of the Bulls' success this season will hinge on Gibson improving his game. He has star potential, and that is why he is the X factor of Chicago's bench squad.
Keep Reading

Chicago Bulls: Like this team?