Steelers vs. Broncos: 10 Observations Following Pittsburgh's Week 1 Loss
Doug Pensinger/Getty Images

The Pittsburgh Steelers lost a tough opening game against the Denver Broncos at Invesco Field, unable to begin their 2012 script with a fresh result from their heartbreaking playoff loss in January.
Nevertheless, with 15-plus games remaining, the Black and Gold's campaign still has a lot of legs left, and no singular game—even one as anticipated as Peyton's return—warrants any terrible tantrums. Instead, the campaign still promises many reasons to wave those Terrible Towels!
In a contest that saw a strange hybrid of effective execution and self-execution, the Steelers gave their nation reasons for optimism for 45 minutes of football, only to fall apart at the seams in the fourth quarter.
Sadly, injuries are mounting, the franchise quarterback was outplayed and Sunday Night Football presented more questions than answers.
Fortunately, even with the obstacles ahead, the Steelers are a resilient squad used to overcoming such challenges, and 2012-13 still holds promise for becoming another banner year in the Steel City.
Though the best tonic for defeat is a win, Steelers Country will have to wait six more days until their thirst for victory can be quenched. In the meantime, let's take a look back at 10 observations taken from Sunday night's disappointment.
Begin Slideshow

»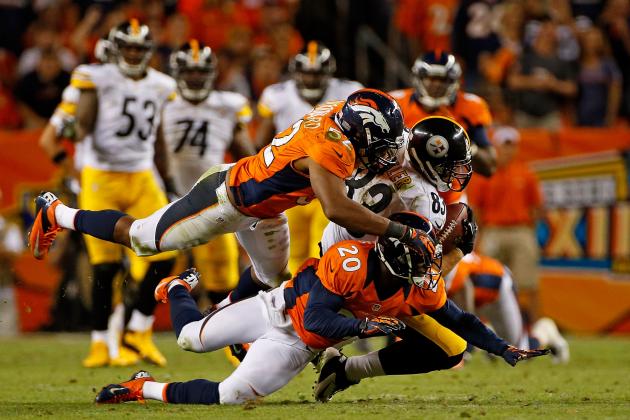 Doug Pensinger/Getty Images

A key way to get on top of the game's elite quarterbacks is to keep them on the sideline. For example, last night, an effective means to get on T.O.P. (top of Peyton) was to dominate T.O.P. (time of possession).
Unfortunately, despite limiting the Denver passer to a single snap in the third quarter, a performance that recalled the legendary third stanza of Pittsburgh's win over San Diego in the 2008-09 Divisional Playoffs, the potency of Manning's no-huddle attack had more impact that the disproportionate time spent with the pigskin in-hand.
Peyton may have fidgeted on the sideline for 54 minutes, but he showed no rust after the layoff. Heck—what's one hour after 20 months of inactivity?
Though they may have lost this contest, make no mistake that the modus operandi toward winning that the team displayed last night is an extremely positive sign. Now, don't mistake these words:
I'm not saying the offense played their platinum game. The running game was ineffective, the offensive line fell apart as its component parts fell to the turf, and some of the play-calling left a lot to be desired. Yet, though they made it hard on themselves, the team's dominance in possession time will translate to wins FAR more often than not.
In fact, as they make it less difficult on themselves to keep the football, the trend should continue with more ease. Last season, Pittsburgh continued on this identity, winning T.O.P in 11 contests.
They won 10 of those games.
How did they manage to dominate the clock and, for much of the game, the sticks last night? The answer is third-down conversions, often no matter the odds. With such a plethora of weapons at his disposal, Big Ben put on a third-down theater last night, zipping passes to Emmanuel Sanders and Heath Miller among others for a number of defiant first downs
Ben's best pass of the night was a laser strike on 3rd-and-18 to the ever-reliable Heath Miller, a perfect connection that kept the chains moving and allowed Pittsburgh to take an early fourth-quarter lead.
In another of many odd stats on the night, the Steelers passing game averaged less than five yards per attempt despite their third-down successes.
Nobody questions the offense has room to improve, but one can take solace in the fact that the pass-catchers made consistent plays on critical downs, even on a helter-skelter night for the unit.
The offense managed to overcome itself a number of times, so what ultimately went wrong?
Not every week will see the Steelers defense, a certain shell of itself with notable absences, playing so inadequately against a legendary quarterback utilizing the perfect strategy with such seamless perfection.
Though the means to the ends wasn't pretty and the final result wasn't desirable, the domination in possession time by nearly 12 minutes will continue to behoove proud Pittsburgh this season.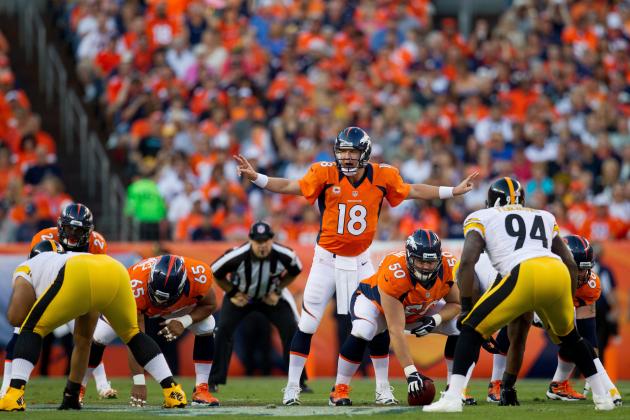 Justin Edmonds/Getty Images

Any true student of the game knew that Denver's high altitude made it the perfect oxygen-stripped hellhole for Peyton Manning to wear out defenders with his cerebral no-huddle offense.

On one of the web's more enlightened previews, a writer showcased his sage wisdom, predicting the threat that would be Manning's fast-paced attack:
In the rarefied air, with opponents acclimating to the conditions and catching their breath...well, why give them any reason to catch that breath?

The offense can pace itself; the defense has to keep pace with the Broncos' offense. It is far more important for the defense to have time to rest than the offense. The difference is a matter of control, an ability to dictate the tempo.

Anytime No. 18 sees an opponent sucking wind, he'll be looking to take advantage with the hurry-up. Keeping every defender fresh is vital.
A solid 20 minutes to open the game turned into two-and-a-half quarters of torture for the Pittsburgh defense, whose reserves were thin at key areas. Actually, that last point didn't really matter...
With an inability to get off the field, Pittsburgh defenders were sucking wind all while trying to manage the chess game between themselves and No. 18.
Against the league's top-ranked defense of a year ago, Peyton utilized his no-huddle with brutal efficiency, scoring 24 points on four drives (three touchdowns and a field goal). And, while the second drive in the Denver offensive portfolio is hard to describe as no-huddle, it's hard to argue that intention in the midst of Peyton's second half strategy.
The no-huddle taught most fans one thing, though there are two lessons to be taken from it.
First, and most obviously, Manning will continue to utilize the approach at home mercilessly.
In addition, the Steelers upcoming opponents will surely wonder if the team's struggles last night were exclusive to Manning or the Denver setting.
Remember back in 2002, when the Steelers' attempt at revenge over the New England Patriots at the Gillette Stadium christening went sour? In that game, Tom Brady spread the field, spotting a weakness in the Pittsburgh defense, and that blueprint (which had actually been established late in 2001 in a loss at Cincinnati) became a bane for the team all year.
Could the Steelers defense see more than its share of no-huddle attacks this year? Granted, Manning and his no-huddle approach are closer to one another than a wed couple, possibly including he and his own wife, but let's not be so naive as to think other teams didn't notice Pittsburgh's mighty defensive struggles in the second half.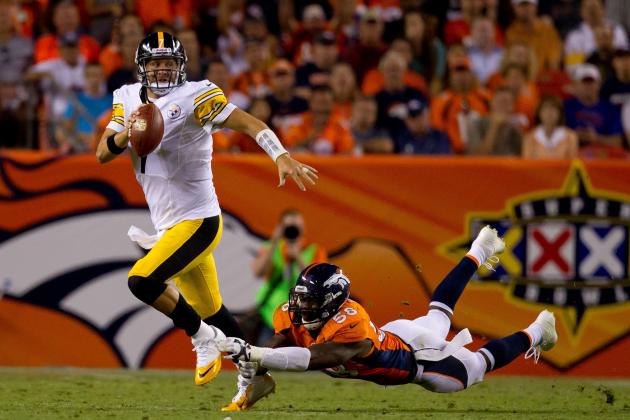 Justin Edmonds/Getty Images

Ben Roethlisberger had a __________ performance.
Quite simply, you can fill in the blank with any of the words good, adequate or bad to describe No. 7's performance. Call it my version of NFL "Mad Libs."
In the fourth quarter, Al Michaels described an effort by Big Ben, in which the quarterback pulled off a patented productive play in spite of bad circumstances, as turning "junk into a jewel."
Throughout the night, Ben surely seemed illusory to defenders, as he manged to avoid pressure and make plays on downs and distances that few other quarterbacks in the game could. Minus his rare skill set in the middle of the contest, it's possible that the Steelers wouldn't have ever held the lead in the second half or remained in striking distance late.
Live by the sword...
Die by it...
Ben's penchant for extending plays comes with a criticism for not making quick decisions, and many feel that stems from a need to improve at reading defenses presnap.
Likewise, with Roethlisberger's common belief (and evidenced portfolio) that a great play can come from any beginnings, the confident gunslinger can often be the victim of his own style.
Early in the game, a quick slant to the end zone was brilliantly defended by Champ Bailey. Roethlisberger quickly slung the pass with nearly no consideration for the coverage. The deflection caused the football to pop into the air, bobbling mercilessly as though in slow motion before narrowly hitting the ground to avoid a would-be 95-plus-yard interception touchdown.
Before hitting Heath Miller on a key 3rd-and-18 en route to taking a second half lead, a third-quarter drive for Big Ben saw three questionable decisions on passes, two of which could have easily been intercepted.
Likewise, Ben's low trajectory on a pass to the deep corner of the endzone, similar to his costly error in Super Bowl XL, cost points. And, adding to the pile of unnecessary mistakes for the veteran quarterback, he missed Mike Wallace streaking uncovered down the middle of the field, something that should have been noticed milliseconds after the snap, as the Broncos secondary had already showcased its exposure.
Yet, these could easily be rationalized as the common give and take that a fan must accept regarding the championship signal-caller's style. The last mistake was not as forgivable, sullying a decent performance.
Peyton Manning knew something of being made victim by Tracy Porter, but his Super Bowl XLIV interception was the result of a brilliant read and play by the corner.
Ben's game-sealing interception to Porter was marked by overconfidence, the type of throw that much lesser quarterbacks would know not to attempt. For those who question his presnap judgments, Roethlisberger's own admission after the game was certainly frustrating, according to The Washington Post.
I should have called timeout. The play clock was running down. I hate to burn timeouts, but I should have. We were covered all over the place. There's no one to blame but myself.
He knew the coverage at least, but still forced the ball despite having a clear view of the defender and receiver.
When playing against the most legendary of his peers, disagreeing fans will just have to forgive me if I expected more aplomb from Big Ben in crunch time.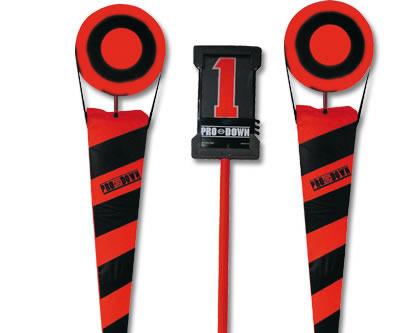 Image courtesy of robinsports.com
Whether you refer to it as "managing down and distance" or "staying ahead of the chains," the fact is that the Steelers were "behind the 8-ball" when it came to executing on first down last night, both on offense and defense.
The key to success on first down is multi-dimensional. It opens up the playbook on second down, helps to prevent third-down situations, increases odds of manageable third downs when applicable and most simply maintains the mathematical distance needed on each down to move the sticks.
In other words, four yards is the common target. With a surprisingly predictable R-R-P offensive set (run, run, pass) early in the game, the failures of the running game forced Pittsburgh into non-ideal third down distances.
While the team would do an admirable job in converting on these challenging circumstances throughout the night, it still stands to reason that the offense could have done better with shorter, more manageable third downs.
In truth, the tendency to fail on first down AND second down prevented the 'Burgh from getting on the board in the first quarter, despite ideal field position.
After all, where first down is important, so is second down. On a failed fourth-quarter drive, trailing 22-19, the offense successfully set up a 2nd-and-3, only to curb the momentum and opportunity to avoid third down with a questionable deep throw. Sure, if it works, Haley's offense seems ingenious, but it didn't....
The Steelers failed on a potentially avoidable third down to a calculated (and failed) risk, thus losing possession.
As for the Broncos offense, their night was polar opposite as it concerned maintaining down and distance.
Consistent first down gains, particularly in the second half by Willis McGahee against a tired Steelers defensive front battling Manning's no-huddle, kept the entire playbook available to Manning on second and rare third downs.
Notably, the effective and positive first-down gains kept the Steelers defense from being able to hone in on Manning's intentions. On the Broncos' two touchdown drives to start the second half, albeit one of those lasted one play, the team never faced a third down.
You can't beat an elite quarterback when mismanaging downs so badly, particularly first down. Manning was ahead of down-and-distance most of the evening.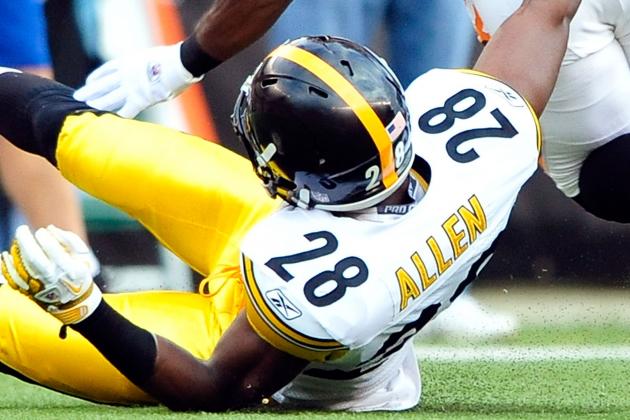 Grant Halverson/Getty Images

For receivers and running backs, Y.A.C. is the same and different, all at once.
For the former, the acronym translated to yards after the catch. For backs, yards after contact are a showcase of power and pride, the ability to shed a defender.
Denver runners and wideouts had their share of Y.A.C. last night.
Particularly on first down, Willis McGahee's ability to shed initial contact made the second half a breeze for Peyton Manning.
As my peer Mike Batista also noticed, surely along with many other viewers in Steeler Nation, two of the biggest offenders as it regarded bad tackling last night were Keenan Lewis and Cortez Allen.
The two corners contended for the open spot opposite Ike Taylor on the defense, and each had a glowing camp and preseason. Last night, the pair both struggled to wrap up receivers on initial contact, a clear focus area for their personal growth on defense.
Mike Batista did a fine job of emphasizing the importance of effective tackling, and since I couldn't explain it better myself, I'll let him do the explaining:
One of the reasons the Steelers have been an elite defense in the NFL through the years is their ability to tackle.

Even when Steelers' defensive backs allow a reception, they usually wrap up the receiver right away and minimize yards after the catch.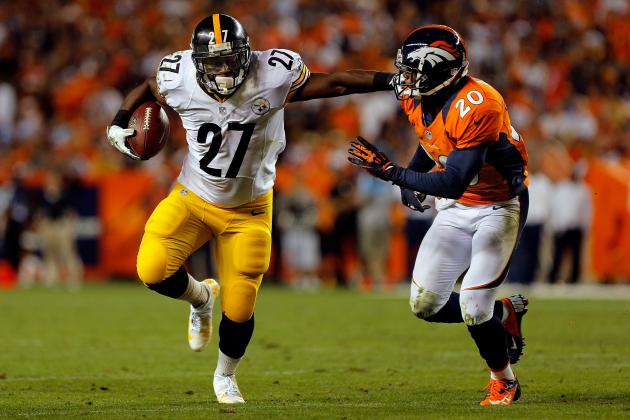 Doug Pensinger/Getty Images

Despite a recent history of success in the running game at the Mile High City, the Steelers struggled to establish a ground attack against Denver last night, despite their best offseason words and intentions.
One game does not an outcome make, so there is plenty of time for Pittsburgh to make good on their goal to establish the run more effectively. If they're going to improve more sooner than later, their best bet in the absence of Rashard Mendenhall—and likely for some time thereafter—is via the legs of Jonathan Dwyer.
Watching the contest with a close friend, I felt it a premature accusation when she stated two rush attempts into Redman's evening that he was running too hesitantly. As the evening progressed, her keen observation became a self-evident area of concern.
Hesitant to the line, as though waiting for daylight that wasn't going to break anytime soon, Redman was caught in the backfield from behind more than once, unable to manufacture any yardage and being far too often absent of the aggressive, hard to the hole style that aided him at the end of last year.
The overall lack of polish or force—a bad combination to have absent at running back—resulted in a measly 20-yard night on 11 rushes for Redman.
Conversely, Dwyer, who stole the show at halfback in camp and during the preseason, ran with an authority that trumped his peer, gaining 43 yards on nine attempts.
Simply, Dwyer was the more confident runner, and he is the better back to lead the charge against the Jets next week.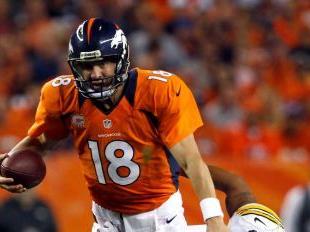 Image courtesy of stamfordadvocate.com
In the first half, the Steelers sacked Peyton Manning. They even forced and recovered a fumble.
Sack? Check.
Turnover? Check.
If nothing else, neither will be in the same category as 2011 takeaways, an accomplishment that the defense was devoid of for a number of games to start last season.
Despite getting a ticker mark in both regards, there is no question that the defense failed to impress in either category last night. No defense should expect a slew of turnovers committed by a Peyton Manning offense, even when the field general is on a new team after a long hiatus.
Still, if there is any hope for disrupting the offense, forcing mistakes, and slowing down No. 18's game plan (including the no-huddle offense), defensive pressure is a must.
Surely, one factor that contributed to the added difficulty of getting pressure on Manning was the absence of Ryan Clark, which forced Troy Polamalu into deeper coverage a greater percentage of the time than he'd normally prefer.
Likewise, notable injuries on defense, namely to James Harrison, would take their toll on any defensive front.
Nevertheless, all excuses and explanations aside, the best-laid plans, schemes and concoctions of the top-ranked defense of 2011 were unable to menace Manning.
Image courtesy of usatoday.com
The April draft seemed like the perfect tonic for an offensive front that's left so much to be desired during the Mike Tomlin era.
The preseason delivered a slew of injuries to the Black and Gold, the most notable bruises left on the team's early draft selections, including touted guard David DeCastro.
Last night, Ramon Foster and Marcus Gilbert left the game with an eye and knee injury, respectively, and the offensive line's performance slowly deteriorated, transitioning from adequate to abysmal over 60 back-and-forth minutes.
Doug Legursky and Mike Adams filled the vacancies. Though Adams played admirably on a couple of his drives with the offense (I was preparing to include a slide labeled "Adams: Training on the Job"), he showed off some "room for improvement" late in the game, contributing to a Denver three-sack onslaught in the final moments that downed Big Ben and the offense for good.
Cris Collinsworth mentioned that Von Miller and Elvis Dumervil had been held in check throughout the night. One second later, Miller wrestled No. 7 to the ground, reminding us all that announcers are the most formal of curse-carriers.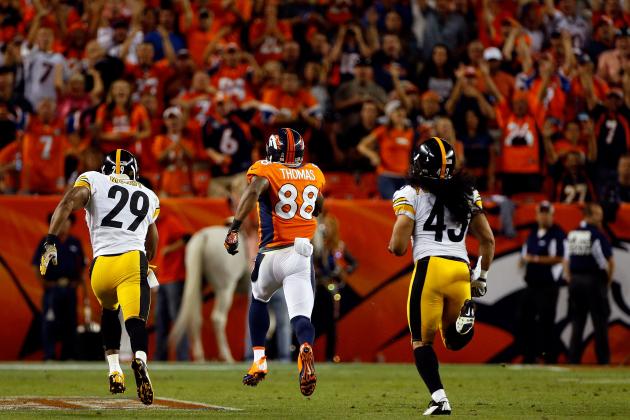 Doug Pensinger/Getty Images

The image of Demaryius Thomas sprinting down the field toward victory haunted Steelers fans for months. Sadly, the painful mental portrait was one that included Ike Taylor, Pittsburgh's stud (yeah, I still said it!) cover corner who had an inglorious ending to a great season.
Last night, fans watched as the receiver took a screen from Manning to the house once more, sending Invesco Field into a third-quarter fury on Denver's lone play to that point after halftime.
That the score was Peyton's 400th NFL touchdown pass made the breakdown more difficult to stomach.
Indeed, Thomas owns the Steelers. However, let's get one fact straight: that does not mean he owns Ike Taylor. Taylor simply hasn't gotten a fair shake in the battle.
In the playoffs, despite stacking the box and eliminating nearly all safety support on many key plays, the defense struggled to get pressure on Tim Tebow. With four or more seconds (or, as it is called in NFL time, an eternity) to cover a solid NFL receiver, Ike Taylor did what all corners will eventually do when faced with so much time on an island against a wideout being targeted by a quarterback with time to plant his feet and deliver with confidence: He got torched.
Think of an NFL passing offense like the sun, the field in Denver like the equator, a solid game plan like sunscreen, the defensive front like clouds and safety presence in the secondary like shade. With all of those things taken away, Taylor got burned.
Don't ever let it be said that the work of a cover corner is exclusive unto himself; no defensive back can be expected to cover for such inordinate amounts of time. Much of the success of any secondary correlates with the play of the defensive front. Defense is largely synergistic.
Last night, with Thomas taking the 'Burgh to task again on his 71-yard screen and subsequent score, many looked toward Taylor as a repeat victim. In fact, Demaryius was not the primary responsibility of Ike on the touchdown. The entire defense's failing was to blame in that instance.
An excellent hot read by quarterback Peyton Manning set up the success, when he saw linebacker Chris Carter coming on the blitz. Troy Polamalu went beneath the tackle instead of over the top of him, and the lane was thus open for the screen. The corner was blocked and the chase was on!
Taking away the longest play of the night, Thomas was held in check with four catches for 39 yards. That's more accurate to the Ike Taylor effect.
Instead, Ike will continue to take the heat for an unsound defensive strategy and a complete unit breakdown in back-to-back games against a wideout he'll be sure not to miss.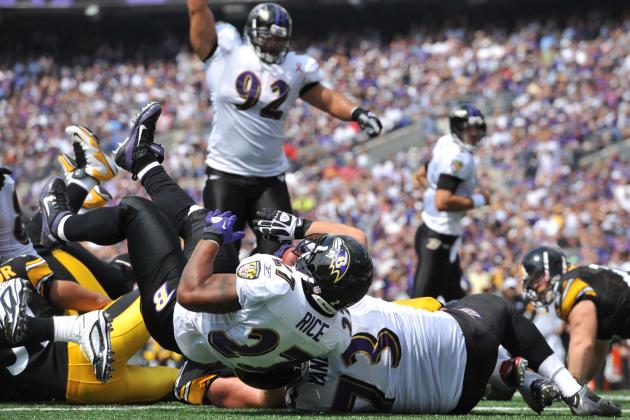 Larry French/Getty Images

If fans need any reminder that one game does not make an entire season, last season's opener is the perfect demonstration.
Instead of being picked apart by Peyton Manning, the Steelers were dissected by a quarterback they typically dominate, Joe Flacco.
In Denver, the team was absent safety Ryan Clark. In Baltimore, health issues did not prevent able bodies from gearing up.
At Invesco Field, the Steelers played a back and forth affair that was in doubt until the final minutes. In Ravens territory, to paraphrase from a Joe Theismann quote following Super Bowl XVIII, the team "got their butts handed to them on a silver tray, and the tray was bent."
Last night, until Ben's fateful interception, the offense avoided overt mistakes, such as turnovers. Last season, opening day was rife with enough miscues to fill a cornucopia.
Lastly, and most importantly, this season's loss was not to a division opponent. And, as any logical fan will attest, all other factors equal, the division games are most important! Instead of falling by both a game and tiebreaker behind Baltimore in the AFC North race, the Steelers are merely 0-1 with all six division rivals left on the docket.
In a season that started so embarrassingly, last year's squad rallied to a 12-4 campaign, even despite critical late-season injuries.
Even grander, the greatest of cynics cannot rule the Steelers out of their championship picture over one loss, both from a common sense and historic perspective. Was it not the 2003 eventual champion Patriots that lost in Buffalo on opening day, 31-0?
One week does not make a season. Bring on Week 2!
Follow me on Twitter: @JayPHayes1982