Virtual Simulation Stimulation: Week 3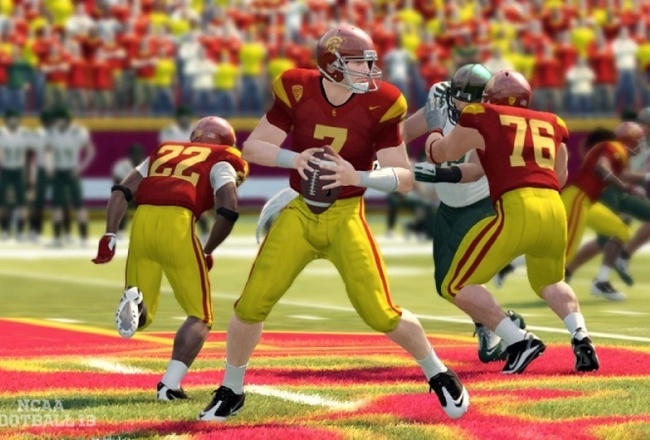 Image Via Gaming Truth

On the surface, last week's simulation appeared to be completely and utterly average. Some of you might even have another term for it, but "average" will suffice.
NCAA '13 went 2-3 in the five spotlighted games and missed badly, really badly, on picking Washington over LSU and Auburn over Mississippi State. What it lacked in these five, however, it made up for in other areas. Well, one specifically.
The greatest game on the planet predicted that Arkansas would lose to UL Monroe by the score of 37-36, and the Hogs ended up falling in overtime by the score of 34-31. I warned you. This disc possesses magical powers that it showcases every so often. After the big miss on LSU, however, I've decided to hold off moving to Vegas…for now.
With the back patting out of the way, here's the rundown for you newbs: We simulate every game on the college football docket using NCAA '13 and report the findings (which are never, ever doctored with). I think that should be pretty clear by now for those who have been playing along.
There are some very intriguing matchups in Week 3 three, and here's how our simulation believes it will shake out.
Season Spotlight Prediction Record Heading into Week 3: 6-4
5. Utah 45, BYU 6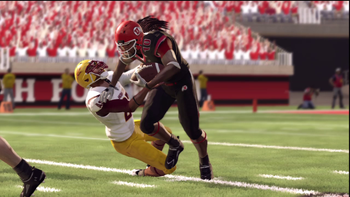 Image via The Gaming Tailgate
Despite the billing of an even matchup, this one is lopsided in a big way. And not the way many anticipate.
Utah plays multiple QBs in this simulation (apparently it is also aware of injury issues), and each one is fabulous. The QBs combine to finish with 325 yards passing and five touchdowns. Wide receiver Luke Matthews is on the other end of three of those TDs.
As for BYU, there's not a whole lot to celebrate. Riley Nelson completes only 13-of-28 passes for 144 yards and adds three interceptions. The BYU offense as a whole manages just 266 total yards and is completely shut down by the Utes in desperate need of a big win.
The Pac-12 decides that Utah is allowed to stay for now, but they are on "major snack duty" at the next conference seminar. Wait, never mind. Colorado, you're up and will likely be up until further notice.
4. Stanford 44, USC 38 (OT)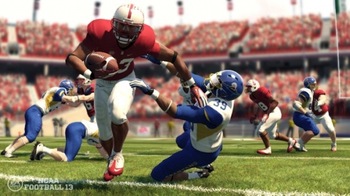 Image Via Venture Beat
UPSET ALERT: What a game, what a game, what a game. In total, the two teams combine for nearly 1,000 yards of total offense, although one of the nation's best falls here.
Stanford quarterback Josh Nunes is very solid in this one, throwing for 290 yards and three touchdowns, and tight end Zach Ertz comes down with 141 of those yards and two of the touchdowns. Three Stanford backs combine to rush for 165 yards on only 21 carries, and they find the end zone twice.
Matt Barkley matches Nunes (and surely you were hoping he would) throwing for 305 yards and three scores. Robert Woods is USC's leading wideout, and he catches nine passes for 145 yards and a touchdown.
Lane Kiffin takes the loss in stride, and he just barely sides against throwing a small hatchet at the reporter that asks him to "talk about Matt Barkley's Heisman campaign and how this loss hurts it."
3. Notre Dame 20, Michigan State 16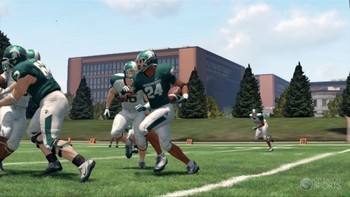 Notre Dame is very quiet in the early going, and Michigan State actually heads into the fourth quarter with a dazzling 6-0 lead. From that point on, however, the offensive floodgates open up.
Everett Golson completes 20-of-33 passes for 317 yards and three touchdowns while also throwing two interceptions. His tight end Tyler Eifert hauls in six balls, two of which go for scores. Although the running backs are contained, the surge late is good enough.
For Michigan State, quarterback Andrew Maxwell struggles mightily completing just 12-of-37 passes for 101 yards. His workhorse, running back Le'Veon Bell, is also contained finishing the day with 22 carries for 79 yards.
Brian Kelly is so thrilled with Golson's play he decides to play Tommy Rees in the next game. He then follows up this announcement by saying there isn't a quarterback controversy and that Golson is the starter. Just go with it; it's cool.
2. Alabama 30, Arkansas 14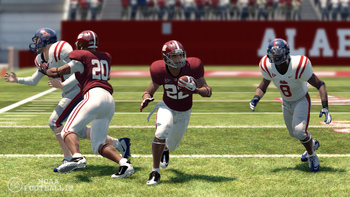 Image Via Gaming Tailgate
It's all Arkansas out of the gate as the Hogs jump out to a 14-0 lead in the first 11 minutes. Alabama responds with a 60-yard touchdown, however, and cruises from there.
Quarterback AJ McCarron completes only 11-of-32 passes (yikes), but connects on three of those completions for touchdowns. Eddie Lacy is the team's sparkplug on offense running for 123 yards on 20 carries and catching two balls for 43 yards. Tight end Michael Williams hauls in a touchdown and finishes with 93 yards through the air.
For Arkansas, quarterback Tyler Wilson (and he plays here, although that may not be the case) finds little success through the air. He finishes the day with only 155 yards passing and no scores. Running back Knile Davis contributes the Hogs' early scores in this one, and he finishes the day with 107 yards rushing on 23 carries.
Following the game, Nick Saban recruits John L. Smith to be his life coach, and Smith reluctantly accepts. This arrangement lasts two days before Smith decides to run for president. He wins in a landslide.
1. Florida 24, Tennessee 10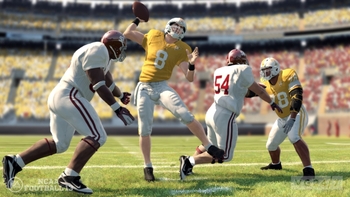 Image Via vg247
An intriguing rivalry, especially in 2012, turns out not to be much of a game at all. The Gators find their offense with a quick 17-0 lead and put it in cruise control. Yes, I know. I'm surprised as well.
As has been the case in all the simulations, multiple QBs see the field for the Gators, and both are very solid. The two combine to complete 17-of-22 passes for 208 yards and three scores. On the ground, Gator backs eclipse the 150-yard mark on only 18 total carries.
Tennessee QB Tyler Bray isn't awful, but he doesn't have his best stuff. He finishes up with 181 yards and a touchdown, which is brought in by wide receiver Justin Hunter. Running back Marlin Lane is very good; rushing for 123 yards on 20 carries.
Derek Dooley wears his orange pants in this one and promptly burns them shortly after. Thankfully, however, he has 55 more pairs in his closet. Don't bother looking for them. They're custom.
Notable Scores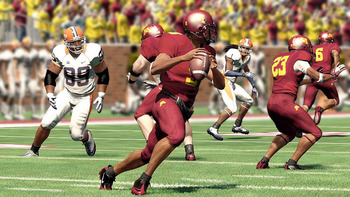 Image Via No High Scores
Northwestern 31, Boston College 28 - Northwestern is the Big Ten's best team! This would have seen absurd three weeks ago but IS slightly less absurd (but still somewhat absurd) now.
Nebraska 52, Arkansas State 23
UConn 27, Maryland 17
Boise State 31, Miami (OH) 10
TCU 43, Kansas 31 - Almost, Charlie. Almost...
LSU 52, Idaho 10
Virginia 27, Georgia Tech 18
Missouri 37, Arizona State 31 (OT)
Ohio State 35, Cal 21 - Can you feel it? Yep, that's UrbanMania. Wait, no. That's just Jeff Tedford's chair being doused in flames.
Texas 41, Ole Miss 10
Virginia Tech 35, Pitt 10
Kansas State 49, North Texas 0
UNC 13, Louisville 7
Wisconsin 37, Utah State 13 - Wisconsin responds by not firing anyone. YET.
Penn State 23, Navy 0
Texas A&M 41, SMU 10
LSU 52, Idaho 10
South Carolina 31, UAB 6
Florida State 41, Wake Forest 34 (OT) - Almost the biggest Florida State loss of all time... but no.
Keep Reading