Andrew Luck: Full Week 1 Report Card for Indianapolis Colts QB vs. Chicago Bears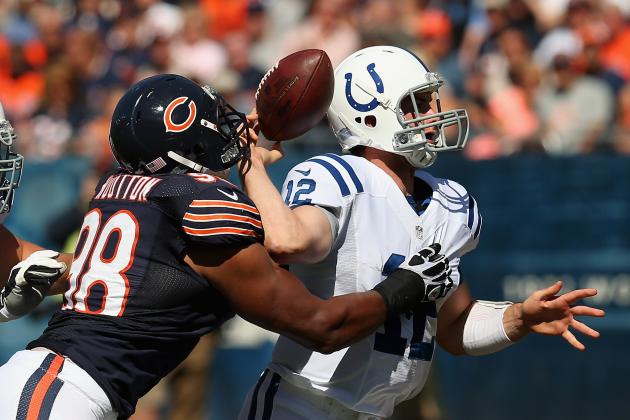 Jonathan Daniel/Getty Images
This is what Sunday looked like for Andrew Luck.
The Indianapolis Colts were pegged as an underrated team ready to pull the first big upset of the 2012 season out of the bag.
Instead, Colts fans watched the team get beat up and down the field for most of the day, largely at the expense of their shiny new toy, Andrew Luck.
The offense looked bad, and the defense looked worse. They did plenty to undo themselves along the way. Nonetheless, I'd like to stay positive. Let's just talk about Luck.
Despite the shellacking, there was more than a little to like from the young gunslinger.
After all, this was his first day in the club.
Begin Slideshow

»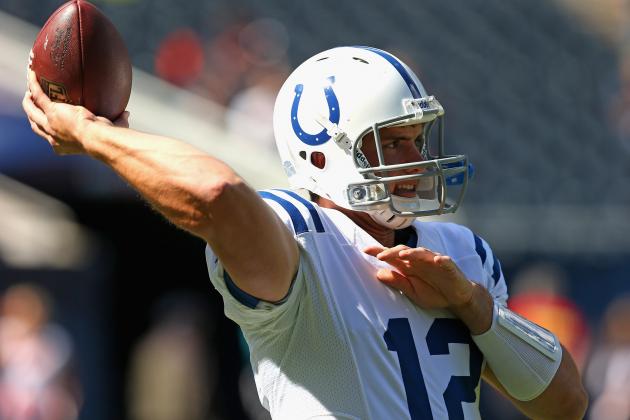 Jonathan Daniel/Getty Images
Luck missed on his only big shot of the day.
He's got all the tools, but they weren't all the sharpest against the Bears.
For the most part, Luck was under duress to the point where going deep simply wasn't an option. He was pressured early and often, and he had to get the ball out quickly.
It's tough to display your arm strength on a quick slant.
However, Luck applied appropriate power to the majority of his throws. The most notable displays of strength came on throws where he simply couldn't set his feet and was applying most of the force through just his arm. It can be a sight to see.
On the other hand, Luck did go deep once. Donnie Avery had beaten former Colt Tim Jennings—who had two picks on the day—down the sideline. Luck pulled the trigger but badly underthrew Avery, resulting in the interception.
He has the arm strength to make those throws. He just miscalculated on this one.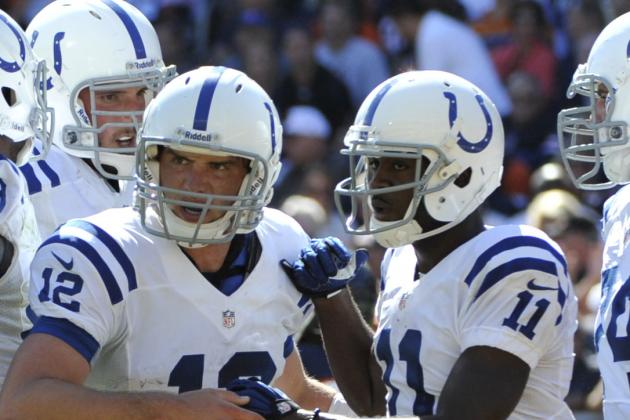 David Banks/Getty Images
Donnie Avery caught Luck's first NFL touchdown pass.
Luck threw three interceptions against the Bears, but only one of them was a bad throw. The others were simply bad decisions.
That's sometimes a tough distinction to make, especially when you throw a few of them.
For the most part, though—and especially when he had time to throw—Luck was on the money. One of the more memorable plays for me was one in which Luck had to step up into the pocket then scamper to his left before making a side-armed throw to Reggie Wayne. The pass was on the money, and the defense was none too pleased.
It was a veteran play.
Unfortunately, veteran plays weren't the norm from Luck on the day.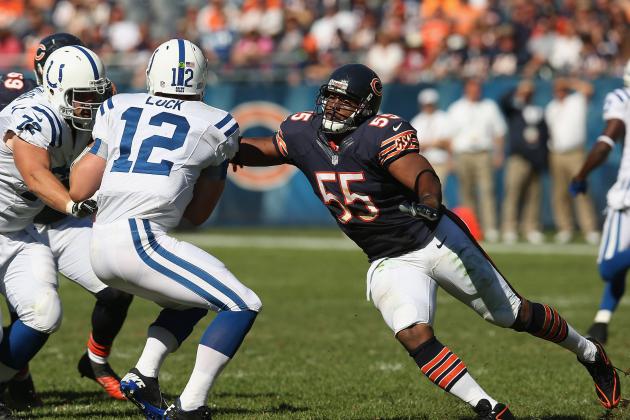 Jonathan Daniel/Getty Images
Luck had plenty of chances to show how he can move his feet.
Was he Robert Griffin III? No.
Was he Cam Newton? No.
Statistically, he was somewhere in between.
While Newton possesses the more-natural running capability, Luck out-gained him on Sunday. That's not usually very easy to do.
Props, rookie.
Indy's offensive line gave Luck unlimited opportunity to show off his mobility since he was constantly on the move in the backfield. He was sacked three times—one resulting in a lost fumble—but also avoided the rush numerous times and extended plays with his feet.
Hopefully, he won't be on the move as much in the future.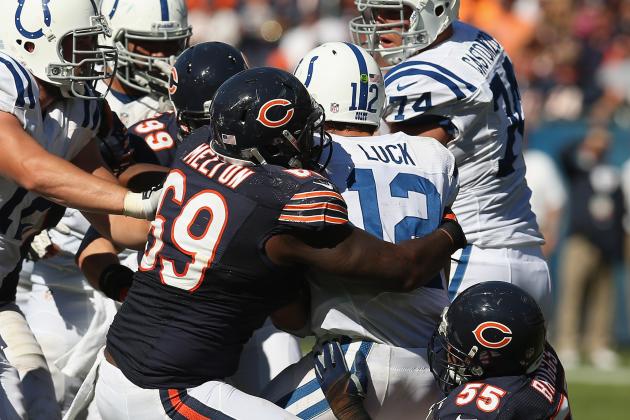 Jonathan Daniel/Getty Images
Luck was overwhelmed from the start.
Too many times.
Way too many times, Luck had a target and went for it. He took his first read and locked in.
Given the pressure he was facing, it's hard to blame him. The ball was coming out of his hands as quickly as possible. Nobody wants to get killed.
But this is the NFL, and locking onto receivers is a cardinal sin.
The Bears didn't hesitate to jump all over him for it, racking up three picks and holding him to 51.1 percent completions.
He became hesitant to go to his outlets after Donald Brown dropped two passes in the first half, and that may have been his undoing in the end.
Luck will adjust to the NFL's game speed. He just wasn't properly outfitted for the battle against the Bears.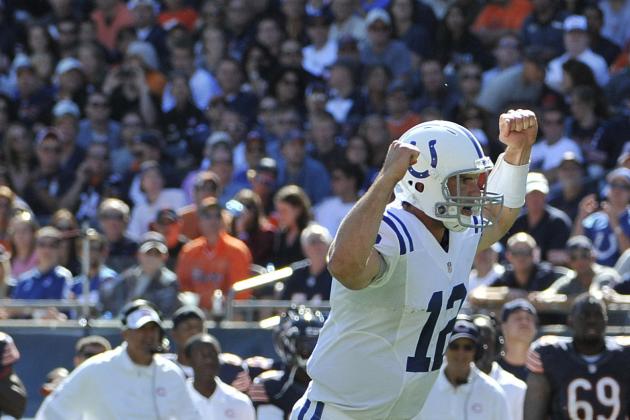 David Banks/Getty Images
Luck threw make some good decisions, but was unlucky a few times.
If Luck had played this game next year, there's a good chance he would've thrown zero interceptions.
The first pick was an underthrown deep ball. Chances are he will adjust to how fast players run in the NFL and just throw it farther next time.
The second was not a good decision by any means. Luck heaved a "please catch this" at Reggie Wayne in the end zone, and Reggie didn't catch it. Instead, Tim Jennings dove in front of Wayne and tipped the ball, which was eventually caught by Chris Conte.
While it was a bad decision, balls tipped in space like that one aren't usually caught by defensive backs. A very decent percentage of the time, that pass falls harmlessly to the turf.
His last interception wasn't a poor decision as much as it was a poor pass. Luck made a throw into that window 100 times at Stanford but just hasn't fully grasped the athleticism of the average NFL corner.
Lesson learned?
They can jump, bro.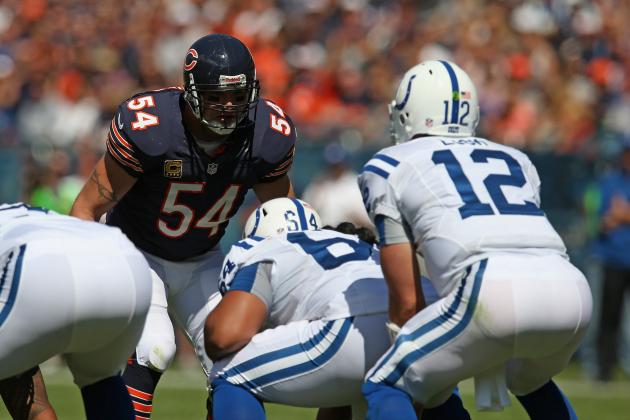 Jonathan Daniel/Getty Images
He's bigger than I thought he'd be.
Luck's creativity was derived solely from the ways he managed to get throws off. The fact that he was only sacked three times is a testament to his ability to avoid the rush and make something happen.
That he threw three picks is a testament to his ability to make that something be bad.
But the NFL is about growth, and Luck will soon be making plays more similar to the ones his spiritual predecessor did during the Sunday night game.
All in all, he just didn't have a lot of room to be creative. Luck might be ready to take this offense to the next level, but the talent around him isn't. The skill players are mostly young guys, and the offensive line is mostly bad.
Luck simply isn't on the team-transcending level that Peyton Manning was during his last years in Indy—at least, not yet.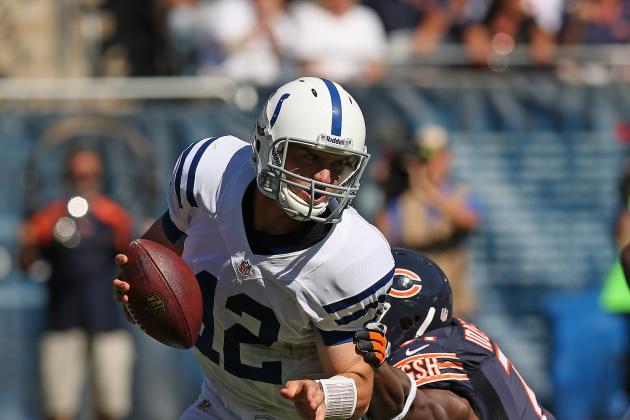 Jonathan Daniel/Getty Images
Luck didn't have much of a chance to be clutch.
It would be easy to blast Luck here, citing his "unclutchness" as the reason the Colts fell to the Bears.
He did throw that second pick while the Colts were still in the game. If they put up seven on that drive, it's a whole new ballgame.
But you don't make clutch plays in the second quarter of your first NFL game against great defenses. Chicago has serious playoff aspirations, and Indy barely has a shot of picking outside the top five in next year's draft.
If anything, I'd give Luck a decent grade here just for hanging in there and throwing his first touchdown after an otherwise abysmal outing. It was a big confidence booster for the whole team.
Sometimes you just need to see the ball go through the net.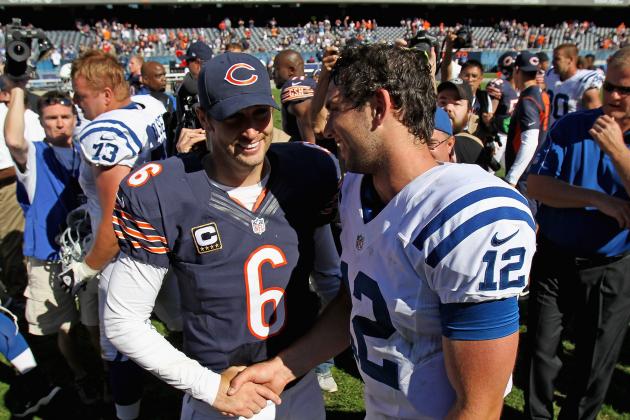 Jonathan Daniel/Getty Images
All things considered, not bad rookie.
All things considered, this wasn't nearly as bad as it looks on paper. Luck will use today as a learning tool. He will continue to gauge the dos and don'ts of the NFL, forming a mental image of the possibilities on any given play.
Once he understands the limitations, he can start to erase them.
Luck was handed the keys to an absolute beater in Indianapolis. He needs some time to work with it before taking it to the race track.
In the mean time, he made some visible mistakes. He saw a lot of new looks and hopefully learned a great deal about pro defenses, as well as a bit about his own team. He isn't throwing it to Megatron out there.
There's no reason for fans to panic. If nothing else, Luck showed he has heart. He won't pack it in after the Colts get behind early.
It was a decent—if unremarkable—beginning to what promises to be a well-documented career.