Steelers vs. Broncos: Pittsburgh's Biggest Winners & Losers from NFL Week 1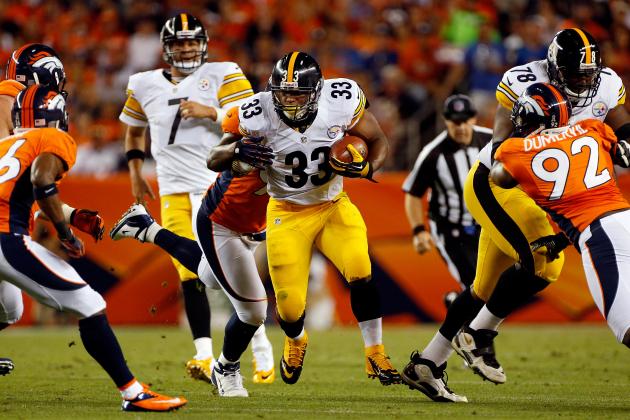 Doug Pensinger/Getty Images

Week 1 of the NFL regular season is always an exciting time. Every team has a chance to come out with a winning record even if only half of teams actually do just that. One of those winning teams will not be Pittsburgh after the Steelers fell to Denver by a score of 31-19.
In a game that was marked with both excellent and poor work by the black and gold, there were several winners and several losers. Here's a look at who was on each side of that coin.
Begin Slideshow

»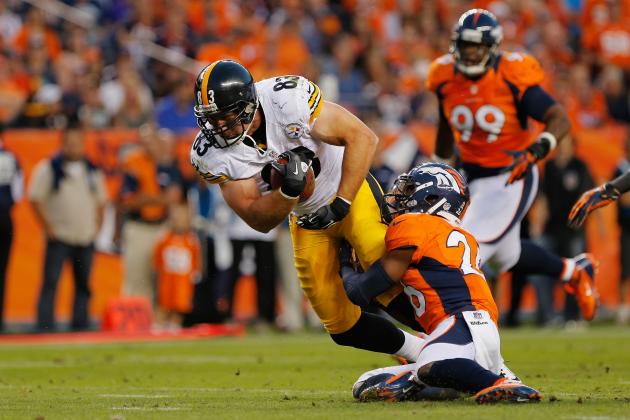 Doug Pensinger/Getty Images

After a preseason in which people began to wonder if Heath Miller had suddenly become the forgotten man in Todd Haley's new offense, he showed up huge for the Steelers against Denver.
Miller was a big weapon all over the field and provided excellent work on third down to help the Steelers convert a lot of opportunities. Haley has always made good use of tight ends who have good hands and Miller was no exception on this night.
Miller's highlight of the night was a beautiful catch in the red zone that helped cap a 14-play drive. The red zone offense had been a problem under former offensive boss Bruce Arians. Under Haley, Miller has been put back into the equation with excellent results.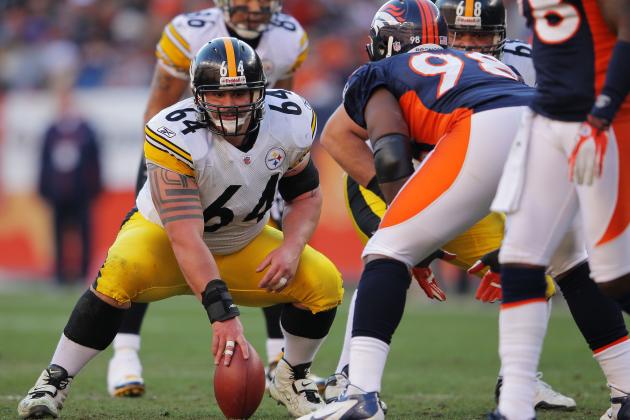 Doug Pensinger/Getty Images

"Next man up" is the mantra of the Steelers when injuries strike. Legursky was the third-string right guard and he showed why in tonight's game after Ramon Foster suffered some issues with his eye.
Legursky has proven time and time again to be an effective center and has also been a decent guard when playing the left side. He's not starting material at either position, but he can serve as a backup and step in when necessary.
The problem in this game was that he couldn't handle the fast pass rush of the Broncos effectively which forced Ben Roethlisberger to rush several throws. While this didn't seem to hurt the passing game, it certainly didn't help.
The bigger problem was that there was a lot of penetration in the running game. This neutralized a lot of what Isaac Redman and his fellow backs were able to do so well during the preseason.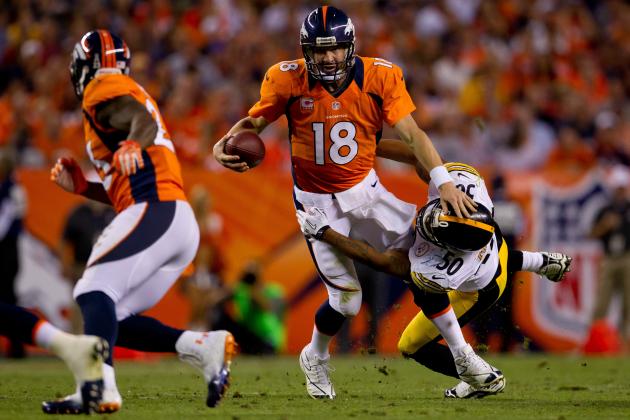 Justin Edmonds/Getty Images

Foote has returned to a starting role this season after spending the past several years backing up Lawrence Timmons and James Farrior. Foote emphatically showed against the Broncos that he's equal to the task of being a productive linebacker on the inside.
Foote was able to get penetration several times against the run and the pass and did a nice job with pass coverage and tackling as well. One of the knocks I've found with Foote the last couple of seasons was that he wasn't good at holding on after contact. Those missed tackles hurt.
This year, he's been more sure-handed and his aggressiveness is back. Part of that is more consistent snaps and playing time. Whatever the reason, it's good to know the Steelers will be okay on the inside despite the retirement of James Farrior.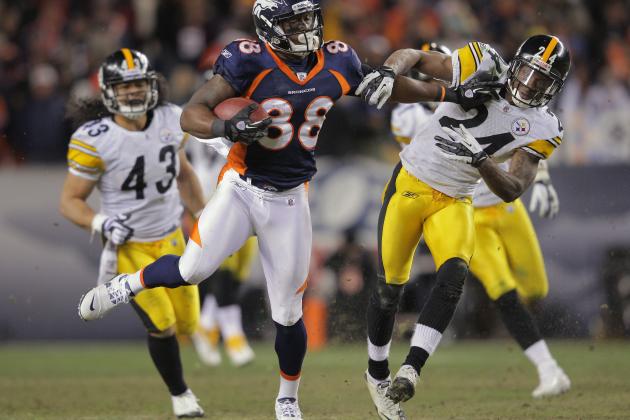 Doug Pensinger/Getty Images

Playing his first game in well over a year, Peyton Manning looked unstoppable. Part of that is simply the talent he still has as a quarterback, but a good part of it was a horrible pass defense run by the Steelers.
I couldn't pick one player to be most disappointed in, so this one goes to the whole crew. There was the blitz where the corner pulled up and let Manning throw the ball for a long touchdown. There was the touchdown and a two-point conversion where the coverage was non-existent.
This is going to be something that needs to be addressed immediately by Dick LeBeau and secondary coach Carnell Lake. If Manning can pick apart the Steelers the way he did on Sunday night, anyone can do it.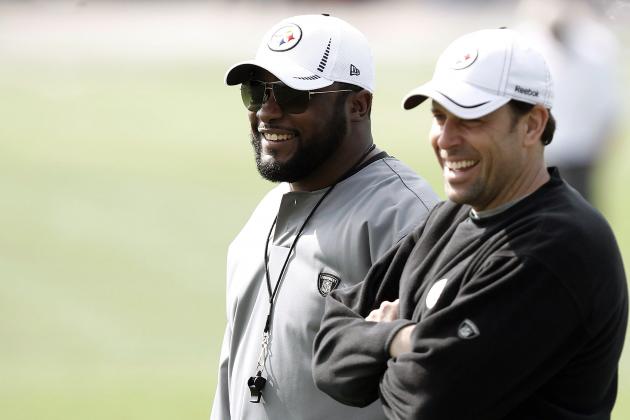 Jared Wickerham/Getty Images

On a night where the offense couldn't have been much better, a lot of credit has to go to Todd Haley. He called a brilliant game plan that mixed ball control through the run and a deft passing attack that showed Ben Roethlisberger at his best.
There were two elements of the game that I found to be most impressive. The first was the way the Steelers were able to consistently convert third downs. This was something that was an abject disaster under Bruce Arians. On this night, Heath Miller was used effectively to make the plays on third down.
The other aspect was the red-zone offense. The Steelers scored twice inside the 20-yard line. Coincidentally, both were on pass plays from inside the five. That's notable because the Steelers ran almost exclusively inside the five last year and struggled to produce anything.
If this is what we can expect from Haley's offense, I think we're in for quite a treat.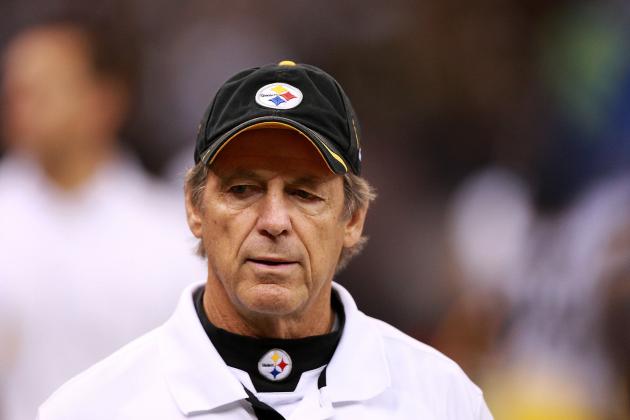 Karl Walter/Getty Images

I don't care if LeBeau's birthday was on game day. His game plan made no sense. This is a coach who has faced Peyton Manning countless times. This is the same sort of offense we have always seen from Manning. On this night, LeBeau's defense did everything possible to cost the Steelers a victory.
In fact, regardless of the interception that sealed the loss for Pittsburgh, I would vote that the defense cost this team a victory. They couldn't even slow down No. 18.
I expect more out of a veteran defensive coordinator. I expect more out of this defense. This was a huge letdown on the first week of the season. Thanks in large part to a poor game plan from LeBeau and even worse execution by his defense, the Steelers are 0-1.