Week 1 Cleveland Browns Awards: MVP, LVP and Top Rookie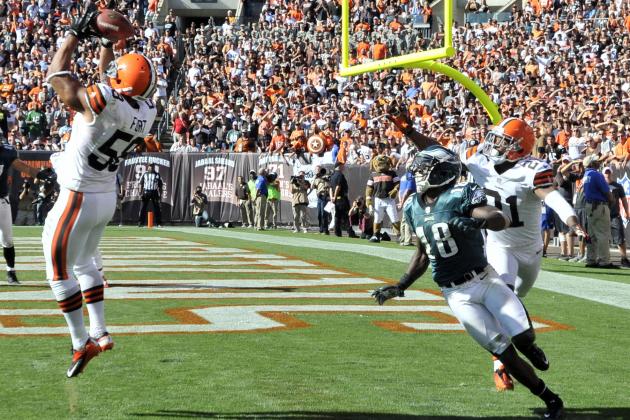 David Richard-US PRESSWIRE
A star is (almost) born.
Relax, Cleveland Browns fans, Brandon Weeden is a rookie quarterback who just faced his first real-time NFL defense—which is exactly what he looked like in Week 1 of the 2012 season.
However, all is not as grim as the numbers 0-1 would indicate. In fact, if one concentrates on the defensive side of the ball, the outlook is positively rosy!
In a game that handicappers predicted the Philadelphia Eagles would win by 8.5 points, the Browns held their own—and almost won.
While "close" definitely doesn't count in football, it should mean something for hopeful fans. So count your blessings, Dawg Pounders.
Let's begin with Week 1's MVP.
Begin Slideshow

»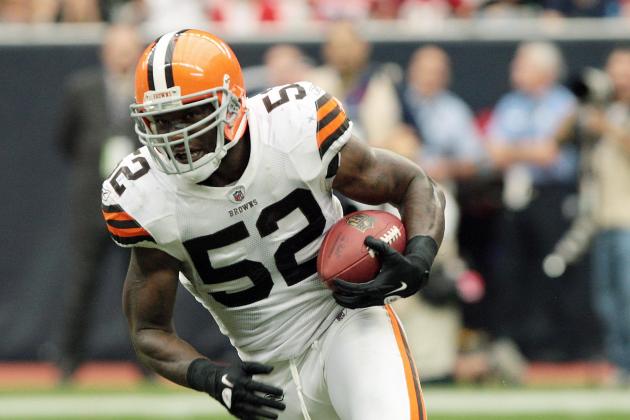 Troy Taormina-US PRESSWIRE
Secret Scoring Weapon
This was a toss-up between T.J. Ward and D'Qwell Jackson up until the moment that Jackson somersaulted into the end zone at the end of his pick-six.
Jackson finished an outstanding afternoon of on-field leadership with four tackles (one for a loss), two passes broken up and one interception returned for a touchdown.*
Those numbers don't reflect a complete command of his squad that resulted in almost total domination over one of the league's most dangerous quarterbacks.
Andy Reid can call Michael Vick "rusty" (on Eagles Radio Network via Pete Giordano for ESPN) all he wants to, but No. 7 looked positively dreadful on 95 percent of his snaps. No, that's not an actual measurement; it's a qualitative judgment.
Vick completed barely more than 50 percent of his passes and never broke one of his long trademark runs. The longest of the signal-caller's 12 rushes garnered 16 yards, and the average was only 4.6, totaling 32 ground yards for the NFL's quintessential mobile quarterback.
Jackson was the only original starter playing linebacker in Week 1. Scott Fujita was on the sidelines since his court-lifted suspension occurred too late for him to practice. Fujita's designated stand-in was rookie James-Michael Johnson. However, Johnson is injured. Chris Gocong (for those who do not watch preseason) is on IR.
Jackson played with decent-but-not-spectacular Kaluka Maiava and undrafted free agent rookies L.J. Fort and Craig Robertson. No, that is not a typo. Two UFA's took the field to stop Michael Vick and RB supreme, LeSean McCoy.
And yet, No. 52 led this group to three interceptions, including his scoring effort. Which leads us to…
*Unless otherwise noted, statistics are courtesy of ESPN's post-game recaps.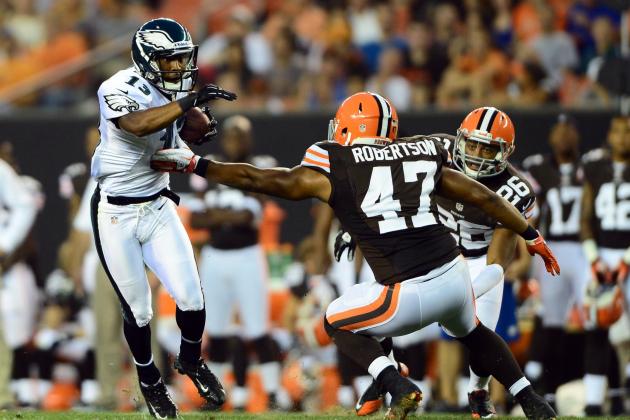 Andrew Weber-US PRESSWIRE
Not so fast!
This is a tie between the aforementioned Messrs. Robertson and Fort.
Ever since rookie training camp, head coach Pat Shurmur has been telling all assembled media that he likes these two young men.
Well, sure, Pat—but we thought you just meant they'd make the team!
Robertson contributed five solo tackles, assisted on four others, knocked down two passes and picked off Michael Vick.
Since fans now clearly need to know this: he's 6'1", 229 lbs and attended the University of North Texas. Where?
L.J. Fort was one botched interception away from concluding his first NFL game as a hero. Michael Vick's touchdown pass went right through Fort's hands, erasing the good feeling generated from the rookie linebacker's three solo tackles (one for a loss), one sack, two passes defended and one interception.
Even so, the signing of Robertson and Fort is making the Browns front office look good on a day when their selection of QB Brandon Weeden in the first round seems to be a joke.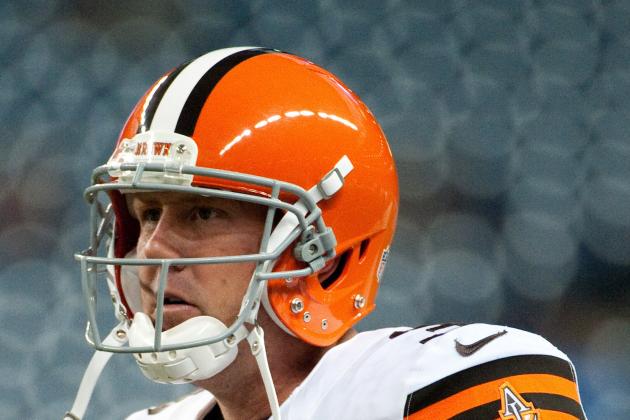 Tim Fuller-US PRESSWIRE
Rough day at the office.
You know it has to be rookie Brandon Weeden. The old "yeah, but he's a rookie" line would be so much more effective if Robert Griffin III hadn't completely lit up the Superdome in his first NFL start.
To be fair, one of No. 3's four interceptions pin-balled off of two players and was 100 percent not his fault. Then there were the multiple dropped passes, including the ones by (you guessed it) Greg Little.
However, a 12-of-35 completion ratio averaging less than four yards per catch for an aerial total of 118 yards is not going to cut it. One would mention his 5.1 QB rating—but that would be unnecessarily mean.
The first runner-up in this category would be rusher Trent Richardson, who was spectacularly ineffective in his own professional debut. The rookie rusher who carries the hopes of a city managed 2.1 yards per attempt. Oh, yeah, he also caught one pass for five yards. Awesome.
While not grounds for despair, both of the Browns' first-round rookies were inarguably disappointing in the opener. Even a quantum of offense would have won this game.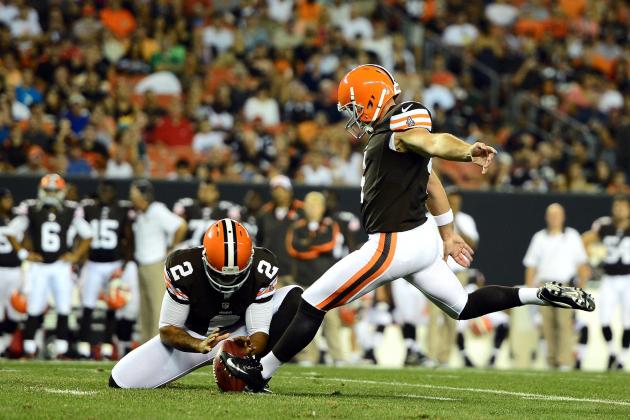 Andrew Weber-US PRESSWIRE
And--it's another three points.
Phil Dawson. Again. Three field goals for the franchised player.
For those of us not ashamed to show some kicker love, Mr. Dawson has now booted 279 footballs through an endless series of NFL uprights. He has an 83.3-percent success rate, and of 335 attempts, only six have ever been blocked.
Special teams on the whole was pretty stellar with Joshua Cribbs looking like his old self in the return game, some solid punting by Hodges and, of course, Phil.
No. 4 is probably wondering if he will have to be the one-man scoring machine for the Browns this year. Again.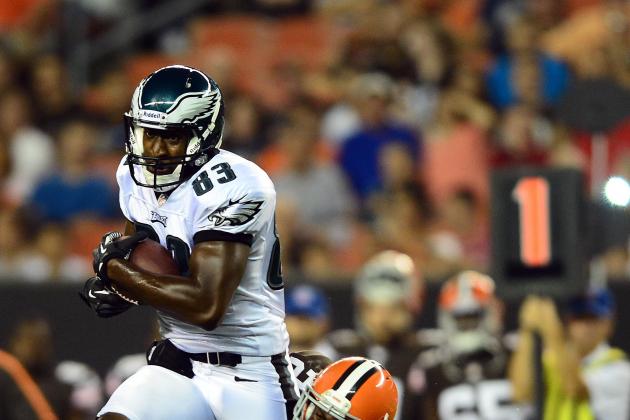 Andrew Weber-US PRESSWIRE
No you don't!
Defensive coordinator Dick Jauron has himself a defense. This unit broke up 12 passes, notched four interceptions and hit Michael Vick 11 times. And Michael Vick is not easy to hit.
They also forced three fumbles, including the one that just may have been in orange hands at the bottom of that pile, no matter what the replacement refs said.
Of 56 Philadelphia passes, only 29 hit their targets. The last time I checked, Michael Vick can't claim rookie-QB status—ergo, excellent defense.
And all of those holding penalties on the Philly O-line? The result of pretty decent pressure by the Browns front seven.
On the other side of the coin, the Browns allowed four Eagles ball-carriers to rack up 150 rushing yards.
Had Andy Reid given LeSean McCoy the ball more regularly earlier in the contest, he might have had 150 all by himself instead of a mere 110. Hmmm.
All in all, for a group with a rookie playing DT, two UFA rookies at linebacker and a starting corner lost to injury (Sheldon Brown), not too shabby.
So, buck up, Dawg Pounders—it ain't all bad!