Tampa Bay Buccaneers Week 1 Awards: MVP, LVP and Top Rookie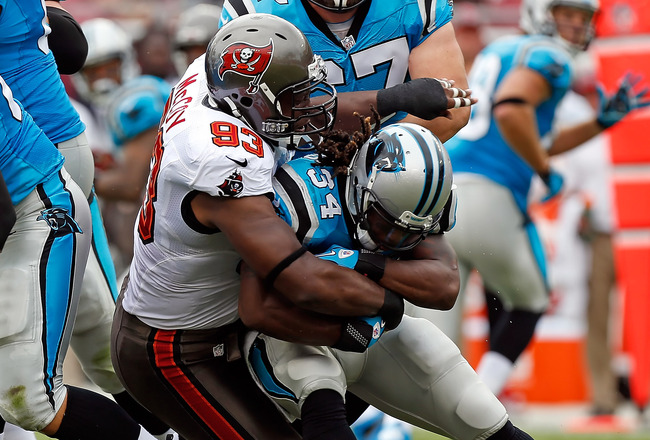 J. Meric/Getty Images
The Tampa Bay Buccaneers beat the Carolina Panthers 16-10 on Sunday.
The better-than-expected start is due in large part to two timely forced turnovers and a relentless pass rush that disrupted Carolina quarterback Cam Newton for most of the game.
The defense played better than many expected—especially against a Panthers team that scored 86 combined points in their two meetings in 2011. Aside from the turnovers mentioned above, they were also able to hold Carolina to 10 rushing yards.
Yes, ten.
With that in mind, I've decided to recognize a few standouts from the game by handing out a couple of game balls, as well as pointing out one glaring issue that the Bucs need to fix before next week.
Game Ball for MVP: The Defensive Line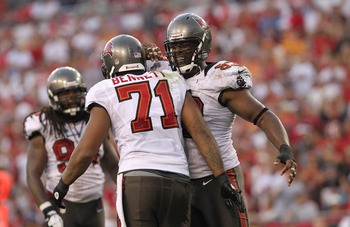 Kim Klement-US PRESSWIRE
The defensive line was the punchline, the running gag of the entire team coming into the 2012 offseason—as last season they showed little fight and even fewer results.
One game has drastically changed that perception.
The unit played with a ferociousness that hasn't been seen in these parts in years. They were faster, stronger and played with a nastiness that Carolina clearly was not prepared for—helping to hold the Panthers to 10 points and, in the process, tying a franchise record by holding them to 10 rushing yards.
They were responsible for two of the three sacks against a very mobile Cam Newton, with one coming from defensive end Michael Bennett, and the other from the very disruptive Gerald McCoy.
Equally as important, they kept Newton from ever fully getting comfortable in the pocket, which surely attributed to his two interceptions.
All around, the unit played their best game in quite some time and easily deserve a game ball as a result.
Game Ball for Top Rookie: Running Back Doug Martin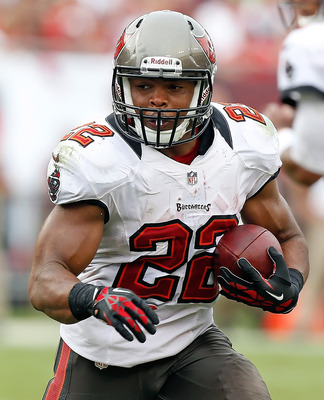 J. Meric/Getty Images
With all due respect to fellow rookies Mark Barron and Lavonte David—both of whom played great games and made plays all over the field—this award goes to the rookie from Boise State.
Doug Martin came up just shy of 100 yards rushing, finishing with 95 yards on 24 carries in his NFL debut.
However, where Martin truly deserves the credit is in the time of possession dominance the Buccaneers held over the Panthers, as Tampa Bay out-possessed Carolina 37:27-22:33.
The benefits of winning the time of possession battle are obvious, as it enabled the Bucs' defense to stay on the sideline, while simultaneously kept Carolina's defense on the field (oh, and Cam Newton off of it).
Martin also added four receptions for 23 yards.
Least Valuable Performer: Buccaneers Offense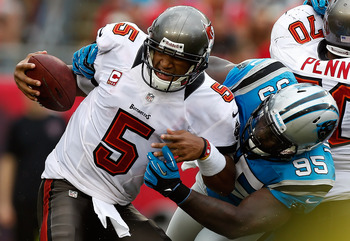 J. Meric/Getty Images
Yes, the Bucs won the game, and yes, the offense didn't commit a turnover, but let's be honest: Mike Sullivan called a decidedly conservative gameplan in the second half.
How bad did it get?
Quarterback Josh Freeman threw for just 16 yards in the second half. Sure, V-Jax dropped a few passes and a Ted Larsen holding penalty negated a 31-yard completion, as well.
But again, it became clearer and clearer as the half moved on that Sullivan was content with playing it safe and going with the field position battle, instead of trying to add some cushion and close the game out early.
Look at the rest of the schedule—in particular the next three games: at New York Giants, at Dallas, home versus Washington.
All three of those teams are bound to score more than 10 points against our defense—even on a day like the Bucs' defense played yesterday.
Ipso facto, the Bucs will have to score more points, as well.

Stay up-to-date on the latest Bucs news and more by following J.J. on Twitter. You can also "like" him on Facebook.
Keep Reading

Tampa Bay Buccaneers: Like this team?