Arkansas Football: Grading All 22 Starting Positions from the Week 2 Upset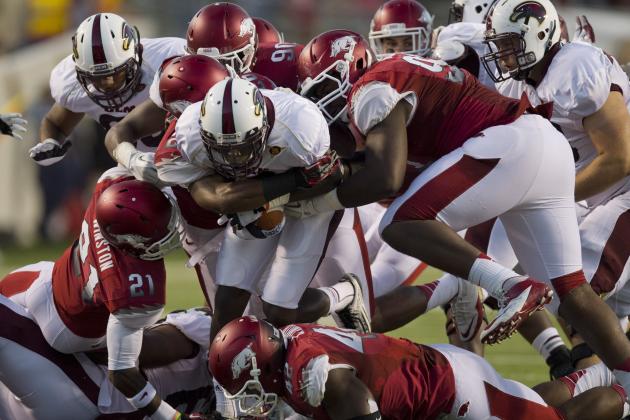 Wesley Hitt/Getty Images

The Arkansas Razorbacks' loss to Louisiana-Monroe in Week 2 is one of the worst upsets in the Hogs' history.
There are many factors to consider when grading each player and each position, especially with the Razorbacks' unfortunate loss of Tyler Wilson before halftime.
But still, one player does not make a team, and even when the star quarterback is injured every player and coach on the field still has a job to do.
Some positions have been grouped together, as responsibilities are shared by a team. Unfortunately for the Razorbacks, there were players on both sides of the ball that were non-factors during this heartbreaking upset.
All game stats come courtesy of ESPN.com.
Begin Slideshow

»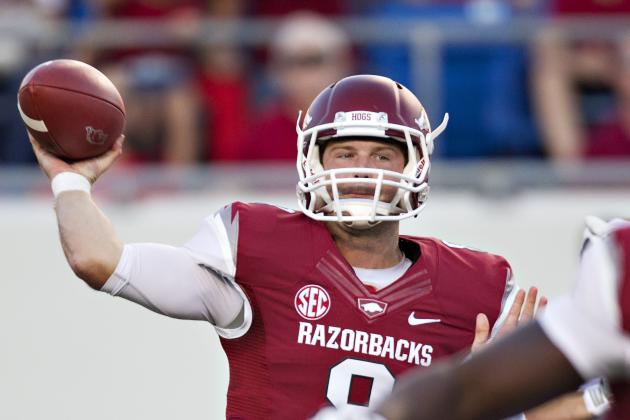 Wesley Hitt/Getty Images

Tyler Wilson had a rocky start Saturday night, throwing an interception in the first drive that set up the Warhawks to draw first blood.
Wilson seemed to have a hard time settling down and making plays. He did manage to throw for two touchdowns, including a 39-yard pass to Cobi Hamilton in the second quarter.
Of course he also could have been leery after the Hogs' offensive line allowed him to absorb multiple shots to the head during the first half.
Wilson did not return to the game after halftime, with the coaching staff citing an injury above the shoulders as the cause.
Grade: Incomplete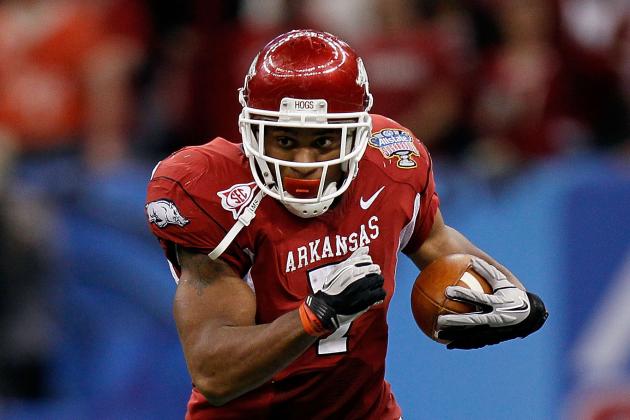 Kevin C. Cox/Getty Images

Knile Davis looked shaky at the beginning of the game. He did not participate in a full contact practice till the last week of preseason, and he may still be trying to find his footing after missing all of last season due to injury.
Davis did manage to average 3.9 yards over 16 carries and score a touchdown.
Arkansas fans will be scratching their heads over Paul Petrino's decision to pass the ball during the Hogs' sole drive during overtime. Davis' longest gain was a 19-yard run during the fourth quarter where he started to show signs of the player he was during the 2010 season.
Given a few more attempts in the second half, and at least one attempt during overtime, he may have taken advantage of the opportunities and turned the game around for the Razorbacks.
Grade: C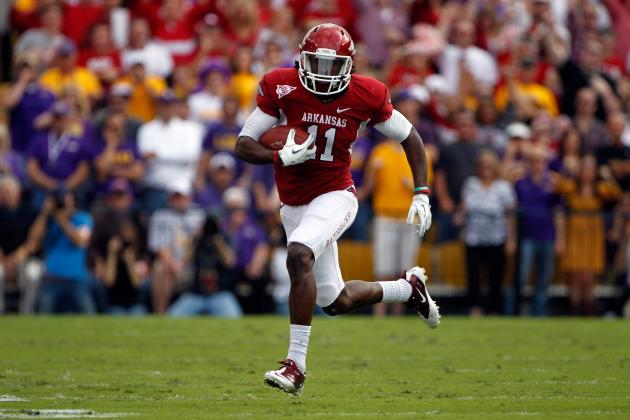 Chris Graythen/Getty Images

It is difficult to grade the Hogs' wide receivers for their performance when Louisiana-Monroe would not let the Razorback offense onto the field and Tyler Wilson was being treated for an injury.
Cobi Hamilton was the most effective wide receiver in Arkansas' passing attack, having six receptions for 99 yards and a touchdown. He was the clear favorite of the Hogs' quarterbacks, with 14 passes in his direction throughout the game.
Despite being at the top of the depth chart for the Hogs, Mekale McKay and Brandon Mitchell were minor factors.
McKay made the most of his opportunities catching two out of only three pass attempts, including a 61-yard gain during the second quarter and a touchdown in the third.
Grade: D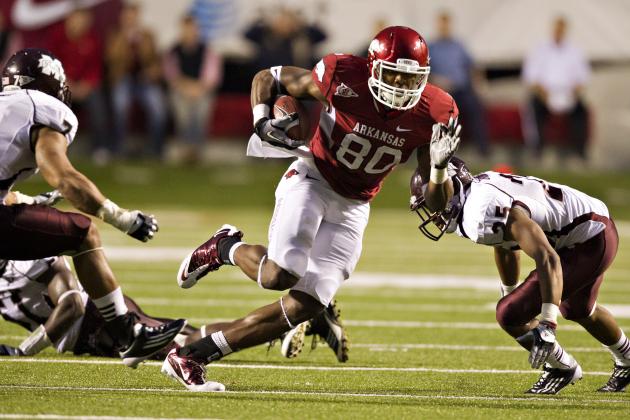 Wesley Hitt/Getty Images

Chris Gragg was one of the few Razorbacks on the field that put in a solid performance Saturday night.
He averaged 11.9 yards per reception and was the go-to option for both Tyler Wilson and Brandon Allen. He also did not require an adjustment period when the backup quarterback took the field. He performs well no matter who is taking the snaps.
Gragg is going to be a major contributor to the Hogs' offense this year. He was named the CFPA National Tight End of the Week last week, and that won't be his last accolade this season.
Grade: B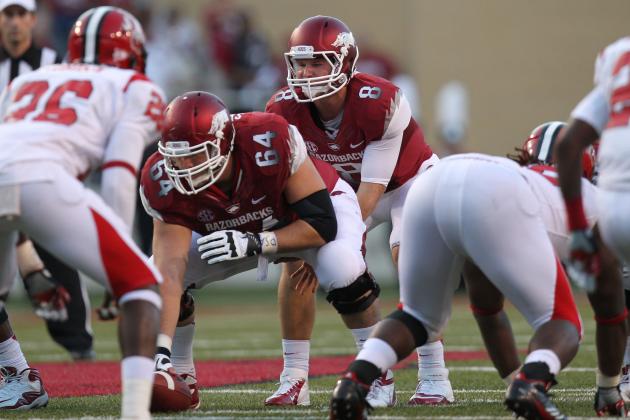 Nelson Chenault-US PRESSWIRE

David Hurd (OT), Tyler Deacon (OG), Travis Swanson (C), Alvin Bailey (OG) and Brey Cook (OT) receive a failing grade for one simple reason: they did not protect their quarterback.
During ESPNU's broadcast of the game, there were many segments about Tyler Wilson's injury that showed the Louisiana-Monroe defense repeatedly hammering him in the head.
It's hard to imagine that was not a topic of conversation on the sidelines or in the huddle after every incident. There are rules about targeting the head, but officials cannot catch every infraction that occurs on the football field.
That offensive line is responsible for protecting the quarterback before the snap, after the snap, before the ball is thrown and after the ball is thrown. Whatever it takes.
Protecting the quarterback is job No. 1, and they failed to complete that task.
Grade: F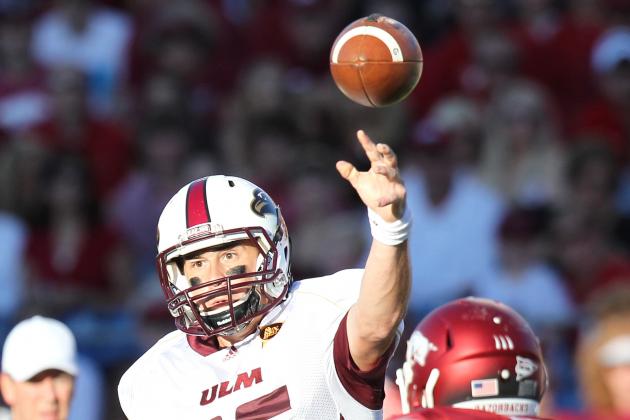 Nelson Chenault-US PRESSWIRE

Arkansas' cornerbacks and linebackers had a rough night. Louisiana-Monroe utilized nine receivers during Saturday night's game compared with Arkansas' five.
A quick look through the ESPN.com Play-By-Play shows that a lot of these passes were between four to seven yards. Kolton Browning had time to throw the football and always found short options. This allowed Louisiana-Monroe to keep the Razorbacks' offense off the field and helped them maintain possession for nearly 40 minutes of the game.
If Arkansas is going to have a successful season, they have to learn how to contain the opposition's short game.
Grade: D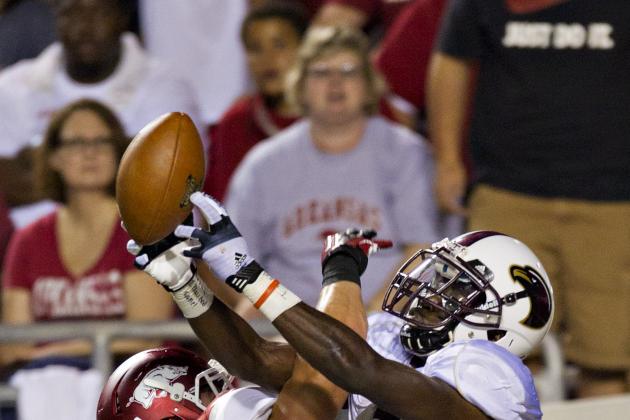 Wesley Hitt/Getty Images

Ross Rasner narrowly escaped having the blame for this loss placed at his feet. His pass interference penalty in the third quarter where he smacked a receiver in the face almost helped set up another Louisiana-Monroe touchdown.
Fortunately he was in the right place at the right time and intercepted a pass at the Arkansas 11-yard line six plays later.
Without that interception, this game would not have gone into overtime and Louisiana-Monroe would have won outright during regulation.
Neither Rasner nor Eric Bennett were effective in stopping Louisiana-Monroe receiver Brent Leonard.
Leonard averaged 10.2 yards over 11 receptions. He also scored the touchdown in the fourth quarter that sent the game into overtime.
Grade: D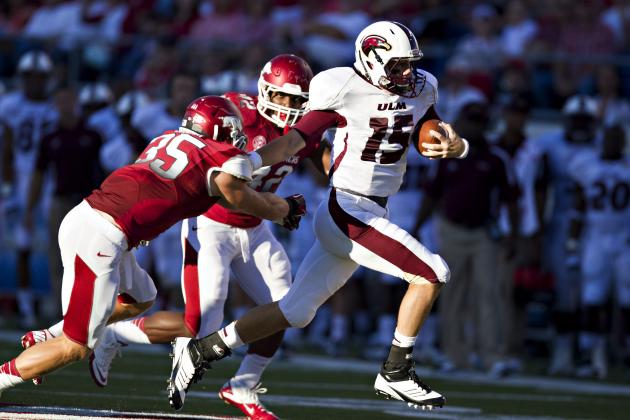 Wesley Hitt/Getty Images

Grading a team's defensive performance boils down to a few factors: sacks, interceptions, reckless penalties and whether they contained the opposition's offense.
Aside from a Chris Smith sack in the first quarter, there is not much for the Razorback defensive line to be happy about in this game.
But let's give credit where credit is due. Louisiana-Monroe quarterback Kolton Browning had an outstanding night.
Browning passed for 412 yards, three passing touchdowns and led the entire game in rushing with 69 yards over 16 carries. He outperformed every running back that took the field Saturday night and could not be contained by the Arkansas defense—from his 24-yard run in the opening drive to his 16-yard game winning touchdown in overtime.
Good night or not, the Razorback defense has to learn how to contain a quarterback that can also be a running threat. Quarterbacks with multiple skill sets have been the norm for a while now.
Containing a player like Browning should be taught from day one of training camp, not after a devastating loss that derails your championship hopes.
It's not fair to place blame on college football players in this situation. They were not properly prepared for this kind of threat. This one is on the coaching staff.
Grade: F