Buffalo Bills' Pass Rush Non-Existent in Loss to New York Jets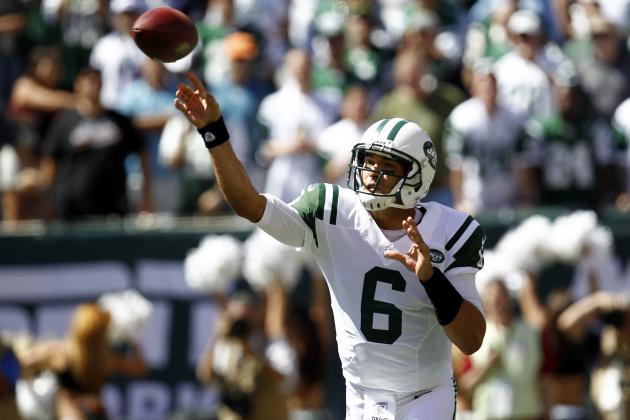 Jeff Zelevansky/Getty Images

So much for all of the hype surrounding the Buffalo Bills' new defensive line that was supposed to be the rage of the NFL in 2012. The Bills visited the New York Jets to open up the 2012 regular season and the Jets' offensive line handled the Bills' new defensive line quite handily in defeating Buffalo 48-28.
How badly did the Bills defensive line play? No sacks in the game and they weren't even credited with a quarterback hit. The Jets defensive line didn't have a sack either, but at least they were credited with five hits on Ryan Fitzpatrick.
This game was very far removed from what the Bills' front office, the players, the coaches and the fans were envisioning.
It only counts for one game, but it surely will put a damper on an initial rosy outlook.
Begin Slideshow

»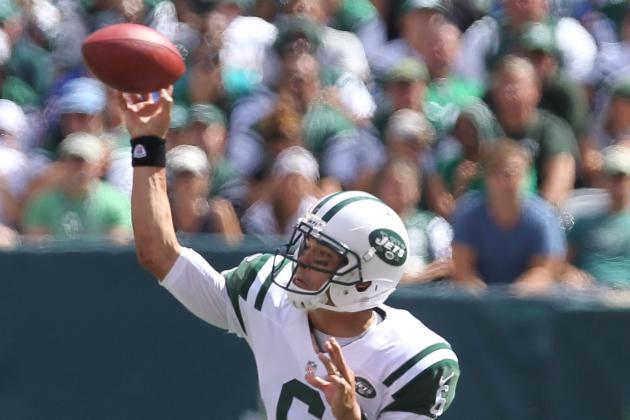 Ed Mulholland-US PRESSWIRE

It is hard to say right now who was worse, the Bills' pass rush or the Bills' secondary. Both parties need to share in some of the guilt.
Buffalo gave Mark Sanchez all day to throw. Like most NFL quarterbacks if given all day to throw, they will pick you apart. The Buffalo defense made Sanchez look like he was an elite quarterback when he completed 19-of-27 passes for 266 yards, three touchdowns and one interception. Sanchez came away with a QB passer rating of 123.4.
Sanchez made one very questionable play on the Jets' first drive when he tried to flip a pass before going out of bounds. Bryan Scott intercepted the pass off of a deflection but after that, Sanchez kept delivering on one drive after another.
For all of the bad press over how poorly the Jets' offense executed during the preseason, the Bills' defense turned out to be exactly what the Jets' offense needed.
How could the Bills' defensive line, with all of their star power, allow Sanchez so much time to throw? We will explore this in more detail on the next slide.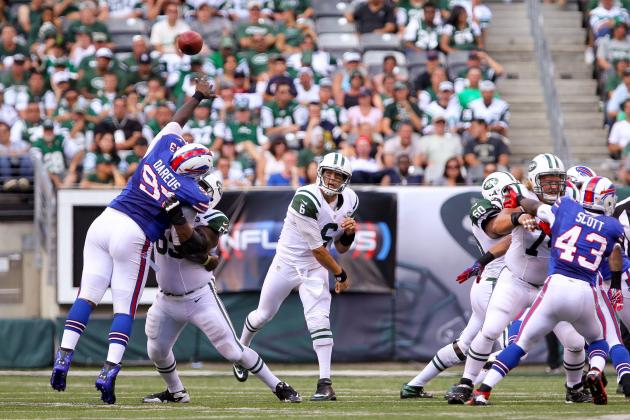 Ed Mulholland-US PRESSWIRE
Sanchez had a clear lane to pass the ball in all day
Dave Wannstedt's 4-3 defensive scheme is based on the defensive linemen being able to win their one-on-one battles, allowing them to get to the quarterback. If the Bills linemen aren't winning those battles, they wind up with the result of today's game.
My question is this: If you come in to a game and your Plan A isn't working, at what point do you make an adjustment and go to Plan B? Surely Wannstedt had some kind of a contingency plan to go to if the front four wasn't able to lay a finger on Sanchez, right?
It didn't appear that he had anything else to turn to because the Bills kept staying in the four-man base scheme. Drive after drive, Sanchez kept picking apart the Bills' secondary.
As for Mario Williams and Mark Anderson, the prized possessions of the 2012 free agency haul, the pair combined for one tackle, no sacks and no quarterback hits. Wonder how much Ralph Wilson actually paid out to both of them for that one tackle by Mario Williams? Trust me, you don't want to know.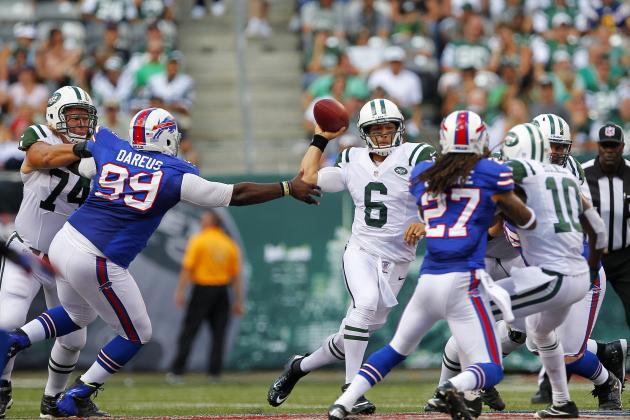 Rich Schultz/Getty Images

Just out of curiosity, did anybody happen to know if Mario Williams and Marcell Dareus actually made the plane trip to New York City?
In the game today, Dareus only managed one tackle, as did Mario Williams. The Jets tackles were thought to be suspect coming into the game, but Austin Howard was able to control "Super Mario" quite easily.
This was supposed to be a huge edge for the Bills coming into the game, but Williams seemed to be split out so wide that he never had the time to get to Sanchez before he released the ball.
There were enough passes where a double move was required, and still the Bills defensive line couldn't find a way to break through.
If I was grading the Bills' units for this game, the defensive line would get a F. There wasn't anything outstanding that they did. The Jets converted on 10-of-14 chances on third downs, That's attributable to the ineffectiveness of the Bills' defensive line.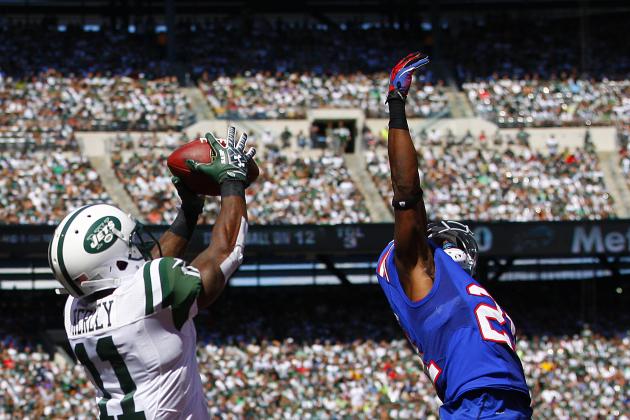 Rich Schultz/Getty Images

It doesn't matter if Leodis McKelvin plays cornerback with outside responsibility or nickel corner with inside or slot responsibility. Whenever he is on the field, the opposition is going to go after him because McKelvin has trouble covering anybody.
This week McKelvin made a star out of Jeremy Kerley, who came up with some clutch catches on third down as well as a nice touchdown catch. In fact, Kerley was a major star for the Jets in the game, as he also scored on a 68-yard punt return in the second quarter.
The Bills should consider moving McKelvin to the special teams unit. They should only consider bringing him in on defense if they are dropping seven or eight guys back into coverage at the end of the half or game.
Play Terrence McGee or Justin Rogers, but please keep McKelvin off of the field on defense.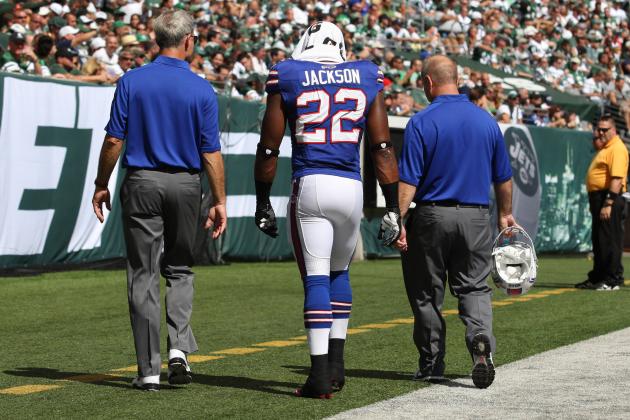 Ed Mulholland-US PRESSWIRE

Fred Jackson took a big hit from safety LaRon Landry in the second quarter at the end of a run. Jackson seemed to be tackled at an awkward angle and he laid down on the field for several minutes before he finally walked off on his own.
Jackson never returned to the game. If there is a silver lining in any of this, it is that the Bills were forced to use C.J. Spiller exclusively. In turn, had a career-best day.
No word yet on how much time Jackson might miss, but the early word is that he suffered a sprained lateral collateral ligament in his right knee, according to ESPN's Adam Schefter.
As crucial as Jackson is to the Bills offense, it is important that he miss as little time as possible. However, the Bills can breathe a little easier thanks to Spiller's performance.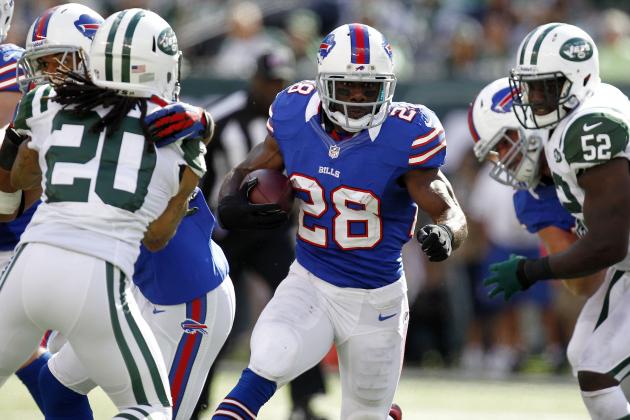 Jeff Zelevansky/Getty Images

C.J. Spiller turned in his best day as a pro against the New York Jets. Spiller rushed the ball 14 times for 169 yards, averaging 12.1 yards per carry. He scored one touchdown on a 56-yard run, which was his longest run of the day. Spiller also caught one pass for 30 yards, but he fumbled the ball on the play.
Spiller showed great balance, speed, power and acceleration during his assorted runs today. He made some great moves on his 56-yard scamper and looked like he was going to break a second long-touchdown run, except that Darrelle Revis tripped him up at the last second. Revis was injured making the tackle and didn't return to the game.
Based on how Fred Jackson looked after taking that big hit, it is safe to assume that Spiller will probably be starting for the Bills next week when they host the Kansas City Chiefs.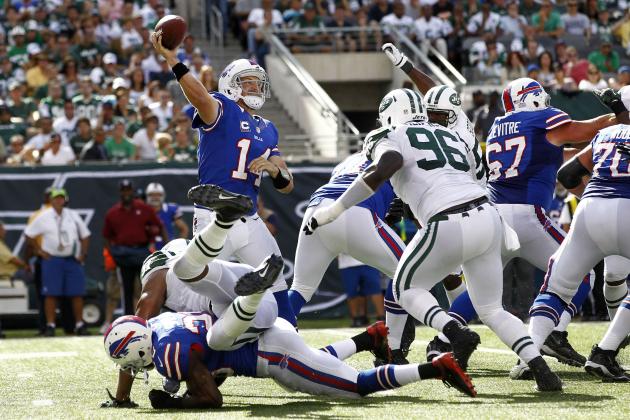 Jeff Zelevansky/Getty Images

As mentioned earlier, Mark Sanchez's QB passer rating was 123.4. Ryan Fitzpatrick's, on the other hand, was 66.5. That pretty much sums it all up right there.
Fitzpatrick completed 18-of-32 passes for 195 yards, three touchdowns and three interceptions. He wasn't sacked all game and he did help to spring Spiller on his long touchdown run by throwing a nice block downfield.
Since this is the third year now that Fitzpatrick is playing for Chan Gailey, he shouldn't be making the kind of mistakes as a veteran quarterback that he is making. Fitzpatrick was intercepted on both of Buffalo's first two drives.
Nothing can take the steam out of a team worse than by handing the ball over to the other team twice in a row.
With the game well in hand for the Jets in the second half, Fitzpatrick finally came to life and threw three touchdown passes. It is hard to say exactly how hard the Jets' defense was playing then, since they were already up 41-7.
Fitzpatrick's third interception was early in the second half, which Antonio Cromartie returned for a 40-yard touchdown. It was a carbon copy of the pick-sixes that Vince Young, Tyler Thigpen and Brad Smith threw in the preseason.
I am not about to jump off of Fitzpatrick's bandwagon for one bad game, but to start out the year like this—against an AFC East divisional foe, especially after all the interceptions he threw last year—I am going to be studying tape on Tarvaris Jackson later this week.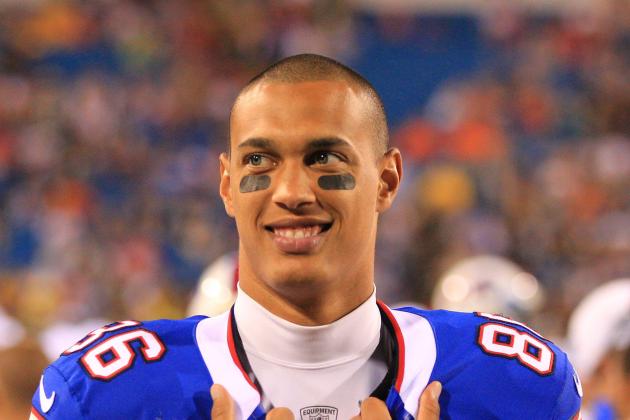 Kevin Hoffman-US PRESSWIRE

Bills' wide receiver David Nelson also took a big shot today in the game against the Jets, forcing him out of the game. Nelson didn't return to the contest.
Overall, the Bills' receivers did drop some passes on Fitzpatrick that were catchable. But the Bills did come up with 195 receiving yards on the day.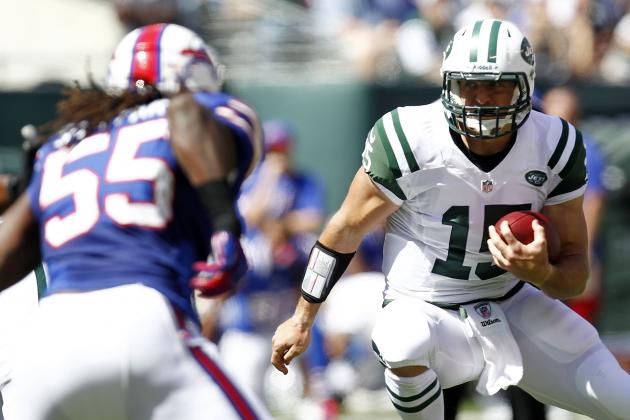 Jeff Zelevansky/Getty Images

For all of the media hype surrounding Tim Tebow, it proved to be much ado about nothing. Tebow rushed the ball five times for 11 yards, an anemic average of 2.2 yards per rush. That is the kind of production that usually leads to a player sitting at the end of the bench.
The Wildcat offense didn't do a thing. The Bills just wished that the Jets would have gone to it more often. But whenever Sanchez needed to rotate back in and save a drive, he came up with the big pass play to keep the chains moving.
The only thing that Tebow did was recover the onside kick attempt the Bills attempted after their final touchdown. That alone will probably get him headlines on Monday morning.
Oh yeah, he lined up as a tight end on the first play from scrimmage. Yawn.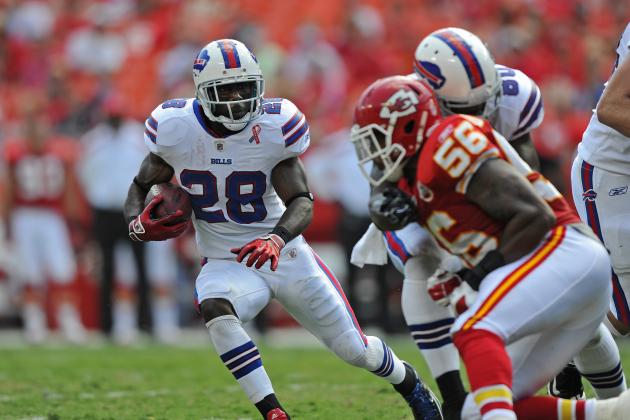 Peter Aiken/Getty Images

Next Sunday, the Bills host the Kansas City Chiefs, who also lost their season opener 40-24 to the Atlanta Falcons.
Nobody expected the Bills to go undefeated, but then again, nobody thought the Bills would be ranked lower than No. 27 in sacks this year either.
Dave Wannstedt will have to go back to the drawing board and figure out a way to get the defense in a position to put more pressure on the quarterback.
Today's effort was not only unacceptable, but it will guarantee that this team will not go to the playoffs if they continue to play like this.