Previewing the Miami Heat's 5 Biggest Training Camp Battles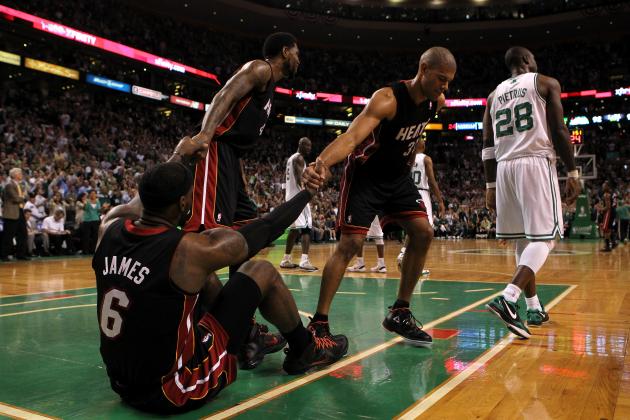 Jim Rogash/Getty Images
Pick me LeBron! Pick me!
Aside from the Miami Heat's Big Three, the spectrum of talent across the board reads even. Their roster includes great shooters and versatile defenders, as well as a defensive specialist.
However, the pool of talent Eric Spoelstra has to choose from will continue to deepen, meaning players will have to do whatever they can to distinguish themselves from the pack and earn some consistent playing time.
Unlike on many other teams, some of the Heat's most anticipated training camp battles will take take place between some of the oldest players on the team.
What the Heat lack in young talent, they make up for with proven veterans and solid role players willing to compete day in and day out for minutes.
You may think the Heat's rotation is set, but with the acquisition of Ray Allen and Rashard Lewis and the improvement of young guys like Norris Cole, you might be in for a surprise this season.
Begin Slideshow

»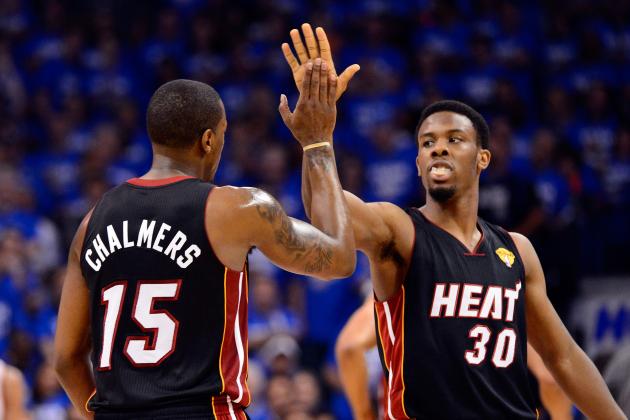 Ronald Martinez/Getty Images

There were multiple instances during not only the regular season, but also during the playoffs, that many Heat fans screamed for more Norris Cole sightings.
As a rookie, Cole stepped in and had an effect that few expected with a contender like the Heat.
He played with the confidence of a superstar, nailing multiple big shots throughout the season and stepping in during the playoffs and playing big minutes while Mario Chalmers struggled.
Nevertheless, Chalmers has proven time and time again that he's got what it takes to be the point guard (or lack thereof) for this star-studded Heat team.
Both guys are young talents with a swagger unmatched by many, but it will be hard for Cole to overtake Chalmers as Miami's starting point guard of the future. That is, if the Heat decide they still need one out there on the floor with the likes of LeBron James and Dwyane Wade.
Not only are Cole and Chalmers competing against one another, but also against guys like Ray Allen and Mike Miller, who continue to push the issue that the Heat need no true point guard out on the floor with the ball in LeBron's hand.
Mike Ehrmann/Getty Images

This should be one of the more interesting battles in Heat training camp for many reasons.
The main reason is that although Rashard Lewis and Udonis Haslem play the same position, they are two very different type of players and bring entirely different skill sets to the table.
A lot of their minutes will depend on what the Heat need on any given night.
If they need a big who can stretch the floor with their three-point shot, it will be Lewis's night.
If they need a guy to go out, defend the other team's best big, and get rebounds, Haslem will get the bulk on the minutes.
However, each guy could work on a weaker aspect of his game in hopes of getting more minutes.
Haslem needs to get back to being cash money from mid-range. Not sure what was wrong with him last season, but he was not the machine we are used to seeing knock that down with ease.
Meanwhile, Lewis needs to show his toughness in camp. He's got to show he can't be pushed around inside and that he's not afraid to bang inside with the big boys when it matters most.
This position battle has the potential to change the direction of the team.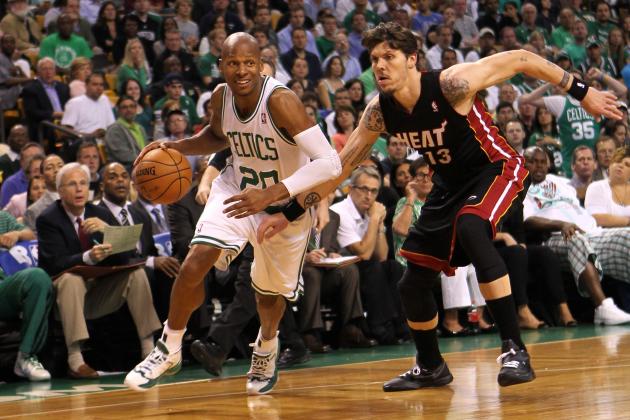 Jim Rogash/Getty Images

Ray Allen is the newcomer and one of the best shooters the NBA has ever seen.
Mike Miller, although he was injured throughout the entire season, put on one of the best shooting performances in NBA Finals history and demonstrated just how valuable a healthy Miller can be to this team.
Now, it's time for the training camp battle between these two amazing shooters.
Allen is definitely a better defender but has somewhat transformed into a one-dimensional type player. No longer can he really create for himself.
Miller's skill set is often times underrated. He's a bigger guard who can rebound the ball and start the break. Many fans may have this position battle already won by Allen in their heads, but don't count out Miller, whom we still haven't seen healthy during his time with Miami.
Nevertheless, the fact that the Heat have the luxury of choosing between Miller and Allen should worry other teams. Both have proven to be formidable options, from behind the arc in particular.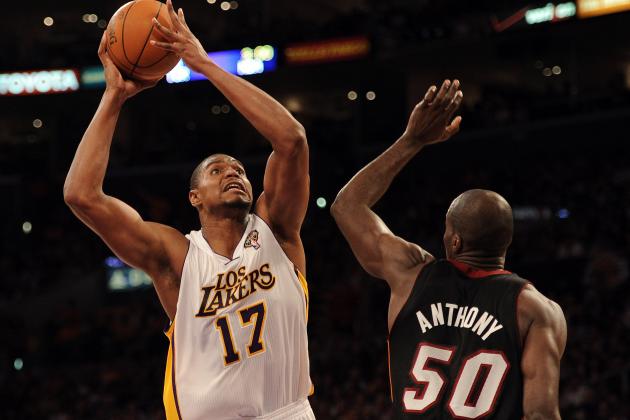 Harry How/Getty Images

This is one of the position battles that won't be talked about much. These guys won't be fighting over too many minutes, but the minutes they are fighting over are key.
Dexter Pittman has never received much playing time with Miami, while Joel Anthony slowly fell out of favor last year.
But this year the Heat are going to need a big man to compete with some of the contending teams across the league, including the Lakers, 76ers, Knicks, Pacers and Celtics, to name a few.
One of these guys will have to step up.
Pittman's got the size to be a decent big man in the league, but there's no question that Anthony is more athletic. We've seen Anthony block key shots on many occasions, despite his smaller stature.
The Heat have been waiting for Pittman to come around for years now. Well, there couldn't be a better time for that than right now. Get him some early minutes and see what he can do against some of the better big men in the league.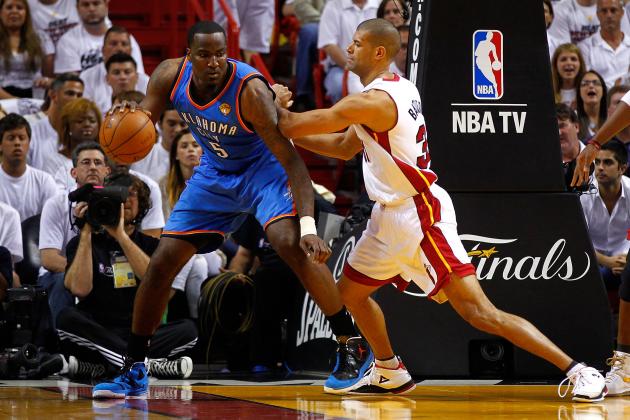 Mike Ehrmann/Getty Images

Due to Lewis's versatility, he's included in two key position battles heading into training camp.
Battier proved to be one of, if not the key piece outside of the Big Three during the Heat's recent championship run. He hit the timely shot when it was needed most, and he did an outstanding job of guarding the other team's best player when LeBron wasn't.
One thing is for sure, and that's that Lewis is nowhere near the caliber of defender that Battier is. Never has been, never will be.
So, why is this position battle even on the list then?
Well, Lewis is undoubtedly a better overall shooter than Battier. People forget about Battier's struggles before finding his touch deep into the season.
Also, with how much the Heat love to go small now with Battier/LeBron at the 4, it makes a lot of sense for the Heat to throw Lewis in there rather than Battier standing almost seven feet.
If Lewis can develop any kind of toughness and/or defensive presence, Battier could see his minutes severely lessened, which in reality would be good for both guys.
Battier is getting older, and the sooner Lewis gets adjusted and finds his role with the Heat, the more dangerous a team they will be down the stretch.