Peyton Manning and Five Other Broncos Who Need to Have a Big Game
Doug Pensinger/Getty Images
In Sunday's rematch of last year's memorable AFC Wild-Card matchup between the Pittsburgh Steelers and the Denver Broncos, Tim Tebow is out and Peyton Manning is in.
While it's clear that Manning, who has had a solid preseason, will need to be his reliable self if the Broncos are to successfully dismantle the Steel Curtain, what about the rest of Denver's roster?
As good as Manning is, he'll need help from his supporting cast. With Sunday looming, who can we expect to take the spotlight alongside their future Hall of Fame quarterback?
Let's take some educated guesses.
Knowshon Moreno
Justin Edmonds/Getty Images
There's no question that Willis McGahee will get most the carries. However, Knowshon Moreno will play a critical role as the second-string running back and go-to guy on third down.
He has excellent speed and is a receiving threat coming out of the backfield. I wouldn't be surprised to see him come up big on a few third-down plays to reassert himself as a valuable piece of the Broncos' offense.
Jacob Tamme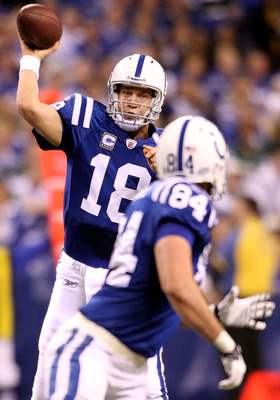 Andy Lyons/Getty Images
As Peyton Manning gets comfortable in the Broncos' offense, having Tamme as a short-yardage option in the passing game will be extremely important. This will be particularly evident against the Steelers, who have a a fierce pass rush and excellent secondary.
If Denver's wideouts are covered, expect Manning to dump off more than a few passes to Tamme to open up some deep-ball opportunities.
Von Miller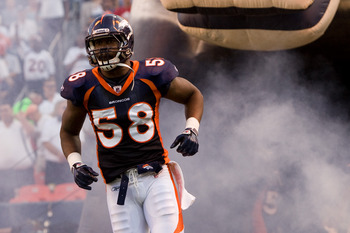 Justin Edmonds/Getty Images
Before having to spend most of the second half of last season with a cast on his arm, Von Miller was an absolute powerhouse coming after opposing quarterbacks.
Now healthy and cast-free, Miller will look to return to his impressive rookie form and make things as difficult as he can for Ben Roethlisberger.
As always, he'll look to Elvis Dumervil to help the cause. However, it will be Miller who will make the plays that matter most for the Denver defense.
Chris Harris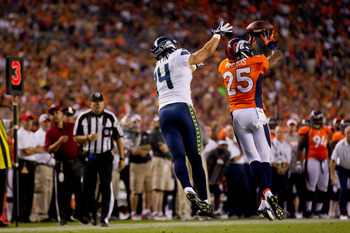 Justin Edmonds/Getty Images
No one, including Ben Roethlisberger, is questioning the ability of Champ Bailey and Tracy Porter. However, Chris Harris might be a target of the Steelers' game plan.
As the third cornerback, Harris is almost certain to have more balls thrown in his direction. As a rookie, he amassed 65 tackles and picked off one Carson Palmer pass, which was enough to earn him the Broncos Breakout Player and Overachiever of the Year awards.
He'll get a chance to earn his keep in this game, especially if Pittsburgh tries to match Manning's passing attack.
Demaryius Thomas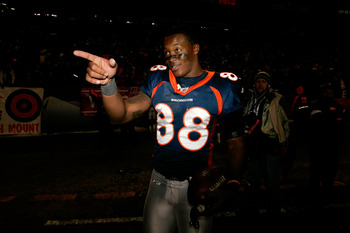 Justin Edmonds/Getty Images
Demaruius Thomas is thought by many to be the NFL's next big receiving star. During the second half of last season, he took the spotlight from Eric Decker as Tim Tebow's go-to guy and stamped the season with a remarkable catch and touchdown run in the AFC Wild-Card win over the Steelers.
With Manning now calling the shots, look for Thomas to repeat history with another big game against the Steelers.
The Denver passing game will probably get off to a slow start, but look for homas to have a big second half, big enough to make his fantasy owners more than satisfied that they chose to start him, despite the Steelers' defensive reputation.
Keep Reading

Denver Broncos: Like this team?