5 Things the Green Bay Packers Must Do to Beat the San Francisco 49ers
Jonathan Daniel/Getty Images

It's time to celebrate.
When the Green Bay Packers take on the San Francisco 49ers this Sunday at Lambeau Field, it will end a nearly eight-month Packer football drought.
Green Bay fans have been waiting all offseason to see their favorite team suit up and try to avenge their disappointing playoff run from the 2011 season.
But before they can make the playoffs, the Packers must win games, and it all starts with San Francisco.
These are the five things Green Bay must do to ensure a Week 1 victory over the 49ers.
(All stats credit to www.pro-footballreference.com)
Begin Slideshow

»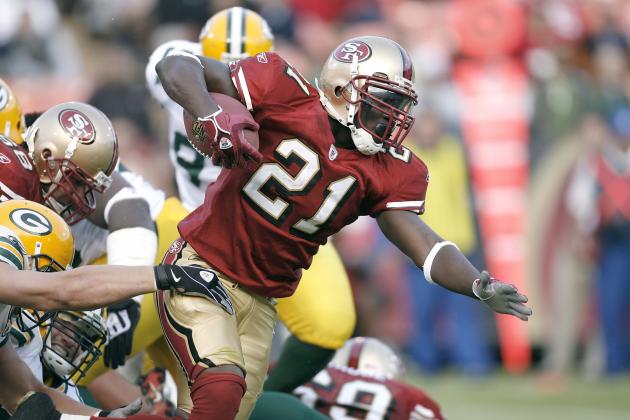 Greg Trott/Getty Images

The 49er offense is heavily reliant on the run, with star running back Frank Gore leading the way. He ranked sixth in the NFL in rushing yards last year, while San Francisco ranked eighth team-wise.
Their aerial attack, on the other hand, was good for a 29th-place ranking in passing yards.
B.J. Raji, Ryan Pickett, A.J. Hawk and the rest of the Packer front seven must plug up all running lanes to shut down Gore and force the ball into Alex Smith's hands.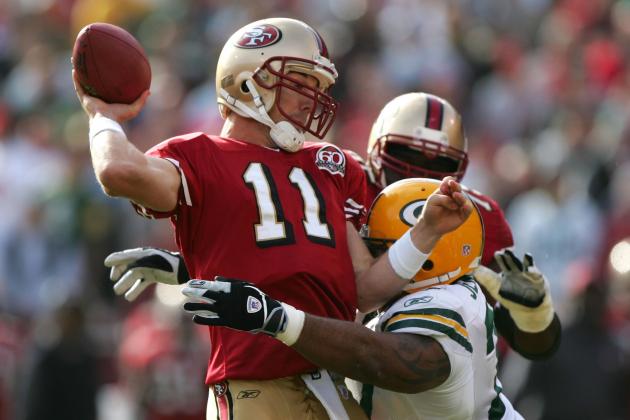 Jed Jacobsohn/Getty Images

If Green Bay successfully stops the running game, the next step will be to get after Smith.
Although the 49ers were at the bottom of the league in passing yards, they were still efficient through the air. Smith posted a career-high 90.7 passer rating in 2011, which beat out top-tier quarterbacks like Ben Roethlisberger and Phillip Rivers.
His 1.1 interception percentage, which is the percentage of pass attempts that are intercepted, was the best in the NFL.
The best way to stop an efficient quarterback? Attack him.
Clay Matthews is already one of the best pass-rushers in the league, but he can't collapse the pocket by himself. Rookies Nick Perry and Jerel Worthy and other pass-rush specialists need to help Matthews not only sack Smith, but hurry him into making rushed decisions.
Which will lead to…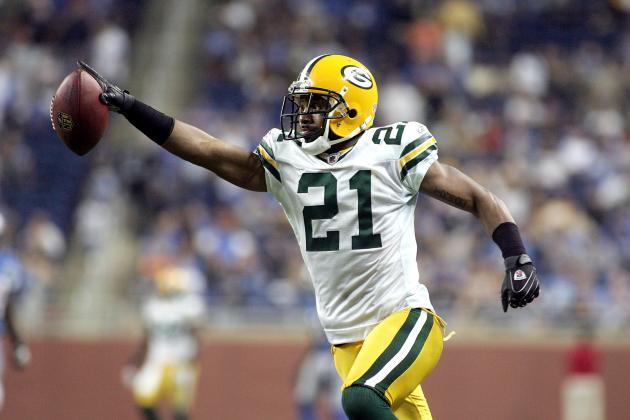 Domenic Centofanti/Getty Images

Ball security is essential for any victory, but that will be especially true for this game.
Both Green Bay and San Francisco thrive off of taking care of the ball and taking it away.
The two teams tied for the league lead in takeaways in 2011 with 38 each. The 49ers were best in the NFL in giveaways with 10, while the Packers were second-best with 14.
This is one of the greatest strengths for both of these teams. Whoever can turn it into a weakness for the other will be at a huge advantage.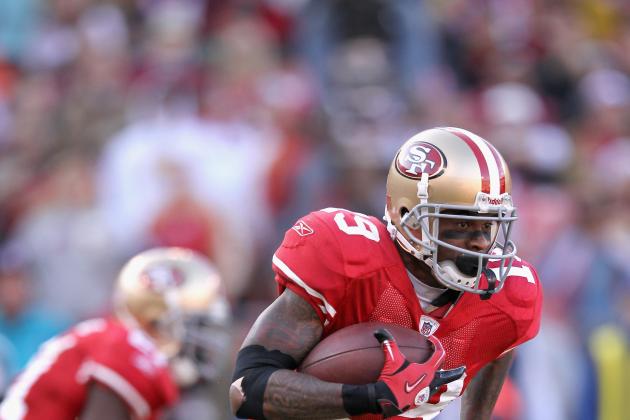 Ezra Shaw/Getty Images

This is another area where the 49ers flourish.
Their speedy return man, Ted Ginn Jr. ,returned one punt and one kick each for a touchdown last year. His anchoring of the return game provided San Francisco with a league-best 27.2 yards per kick return and a punt return average of 12.4, which ranked fifth in the NFL.
After suffering from awful special teams play in the mid 2000s, the Packers have turned into a decent kickoff coverage unit under special teams coordinator Shawn Slocum.
The unit will have to be on top of its game Sunday if they want to contain Ginn.
The difference between Alex Smith having to drive 70 yards instead of 60 or 50 is enormous.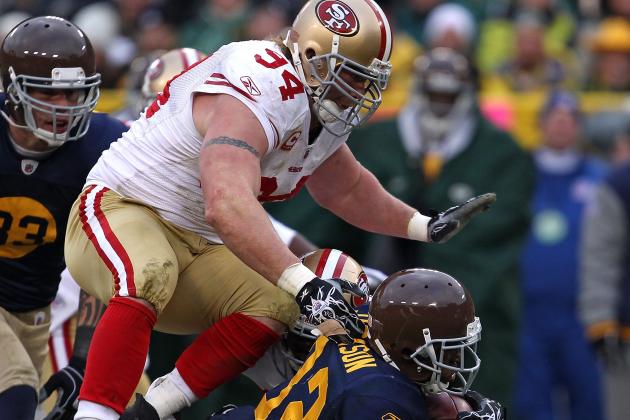 Jonathan Daniel/Getty Images

Up front, the 49er defense is anchored by two good starters in Isaac Sopoaga and Ray McDonald and a 2011 First-Team All-Pro selection in Justin Smith. Rodgers recently praised Smith (via packers.com), saying, "He's one of the very best in the NFL, regardless of position."
Smith is a true force on the line. In his 11-year career, he has registered at least six sacks all but two seasons. For a guy who plays defensive tackle in a 4-3 and end in a 3-4, those numbers are eye-popping.
The Green Bay offensive line must make sure Smith doesn't become a one-man pass rush. If he does, San Francisco can sit back with eight defenders to defend the pass all day. The line needs to make the 49ers send an extra guy or two. That way, the passing lanes will clear up for Rodgers.
The offensive line must also clear room for Cedric Benson to run. Green Bay learned the hard way in the playoffs you can't rely only on passing; you must have some sort of rushing attack to keep the defense honest.