Panthers vs. Bucs: 5 Keys to the Game for Tampa Bay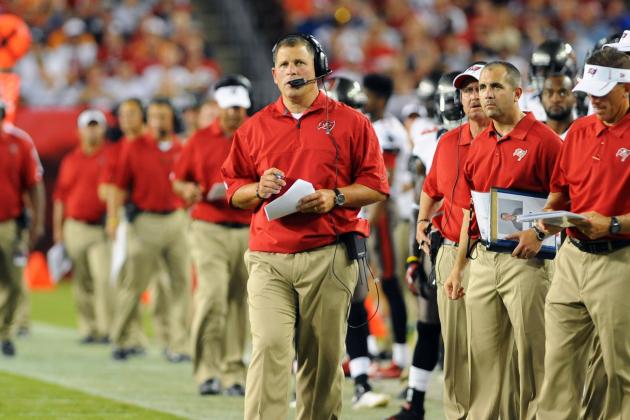 Al Messerschmidt/Getty Images

To set the pace for the rest of the season, the Tampa Bay Buccaneers are hoping to win over the Carolina Panthers this Sunday.
A win Sunday will snap the Bucs out of their 10-game losing streak that started around midseason of last year.
Now is as good a time as any.
So how can the Bucs win?
Let's find out.
Begin Slideshow

»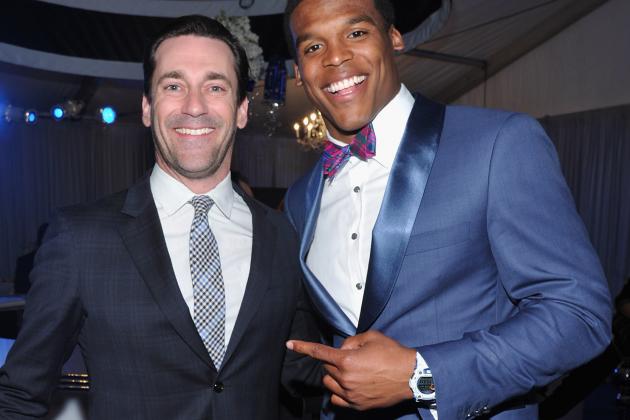 Mike Coppola/Getty Images
Cam Newton and Don Draper- who would have guessed?
Well, duh!
We're talking abut a guy who threw for over 4,000 yards, ran for 700 more and accumulated 35 total touchdowns.
As a rookie.
The Bucs need to keep Cam Newton inside the pocket and under pressure at all times if they hope to win this one. He struggled with accuracy (60 percent completion percentage) and decision-making (17 interceptions) last season, so although he is an overall strong passer, he can be beaten.
Newton had some of his worst games when he had to pass over 30 times. He had the most trouble with the Atlanta defense, as he had to throw 35 times and 39 times in their two meeting, respectively, and only had passer ratings of 44.6 and 67.9, respectively.
Just don't let him run.
That's how he kills you.
J. Meric/Getty Images

Staying healthy is absolutely crucial to winning this one.
The Bucs have terrible depth in most positions, especially on the defensive line and the offensive line.
Since Pro Bowl guard Davin Joseph is out for the season, the team is already spread thin on the O-line. Anymore injuries and the unit will fall apart completely. No matter how good left guard Carl Nicks is, he would be able to hold the fragments of a depleted O-line together on his own (especially if he's the one who gets injured).
On the defensive line, Tampa Bay is even worse. Beyond starters Adrian Clayborn and Michael Bennett, the only defensive ends the team has are fringe-roster cuts.
And at defense tackle, it might be even worse than that, as centerpiece Gerald McCoy is often injured and his counterpart, Roy Miller, is unproven and might not be able to compensate for the loss of McCoy.
So unless the Bucs stay healthy, they will fall apart.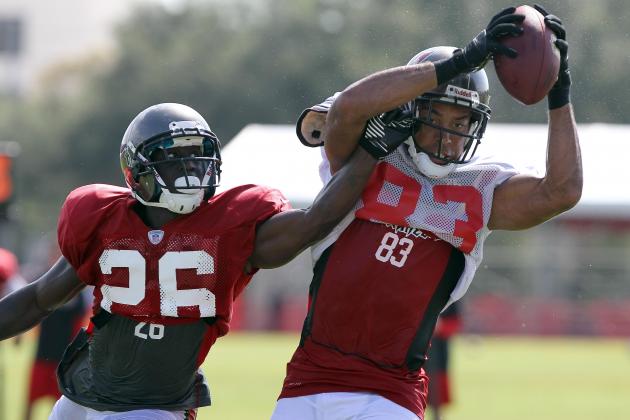 Kim Klement-US PRESSWIRE

It is no secret that NFL teams like to pass.
And it is no secret that the teams that pass the most efficiently are the ones which win football games.
In the last five years, Super Bowl-winning QBs have included Eli Manning, Ben Roethlisberger, Drew Brees, Aaron Rodgers and Eli Manning again.
I'd rank all four quarterbacks in the top five of their positions.
There's a reason that the Bucs signed wide receiver Vincent Jackson for so much money. They think he will help them win football games. To do this, he doesn't even have to catch the bal. All he has to do is draw matchups away from the second, third and fourth receiving options so they can get open more easily. Open receivers are often (always) easier to throw to than receivers who are being covered.
The more receivers that Josh Freeman can get the ball to, the better.
Fun tidbit of information: The Panthers gave up an average 8.4 yards per pass last season, good for worst in the league.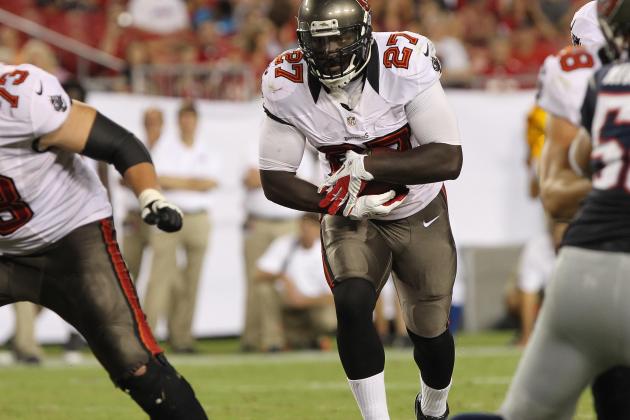 Kim Klement-US PRESSWIRE

One of the Bucs' biggest un-doings last season was how many turnovers they generated. The total was 32, composed of 24 interceptions and eight fumbles.
That can't happen in 2012.
The Carolina Panthers are very good at forcing fumbles. In 2011, they tied for second in the forced fumble department, with 10 altogether.
If you want to win games, you have to hold onto the football.
How else can you score?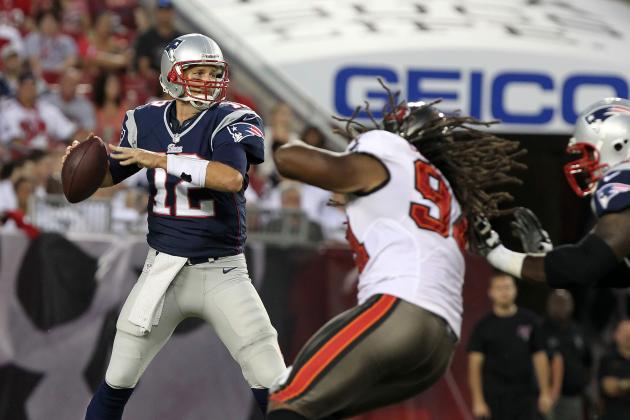 Kim Klement-US PRESSWIRE

Penalties are unavoidable in the game of football. With all the big bodies flying around, all the complicated schemes and all the responsibilities of the individual on the field, I don't think anyone expects that football players to play perfectly within the rules.
But there are few better ways to shoot yourself in the shoot than to keep your opponent's drive alive with repeated offsides or roughing the passer calls. They are pointless, keep the defense on the field, wearing them out, and bring the other team closer to the end zone.
I understand holding happens on every play, and sometimes is necessary in order to keep the quarterback from taking a sack, but holding on run plays just shouldn't happen. It's up to the running back to find the holes, and if he can't, he can't. Getting stuffed in the backfield is far better than having the chains moved back 10 yards.
Stupid mistakes are game-changers.
So if the Bucs are to win, they'll have to not make stupid mistakes.