Seahawks vs. Cardinals: 5 Keys to the Game for Arizona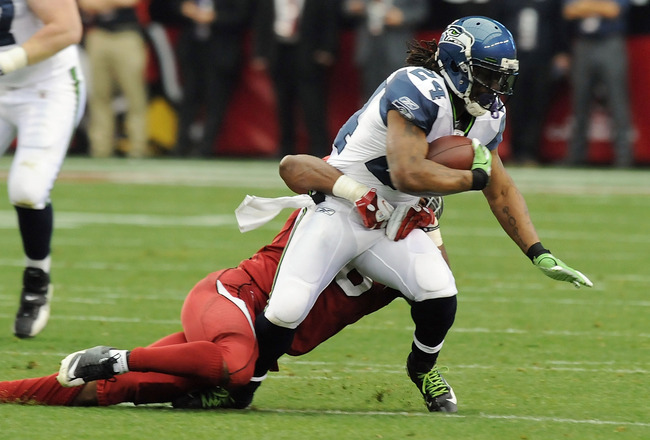 Norm Hall/Getty Images
It has been over eight months since we have seen the Arizona Cardinals in action and a lot has changed since then.
Between rookies, players returning and backups getting a chance to start, you will see several new faces for the team this season.
Arizona will take on a division rival in Week 1 as they are matched up with the Seattle Seahawks.
The Cardinals have an opportunity to get an early edge over the rest of the division and it is one that they cannot miss.
Highlighted over the next few slides are the five keys to an Arizona Cardinals win this Sunday.
Pound the Rock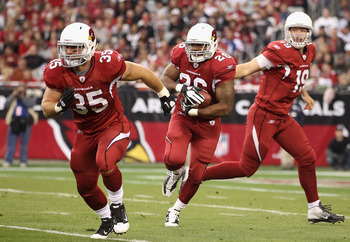 Christian Petersen/Getty Images
In 2011, Arizona Cardinals running back Beanie Wells missed two games due to injury. It just happens that both of those games were against these very Seattle Seahawks.
Both squads are on the rise and are very similar in terms of talent. One thing that will put Arizona on top, however, is the run game.
The Cardinals were able to split the season series last year with Seattle and they did it without both Wells and Ryan Williams.
These two players will be in the lineup Week 1 and it is vital that they each get a significant amount of carries.
Seahawks running back Marshawn Lynch is suffering from back spasms and may not play. This is something the Cards should take advantage of.
If they can control the run on both sides of the football, then they will have a very good chance at a victory.
Get Rid of It!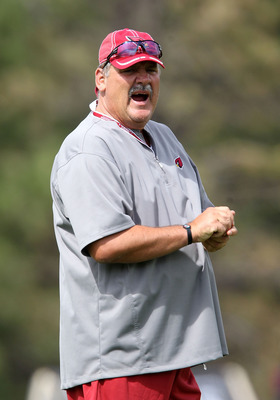 Christian Petersen/Getty Images
Just when you think the Arizona Cardinals offensive line cannot get any worse, it usually does. During preseason we have seen both Jeremy Bridges and Levi Brown go down to injury and the cry for help has begun.
There will be three new starters on the offensive line in Week 1 and you could make the argument that all of them are downgrades from last year. The last thing a team without a quarterback needs is an even worse offensive line.
The previous slide focuses on the first way to eliminate sacks and pressure. The second thing they need to do is have a variety of plays set up to get the ball out quickly.
Not many of us would like to see John Skelton get hit 20 times this game. If he can avoid pressure and get the ball out quickly, then the Cardinals offense should do just fine.
Pressure Early and Often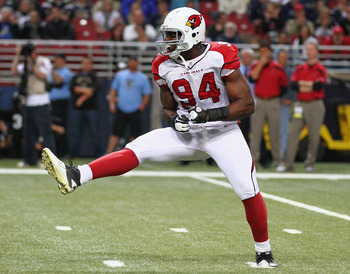 Dilip Vishwanat/Getty Images
The Arizona Cardinals defense turned a few heads in 2011 when they finished tied for seventh in the league in sacks.
While there are only a couple of big-name players on their defense, the Cardinals have a ton of guys who are capable of getting to the opposing quarterback.
Come Sunday they will be facing a rookie signal caller in Russell Wilson and potentially a first-year running back in Robert Turbin.
Both players will likely be very nervous and one way to get them rattled early is to get in their face. Send six or seven guys at them each play until the rookies prove that they can counter and make a play.
Contain, Contain, Contain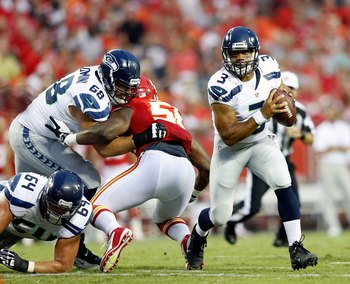 Jamie Squire/Getty Images
One thing that Arizona will now have to watch for is the mobility of Russell Wilson. Last year this Cardinals defense was lit up by Cam Newton.
The main reason Carolina did not score more points is because they did a great job of containing him. Sure, he threw for over 400 yards, but when he tried to make something happen, they allowed only 18 yards on eight carries.
Arizona must send pressure, but they must keep Russell Wilson in the pocket or he could start to have some fun.
It is time for this defense to put their big boy panties on and run some plays that rookies like Wilson and Turbin have never seen before.
Win Special Teams Battle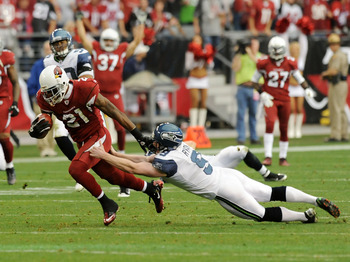 Norm Hall/Getty Images
Believe it or not, the special teams play will be a huge factor in who will win this game. In the Cardinals 13-10 loss to the Seahawks last year, Jay Feely missed two field goals.
In a game that will likely be a defensive battle, a missed field goal or bad punt could be a game changer.
This game will also feature two of the best returners in the business. Leon Washington is a three-time All-Pro, while Patrick Peterson made the Pro Bowl in his rookie year.
These two men can break a game open pretty quickly and it is up to Arizona to get Peterson going and contain the Seahawks' special teams star.
Keep Reading

Arizona Cardinals: Like this team?