Georgia Football: 5 Key Bulldogs to Watch vs. Missouri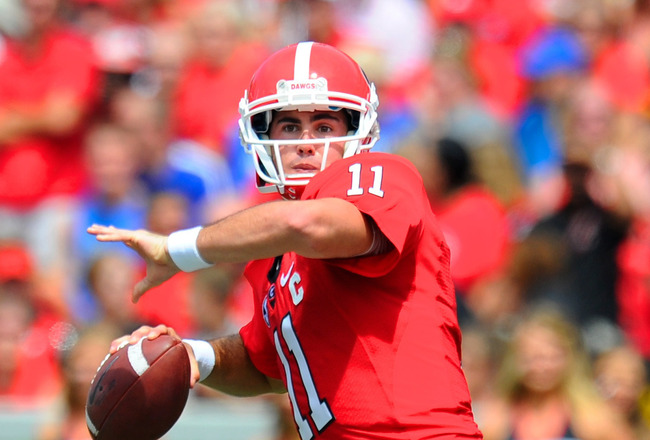 Dale Zanine-US PRESSWIRE
The first test of the 2012 season for the Georgia Bulldogs is right around the corner, as they face Missouri on Saturday night.
Georgia does come in to the game as a favorite, but it is only favored by two points.
This means that this game is expected to be very close because it is an emotionally-driven contest for the Tigers with this being their first SEC game.
But if Bulldogs hit them in the mouth early and continue to hit them in the mouth, the Bulldogs will leave Columbia 2-0.
Here are five key Bulldogs that will be crucial to the team's success on Saturday.
Malcolm Mitchell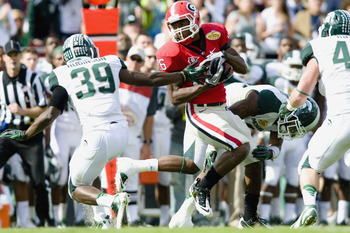 Jeff Griffith-US PRESSWIRE
Malcolm Mitchell is expected to make his 2012 debut after missing last week's game due to a sprained ankle. He will be starting at cornerback alongside Branden Smith, and both players will have to be on the same page in order to slow down the Tigers' passing attack.
Mitchell will make his cornerback debut going against the combination of T.J. Moe and Dorial Green-Beckham, which will be quite an experience. But because of the lack depth, as well as experience, Mitchell could be the best cornerback on the team, and it will be fun to watch him grow into that position.
The Running Backs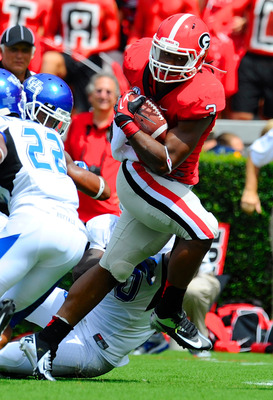 Dale Zanine-US PRESSWIRE
In my preview of this game, I said that the key player for the Bulldogs is Todd Gurley. While I still agree with that, I think the running trio of Gurley, Keith Marshall and Ken Malcome will be key to having success against the Missouri defense.
This is not saying that the Tigers have an elite defense, this is saying the Bulldogs will look to keep the Tigers offense off the field as much as possible. So the run game as well as ball control will have to be effective.
The hard-nosed downhill running of Malcome will help burn rime off the clock. The speed or Marshall will help the Bulldogs gain explosive plays through the ground as well as in the air. And Gurley is a combination of both, so he should see the majority of carries.
Marlon Brown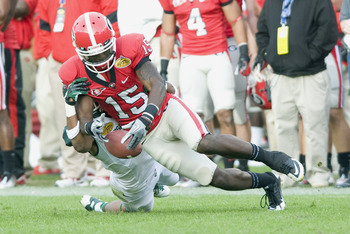 Jeff Griffith-US PRESSWIRE
Marlon Brown is another player that did not play last week but is expected to play on Saturday. The Bulldogs were effective though the air last week because of Tavarres King, Rantavious Wooten and Michael Bennett all making big plays. But Brown has been waiting for his opportunity to make a big splash, and this could be the year and the game he does it.
Because of nagging injuries since 2010, Brown only had 28 catches in his three years in Athens, but he has had a solid fall camp, and with his size and ability to get open, he should complement Tavarres King very well moving forward.
Defensive Line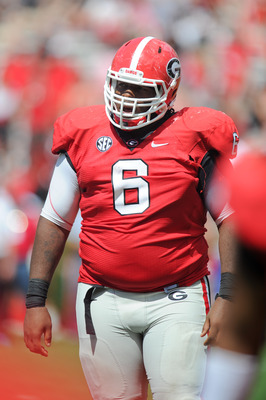 Kevin Liles-US PRESSWIRE
I not going to name one defensive line player because they all want to bounce back after a disappoint effort against Buffalo.
John Jenkins did register six tackles, which is a career high. But the offensive line for Buffalo pushed the defensive line consistently in the first half, which led to the Bulls gaining some momentum before halftime.
The D-line was able to pick things up in the second half, but they want to have a faster start against Missouri. If they can stuff the running game and disrupt quarterback James Franklin's timing, it should be an easy win for the Bulldogs.
Aaron Murray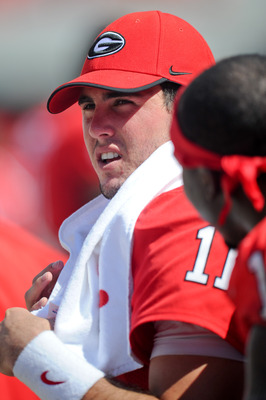 Kevin Liles-US PRESSWIRE
If the Bulldogs want to put up a big number against Missouri, then Aaron Murray has to have a big game.
The junior quarterback had solid numbers against Buffalo, but would have put up better numbers if he didn't overthrow his receivers in the end zone during the first half.
It looked as if Murray was too amped up for the game and had to calm himself down as the game progressed. For the game Saturday, it will be a very intense atmosphere, as the Tigers fans will be rocking and rolling all game long.
If Murray wants to elevate his Heisman status and lead the Bulldogs to their first 1-0 SEC start since 2009, he has to be rock steady from start to finish.
Keep Reading

Georgia Bulldogs Football: Like this team?