Michigan Football: 5 Defensive Players Who Need a Strong Game Against Air Force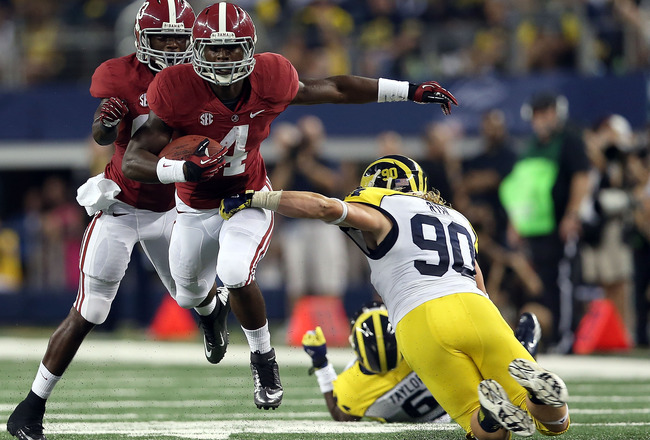 Michigan struggled against Alabama's running game last week.
Ronald Martinez/Getty Images
The Michigan Wolverines defense struggled against Alabama last week.
Certain players didn't step up in a big-game situation and it showed as Alabama led 31-0 midway through the second quarter. In total, the Wolverines allowed 232 yards on the ground and looked out of sync for most of the game.
This week, those players are going to have to gain redemption against Air Force.
If they don't, the Wolverines could drop to 0-2 and lose all momentum they had from last season's run to the Sugar Bowl.
Here are five defensive players who must step up if the Wolverines are to beat Air Force.
Will Campbell and Quinton Washington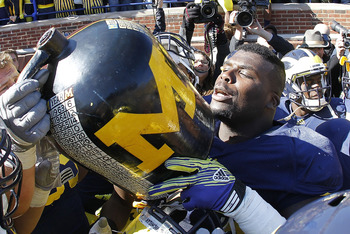 Will Campbell will be the key in the middle against Air Force's triple-option.
Leon Halip/Getty Images
When you're facing a triple option offense, the key is your defensive tackles. That's why I've grouped Will Campbell and Quinton Washington together.
If both players can get a good push against Air Force's offensive line, the quick runs up the middle aren't going to go anywhere. If it happens long enough, the Falcons will look to toss outside a little more.
While Campbell had four tackles and a sack, Washington was quiet with one tackle, looking overmatched the entire game.
For the Wolverines to succeed, they have to get good pushes up the middle. Of course, it will affect their stat totals. However, it will raise the stat totals for the linebackers as they'll be able to make more tackles in the middle.
Thomas Gordon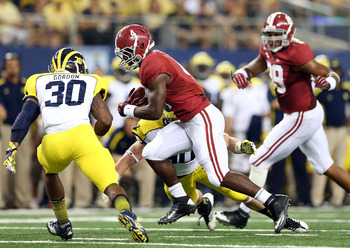 Thomas Gordon had a big game against Alabama with nine tackles.
Ronald Martinez/Getty Images
Against Alabama, Thomas Gordon had nine tackles and one forced fumble.
He's going to have that same chance to make plays this week with the ball likely to stay on the ground for most of the game.
One area where he can really affect the game is when the Falcons do decide to pass. By laying one big hit on an Air Force receiver or running back, it will make head coach Troy Calhoun think hard about throwing again.
With that, Gordon is also the last line of defense for the Wolverines against the triple option. If the Falcons get past him, they're likely going for a touchdown.
While big hits are encouraged, sound tackling is more important.
Jibreel Black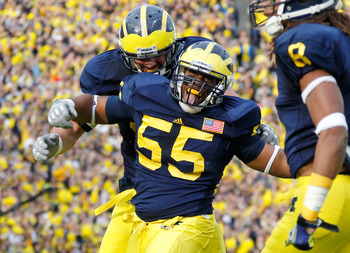 Jibreel Black can play inside or outside on the defensive line and be successful.
Gregory Shamus/Getty Images
Jibreel Black has the ability to play the tackle or end position on the defensive line, which makes him a valuable asset.
Although he only had one tackle against Alabama, Black showed some promise in the game.
Against Air Force's triple-option, Black is going to have to make headway on the snap. If a runner is coming his way, being able to force him back inside will ultimately allow Michigan to succeed.
How much Black can penetrate on one side will help determine if Air Force will still be leading the NCAA in rushing yards per game after Saturday.
Jake Ryan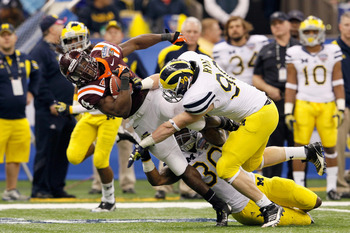 Jake Ryan had five tackles in the game, but must do more for the Wolverines to beat Air Force.
Kevin C. Cox/Getty Images
Jake Ryan had five tackles for the Wolverines against Alabama, which is not a bad total.
However, I can count at least four times in which he committed too early and was left on the ground or playing catch-up.
Even though he's just a sophomore, a lot is expected out of Ryan.
Air Force rushed for 484 yards last week against Idaho, and they are going to give Ryan his fair share of chances to make plays. The only question is whether he will get fooled on the triple option.
Keep Reading

Michigan Wolverines Football: Like this team?