Breaking Down Chicago Bears' Blueprint for Winning the Super Bowl
Jason Miller/Getty Images
Lovie Smith
The Chicago Bears are not a middle of the road team. If somebody picks them to go to the Super Bowl, it shouldn't be much of a surprise nor should it be considered a shock. There is enough talent on this team to make it to New Orleans for Super Bowl XLVII—but how are they going to get there?
Every team has a blueprint for a championship run. The Bears will have to focus on a variety of circumstances to be the league's elite. Health, protection, consistency and even luck will all factor into a great season. Follow through to see the Bears' blueprint for winning the Super Bowl this year.
Begin Slideshow

»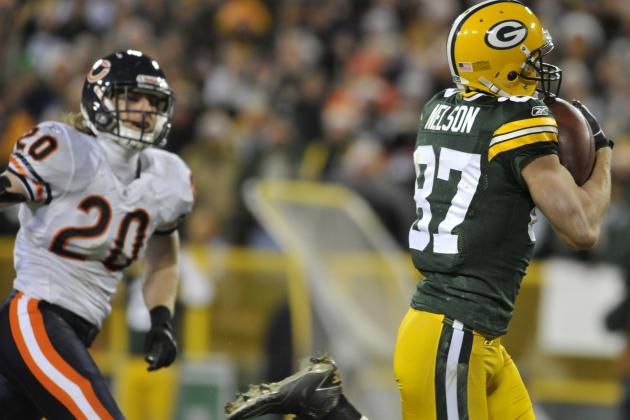 David Banks/Getty Images
Craig Steltz & Jordy Nelson
In order to make their path easier to the Super Bowl, the Bears are going to have to win the majority of their games within the NFC North during the regular season.
In 2010 the Bears made it to the NFC Championship Game and lost to the Green Bay Packers. That season the Bears went 5-1 in the division, losing their final regular season game to those Packers. A game that would have knocked Green Bay out of the playoffs had Chicago won. The Packers of course went on to win the Super Bowl that year.
The NFC North is highly competitive and the Bears must not only secure home-field advantage over the Packers and Detroit Lions in the playoffs, but also do everything in their power to make sure none of those teams even makes it to the postseason.
The six games in the division are vital. Tiebreakers, home-field advantage and playoff seeding are all implicated by division play. Having a good record against the Packers, Lions and Vikings can and will go a long way towards a Super Bowl run.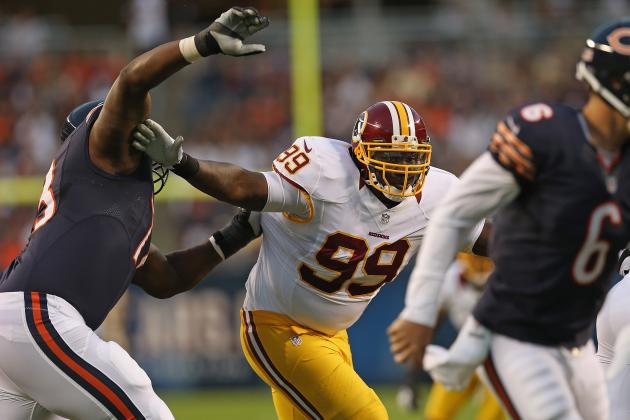 Jonathan Daniel/Getty Images
J'Marcus Webb
New weapons on offense, the star running back with a new contract and a talented rocket arm quarterback all mean nothing without protection.
If the Bears have any shot at a Super Bowl run they are going to have to protect Jay Cutler. He was sacked 23 times last year in a season cut short by injury. The year before that he was sacked a league high 52 times.
Since joining the Bears, Cutler has been sacked an average of 7.8 percent of his pass attempts. When he had his Pro Bowl season in Denver back in 2008 he was sacked only 1.8 percent of the time.
It's true Mike Martz's departure will mean a more fluid offense. The line will no longer be asked to consistently protect their quarterback during long drop backs and slow developing routes. However, this is still a passing league and Cutler is going to have to throw the ball a ton in order to compete.
Left tackle J'Marcus Webb will have the spotlight on him as he tries to protect Cutler's blind side. The third-year man has been largely inconsistent so far. He is going to have to step it up if the team figures to have a Super Bowl run.
Webb is not alone. Second-year man Gabe Carimi needs to stay healthy and develop into the player the team thought they were getting when drafting him in the first round last year. Chris Spencer, Roberto Garza and Lance Louis will be looked upon to secure the middle and provide stability.
A poor offensive line means the Bears cannot run the offense they want to and risk the chance that their quarterback won't stay healthy for the full season: all of which is needed if the Bears want to make it to the Super Bowl this season.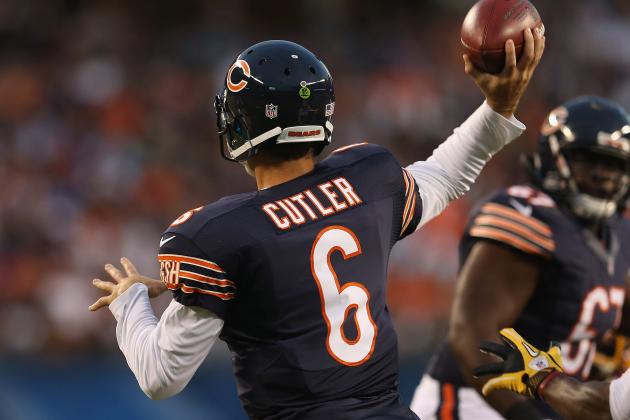 Jonathan Daniel/Getty Images
Jay Cutler
It is a quarterback-driven league. There are no excuses; if the Bears want to go to the Super Bowl then Jay Cutler needs to be elite.
Look at the past five Super Bowl winners. Two of the five belong to Eli Manning who has ascended to an elite level. Ben Roethlisberger is on the list and he has two rings. The other two guys are Aaron Rodgers and Drew Brees, both top five quarterbacks in the NFL.
It's not necessarily about stats. Manning and Roethlisberger won in years where Big Ben had under 3,500 yards and only 17 touchdowns to 15 interceptions. Manning won his first Super Bowl in a year where he was also under 3,500 yards with 23 touchdowns and 20 interceptions. It's being the unquestionable leader, making big plays and playing mistake-free football at the right time.
Cutler has taken the necessary steps towards knocking on the door of elite. He has cut down on the turnovers and become the face of the franchise. This season he needs to silence his critics who think he can't stay healthy or shine when the lights are the brightest.
He needs to prove what happened in the 2011 NFC Championship Game was an aberration and last season's injury was a fluke. Chicago fans as well as the who's who around the NFL want to see Jay Cutler take it to the next level this season in his play. Knocking off guys like Matthew Stafford, Aaron Rodgers, Eli Manning and Drew Brees will prove he is elite.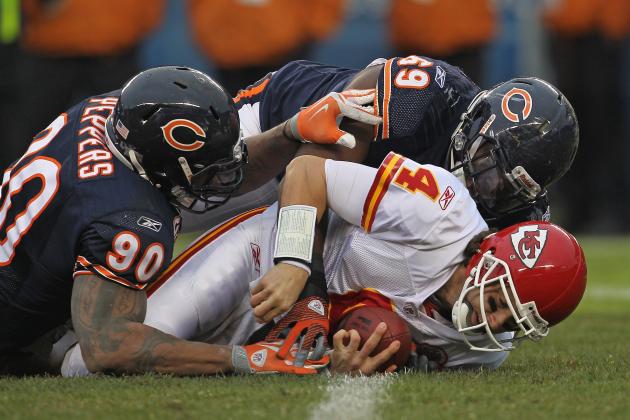 Jonathan Daniel/Getty Images
Julius Peppers & Henry Melton
Remember when the Bears defense was an elite group who got after the quarterback? Well you are going to have to go back to 2007 to find the last time the team had at least 40 sacks in a season.
The league average in sacks last season was 37.1. The Bears had 33. That ranked them 21st in the NFL and fourth in the division. Only the Green Bay Packers had fewer sacks and they could have used a pass rush against the Giants in their playoff game last season too.
In order for the Bears to negate some of the high-powered offenses they will see this season, they are stepping up the pressure on the opposition's quarterback. Julius Peppers had 11 sacks last season but he is going to need help from first-round pick Shea McClellin, Israel Idonije, Henry Melton and the rest of the defensive line.
The Bears should be shooting for that magic number of 40 sacks again. Head coach Lovie Smith and defensive coordinator Rod Marinelli should accept no less than that from their defense. Ratcheting up the pass rush will take pressure off an aging linebackers corps and suspect secondary.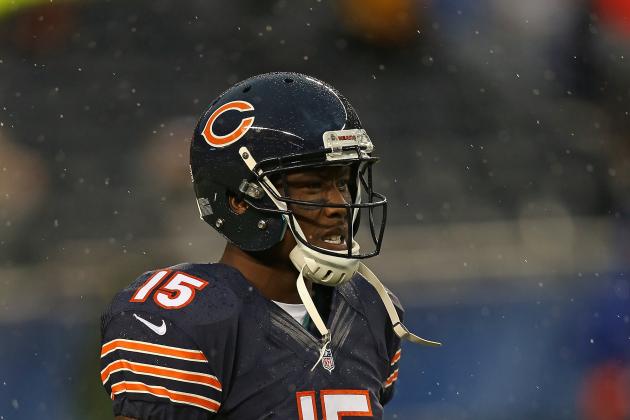 Jonathan Daniel/Getty Images
Brandon Marshall
Never in the modern era have the Bears had a wide receiver the caliber of Brandon Marshall. Marshall is the true No. 1 receiver the team has been lacking and fans have been clamoring for.
In his six-year career Marshall has been to the Pro Bowl three times. He has gone over the 100-reception mark three times and has gained over 1,000 yards every year except his rookie season.
Last year the Bears' leader in receptions was Matt Forte, who missed the final four games of the season. Still Forte had 52 catches and the next two guys on the list were Johnny Knox and Roy Williams with 37.
You are going to have to go back to 2002 to find Marty Booker as the last man with over 1,000 yards in a season for the Bears. It's been far too long to not have a go-to guy in a league dominated by big-play receivers and aerial assaults.
Marshall's size is also something the Bears have been lacking. Coming in at 6'4'', 229 lbs, he is a far cry from guys like Devin Hester, Earl Bennett or Johnny Knox. He is a big, physical, reliable target Jay Cutler can trust to make plays on the ball and not have to worry about placing the perfect throw.
The Bears don't need Marshall to do anything different or out of the ordinary from what he has done in his career. The last time the two played together in 2008 Marshall had 104 receptions for 1,265 and six touchdowns.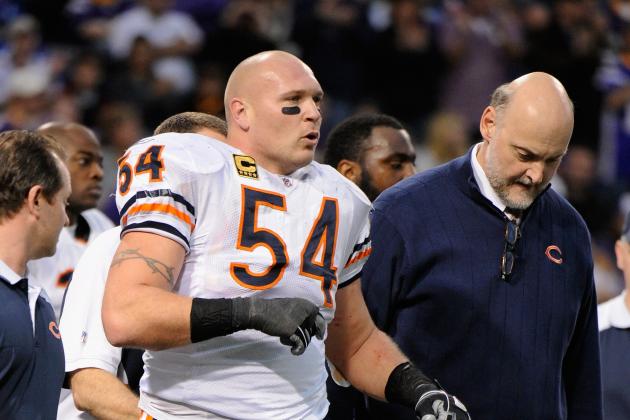 Hannah Foslien/Getty Images
Brian Urlacher
The back and forth during the offseason (until now) over the condition of Brian Urlacher's knee has been a cloud following him and the team. At the end of the day, if the Bears want to compete for a Super Bowl they will need a healthy Urlacher.
There is no question Urlacher is the leader on the defense. He provides a voice and intangibles on the field that are second to none. His value on the field goes far beyond his skill level.
The Bears still need his skills though. Even at 34 he is a very athletic and powerful linebacker. Nobody on the Bears can get as deep in the Cover 2 than Urlacher allowing the safeties to play closer to the edge. His knowledge and ability allow him to freelance more than anybody else—thus creating bigger plays.
The bottom line is that Brian Urlacher is the most important person on defense. The Bears can get by without him, they can compete and even win a bunch of games. However, they cannot win a Super Bowl if Urlacher is not healthy.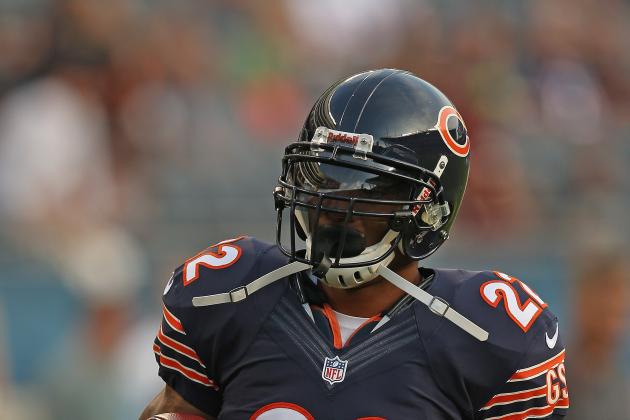 Jonathan Daniel/Getty Images
Matt Forte
Yes it's true, the Bears have a ton of new weapons on offense but that doesn't mean you should forget about old reliable. The man who was the offense when there was nobody else. Matt Forte is still the most important offensive player on this team.
Not sure if it was because of the contract dispute or the excitement over Brandon Marshall, Alshon Jeffery and Michael Bush, but the importance of Matt Forte seems to have been downgraded by some. It's nonsense. Forte's skill set and ability are not only still needed but will be relied upon if this team is to go far.
Long gone are the days of Forte being anywhere from 40 to 50 percent of the offense. However if he still isn't 30 percent then something is wrong. Forte has a unique ability to grind it out on the ground, bust open a huge running play, catch a key first-down pass or bust a screen open for 80 yards.
There isn't a player on the Bears offense who can provide more flexibility and reliability than Forte. His skill set shouldn't be diminished by the new weapons, but enhanced. There should be fewer guys in the box because Brandon Marshall is on the edge. There should be a slower linebacker on him because a safety is too busy worrying about Evan Rodriguez or Alshon Jeffery. And Forte should be fresh in the fourth quarter because Michael Bush has been there to take some of those carries away from him.
Forte will not be a different guy just because he got paid. He is still a team player, work horse and stud running back. The Bears will need all of those qualities if they are to make a Super Bowl run.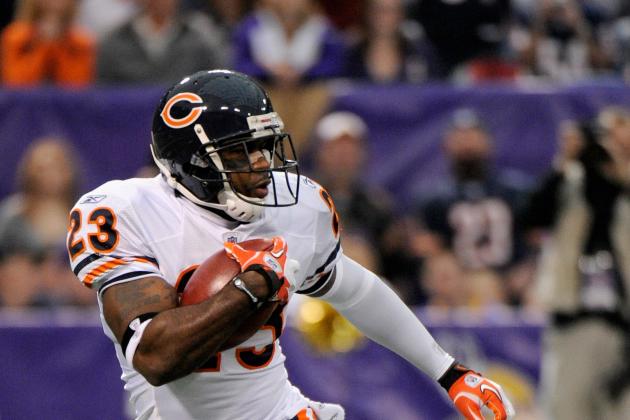 Hannah Foslien/Getty Images
Devin Hester
There is something magical about the work Dave Toub does on special teams. He consistently has the Bears among the best in the area because he treats it not like a third phase but rather an important cog on a successful team.
One of the most dangerous weapons in all of the NFL still is Devin Hester. Last season he had three touchdowns in the return game and has 17 total in his career. But his scoring is not the whole story. Just his mere presence on the field scares coaches and punters into better field position for the Bears.
Robbie Gould has hit 85.8 percent of his field goals throughout his career and last season was perfect from from 50 yards and beyond. His best season coincidentally was in 2006 where he went to the Pro Bowl and the Bears were in the Super Bowl. An on-target Gould is vital to the team's overall success.
Adam Podlesh had his career-best yards per punt average last season. However, he did punt the ball 89 times. The season before that he punted 57 times in Jacksonville. The Bears want Podlesh's average to stay high and the number of punts to dive low.
If you want to set up your defense who in turn sets up the offense, then you shut a team down in the return game. There will be new pieces in the coverage puzzle and they are going to have to gel together early and find success. If Toub can get his new group on the right path early then it sets up all other facets of the team.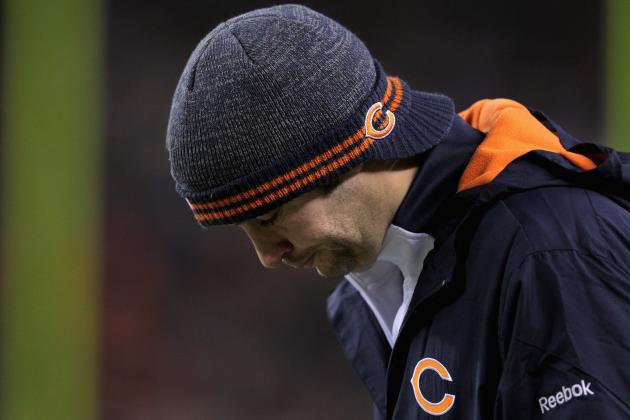 Doug Pensinger/Getty Images
Jay Cutler
You don't make it through 16 games, multiple playoff games and eventually a Super Bowl without being lucky. Sometimes it's even better to be more lucky than good.
It's a long season and things like injuries are going to come into play. Not only does your team have to stay healthy but it helps when your top opponents are battling injuries as well. It's well documented the Bears' demise took place last season after Jay Cutler went down with a thumb injury.
Earlier we discussed the 2010 Green Bay Packers. A team who made the playoffs by beating the Bears in what was widely considered a meaningless final regular season game to them at the time because they had the division wrapped up already. They then went on an improbable run all the way to the championship.
Whether it's a blown call, key bounce, weird schedule matchup or minimal team injuries, there always has to be a little luck involved whenever you want to raise the Lombardi Trophy at the end of the year. Every team needs it and the Bears are no different.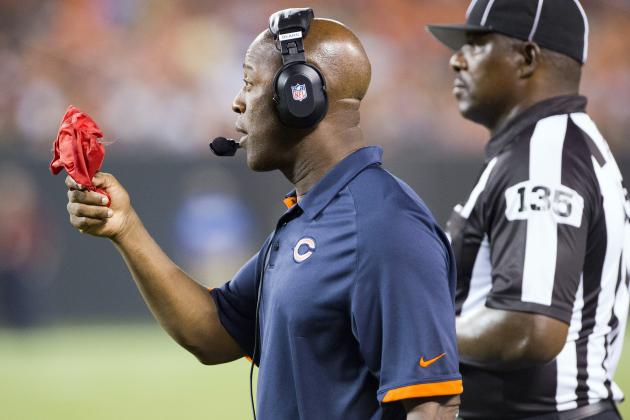 Jason Miller/Getty Images
Lovie Smith
Players may get all the limelight because they are the guys we see every week but the coaches still put in the work behind the scenes. The best coaches accept the daily grind and make sure their players are ready no matter what the circumstances.
Where would Tom Coughlin and the Giants be if he decided to panic and give up every time somebody put him on the hot seat? Anybody questioning Mike McCarthy's play calling or faith in Aaron Rodgers? Where would the Cowboys be if they were a more prepared team in the fourth quarter and not icing their own kickers?
Mike Martz was blamed for a lot of the offensive woes for the last couple of years. Well he's gone now and Mike Tice now has the task at hand. He must utilize his quarterback's athletic strengths to his advantage while recognizing the weaknesses so he doesn't ask too much from his offensive line.
Rod Marinelli must be the defensive line guru he was in Tampa Bay and find this team a pass rush again. Taking the pressure off of the team's average safeties while allowing an above-average linebacker corps to make plays is a must.
Lovie Smith must make his voice clear to his players and coaches. Theirs is one goal and one goal only for this football team this season—and that's a championship. Every move he makes from challenging a play to rotating out a left tackle must be with that goal in mind. This season might just be his most important and difficult one yet. That doesn't mean he should waver though; instead, strap up, buckle down, and guide this team to New Orleans at the end of the season by any means necessary.