Cowboys vs. Giants: 5 Things to Take Away from New York's 24-17 Loss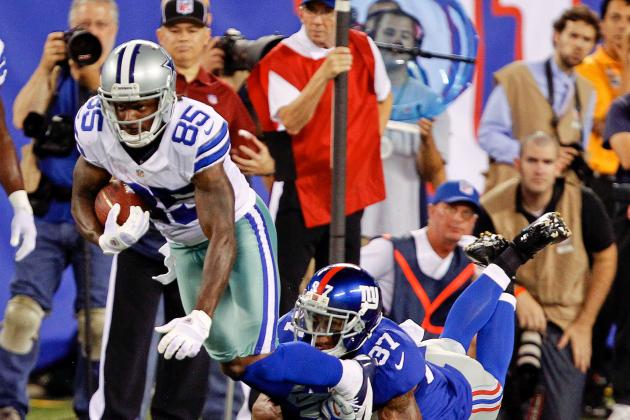 The Star-Ledger-US PRESSWIRE

In what was supposed to be a night of celebration by opening up the 2012 season as the defending Super Bowl champions, the New York Giants looked like anything but that on Wednesday night.
The Dallas Cowboys came into MetLife Stadium and beat the champions in their own building 24-17 to make the champs start out the season 0-1.
The Giants will now have to wait 11 days until September 16 before they come back to MetLife Stadium to play the Tampa Bay Buccaneers.
The Giants attempted a late comeback in the game, but the Cowboys were able to stuff that by converting a huge third down when the Giants used up all of their timeouts.
What did we learn from Wednesday night's game from the Giants? Here are five things to take away from the opener at MetLife Stadium.
Begin Slideshow

»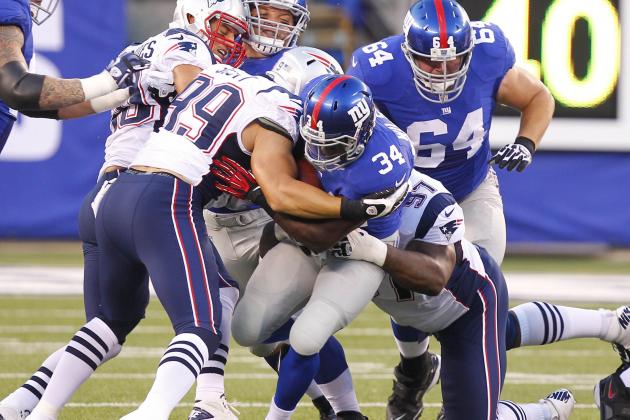 Jim O'Connor-US PRESSWIRE

After Michael Boley's interception set up 1st-and-goal, the Giants were almost sure to punch the ball into the end zone.
On first down, Ahmad Bradshaw is pushed back for minus-two yards.
On second down, Bradshaw attempts to run to the left and gets stuffed for minus-one yard, setting up third down.
Forget that Victor Cruz got held on third down, which wasn't called, and the Giants had to kick a field goal.
The Giants were on the 2-yard line, and couldn't find a way to punch the ball in? All right, if Bradshaw isn't your bruiser to punch it in, what about Da'Rel Scott or Andre Brown, just sitting there on the sidelines?
Couldn't one of them have lowered his shoulders and found a way to get it into the end zone?
That should have been an easy six points that the Giants settled for three on. And I really hate to say it, but Brandon Jacobs was missed on that series.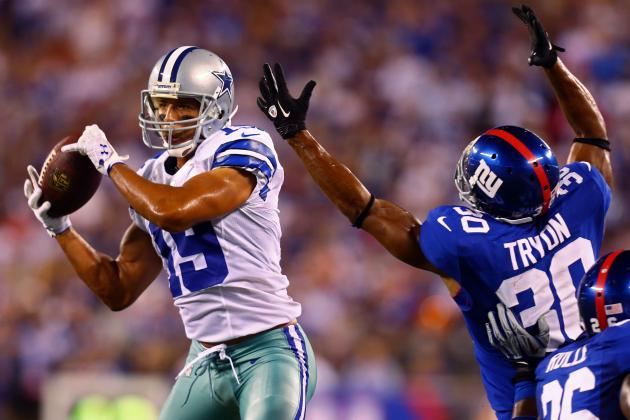 Jeff Zelevansky/Getty Images

Did anyone have Kevin Ogletree on his fantasy team for Week 1? Probably not. He's probably still sitting in free agency, well, until now.
Ogletree absolutely torched the Giants secondary for eight catches, 114 yards and two touchdowns.
Miles Austin also made Justin Tryon look absolutely foolish on a 1st-and-30, yes, 1ST-AND-30, by faking out Tryon and scoring on a 34-yard touchdown pass.
If Tryon has a repeat performance of this in Week 2, he will find himself out of a job very soon and he will deserve to be cut.
The Cowboys were backing themselves up with penalties, and with that play, Tryon bailed out Dallas by allowing Austin to make the touchdown catch.
Corey Webster wasn't exactly sharp either trying to cover Dez Bryant, as Bryant had four catches for 85 yards, including a 38-yard pass down the sideline that helped set up the Cowboys first score in the first half.
Webster also looked really bad on the second touchdown reception by Ogletree, who was able to burn Webster down the field and get into the end zone.
Michael Coe hurt his hamstring in the second half and was forced out of the game. Coe was playing decent enough, but then was replaced by Tryon and the secondary fell apart.
Note to Jerry Reese: I hope you are looking around for secondary help because with Terrell Thomas on the IR and Prince Amukamara on the shelf, the Giants need help.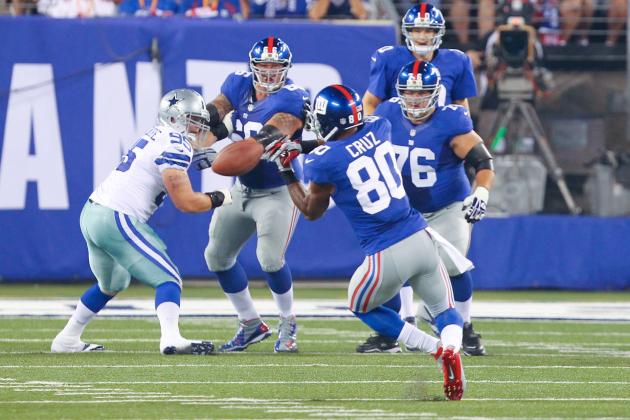 Jim O'Connor-US PRESSWIRE

In his first game after the breakout season of 2011, Victor Cruz did not look like the superstar he played like a season ago.
Cruz was the leading receiver for the Giants with six catches for 58 yards, but in the game, he had three huge drops.
You can't blame Eli Manning on the throws. They were pretty good balls thrown to Cruz, but he simply did not make the plays needed.
Those kind of drops shoot drives in the foot, and it halted several drives and halted Giants momentum that could have led to a Giants scoring drive.
Cruz will absolutely have to work on that over the next 11 days in practice because three key drops in a game like this can not happen again.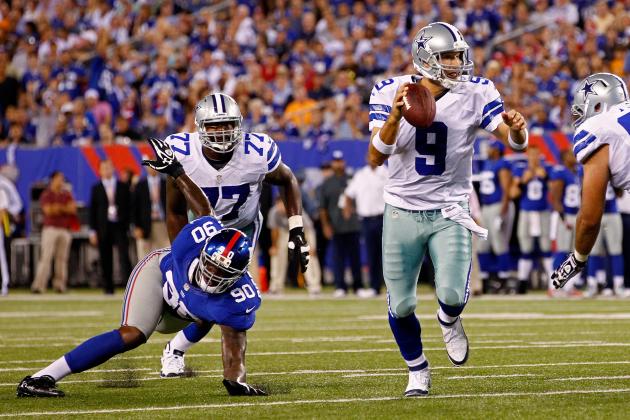 Jeff Zelevansky/Getty Images

During the week, I had mentioned pressuring Tony Romo would be a major key.
The Giants got pressure, but they didn't make the plays on him when needed.
The defense recorded two sacks on Romo; one by Rocky Bernard and one by Linval Joseph.
The trio of Jason Pierre-Paul, Justin Tuck and Osi Umenyiora had not one sack among the three in the game against Dallas.
JPP was seen a lot pushing a Dallas offensive lineman to Romo, but Romo found ways to escape getting sacked by the third-year star end.
Two sacks against Romo won't get it done. Why?
Romo was able to use his legs to make plays down the field and beat the Giants to extend drives.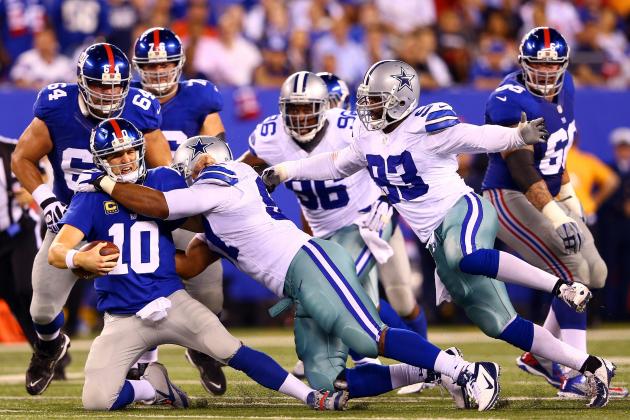 Al Bello/Getty Images

When you look at a team that makes 13 penalties for 86 yards, usually, they lose the game.
Despite making a ton of bad penalties, they didn't make any that shot themselves in the foot. Although I'm sure Jason Garrett is going to have a hell of a time scolding his offensive line in practice.
But in the end, the Cowboys were the better team.
Tony Romo had a good night, throwing for 307 yards and three touchdowns and he outplayed Eli Manning in the battle of NFC East quarterbacks.
DeMarco Murray has a great night running the football, carrying the ball 20 times for 131 yards. The Giants had trouble bringing down the second-year back on a lot of plays, including the one that Murray broke for 48 yards after it looked like the Giants stopped him for a loss in the backfield.
I mentioned Kevin Ogletree, Dez Bryant and Miles Austin earlier, who all had solid games making plays and making the Giants secondary look downright terrible.
The Cowboys were the better team on Wednesday night and deserved to win against the Giants. And now, Tom Coughlin and his group have 11 days to correct a lot of mistakes made and fix the ship before they play the Buccaneers in Week 2.
It's a tough loss to swallow for Giants fans, especially losing to your division rivals on national television on opening night, and now have to think about this for a week-and-a half now.
So while you go to work or school and the Dallas fans will trash talk about the game, if you are a Giants fan, all you can do is tip your hat and say nice game, but we'll see you later on in the season.
One thing is for sure, the Giants absolutely need to rebound in Week 2 and avoid starting 0-2.