As Dallas roles into MetLife Stadium, there's still that open wound of the Giants taking the NFC East title from them last New Year's Day.
That victory propelled the Giants to a fourth Super Bowl championship, while that Cowboys loss sent Dallas into yet another disappointing offseason with a lot of question marks.
Wednesday night is the start of the Giants title defense, and there are a few reasons why the Giants have the edge on Dallas.
Tony Romo is not on Eli Manning's level
The debate between Manning and Romo is incomparable. How it's even debatable, is mind boggling.
The NFL fan is smart, but they have fallen into the trap of being impressed with a quarterback who is a regular season stat-stuffer like Romo.
Cowboy fans have been in denial about Romo for the better half of a decade. Yes, he has a career passer rating of 96.9, but his 1-3 record in the playoffs doesn't exactly draw comparison to Troy Aikman and Roger Staubach.
Simply put, great quarterbacks aren't judged by regular season performances, and to date, that's all Romo has.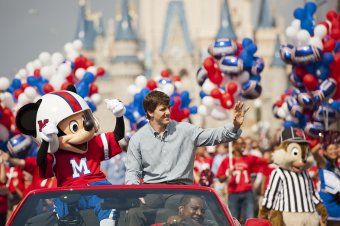 Handout/Getty Images
Eli has two Super Bowl trophies and is a two-time Super Bowl MVP. Quarterback edge goes to Eli, case closed.
In the words of the late Rodney Dangerfield, and by the looks of The New York Post, Tony Romo gets no respect.
Jason Witten a game-time decision
The potential absence of Witten for Romo and the Cowboys could be catastrophic for their ability to move the chains against the Giants' defense.
That is not saying that Romo doesn't have his share of offensive weapons, but Witten has clearly become Romo's security blanket, especially on third down.
Witten is also one of the best blocking tight ends, and the Cowboys running game could be negatively impacted without Witten.
ESPN has reported that Witten told the Cowboys he would "sign a medical waiver that would absolve the team and its doctors of liability" if he were to get injured in the season opener.
The Giants defensive line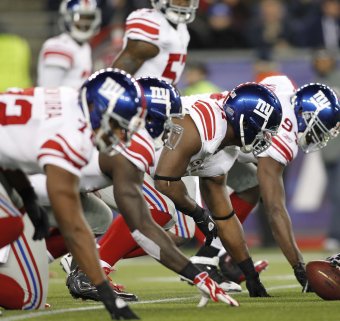 Greg M. Cooper-US PRESSWIRE
Osi Umenyiora, Justin Tuck and Jason Pierre-Paul make up some of the most feared pass rushers in the NFL.
Umenyiora is playing for a new contract, Tuck is playing with 100 percent health unlike last year, and Piere-Paul looks to build on his 16.5 sacs from last season.
These guys should give Romo fits all night and help to keep the Giants defense off the field, allowing Eli to pick apart the Cowboys.
Recent history dictates Giants dominance over Cowboys
The Cowboys upgraded at secondary with the draft of Morris Claiborne, and while running backs DeMarco Murray and Felix Jones have a considerable edge over New York's Ahmad Bradshaw and rookie David Wilson, the win-loss record of recent history indicates trouble for the Cowboys.
Since 2009, Eli Manning and the Giants are 5-1 against Dallas, and the Giants swept the season series most recently in 2011.
Due to the facts discussed, the New York Giants have the edge going into tonight's game. If Cowboy fans need more confirmation, Jerry Jones told 105.3 The Fan in Dallas, "Without a doubt I'm nervous."