Analyzing the 2012 New York Giants' Practice Squad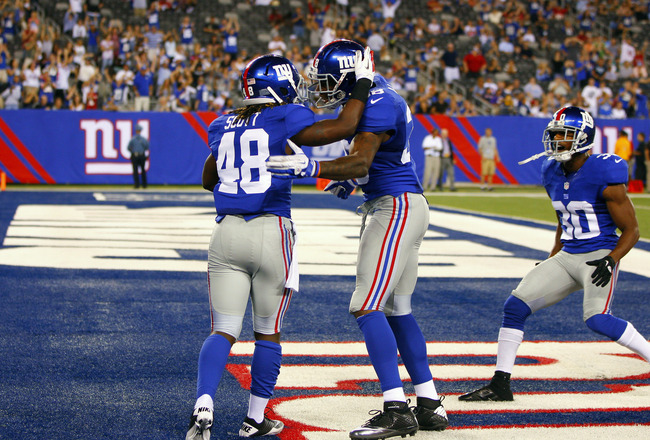 Rich Schultz/Getty Images
Do you ever wonder what happens to the players who don't make the final 53-player cut?
Do they stop playing football altogether? Do they work at their local supermarket bagging groceries? Maybe they work as a substitute school teacher like Chase Blackburn did.
Eight of the players get work on the team's practice squad. They can work out with the team and practice with the 53 players but are not listed on the official roster and can not play.
Now, if a player on the 53-man roster gets hurt for the season then you might see one of the practice players get signed and officially be put on the roster for the rest of the season.
While a lot of these players might not be the first candidates to get an opportunity to play, they're definitely options and if they work hard in practice, some of them could catch the attention of a few important coaches.
This list is to break down who is on the Giants' 2012 practice squad and some of those players you saw in the preseason that maybe one day could play in the NFL for the G-Men.
Matt Broha, DE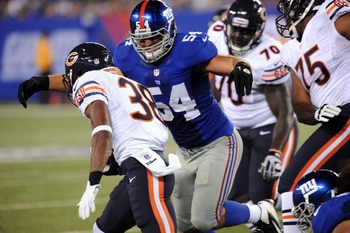 Joe Camporeale-US PRESSWIRE
A rookie defensive end out of LSU, Matt Broha came in and competed with Adrian Tracy and Adewale Ojomo for the spot Dave Tollefson voided in the offseason.
He had 3.5 sacks in the preseason playing against the opposition's third- and fourth-string players but that still wasn't good enough for him to make it. Ojomo and Tracy made more of an impact in the coaches eyes and chose them over Broha.
But he's on the Giants practice squad and if anything happens to Ojomo or Tracy—or any of the other defensive ends—Broha could be the first one called to the roster.
Selvish Capers, OL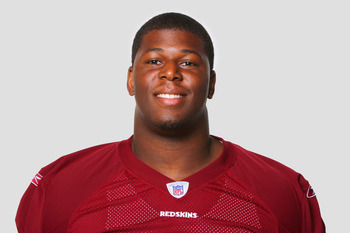 Handout/Getty Images
Selvish Capers is one of the few players on the practice squad who is not a rookie.
He was a seventh-round draft pick by the Washington Redskins in 2010 and was cut by the team before the 2011 season. The Giants picked him up and signed him to their practice squad and it's where he will be again for 2012.
Capers played mostly during the third and fourth quarters of games and didn't really do too much to stand out, which is why he found himself cut from the 53-man roster.
Before he got drafted, some scouts thought he could have been a second- or third-round draft pick, but he had a horrible Senior Bowl and a terrible scouting combine, and his career really hasn't recovered since.
He has yet to play in an official regular season game. Who knows if he will get the chance to with the Giants.
Larry Donnell, TE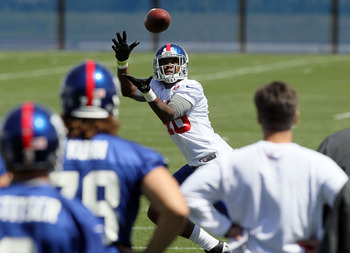 Jim McIsaac/Getty Images
The Giants were pretty set at tight end, leaving Larry Donnell likely to be cut before August 31. The team has Martellus Bennett, Adrien Robinson and Bear Pascoe on the active roster, plus Travis Beckum on the PUP list.
The undrafted rookie out of Grambling State didn't make much of an impact during the preseason games, recording no catches and zero yards.
He's only 23 though and he's got some size on him: 6'6" and 270 pounds. If he continues to work hard at his craft, who knows, maybe he can eventually catch on somewhere; if not with the Giants, then maybe with another team.
Teams are always looking for tight ends who, if they can't catch, can at least block. If Donnell isn't a good pass-catcher, then he better at least learn under Pat Flaherty and Mike Pope on how to block.
David Douglas, WR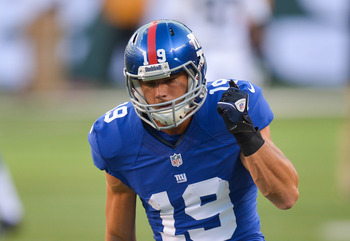 Drew Hallowell/Getty Images
I thought for a week that David Douglas had an outside chance of making the roster.
He made a nice 23-yard catch in Week 2 of the preseason against the New York Jets, but that's the only thing he did notable. He also played part-time as a kick and punt returner, again, nothing spectacular.
Ramses Barden was really the one receiver on the bubble during the preseason and got the final roster spot, which bumped Douglas to the practice squad.
The Dallas Cowboys were rumored to be interested in picking up Douglas, according to Calvin Watkins of ESPN Dallas.
Cowboys might have interest in David Douglas, WR with Giants.

— Calvin Watkins (@calvinwatkins) August 31, 2012
For whatever reason, Dallas didn't take him and Douglas is still on the roster for now. If the Giants need help with special teams and maybe even a return man during the year, I could see him trying out for the job.
Craig Marshall, DE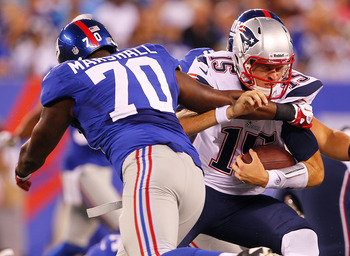 Rich Schultz/Getty Images
Just like Matt Broha, Craig Marshall had a chance to compete for a spot on the defensive line.
Marshall recorded 2.5 sacks during the preseason; 1.5 of those were in the final game against the Patriots where nobody of importance played for New England, but Marshall was still looking to catch the attention of his coaches.
Despite losing out to Adrian Tracy and Adewale Ojomo, Marshall still made the practice squad and, like Broha, could be a future call-up if any injuries happen to key players.
Alright, I know this is random, but when any of you watched the preseason games and saw Marshall with the No. 70 jersey, did you think of Leonard Marshall, who wore the same exact number when he played for the Giants?
I know I did a couple of times and then I thought back to the 1990 NFC Championship game and of him taking out Joe Montana and altering NFL history.
Matt McCants, OL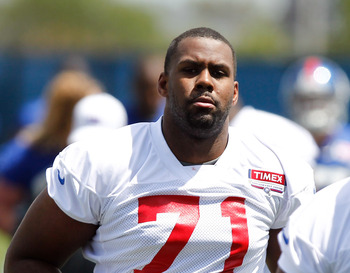 Debby Wong-US PRESSWIRE
I was actually surprised to see a 2012 draft pick end up on the roster, but, somehow, sixth-round draft pick Matt McCants landed on the practice squad.
McCants had a small chance of making the practice roster because he got drafted but he still is very raw and didn't do enough to impress line coach Pat Flaherty to want to keep him for game days.
The thing that helps the rookie is that he is, in fact, a rookie and still very young and could be developed into the kind of lineman the Giants are looking for.
What also helps him is the other lineman the Giants drafted this year; Brandon Mosley is on IR, so if the Giants need another lineman to step in, be a backup and work their way up, McCants can do it.
For his height—6'7"—295 pounds might seem a little too small for an NFL offensive lineman and what could help him in the long run is bulking up to the 305 to 315 pound area. That way he isn't getting run over by defensive lineman.
Laron Scott, DB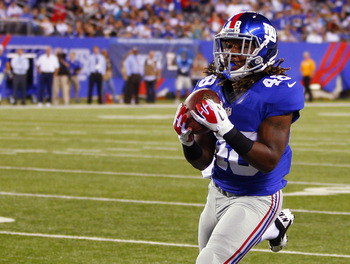 Rich Schultz/Getty Images
Laron Scott didn't get to play with the Giants too long, as he spent the preseason with the New Orleans Saints before being cut on August 15.
Scott was picked up on August 16 and took the place of Shaun Rogers on the 90-man roster.
On the final play of the preseason against the Patriots, Scott made one last attempt to impress the coaches by intercepting a Brian Hoyer pass, which ended the game in favor of the Giants.
Scott was cut anyway but got sent to the practice squad, where he'll continue to get better and learn the defense in practice.
With the injuries to Prince Amukamara and Terrell Thomas, it leaves the cornerback position very thin, with guys like Michael Coe and Justin Tryon getting moved up on the depth chart.
If something happens to one of those guys, Scott could end up on the 53-man roster and be asked to have a bigger role on the team.
Keep Reading

New York Giants: Like this team?