10 Offseason Moves the Mets Can Make to Convince David Wright to Stay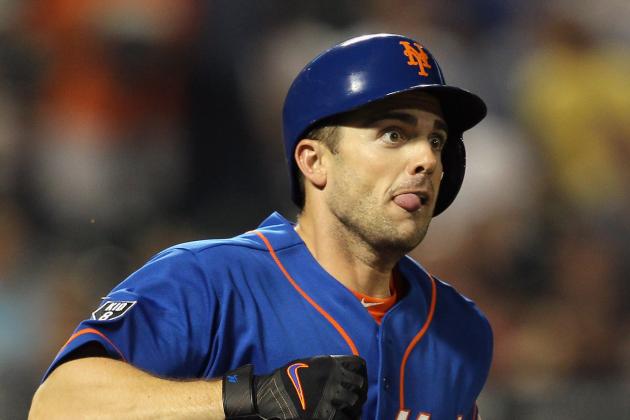 Mike Stobe/Getty Images

In the upcoming offseason, the Mets will have big decisions to make that will impact their future for years. The most pressing decision will be the probable re-signing of star third baseman David Wright.
Wright is currently in the final year of a six-year contract he signed back in 2006. He has a team option for 2013, which will almost certainly get picked up, but it would be in the Mets' best interests to sign him long term this offseason.
Wright will likely ask for a six or seven year contract worth at least $120 million. It would keep the 29-year old superstar in New York likely through 2018 or 2019. By then, he will be 35 or 36, respectively.
As the face of the franchise, Wright means everything to the Mets and their fans. He is arguably the best third baseman in baseball and could have a Hall of Fame career by the time he retires. He already holds numerous Mets franchise records and will own nearly all of them if he stays. Furthermore, he is a great spokesman for the team and loves New York City a lot.
Wright even grew up cheering for the Mets as a kid, so it makes a lot of sense that he would want to play his entire career as a Met. Hopefully, this will become a reality.
Wright though has refrained from discussing anything relating a new contract during the current season, so the discussions will begin immediately in the offseason. He is not guaranteed by any means to re-sign for sure, but there are some moves that could be made that would give Wright even more reasons to stay in New York.
Here are ten offseason moves the Mets can make in order to convince Wright to re-sign very soon.
Begin Slideshow

»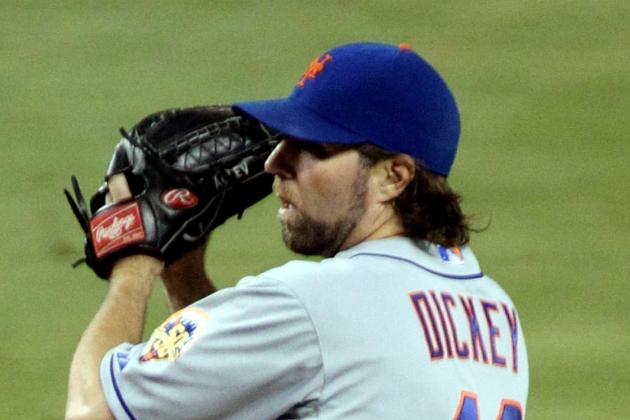 Marc Serota/Getty Images

The other important player the Mets will need to re-sign this offseason is ace pitcher R.A. Dickey.
Dickey has been putting up quite a season that could very well end with an NL Cy Young Award. He is tied for the National League lead in wins, second in ERA, first in WHIP, third in strikeouts, first in complete games and first in shutouts.
Putting up those numbers as a knuckleballer at the age of 37 is remarkable for anyone to do, but especially for Dickey, who has been through a unique story that he described in his autobiography that was released this year.
Like Wright, the Mets hold an option for Dickey in 2013, but they will almost certainly re-sign him as well, which should be something that Wright would be in favor of.
Andy Lyons/Getty Images

One current Met that is going to be a free agent at season's end is outfielder Scott Hairston. If any internal free agent should be re-signed, it is Hairston for multiple reasons.
First, he is one of the Mets' few power-hitting right-handed hitters and has absolutely owned left-handed pitchers this year. He is batting .313 against southpaws and has hit nine of his 15 home runs against them as well.
Jason Bay for the past few years was expected to be the dangerous right-handed bat to protect David Wright, but he has failed miserably. As a result, Hairston has filled the void against left-handed pitching and has become a great platoon outfielder.
Second, Hairston is a useful veteran for the team. He can play all three outfield positions quite well and is one of the few seasoned veterans on this young Mets team. Thus, he can provide great leadership in that role. He is by no means an everyday outfielder, but someone that can start against left-handed pitchers, hit them well and play good defense.
The Mets would be wise to re-sign Hairston for at least another year or two, which could be another sign to Wright that the Mets are moving in the right direction.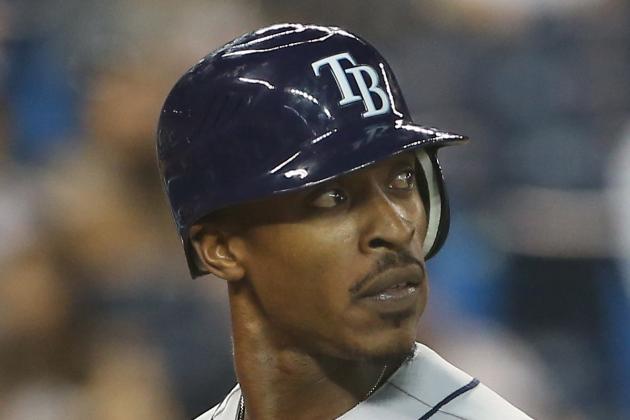 Tom Szczerbowski/Getty Images

Growing up in Virginia, David Wright played baseball with quite a few current major league players. Among them are B.J. Upton, Ryan Zimmerman and Mark Reynolds. One of them will happen to be a free agent this offseason.
Being that Zimmerman and Reynolds are both third basemen, they could not play on the same team as Wright. But Upton is a center fielder and a reunion between him and Wright could very well occur.
Despite not having a particularly high average throughout his career, Upton has at times been a very productive center fielder. He has explosive power, great speed and solid defense in center field. The Mets are desperate for a center fielder, given Andres Torres' age and the minor depth at the position is not the greatest.
At a park like Citi Field, Upton could improve his career a lot, with the wide gaps likely leading to more doubles and triples. He would provide stability in the leadoff spot and in center field as well. Furthermore, he and Wright are childhood friends, so staying in New York would become so much more appealing for Wright.
Upton will likely ask for a good amount of money himself, so the Mets by no means should overpay him. However, if they can get him at the right price, he could be a great fit.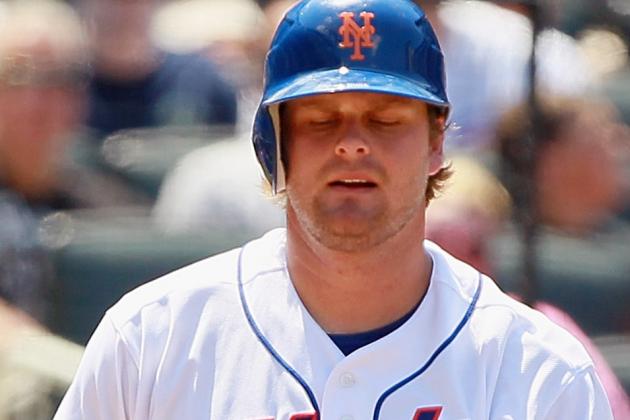 Mike Stobe/Getty Images

Ever since the core members of the 2006-2008 teams (aside from Wright) departed, the Mets have been trying to plug in their most promising hitters all into the starting lineup. Unfortunately, many of these players have not been able to play at their natural positions.
Right now, the Mets have a natural corner infielder playing second base. That would be Daniel Murphy. The Mets have always liked his bat because he gets on base a lot. However, he has been quite a challenge defensively. After playing horrendously in the outfield in early 2009, the Mets moved him to first base for the rest of the season, and only because Carlos Delgado suffered what turned out to be a career-ending hip injury.
In 2010, the Mets wanted Murphy to learn second base because Wright was entrenched at third base and they had a young prospect named Ike Davis primed to be the first baseman of the future. Early in the 2010 season in the minor leagues, Murphy attempted to turn a double play, but got slid into and injured his knee, which ended his season.
After a long rehabilitation program, Murphy was healthy in the following Spring Training, but did not become the Mets' Opening Day second baseman in 2011. After Brad Emaus' struggles in April though, Murphy played more second base, but ended playing even more at third base and first base due to injuries sustained by both Wright and Davis.
This year has been Murphy's first full season as an everyday second baseman, and his defense has improved a lot with time. Nonetheless, the Mets might be better off with a more natural second baseman with power, compared to Murphy, who has been unusually streaky at the plate and does not provide too much power.
Another regular that is a converted position player is Lucas Duda. Throughout his life, Duda had been a first baseman, but due to the presence of Ike Davis, he was forced to learn how to play the outfield.
Despite having a strong arm, Duda had quite a few adventures in right field, especially at Citi Field, which had a vast right field gap. His defense got so bad that last month, he got sent to the minor leagues to become a left fielder.
So far, Duda has played better in left field since his return. However, the Mets could be better off trading him to a team that needs a first baseman and acquiring a more natural outfielder in return.
Yet another converted position player on the team is Jordany Valdespin. Valdespin is a natural second baseman, but due to Murphy's presence at second base, plus Ruben Tejada at shortstop, Valdespin has found a lot more time in the outfield.
Despite his speed, Valdespin has not been particularly good at reading fly balls and really should not be playing the outfield. He is another player that could turn into a valuable trade chip.
All in all, the Mets are doing everything they can to get their best hitters in the lineup, even if they are playing positions they are not particularly good at. The problem is that this may not work out completely in their favor and they should consider other options that could benefit the team even more.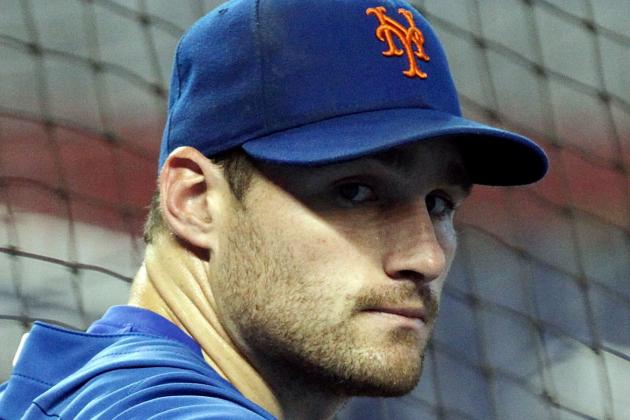 Marc Serota/Getty Images

As mentioned in the previous slide, Daniel Murphy has had a good season for the Mets this year, even though he isn't up to par with the .320 average he had in 2011. On the other hand, Murphy is probably not a player that the Mets will want to really keep at second base for a long time.
This is because the knee injuries he has sustained could happen at any given time, despite the improvements he has made. He also has 14 errors this season, which shows that he isn't exactly playing Gold Glove-caliber defense. For the sake of saving runs, this could become an issue for the Mets.
The Mets though have tried to limit that by putting in Ronny Cedeno for extra defense in the 9th inning of quite a few games. It would be better if the Mets did not have to make such changes, but at times, it has seemed necessary.
The fact of the matter is that Murphy is a good second baseman for the Mets right now. Regardless, he could perform even better as the third baseman, first base or designated hitter of another team, particularly an American League team. Other teams have inquired about Murphy, but the talent level in return was not good enough for the Mets to accept any offers.
If a trade comes about in which Murphy would get dealt for some great prospects or even a more natural second baseman, the Mets should definitely listen in. Furthermore, a more natural second baseman would provide more defensive reliability and possibly more offense as well. If this all would work out perfectly for the Mets, these decisions should become rather easy.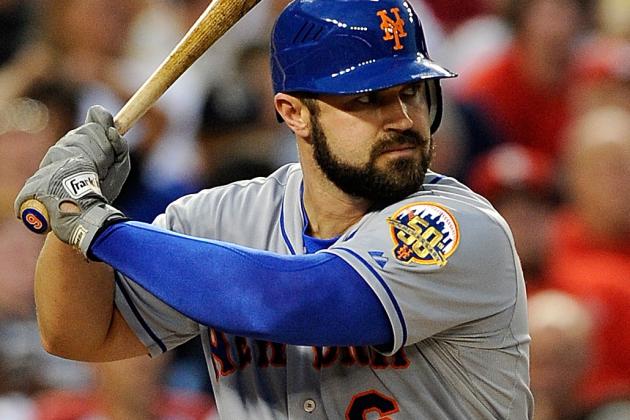 Patrick McDermott/Getty Images

With Josh Thole struggling as much as he has this year, it's clear that the Mets need to upgrade their depth behind the plate.
Thole is only 25 years old right now and has worked very well with the Mets' pitchers for the most part. However, his defense has gotten worse in the last few months and he simply has not been hitting much at all for the entire season.
This could be a result of the concussion he suffered in early May, but the results just haven't been there. Thole has not even been projected to be more than a singles or doubles hitter, but a .237 average is not good enough.
Thole has struggled in recent time so much that the recently acquired Kelly Shoppach has been getting the bulk of the playing time ever since his arrival. With Shoppach about to become a free agent in the offseason, the Mets either need to re-sign him or sign another catcher that can provide some reliability behind the plate once again.
The most prized free agent catcher on the market will be Mike Napoli. Napoli though will likely seek a lot more money than the Mets could afford, so they will have to look at other options such as Shoppach, Chris Iannetta, Russell Martin, Miguel Montero, or AJ Pierzynski.
None of these backstops really stand out from each other, but if the Mets can sign one of them, it would definitely be an upgrade over Thole, whose offense just hasn't panned out.
Another interesting thing to keep in mind about Shoppach is that he has already worked very well with the Mets' current pitchers. Even if it's not a starting role, the Mets should do everything they can to re-sign Shoppach, at least as a right-handed hitting backup.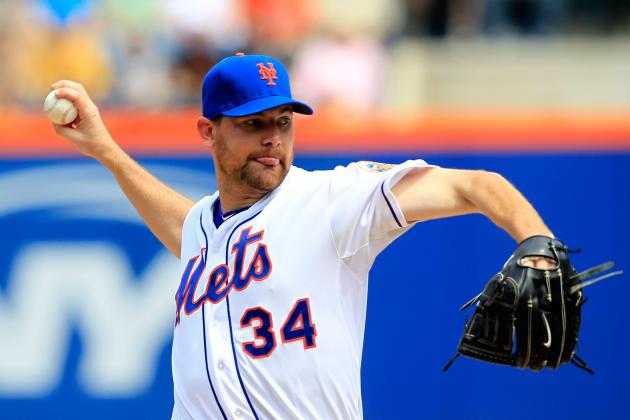 Chris Trotman/Getty Images

Despite his inconsistencies at times, the loss of Mike Pelfrey back in April was not particularly good for the Mets. It weakened their pitching depth and until Chris Young was ready, the Mets did not have a legitimate fifth starter.
After winning 15 games in 2010, Pelfrey was expected to be the Mets' ace in 2011, but did not pitch well at all and was almost released during Spring Training. However, Pelfrey managed to pitch well in three starts before his season abruptly ended due to eventual Tommy John surgery. He is currently rehabilitating and working hard towards a return in 2013.
Pelfrey is eligible for arbitration this offseason, but the Mets are unlikely to give him a contract because their minor league pitching depth is now major league-ready. But if no major league team offers a contract of their own to Pelfrey, the Mets should definitely consider bringing him back on a minor league deal.
By doing that, they could afford some added pitching depth in case anyone gets hurt. Furthermore, Pelfrey has been a close friend to David Wright for years and Pelfrey's possible return would be good for Wright because he most likely would not want to see any teammates that happen to be good friends of his depart.
Among these possibilities, this is one of the most unlikely scenarios, but it's still worth keeping in mind if Pelfrey has trouble finding a new team to pitch for.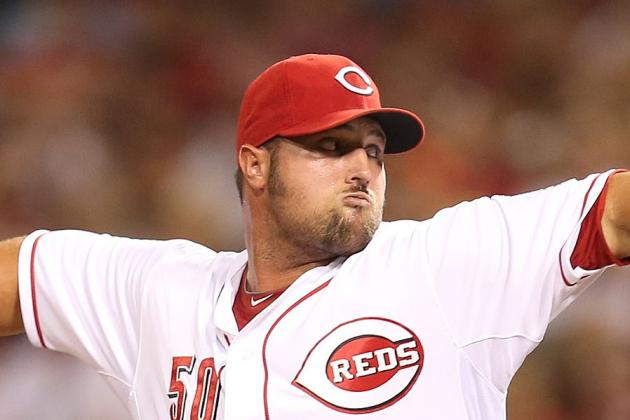 Andy Lyons/Getty Images

Among all the struggles the Mets have endured this year, their bullpen has been by far their biggest problem.
The bullpen has been very bad in every aspect, but it starts with the closer, who of course anchors the bullpen. Frank Francisco has been a disaster this year when healthy and he has not been the answer at all. Signed to a two-year contract, Francisco has over 20 saves, but also has an ERA close to 5.00, which should never happen to a pitcher who is paid to exclusively pitch in the 9th inning when the team is winning.
Not only has Francisco pitched bad, but not much else he has done has been good. He has had emotional fits multiple times and took a lot of heat for calling out the Yankees, who ended up winning the majority of their games this year against the Mets. He also missed more than a month due to an oblique injury. In his absence during that time, Bobby Parnell was closing, but was not particularly impressive altogether.
The Mets are unfortunately stuck with Francisco for another year, especially because no other team will want to acquire him. Nonetheless, the Mets should still pursue another closer with how bad the bullpen has been this year. Grant Balfour, Jonathan Broxton, Matt Capps, Brandon League, and Fernando Rodney are among the closers that will be on the open market.
The Mets should take a chance on one of these players and make them the new closer because they simply don't have anyone in the organization right now besides Francisco that can be a proven closer over an entire season. This has been a problem before and it could continue to be a problem if it's not addressed. In addition, this would also increase the likelihood of David Wright re-signing with the Mets.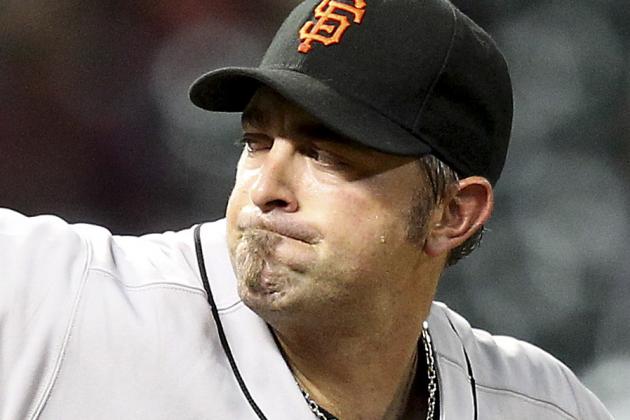 Bob Levey/Getty Images

With Tim Byrdak missing most, if not all of the 2013 season recovering from shoulder surgery, the Mets will need to find another dependable left-handed reliever in the offseason.
Among those on the open market include Jeremy Affeldt, Will Ohman, Randy Choate, J.P. Howell, and Darren Oliver. If the Mets can sign one of these or another veteran southpaw, it would definitely improve the bullpen and give the team a solid pitcher to use in the late innings against left-handed hitters.
The Mets though already have a left-handed reliever in Josh Edgin. However, he is young and the Mets could use a veteran left-handed presence in the bullpen as well. Furthermore, it's always good for a team to have more than one left-handed reliever in case certain situations appear multiple times in a given game.
Robert Carson and Justin Hampson are two more young left-handed relievers in the Mets' organization, but neither are proven major leaguers yet, so it would be good to improve the left-handed depth in the bullpen.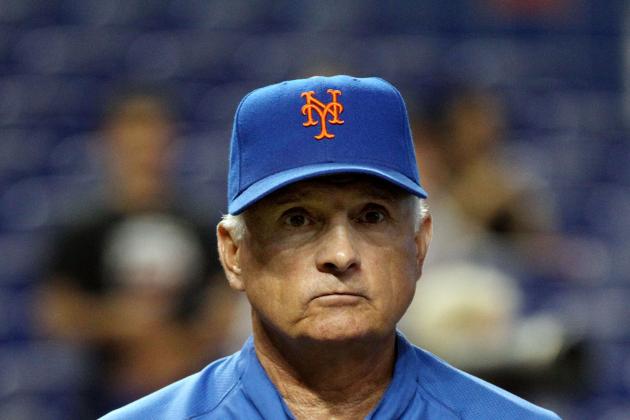 Marc Serota/Getty Images

Finally, one decision the Mets could make that would definitely make Wright happy would be to extend manager Terry Collins' contract, whose 2013 option was picked up last September.
Despite the Mets' record in his first two years on the job, the team has showed a lot of potential and has certainly overachieved in numerous ways. Most importantly, the Mets' players have enjoyed playing for their manager and the relationships have been great overall. At times, Collins has disciplined his players for not getting the job done well enough, but the players have listened to, obeyed and respected Collins no matter what.
Back when he managed the Angels from 1997-1999, Collins was not well liked by his players at the time and it came as no surprise when he resigned with just 29 games left in the 1999 season. However, it seems that he is now better at communicating with his players and in return, these current Mets respect him a lot more than the Angels of the late 1990s did.
Wright in particular has always gotten along well with Collins. A few times, they have been seen arguing in the dugout, but for the most part, those situations had to do with Wright's general intensity and desire to be involved in every play, while Collins was doing his job and protecting his best hitter.
Nonetheless, Wright and Collins have worked very well together and if Collins does not get re-signed beyond 2013 in the offseason, it definitely would not help the team's upcoming negotiations with Wright.
Wright has already been through four different managers in his career, including Collins. As a result, the clubhouse atmosphere has certainly gone through various changes since Wright's first season in 2004.
If the Mets could avoid changing managers every two or three years, Wright and the other players would definitely look at the Mets' ownership more favorably. In addition, it would help the Mets' ability to re-sign Wright that much more.