Phillies Free Agency: Best Ways to Improve Bullpen Heading into Next Year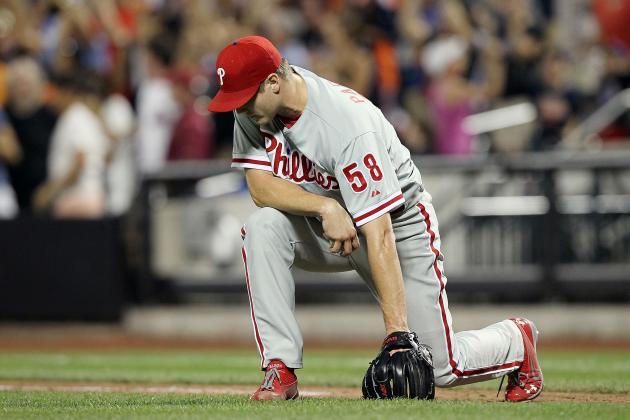 Jim McIsaac/Getty Images

Is there a slight chance of postseason glory for the Philadelphia Phillies? Absolutely. But are the odds in their favor? Absolutely not.
At this point, barring any significant hot streak, the Phillies are looking ahead to 2013 and this offseason will be a big determining factor in whether the Phils can regain their former glory next year. GM Ruben Amaro, Jr. will have many holes to fill, including third base, center field, one or both of the corner outfield spots, a starting pitcher and a proven veteran or two in the bullpen.
While the positional decisions will almost surely be prioritized, a portion of the team that can't be forgotten is the bullpen. It's undoubtedly been the Phillies' biggest weakness this season. The team's 4.44 bullpen ERA ranks 26th out of 30 teams in the majors, and the AL team with the worst bullpen record, the Cleveland Indians, sit only at 4.07 and two spots ahead of the Fightins'. That's when you know there's a problem.
As free agency approaches, the Phillies will have to make sure that improving the bullpen is not at the bottom of their offseason shopping list. They do have almost too many relievers waiting in the wings in the minor leagues, and although a good number of them will be given the opportunity to contribute, the Phillies also need a proven veteran aside from Jonathan Papelbon.
Without further ado, here are the best ways the Phillies can improve their bullpen going forward via free agency.
Begin Slideshow

»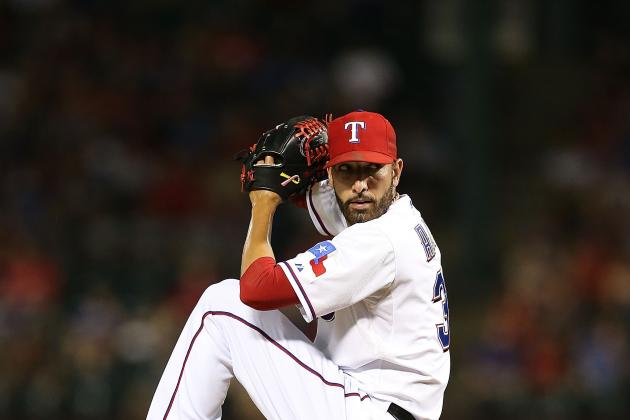 Ronald Martinez/Getty Images

After taking a look at the list of impending free-agent right-handed relievers, I noticed that while there are a boatload of options, only a select few are proven commodities. In my opinion, the two most reliable options on the free-agent market are Mike Adams (currently with the Texas Rangers) and Luis Ayala (pitching out of the Baltimore Orioles' bullpen).
Since getting a full-time opportunity with the San Diego Padres in 2008, Adams has pitched in a class above the rest. With the Padres and the Rangers, who acquired him at last year's trade deadline, Adams has pitched to the tune of a 1.85 ERA, 0.96 WHIP and has averaged 58.0 innings and 58 games a season. He's yet to end a season since 2008 with a FIP or xFIP over 3.13, and while the latter's on track to change this year, it's by no means bad at 3.70. Besides, his ERA sits at 2.60 on the season, which would go down as the worst of his career since 2008. Not bad at all for a low.
Ayala hasn't had the consistent success that Adams has, but since the beginning of 2011 he's done nothing but shine out of the bullpen. Last year with the New York Yankees, Ayala posted a 2.09 ERA and a 1.27 WHIP. This year Ayala hasn't been as sterling as last, though a 2.64 ERA and 1.25 WHIP is still nothing to scoff at. His strikeout numbers are far inferior to those of Adams, as are his FIP and xFIP in recent years, but keep in mind that until this season Adams pitched for years in the pitcher's safe haven known as Petco Park.
Both are 34 years old, so in that regard there's no advantage to signing one over the other. However, given his repeated success in both leagues over a longer period of time, my personal preference would be to go after Adams, and hard. He's hands-down the best reliever available this offseason and an eighth-ninth inning combination of Adams and Papelbon would be deadly. Even if he commands a two or three-year deal worth $7-8 million a year (if not more) he's worth it, and Adams alone would significantly solidify the Phillies' bullpen woes.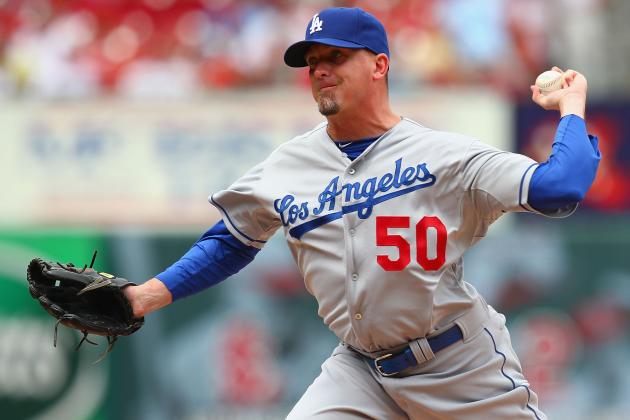 Dilip Vishwanat/Getty Images

The free-agency market for left-handed relievers is notably thin this offseason, with Randy Choate leading the way.
Choate's been somewhat of a journeyman over his 12-year career. Pitching for five teams throughout his time in the majors, Choate's registered a career ERA of 4.00 and WHIP of 1.33. Those numbers are certain to turn any onlooker off, but if you take a look at Choate in recent years, you'll see my logic.
From 2000 to 2005, Choate's career was a mess. His ERA over that span was a dreadful 4.71 and his WHIP of 1.46 was frightening. He ever so slightly turned the page in 2006 with the Arizona Diamondbacks, registering a 3.94 ERA but still-horrible 1.50 WHIP. In fact, his career had sunk to the doldrums to such a degree that Choate was pitching in the minors for all of 2008.
When 2009 came around, Choate did in fact revive his dwindling career with the Tampa Bay Rays. His ERA with the Rays from 2009-2010 was 3.89 and his WHIP settled to 1.20. After 2010 Choate signed with the then-Florida Marlins, and that's really when he took it to another level. Until being traded back in July, Choate pitched to a 2.16 ERA in a year and a half with the Fish and registered a 1.02 WHIP. What's more is that in 2011, when Choate had a 1.82 ERA at the season's end, his xFIP sat at 2.90, which suggests that Choate's sudden dominance was by no means luck.
This year, with the Marlins and Los Angeles Dodgers, the sidearm-throwing Choate has a 2.73 ERA and 1.12 WHIP. However, it's worth noting that his ERA prior to the trade that also sent Hanley Ramirez to the Dodgers was 2.49, and his WHIP was even more impressive at 0.99. He'll be a free agent after the season, though his age will be a factor—Choate turns 37 years old today.
Nevertheless, Choate would be a very nice addition to the Phillies. Whether used as a left-handed specialist or as a southpaw set-up option, Choate's recently-found success seems to be a new beginning for the veteran. Even though the Phillies have a few left-handed options already, what they've got is either unproven or inefficient this year (aside from Raul Valdes), which brings me to my next point...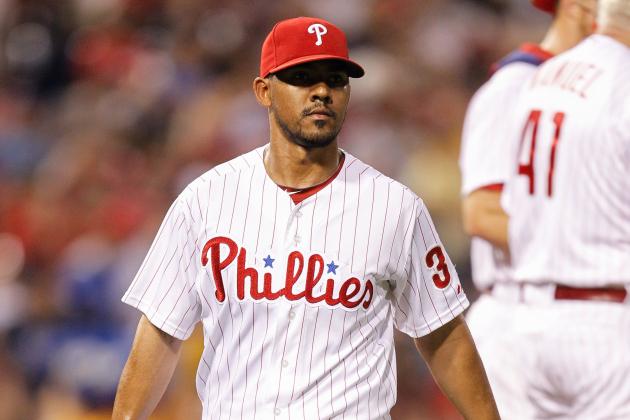 Brian Garfinkel/Getty Images

Ladies and gentlemen, it's time to part ways with Antonio Bastardo.
Bastardo started out in the Phillies' system as a starting pitching prospect and rose through the minors relatively quickly. He was given his opportunity in 2009 as a starter for the Phillies, but after injury and lack of success he was converted into a reliever.
When 2010 rolled around Bastardo became a fixture in the Phillies bullpen and pitched with moderate success. Although his ERA of 4.34 and WHIP of 1.50 in 2010 are far from ideal, his peripheral stats suggest that he was pitching better than what meets the eye. Bastardo's 2010 FIP was 2.76 and his xFIP was 3.70. While ERA is the only stat of those that counts in major league baseball, it is worth noting the specifics.
Then 2011 came and for the first half of the season Bastardo was on record pace for ERA. He was arguably the best reliever in all of baseball prior to the All-Star break with an ERA of 0.82 and WHIP of 0.76. However, the same can't be said of the second half: Bastardo, who was supposedly found to be tipping his pitches, posted a 5.04 ERA after the midsummer classic, though his 1.16 WHIP wasn't terrible, but it was obviously much worse than his gleaming respective statistic through the first half. Consequently, Bastardo ended his 2011 campaign with a 2.64 ERA and still-solid 0.93 WHIP.
Fatigue also seemed to be an issue for Bastardo, as he hadn't pitched as many innings nor in as many games before as he did in 2011. It was thought that with an offseason of rest Bastardo would be back and ready to go as the Phillies' primary setup man. Unfortunately, that hasn't been the case, as Bastardo's currently sitting with a 4.81 ERA and 1.30 WHIP on the season, which has led to the Phillies trying out seemingly countless minor league arms to fill the spot.
A first-time arbitration-eligible player, Bastardo is more likely to be one of a trade or non-tender candidate this offseason. With the depth of lefties in the Phillies bullpen—they have Valdes, Jeremy Horst, Jake Diekman and potentially Joe Savery—Bastardo's presence is no longer necessary. Bastardo's release would also pave the way for a lefty like Choate to take his role, and he'd likely perform in it better as well.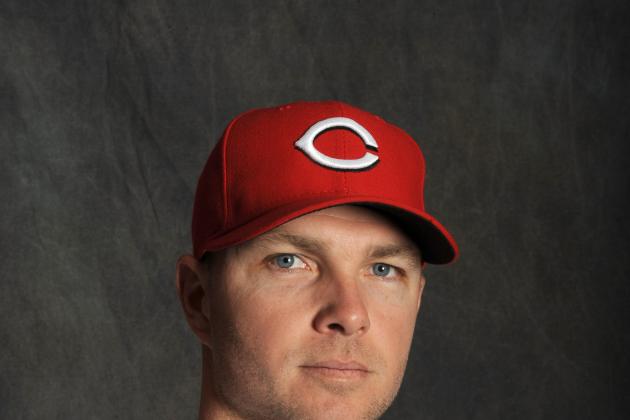 Rich Pilling/Getty Images

I know I'll be receiving a lot of flack and debate in the comments section for this slide, and I'm not suggesting that this is a likely or preferable option. But hear me out.
Ryan Madson was among the Phillies' best relievers over the last 10 years and Chad Durbin was once an extremely reliable option for the Phillies out of the bullpen. Neither one is guaranteed anything this offseason, and neither one will have an easy time finding a job.
I'm in no way advocating the reuniting of Madson and/or Durbin with the Phillies, as the end of both of their tenures with Philadelphia finished poorly. Additionally, Durbin has struggled with the Atlanta Braves this year, and Madson's coming off of Tommy John surgery. But if the Phillies decide to go the reclamation project route, Madson and Durbin would be prime candidates.
Madson infamously did not re-sign with the Phillies after a verbal agreement between the Phils and Madson's agent, Scott Boras, on a four-year, $44 million contract fell through. Madson had closed for the Phillies in 2011 with excellent results and was expected to remain in Philadelphia beyond last year. However, the Phillies allege that no agreement was ever in place; thus, they took their business elsewhere and inked Jonathan Papelbon to a four-year, $50 million contract, the largest ever for a reliever.
Durbin, on the other hand, was not as stellar nor as revered as Madson, but in no way does he deserve to be slighted as a Phillie. His flexibility and durability in the bullpen was one of the major factors in the Phillies' bullpen success en route to their 2008 World Series title, and aside from closer Brad Lidge and Madson, Durbin was probably the Phillies' best reliever in that magical season. Since then, though, he's struggled to find work, and the little work he's found with the Indians and Braves hasn't gone so well for him.
Once again, I reiterate that I am not for signing either of these two pitchers. But it's safe to say that both will be seeking either minor league or incentive-laden contracts this offseason. Would either one of the two be willing to swallow their pride and consider coming back to Philadelphia? Probably not, and that's likely for the best. But as I said before, if the Phillies prefer to try a reclamation project this year (which I think would be their worst possible avenue), Madson and Durbin could be of interest.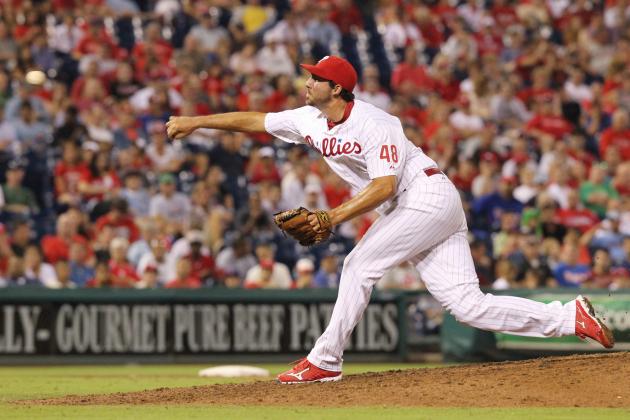 Hunter Martin/Getty Images

In light of trades over the last few seasons, the Phillies' farm system is very thin on talent, especially talent worthy of promoting to the majors. However, the department in which they have the most major league-ready talent pool is no doubt the bullpen, and by a large margin, too.
Over the last couple of seasons, rookie relievers abound on the Phillies. From David Herndon and Michael Stutes to Phillippe Aumont and Justin De Fratus, it's safe to say that the Phils have no shortage of young bullpen pitchers.
The Phillies' young, internal options for the bullpen entering 2013 are Herndon, Stutes, Bastardo, Aumont, De Fratus, Jake Diekman, Joe Savery, Jeremy Horst, Michael Schwimer, Josh Lindblom and B.J. Rosenberg. That's 11 names fighting for most likely four or five bullpen spots, keeping in mind Papelbon and a possible bullpen acquisition or two in the offseason.
If the Phillies really do decide that they would rather invest their limited funds this offseason elsewhere, then the bullpen jobs for 2013 may come down to the rest of September and spring training. Some of the guys mentioned may not even be in contention for jobs from the get-go. Savery and Rosenberg have struggled in their limited action and are on the older side for rookies. Bastardo and Herndon are possible non-tender candidates, and Herndon will probably still be recovering from Tommy John surgery anyway.
Should that blueprint all go according to plan, which is doubtful, that would leave Stutes, Aumont, De Fratus, Diekman, Horst, Schwimer and Lindblom fighting for four or five spots. Granted, that would only exclude two or three of those pitchers at most, but it still creates some problems for the Phillies. It's a good problem to have, but it's still nonetheless a problem.
Free agency means spending more money, and if the Phillies aren't inclined to spend more than they have to, then the aforementioned relievers will be showing themselves often throughout the 2013 season. Whether or not comprising a bullpen of that much unproven commodity is the best decision is certainly questionable, as it hasn't worked for the Phillies this year. But if the team believes that shaking off the rust in 2012 will lead to results in 2013, then this could be the most probable option for the Phillies bullpen on Opening Day of 2013.