Miami Heat: 5 Most Frustrating Players on the Roster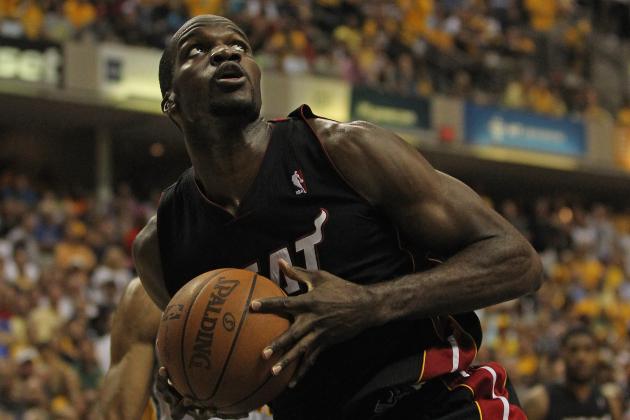 Jonathan Daniel/Getty Images

Coming off their NBA Finals victory, the Miami Heat appear to be unstoppable.
LeBron James is entering his ultimate prime, the team now knows what it takes to win a championship and key additions like Ray Allen and Rashard Lewis will make the team only deeper and stronger.
But, no team is without fault. Even Bulls fans in the 1990s constantly yelled at their televisions out of anger and annoyance, sometimes even at Michael Jordan.
The following are my five most frustrating tendencies from specific members of the Miami Heat that leave Miami fans shaking their heads.
(All stats credit to www.Basketball-Reference.com)
Begin Slideshow

»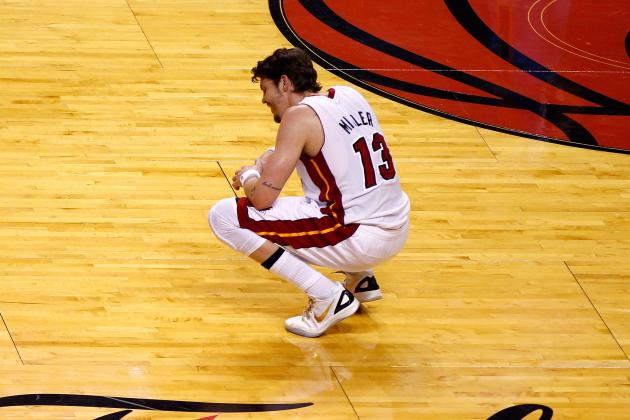 Mike Ehrmann/Getty Images

Poor Miller. The guy tries so hard each and every game, and his body pays the price for it.
In his two years in Miami, Miller has only played 80 regular-season games because of various injuries. When he is on the court, he still hasn't been 100 percent. It's not the most popular, but one of the enduring images of the 2012 playoffs is Miller hobbling up and down the court and bending over in pain every time he got a break.
It's a shame he can't stay healthy because his Game 5 performance, in which he drained seven of eight three-point shots, would become more of the norm rather than the exception.
With a fully healthy Miller and Ray Allen spreading out the floor, Dwyane Wade and LeBron James would have a field day down in the paint.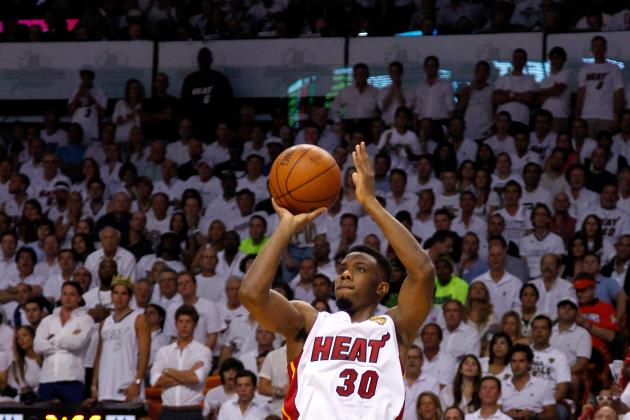 Mike Ehrmann/Getty Images

Remember when Cole came out of the gates on fire? In only the second game of his NBA career, he went off against the Celtics, scoring 20 points, grabbing four rebounds, dishing for four assists and swiping three steals.
Through his first nine games, he averaged 10.9 points, 3.9 assists and 1.6 steals in 23.2 minutes per game.
But over the course of the 56 remaining games in which he played, those numbers fell to 6.1 points, 1.8 assists and 0.5 steals in 18.8 minutes.
Then, he decided to show up in the finals. He was instrumental in Miami's Game 4 win, making two huge three-pointers in a tight six-point victory.
He seems to show up for the big moments, but he needs to be more consistently productive if he wants to turn into a regular, key bench player.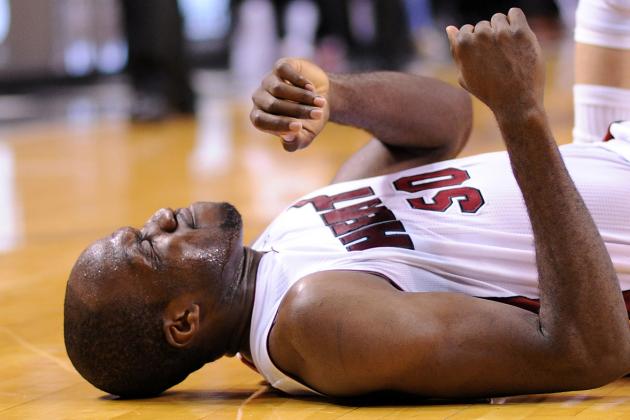 Steve Mitchell-US PRESSWIRE

Anthony fits in perfectly with Miami's defense. His athleticism allows him to cover a lot of space and take on quicker, smaller guys off of switches, and he's a terrific shot blocker, which is something every team needs down low to protect the basket.
But, he absolutely cannot do anything on the offensive side of the ball. He can't shoot, he can't dribble and he can't even catch a pass. I can't count the number of times I have seen LeBron or Wade feed a wide-open Anthony for a seemingly easy layup or dunk, only for the ball to bounce off his hands and out of bounds.
That, and his justified fear to shoot any shot, has resulted in only 1.9 field-goal attempts per game in his career.
You'd also think his 6'9", 245-pound body coupled with his athleticism would allow Anthony to rack up offensive rebounds, but he's only grabbed 1.5 offensive boards per game throughout his career.
Anthony would be a great starting center for this team if he could at least catch a ball and lay it in, but the Heat can't afford to constantly play four-on-five offensively when he is on the floor.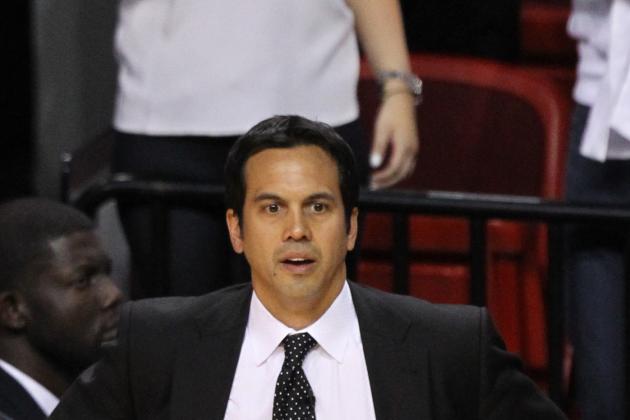 Derick E. Hingle-US PRESSWIRE

For a team to sustain continued success, each player needs to know what their role is. The more someone is pulled in and out of the regular rotation, the more likely their confidence will waiver, and along with it their play.
In 2011, Erik Spoelstra started 13 different players throughout the season and 12 different guys started in 2012.
He seemed to tighten up the rotation in the playoffs, but Spoelstra still started nine different players in the 2012 postseason.
Some of this is due to injuries, and it must be understandably difficult to find the right guys when the bench is full of scrubs, but Spoelstra really needs to figure out who his core eight to 10 guys are next season and stick with them.
He seemed to find the right starting lineup in the finals. We'll soon find out if the rest of the rotation has been figured out as well.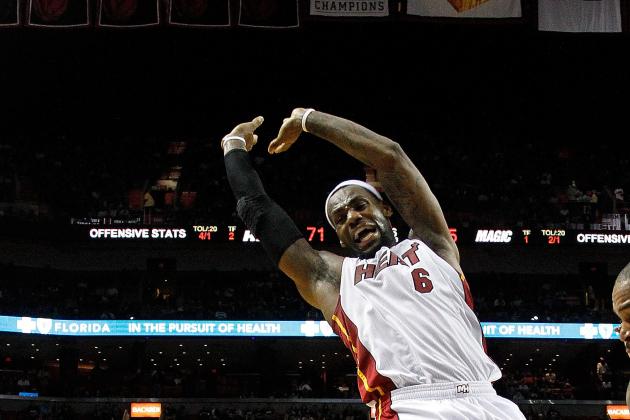 Mike Ehrmann/Getty Images

This is frustrating in a different manner. While the other four tendencies on this list hinder Miami's chances of success, LeBron's flopping draws more fouls, and thus, provides his team a greater chance of victory.
But it is still infuriating to watch.
Flopping is one of the worst things about sports. We want the best athletes in the world to go all-out night in and night out so we can witness their incredible talents.
When players start falling all over the place to get a cheap call or two, the play on the court begins to suffer. Instead of focusing on the flow of the game, they have to start worrying about ticky-tacky calls that could eventually lead to foul trouble.
As the best player in the world, LeBron should take a stand to flopping and cease to do it ever again. He's one of the strongest players in the league, yet he acts like little guys can push him around all the time.
Please stop.