Tampa Bay Buccaneers: Grading the Entire 53-Man Roster
Rob Carr/Getty Images

We're almost there.
On September 9th, the 2012 NFL season finally begins.
Well, for the Tampa Bay Buccaneers it does.
The offseason saw a lot of additions to the roster and very few losses. The losses that were sustained were very minor at that e.g. Kellen Winslow, Brian Price.
And now that the final roster has been decided, it's time to grade it before the regular season starts.
Let's get to it, shall we?
Begin Slideshow

»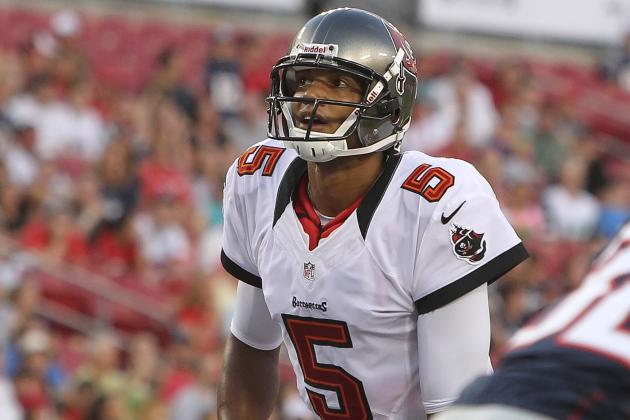 Kim Klement-US PRESSWIRE

Josh Freeman
Dan Orlovsky
If Freeman was to be graded for his 2010 season, he would get an "A." Back then, he had a stellar (for a sophomore) 95.9 passer rating with a less-than-stellar supporting cast.
If Freeman was to be graded for his 2011 season, he would get a "C-." With a nearly-identical offense, he threw nine less touchdowns and 16 more interceptions and his passer rating fell by more than 20 points.
Why this drop-off in production?
No one is really too sure, but it is a fact that Freeman was holding on to the ball for way too long. This may have been because he was trying to do too much, as Greg Schiano suggested.
If that is the case, then Freeman should do much better in the run-heavy offense Schiano has installed. Having a solid run game, spearheaded by a versatile running back like Doug Martin, will certainly take some of the pressure off of him.
Now that Freeman has a true No.1 wideout in Vincent Jackson, which he never had before, the fourth-year quarterback has no excuses for anything less than a top-15 QB performance.
By the way, Dan Orlovsky is a good guy to have around as a backup. Winning two games with the 2011 Indianapolis Colts is proof enough of that.
Grade: B-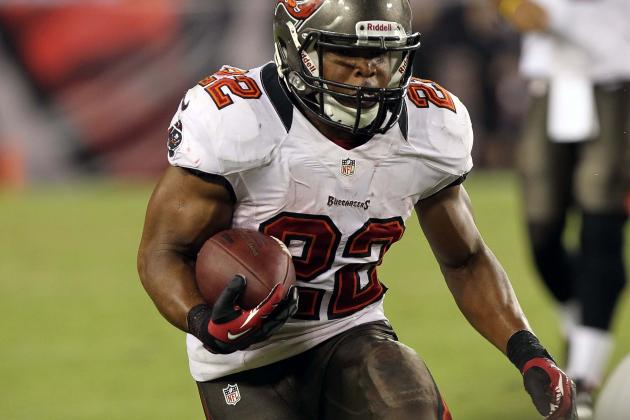 Kim Klement-US PRESSWIRE

Doug Martin
LeGarrette Blount
Michael Smith
DJ Ware
Erik Lorig
We've already mentioned Doug Martin a little in this article, but now its time to go more in depth with it. The Boise State product is brilliant in pass-protection, skilled as a receiver and is pretty good at running the rock too.
Those three things are all he'll ever have to do as a Buc.
LeGarrette Blount isn't as developed in the passing game, but can sure as hell run with the ball in his hands. He's one of the most powerful RBs in the league and can (almost) literally plow his way right through defenders. Rumor has it he'd like to play the "closer," the guy who relieves the starting running back (Martin) of his duties towards the end of the game.
You might not see Michael Smith getting too many carries, but you will see him a few kicks here or there. That's a good way to use a man who runs a 4.32-40.
DJ Ware was a roster-cut casualty, released after five years on the New York Giants. The Bucs signed him as a third-down option, which matches his skill set perfectly.
At fullback sits Erik Lorig. He can block and catch. That makes him a pretty good fullback.
Grade: A-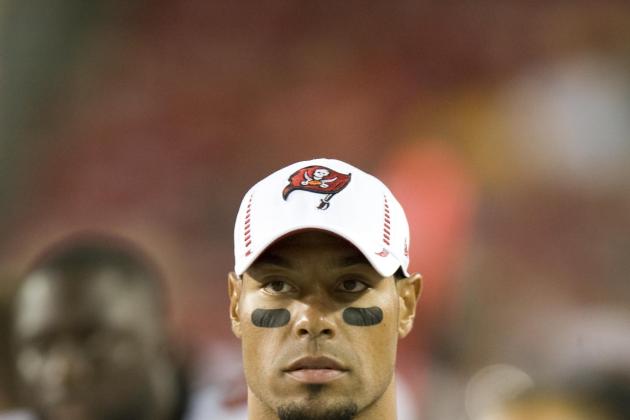 Jeff Griffith-US PRESSWIRE

Vincent Jackson
Mike Williams
Arrelious Benn
Preston Parker
Sammie Stroughter
Universally Accepted Fact: Vincent Jackson is a darn good wide receiver. Football Outsiders ranked him as the fourteenth-best WR of 2011. It should be said that under normal circumstances V-Jax would have been much higher, but Philip Rivers (his then-quarterback) was having a down year.
As for the rest of them, well, they're all right. Mike Williams has been Tampa's top receiver for two straight years, and should actually put up better numbers with Jackson around to draw the defense's focus off him.
Arrelious Benn has just returned to practices after an injury, so it may take some time for him to return to form.
Preston Parker played slot last year and did fairly well, but did not have a good preseason. But hey, it's just the preseason. The battle for slot receiver will be between him and Benn.
Sammie Stroughter is more of a special teams contributor, but if he can stay healthy, he'll see his on-field time increase.
This grade will increase if we see more out of the younger receivers than we did in 2011.
Grade: B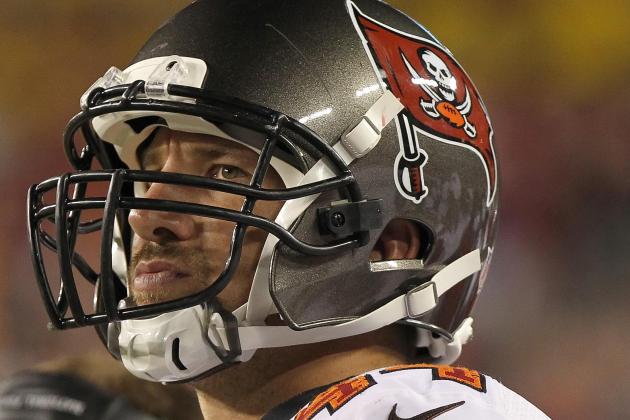 Kim Klement-US PRESSWIRE

Dallas Clark
Luke Stocker
Danny Noble
What a group.
At one end of the spectrum, we've got a nine-year vet who had spent all of his career up to this point with Peyton Manning, arguably the greatest quarterback of all time. He can't block, but golly can he catch the football.
At the other end, we've got an undrafted free agent from a school (Toledo) in the unimpressive Mid-American Conference.
And then there's Luke Stocker, a second-year player known more for his blocking than his receiving prowess.
The Bucs may lack an "every-down tight end," one who can block and receive with equal facility, but they've a balanced trio who can get the job done when it comes down to it.
Grade: C+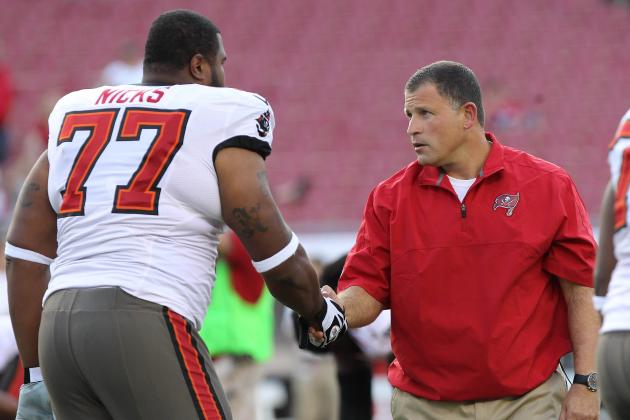 Kim Klement-US PRESSWIRE

Tackles
Donald Penn
Jeremy Trueblood
Demar Dotson
Jamon Meredith
Guards
Carl Nicks
Derek Hardman
Centers
Jeremy Zuttah
Ted Larsen
The Buccaneers have an offensive line that is very strong on the left side and the middle, featuring the best left guard in football, Carl Nicks, alongside a top-10 left tackle, Donald Penn. Center Jeremy Zuttah, an old Rutgers player, holds the middle down pretty well.
The right side of the line is dubious, though. Jeremy Trueblood plays as Penn's bookend, and he is a lightning rod for fans' ire, as he is one of the worst starting right tackles in all of football. The right guard position is currently a mystery, as there is no clear frontrunner in the competition to replace two-time Pro Bowler Davin Joseph. In case you haven't heard, Joseph's on Injured Reserve and therefore out for the season.
The depth too is suspect. As seen in the preseason games, the second-team offensive line cannot run-block for beans. Should any more starters be injured, this could be very, very bad for the Bucs.
If Joseph was healthy, the grade would be a B+, as the depth issues would be masked and the only problems would be with Trueblood.
But unfortunately, that's not the case.
Grade: B-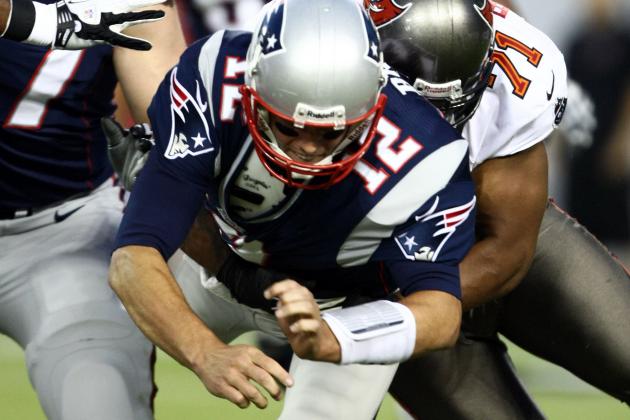 Douglas Jones-US PRESSWIRE

Tackles
Gerald McCoy
Roy Miller
Gary Gibson
Corvey Irvin

Ends
Michael Bennett
Adrian Clayborn
Wallace Gilberry
George Johnson
Daniel Te'O-Nesheim
While the offensive line is top-heavy, the defensive line isn't really heavy anywhere.
Sure, the Bucs have an emerging young DE in Adrian Clayborn who led the team in sacks as a rookie. And yes, they have Michael Bennett, one of the most underrated defensive ends in all football, who excels against both the run and the pass.
But they lack proven factors on the interior and depth all over.
Gerald McCoy has struggled with injuries for both of his two years in the league and therefore never lived up to his potential as an equal to Ndamaukong Suh, who was drafted only one spot above him (second and third overall in the 2010 draft, respectively).
Roy Miller is the other starting DT, and although he looked good in the preseason, he hasn't yet proved himself as an impact-player in the regular season.
As already stated, the depth is atrocious. I would go into specifics on the backgrounds of each of the backups, but these guys haven't played enough NFL football to even have specifics to go into.
Grade: C-
Jeff Griffith-US PRESSWIRE

Quincy Black (Starting Strong-side linebacker)
Lavonte David (Starting Weak-side linebacker)
Mason Foster (Starting Mid-linebacker)
Najee Goode
Adam Hayward
Dekoda Watson
The first thing that stands out about the linebacker corps is the youth. Of the six men, the average age is little over 25 years old and the median is 23.5 years.
This doesn't mean that it is a weak group, it's just inexperienced.
Veteran Quincy Black holds down the strong side and is efficient against the run. On the weak side, you'll find rookie Lavonte David, who is best at containing yardage and dropping back into coverage. He's a bit undersized at 233 pounds, and this effects his ability to shed blocks.
Mason Foster is the starting middle linebacker for the second year in a row. He also happens to be in his second year in the NFL.
The depth here is fairly strong. Adam Hayward played like a man on fire during the preseason, and could challenge Mason Foster for starts down the line.
Dekoda Watson is mostly a situational pass-rusher, but he could see time on rushing downs if he can translate more of his raw athleticism into actual results.
Last but not least is Najee Goode, a versatile rookie out of West Virginia.
There aren't any real studs here, but the talent is solid across the board.
Grade: B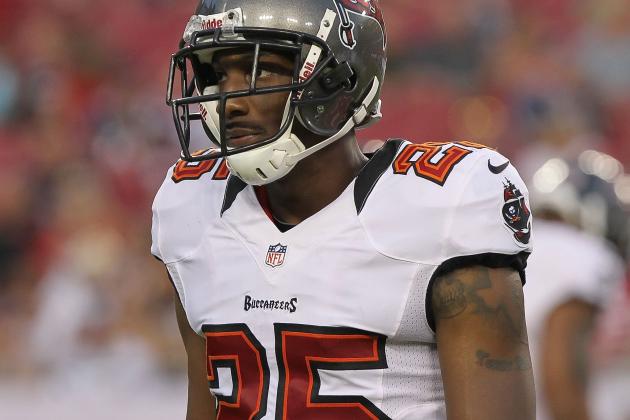 Kim Klement-US PRESSWIRE

Cornerbacks
Aqib Talib
Eric Wright
EJ Biggers
Myron Lewis
Leonard Johnson
Safeties
Mark Barron
Ahmad Black
Cody Grimm
Miscellaneously-Listed DBs
Ronde Barber
Keith Tandy
Anthony Gaitor
The Bucs currently carry a whopping 11 defensive backs on their roster.
That's a commitment to a solid pass defense, if you ask me.
The starting corners should be Aqib Talib and Eric Wright, who also happen to be the most experienced cornerbacks on the roster (we'll get to Ronde Barber later). Both have immense potential, but Talib may have better numbers in 2012 as he has been with the team for longer. Eric Wright will still produce at a high level, though. At least that's what the front office assumed when they offered him the big bucks during the offseason.
Surprising no one, the man the Bucs drafted seventh overall last April will be starting at strong safety. His name is Mark Barron, and he's a complete safety who may lack elite athleticism, but more than makes up for it with elite physicality.
Now for Ronde Barber. After 15 years of playing corner, Barber spent his offseason making the switch to free safety. Say what you will about the difficulty of switching positions at 37 years old, but Barber hasn't shown anything yet to make the coaching staff want to move him back.
Nickelback is rather hotly contested. Anthony Gaitor played it during the preseason, yet Myron Lewis or Leonard Johnson could make strong cases for themselves once the regular season finally begins.
As with the linebackers, the Bucs don't have any elite defensive backs, but rather a deep group of guys who can all play the position with some ability.
This grade could range anywhere from a "B-" to an "A-," depending on how Eric Wright and Mark Barron do in their first years in Tampa.
Grade: B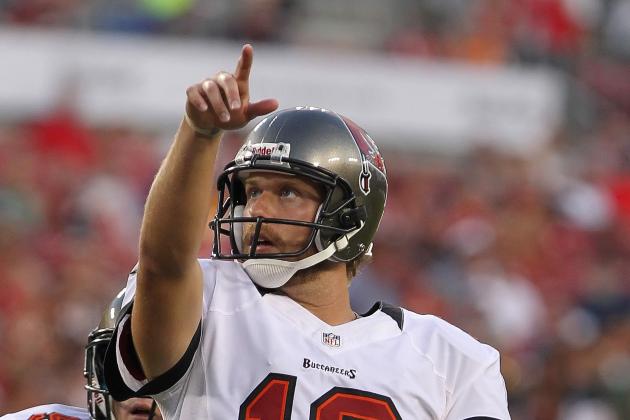 Kim Klement-US PRESSWIRE

Placekicker
Connor Barth
Punter
Michael Koenen
Long snapper
Andrew Economos
I would never draft a punter in the third round of the draft like the Jaguars did last April, but I would never underestimate the punter's importance to the football team either. We're talking about 10 yards of field position each kick, which may not sound like a lot, but really matters in the grand scheme of a game.
That is why I am glad the Bucs have a punter as good as Michael Koenen.
Connor Barth is a pretty good kicker, as he made 92.9 percent of his field goals last year.
And we seem to never hear Andrew Economos' name, which is a good sign for a long snapper.
Grade: A