Grading the Arizona Cardinals' Entire 53-Man Roster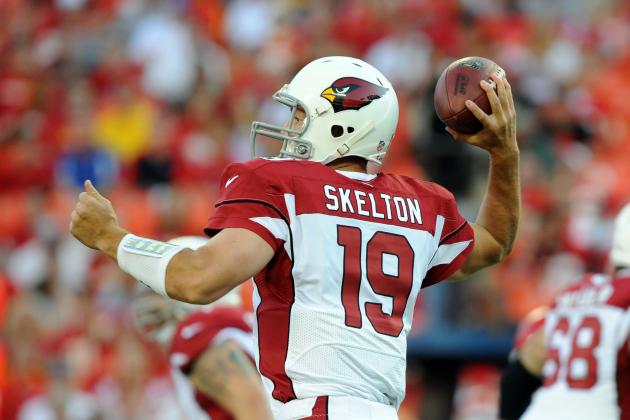 John Rieger-US PRESSWIRE
How have the grades changed since before camp?
With the 2012 regular season set to kick off, it is time to unveil initial grades for the entire Arizona Cardinals 53-man roster.
The Cardinals named John Skelton the starting quarterback one day after the final preseason game, released veteran outside linebacker Clark Haggans and kept undrafted rookie free-agent wide receiver LaRon Byrd as the No. 5 receiver.
Other changes have occurred since I graded every position before Cards Camp began; some were for the better, while others have fans scratching their heads in bewilderment.
How does that change the early-June grades? Proceed with the show to find out.
Begin Slideshow

»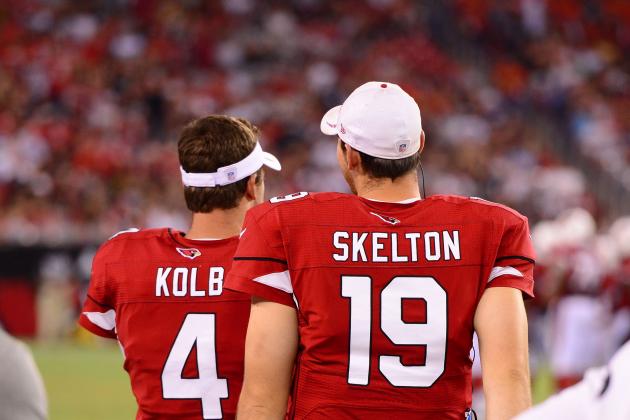 Mark J. Rebilas-US PRESSWIRE

Pre-Camp Grade: C
No more happy feet in the pocket. No more forced throws into triple coverage. No more mental mistakes…
This was my call to the Cardinals quarterbacks that now is the time for progress.
These three things were ever-apparent with Kevin Kolb throughout the preseason and were less obvious with Skelton.
Experts seem to believe Skelton won by default, or that he didn't win the job, that Kolb lost it. But what I saw from Skelton—and what he has always shown—was poise within the pocket, quick, decisive throws and improved short- to mid-yardage accuracy.
That is the reason coach Ken Whisenhunt appointed Skelton the starter over Kolb. According to Darren Urban of AZCardinals.com, Whisenhunt said there is no guarantee Kolb will not start for the team in the future, but that right now is what concerns him.
It's a production-oriented business. If you're not getting the job done, you're going to be replaced. Our expectation is that (Skelton) is going to get the job done.
Starting Skelton Week 1 against the Seattle Seahawks gives Arizona its best chance at victory. Though he is not by any stretch Tom Brady-like in his weekly performances, Skelton can do just enough to keep the team close.
The defense and run support will carry the Cards to victory most weeks. But fewer mistakes from the signal-caller will be important and Skelton can deliver.
Rookie Ryan Lindley takes over the emergency quarterback role, as Richard Bartel has been released.
Lindley shows potential to be a future starter, so he will (hopefully) sit for a couple years and learn how to be a professional.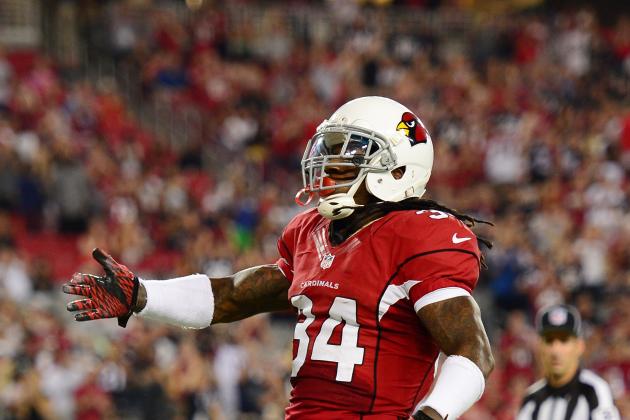 Mark J. Rebilas-US PRESSWIRE

Pre-Camp Grade: B
For now, Beanie Wells is the starter at running back. But if things keep going the way they did during the preseason, Ryan Williams may take over.
Williams carried the ball only eight times during two preseason games but looked great in doing so. He scored his first NFL touchdown while averaging 5.0 yards per carry, so it appears his knee is fully recovered after undergoing patellar tendon surgery as a rookie.
Wells—also recovered from a knee surgery—has never been an elusive back.
He has the speed to get to the edge and the power to be great in short-yardage situations, but unless he picks up where he left off last season, he may become the relief.
But that's not to say Wells will have earned a demotion. Williams has simply been that impressive.
The running back situation Arizona finds itself in is far better than the one the quarterbacks just resolved. Having too many good backs on the depth chart is a good problem to have, and finding them on the field at the same time this season may be a good way to improve the team's chances every week.
LaRod Stephens-Howling returns, though he battled an injury throughout the preseason and played in only two games.
William Powell was the talk of the preseason among Cardinals backups. He played so well and showed so much that he earned a spot on the 53-man roster. He may not get much playing time on offense, but names can be made elsewhere—like on special teams.
Anthony Sherman will be responsible for a lot of the backs' production this year. He is one of only a few true fullbacks left in the league, and much of Wells' and Williams' success will be because of the holes he opens.
Pre-Camp Grade: B+
Larry Fitzgerald is still here, as are Andre Roberts and Early Doucet.
But two rookie receivers don Cardinals uniforms this season, coming to the team in completely opposing fashion.
Michael Floyd is the team's most recent first-round pick, and he will be around for years.
LaRon Byrd is the team's most recent undrafted free-agent receiver to impress coaches into awarding him a roster spot, taking the place of the last one to do it, Stephen Williams.
Floyd showed why he was the franchise's top pick during the final preseason game, somehow stabbing a Lindley pass out of the air and corralling it for a touchdown. The catch was deemed the top play of the entire preseason by ESPN (the video is above).
Byrd needs to continue his impressive start into the regular season. The Cardinals have a sudden shortage of depth at receiver after cutting ties with the aforementioned Stephen Williams, as well as Isaiah Williams and DeMarco Sampson.
Isaiah Williams has been named to the Cardinals' practice squad, but the others are now free agents.
The team could still add a receiver, as they have carried at least six every season under Whisenhunt.
Going forward, there is a lot of potential out there for big production from all five receivers on the roster. The run-game will likely be featured more early on, but look for this group to come into its own as the season moves along.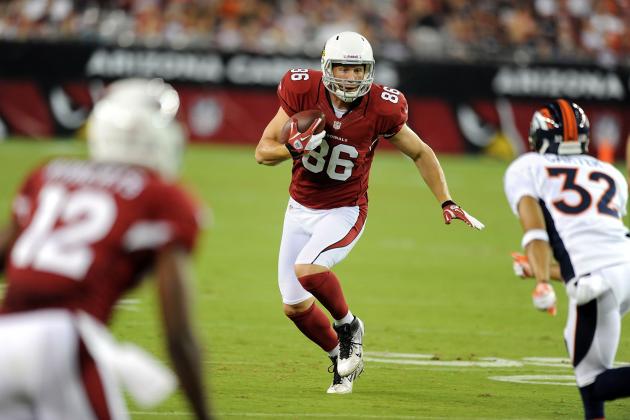 Norm Hall/Getty Images

Pre-Camp Grade: B-
There wasn't much production from the tight ends during camp and preseason.
Jeff King had surgery on a torn tendon in his quadriceps, Rob Housler missed time with a hamstring problem and Todd Heap fought a bout of the "dropsies."
But all did show some ability to get open at times, and all made a play or two during practice games.
King is listed as the starter on the most current depth chart, with Heap as the No. 2 and Housler as the No. 3. They kept Jim Dray as well, but he may be nothing more than insurance in the event one or more of the others succumbs to another injury.
The team is in dire need of a solid tight end option, as having one greatly expands what an offense can do any given week.
If Housler is healthy, he would be the most logical choice to become that guy. He is freakishly athletic for his size and would create a mismatch over the middle of the field.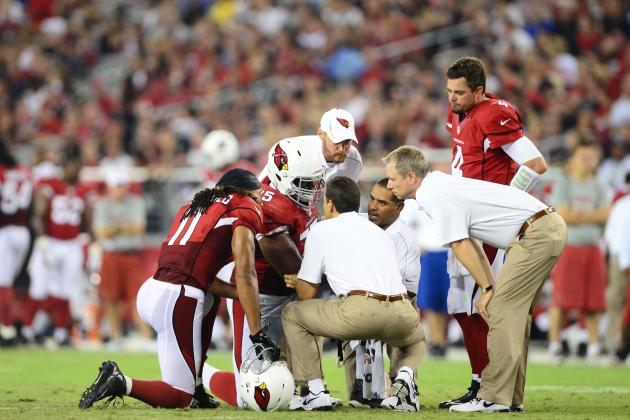 Mark J. Rebilas-US PRESSWIRE
Levi Brown is out for the season.
Pre-Camp Grade: C+
Getting rid of Levi Brown was all fans wanted to talk about during the offseason.
Now that he's out for the season with a torn triceps, all they want is to have him back.
D'Anthony Batiste will start Week 1 at left tackle, while rookie Nate Potter will serve as his backup. Batiste can be serviceable as the left tackle, but Whisenhunt made it known at last Friday's press conference that if he sees an opportunity to "improve our team," he is going to do it.
That can be taken to mean a number of things.
The way he likely means it is just how it sounds—they may look to add to the team through a waiver addition, free-agent acquisition or trade.
Because of Batiste starting in place of Brown, rookie Bobby Massie has been thrust into the starting rotation at right tackle. He has improved since his first days at rookie camp and OTAs, and he looks ready to play well.
There will be some rookie moments throughout the 2012 season that leave fans pulling out their hair, but Massie is poised to remain the starter—and he will, so long as he keeps hooligans out of the backfield better than saloon doors keep outlaws out of an Old West saloon.
Jeremy Bridges tweeted out that he will be placed on injured reserve and is lost for the season. He tore ligaments in his thumb, and that requires surgery.
Because of that, the Cardinals have signed 29-year-old veteran lineman Pat McQuistan, according to Jason LaCanfora. McQuistan will serve as a backup to Massie and can play everywhere but center on the line.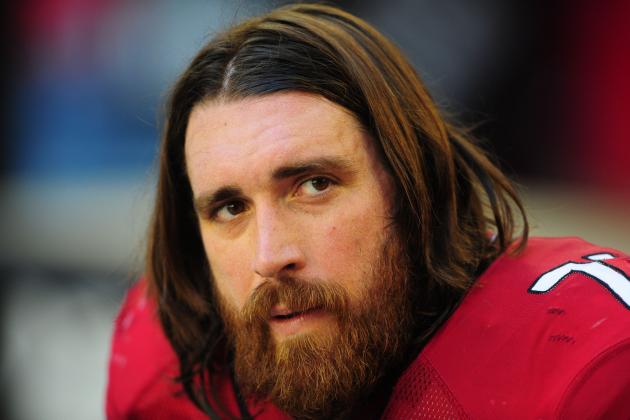 Mark J. Rebilas-US PRESSWIRE
Daryn Colledge will have to step his game up in 2012.
Pre-Camp Grade: B
Right guard Adam Snyder was the biggest free-agent splash the team made this offseason.
Formerly of the San Francisco 49ers, Snyder is a veteran with experience in playing all over the line and has a mean streak about him.
He has also struggled in his new Cardinal Red uniform.
It may take some time to get acquainted with his new teammates beside him; after all, there is a rookie starting to his right. But he will improve.
He struggles at times to protect the quarterback, but his run-blocking ability is sufficient enough to get the Cardinals by without fans calling for a change.
At left guard, Daryn Colledge has stepped up his game. He performed well throughout the preseason, and once September 9 gets here he will ramp it up even more.
Snydedge makes up two-thirds of the interior linemen positions, and they will be just fine by season's end.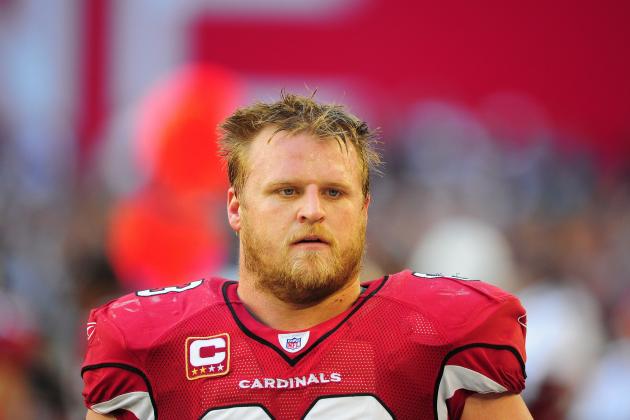 Mark J. Rebilas-US PRESSWIRE

Pre-Camp Grade: A
Six-year veteran Lyle Sendlein performed poorly this preseason.
He was routinely beaten by defensive linemen and turned into a pedestrian pass-blocker.
That is not how he has played throughout his career, and much of his struggles may be because of the new guy to his right.
The more cohesion an offensive line plays with, the better chance it has at protecting its ball-carriers—be it the running back or quarterback.
With moving parts all over the line so far this season, Sendlein may be compensating for mistakes being made around him.
If the right tackle (Batiste, Bridges, Massie) misses a block, the right guard (Snyder) would have to compensate. If the right guard makes a mistake, Sendlein would have to compensate. It is a ripple effect that no coach wants to see, but one that is part of the learning process with new players.
Mistakes happen.
Now, it remains to be seen whether this is a case of compensation or if the people around him are just not good football players.
We're hoping for the former, and that Sendlein will return to his usual bad self the deeper into the season Arizona gets.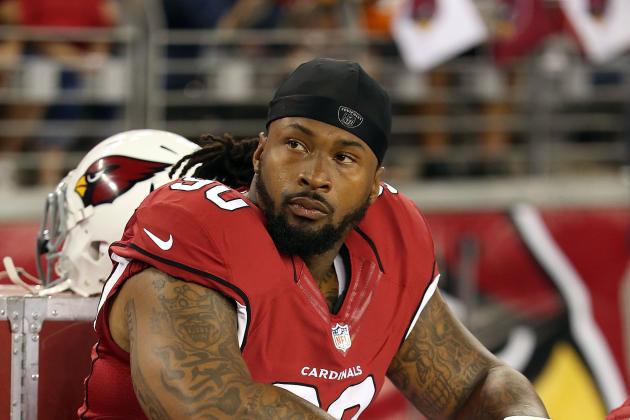 Christian Petersen/Getty Images

Pre-Camp Grade: A
With Calais Campbell signed through 2016, his focus now shifts to continuing the success he has had with the Cardinals.
Darnell Dockett is also ready to go.
Although Ray Horton's defense gets the majority of the pass rush from the outside linebackers, Campbell and Dockett will have their opportunities—the pressure can come from anywhere at any time.
Campbell recorded six tackles and one sack during the preseason in limited action. He looked in midseason form from the first snap of the Hall of Fame game—though some of his teammates struggled early.
Dockett struggled to learn the defense last year. He admittedly was not as receptive as others were, but this season, per AZCardinals.com, he is ready to unleash the beast.
I want to have a big year. I got put in a situation last year with a new defense and my name kind of died down. It wasn't because of me. But now I'm learning (the defense) and making the most of it, and I'm going to be a beast.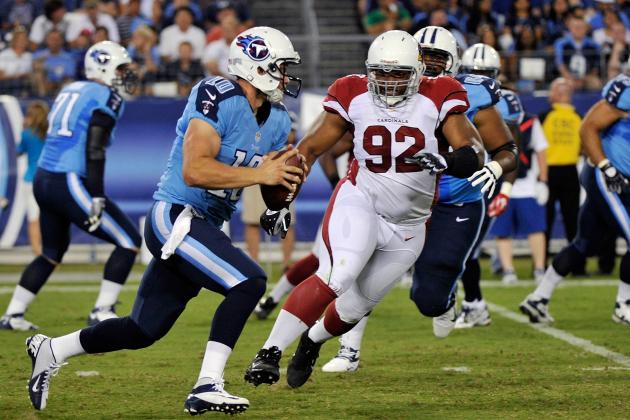 Frederick Breedon/Getty Images

Pre-Camp Grade: B-
Dan Williams is healthy this season.
He spent his offseason recovering from the broken arm that ended his 2011 season early, and for Williams, that meant losing weight.
He is as thin now as he has ever been with the Cardinals, at 314 pounds.
Having Williams in better shape gives Horton more possibilities with the pass rush, and a quicker nose tackle is never a bad thing to have. Adding weapons is the best way to improve the pass-rushing arsenal, and a slimmer Dumpster Dan can create more pressures and potentially help the defense create more turnovers.
Backup David Carter had a good preseason.
The second-year nose tackle is probably the better pass rusher of the two, but he has to get better at stopping the run. On a few occasions this preseason, Carter was pushed completely out of the picture while the opposing offense ran the ball.
Arizona ranked No. 21 against the run last season. This position has improved since that time, and the hope is that Williams and Carter can platoon to plug the holes up the middle, freeing linebackers to stop running backs.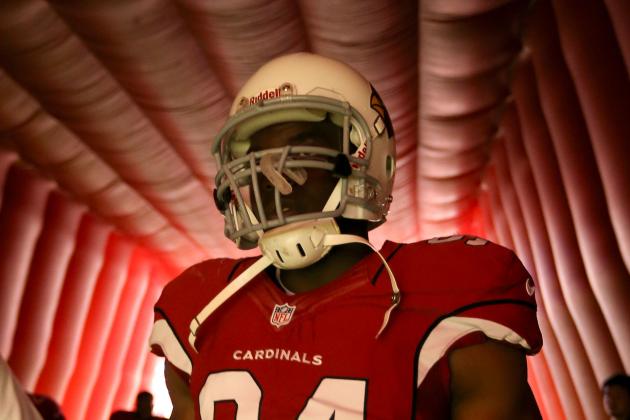 Christian Petersen/Getty Images

Pre-Camp Grade: B
If this were a "Lord of the Rings" movie, the outside linebackers would be Horton's precious.
Sam Acho and O'Brien Schofield will be the wreakers of havoc; the administrators of agony; the practitioners of pain.
They are all that is unholy to opposing offenses.
Acho was spectacular this preseason. Though he did not record a sack (there were very few called blitzes), he was in place to make a play more often than not and did not fail once.
He is as sure a tackler as there is on the team, and he is set for a huge season.
Schofield has been nursing a knee injury—the same knee on which he had surgery before Arizona drafted him. It must not be a problem, however, as his predecessor, Clark Haggans, was released last Friday.
That leaves Quentin Groves as one backup, and the recently-signed Jamaal Westerman as the other.
Having younger, more able-bodied veterans backing up Acho and Schofield seems like a good idea, but getting them up to speed on the defense quickly is paramount.
Acho recorded seven sacks as a rookie. That total is equivalent to the sum of Groves' and Westerman's career totals through seven combined seasons. While Groves believes he is perfect for Horton's defense, he has to prove it with his play on the field.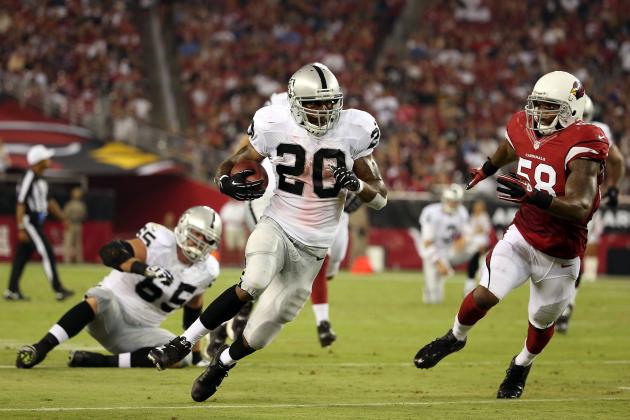 Christian Petersen/Getty Images

Pre-Camp Grade: A-
Originally, my thought was that Stewart Bradley was not a good fit for the Cardinals because of his history with the 4-3 defense and his struggles last season during his first year here.
Boy was I wrong.
But I can be happy with being wrong in this instance. Bradley came on this preseason like a man fighting for his life.
While no lives were at stake, it won him the backup role to veteran Paris Lenon, whose days are surely numbered. Lenon spent most of the practice games on the shelf with an ankle sprain, and in his relief, Bradley was great.
He provided Cardinals fans with hope for the future next to Daryl Washington where before there was only uncertainty.
I now have little doubt Bradley can play in a 3-4 defense and play it well, and if at some point this season he is forced into the starting lineup, fans should rest easy that he will do a standup job.
Washington is what he is, and that is the next great NFL inside linebacker.
Reggie Walker also impressed coaches into a spot on the 53. He played well, showing his prowess in the run-game while also being able to cover the middle of the field. He will backup Washington, but all that translates to is a special teams player.
Washington, barring injury, will play just about every defensive snap.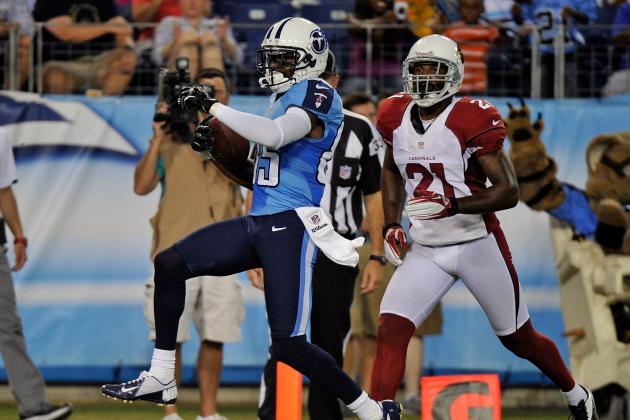 Frederick Breedon/Getty Images

Pre-Camp Grade: C+
A.J. Jefferson has been dealt to the Minnesota Vikings. The teams also swapped draft picks.
Patrick Peterson did not allow a catch until the fourth preseason game, when rookie Kendall Wright abused him a bit. He is ready to dominate.
Free-agent signee William Gay looked good, but he also looked new to the defense at times.
Gay's struggles should be of no worry for now, but if it continues into the season, rookie Jamell Fleming should get a shot to start.
Fleming played great all preseason long and, quite honestly, should be starting right now. But, we all know Whisenhunt and his apprehension about starting rookies. The only reason Peterson started Week 1 last year—and why Massie will start Week 1 this year—is due to injury.
There is one slight problem in the defensive backfield, though.
Greg Toler was supposed to be ready to return to form after ACL surgery last season, and he missed time because of knee soreness. That is not a good sign.
Running back Ryan Williams' knee injury was worse than Toler's was, and he looks as good as ever.
But with the trade of Jefferson, the team must feel Toler's knee is a non-issue. Hopefully, they are right.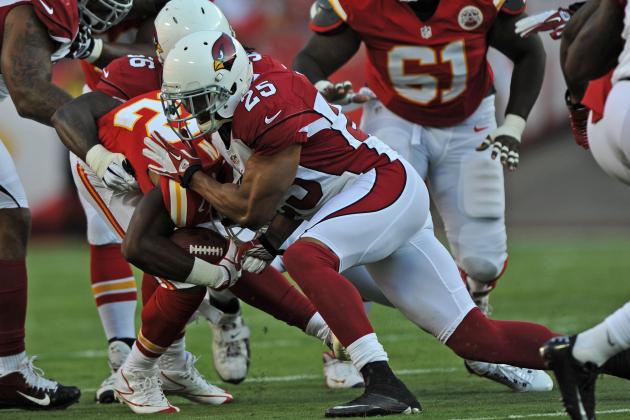 Peter Aiken/Getty Images

Pre-Camp Grade: A+
Adrian Wilson looks to be as hard a hitter as ever this season.
Kerry Rhodes is healthy after missing half of last season with a broken foot.
James Sanders and Rashad Johnson provide great depth behind Wilson and Rhodes, and rookie sensation Justin Bethel is there in case of an emergency. Bethel will likely play some corner this year as well.
Do not expect any emergency situation this season with either starting safety.
Wilson and Rhodes create the best safety tandem in the NFL, and they are ready to destruct anything that comes over the middle of Arizona's secondary.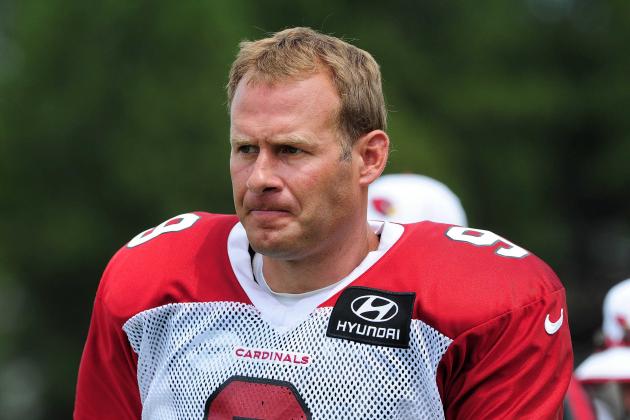 Jennifer Stewart-US PRESSWIRE

Pre-Camp Grade: C+
"Sorry, bro."
This is me apologizing to Cardinals punter Dave Zastudil.
This offseason, I called Zastudil a "mediocre punter," claimed he should have been replaced following the 2011 season in which he averaged 45.2 yards per punt and blamed him for Jay Feely's early-season struggles in the kicking game.
He must have been following my work.
Zastudil averaged a stellar 54.4 yards per punt this preseason, including an NFL Hall of Fame game record 79-yarder during the Hall of Fame game.
If he can bring that average into the regular season, the Cardinals would be in good shape. Having the ability to change field position for the defense increases the team's chances every week. The offense may sputter, but a good punter is just as important as a good defense.
Feely looked great all preseason until the final game, when he missed two kicks against the Denver Broncos, including a 40-yard clanger off the left upright.
He should be just fine, however.