Dallas Cowboys: 10 Reasons Cowboys Fans Have to Be Excited for 2012 Season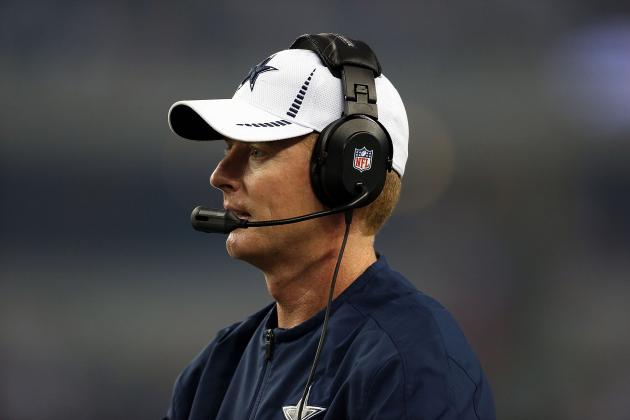 Ronald Martinez/Getty Images

It all begins on Wednesday night.
The Dallas Cowboys and the New York Giants will kick off the 2012 NFL season on Wednesday, September 5th at 8:30 p.m. (ET). You can catch the game on NBC.
For the Giants, it is the beginning of their attempt to win a second consecutive Super Bowl. For the Cowboys, it is another fresh start.
Another chance to see if they can shake the never-ending misfortune that has plagued them for the better part of the last decade. Another chance to see if their talent can turn out better than 8-8. Another chance to see if this franchise can return to the glory days of their past.
Excited yet? You should be. Here are 10 reasons why this Cowboys team will finally get it done in 2012.
Begin Slideshow

»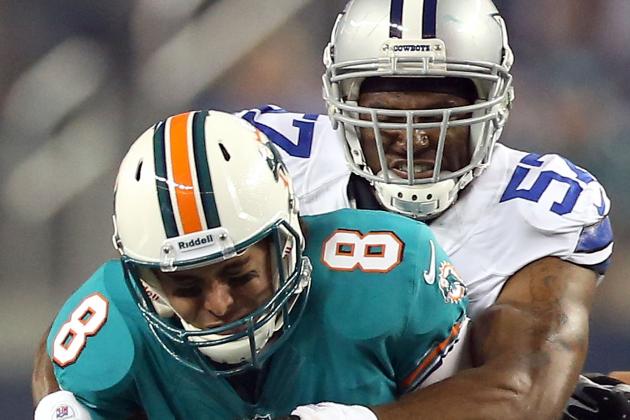 Ronald Martinez/Getty Images

History tells us that the preseason is meaningless. You know that the preseason is meaningless. I know that the preseason is meaningless.
But still.
The Cowboys looked pretty darn good.
The defense was clicking, Romo looked sharp (even without any receivers to speak of) and the 'Boys rumbled their way to a 3-1 record.
In any case, ending the preseason at 3-1 beats ending it at 1-3.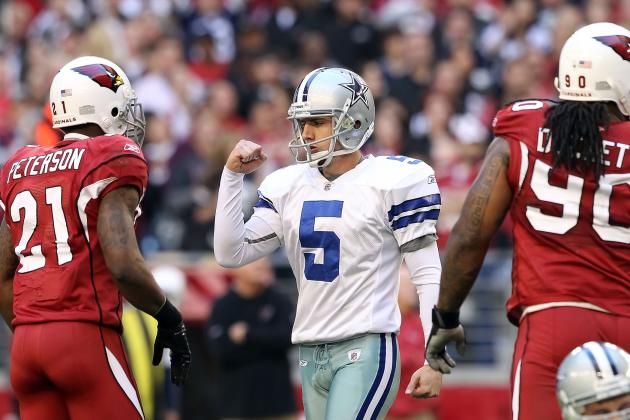 Christian Petersen/Getty Images

I like to call it the Curse of the Vanderjagt.
Remember him?
The Cowboys signed the most accurate kicker in NFL history to a contract worth over $7 million in 2006, only to watch him go a miserable 13-for-18 before he was released.
The Vanderjagt story is just a small taste of the Cowboys recent history at the kicker position (think Shaun Suisham, Billy Cundiff, Jose Cortez, Nick Folk, etc.). That list of kickers cost the Cowboys games, playoff appearances and even entire seasons. Blame it on the Vanderjagt signing.
But wait. What do we have here? A kicker who can kick field goals with accuracy? Is Dan Bailey finally the answer to the Cowboys' eternal kicking problems?
His standout rookie campaign has many people thinking yes. And for Cowboys fans, that's something to be excited about.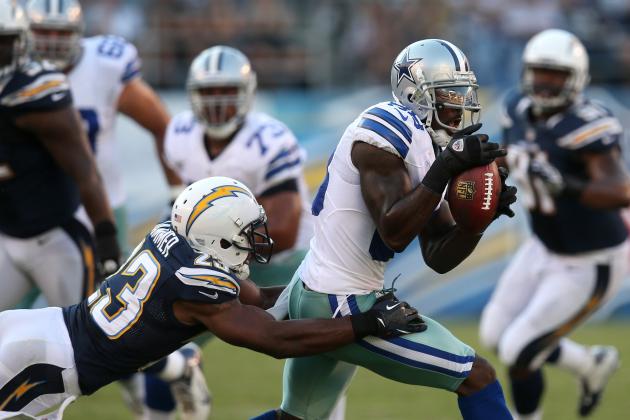 Stephen Dunn/Getty Images

The hype machine has followed Dez Bryant wherever he's gone, and the recent off-the-field restrictions that the Cowboys placed upon their star receiver have certainly garnered their share of media attention.
But here's the catch. However ridiculous they might seem, the regulations might actually work.
You see, Bryant has never lacked on-the-field talent; he's fallen short with his off-the-field conduct. If the Cowboys can manage to rein in his off-field festivities, then they could be looking at a monster force at wide receiver for the 2012 season.
Seemed to work for Josh Hamilton, didn't it?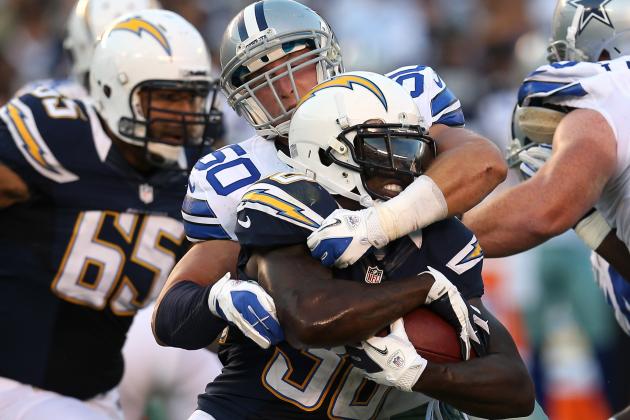 Stephen Dunn/Getty Images

There might not be a deeper position on the Cowboys team than linebacker. DeMarcus Ware is a relentless force (more on him later), Sean Lee is arguably the Cowboys' most consistent defensive performer and Bruce Carter has looked phenomenal in the preseason.
Not to mention, Anthony Spencer is returning from a solid 2011 campaign and playing for a big contract. Dan Connor brings a skill set to the table that mirrors his fellow Penn Stater, Lee.
That's right Cowboys fans, it's time to get excited for some big hits coming from this linebacking corps in 2012.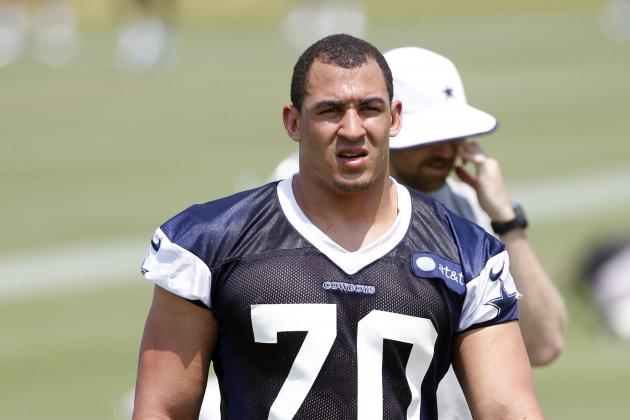 Layne Murdoch/Getty Images

In the 2012 NFL draft, everyone focused attention on the Cowboys' trade that landed them Morris Claiborne.
What could end up being the biggest steal of the draft, however, was their third-round pick of Boise State defensive end Tyrone Crawford.
Crawford has impressed in training camp, and he will see time as a situational pass-rusher right out of the gate. Last season, a big part of what the Cowboys missed on the defensive end was a viable pass-rusher to complement DeMarcus Ware.
Perhaps they found their man.
Stephen Dunn/Getty Images

For the vaunted defensive guru that Rob Ryan has a reputation of being, he sure doesn't have much to show for it.
Take last season, where the poor play of the Cowboys defense (especially in crunch time) was one of the biggest factors that caused the team to miss the playoffs.
Ryan blamed it on a lack of personnel. Well Mr. Ryan, with the moves the Cowboys made this offseason, personnel is no longer an issue.
Now it's time for Big Rob to put his money where his mouth has been.
What could be more exciting than watching him come through? Cowboys fans across the globe would give most anything for a shutdown defense.
And heck, even if he fails, that might turn out to be exciting to watch after all.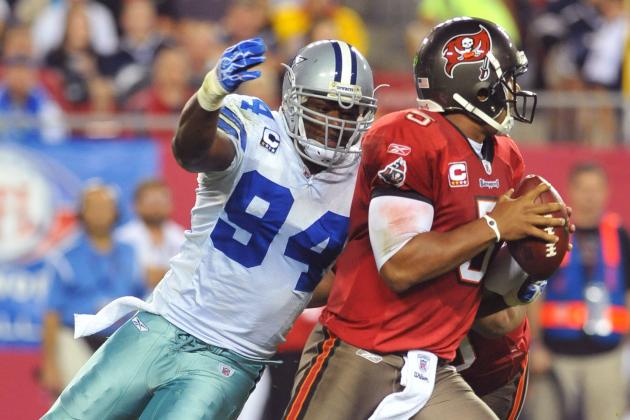 Al Messerschmidt/Getty Images

I promised you more on DeMarcus Ware, didn't I?
The 6'4", 260-pound monster from Troy registered 19.5 sacks last season, good for second in the league.
And he did it with virtually no pass defense backing him up.
That's the equivalent of Prince Fielder smacking 35 HRs and driving in 100 runs without the protection of Miguel Cabrera and the on-base skills of Austin Jackson.
Just ask Billy Butler what it feels like.
But now DeMarcus has found himself with a secondary. Better coverage downfield leads to less passing options for opposing quarterbacks, which means they'll be holding onto the ball just a bit longer each time. And guess what? A man from Troy now has even more time to rush the QB.
Take cover, Eli.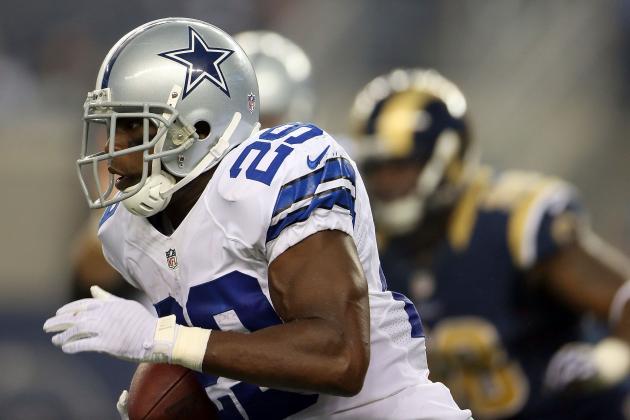 Ronald Martinez/Getty Images

DeMarco Murray is one of the league's most electrifying running backs. That's never been in question. What's been in question, however, has been his ability to stay healthy.
Much like his Sooner counterpart, Adrian Peterson, Murray flashes game-changing ability but has a a history of freak injuries.
And if teams are only counting on a freak injury to derail his season, then Cowboys fans have something to be excited about.
Just ask the Giants which offensive player worries them most heading into Wednesday's showdown.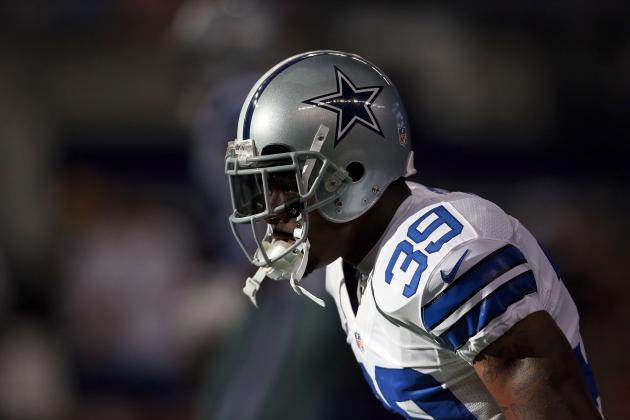 Ronald Martinez/Getty Images

The Cowboys needed help in the secondary heading into 2012, and that's what they got with the free-agent signing of Brandon Carr.
But don't take my word for it.
As reported by Tim MacMahon of ESPN, Rob Ryan called Brandon Carr "the best player in free agency, not even close."
Yeah, he's talking to you, Peyton.
So was Rob Ryan a bit carried away with his comments about Carr? Perhaps. But it sure will be exciting to find out.
Ronald Martinez/Getty Images

With the Cowboys faithful enduring so much turmoil at the QB position during the Pre-Romo Era (i.e. Chad Hutchinson, Quincy Carter, Vinny Testaverde, Drew Bledsoe, Drew Henson, etc.) it's easy to see why Tony Romo has been one of the most exciting players on the Cowboys' roster since his arrival.
When he's at peak performance, he's breathtaking to watch. And even when it all falls apart, he usually collapses in enthralling fashion.
Opposing fans say he's terrible, not good enough, anti-clutch, we've heard the list time and time again.
Maybe they're just scared of his potential.
You see, in terms of career passer rating, Tony Romo ranks second on the all-time list. Second, as in second place. Ever heard of Steve Young? Peyton Manning? Tom Brady? Joe Montana?
Yup. He's got them all beat.
So say what you want about Tony Romo, but his career to this point has simply been marked by being unlucky at inopportune times.
Look for that luck to turn around in 2012.
And that, my friends, will be exciting to watch.