Grading the Pittsburgh Steelers' Entire 53-Man Roster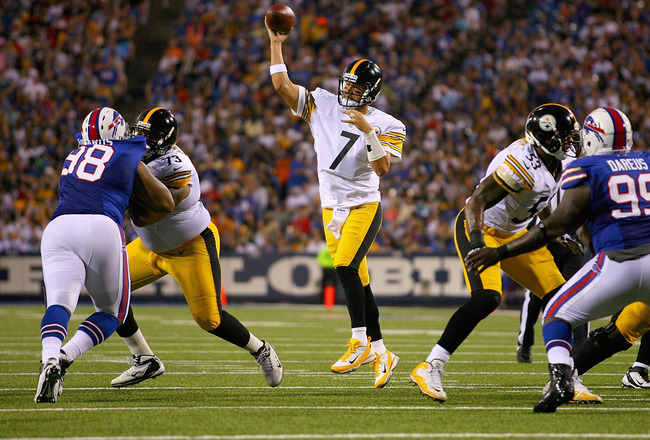 Rick Stewart/Getty Images
With the initial 53-man roster finally set, the Pittsburgh Steelers are now preparing to play Peyton Manning and the Denver Broncos on Sept. 9 in Sunday night action.
While the roster is likely to be modified over the coming days and weeks, we now have a good idea of exactly how this team will be put together and where the team is emphasizing depth.
Here's how the roster grades out position by position.
Quarterbacks: A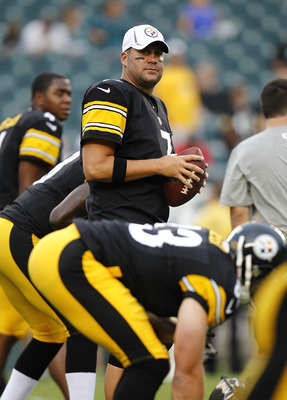 Jeff Zelevansky/Getty Images
Roethlisberger is one of the league's elite quarterbacks. He's among the best playmakers in the NFL and certainly will keep the Steelers on top if he can stay healthy.
Byron Leftwich
If Roethlisberger cannot stay healthy, however, Leftwich provides a good backup option with a strong arm and decent instincts. The drawbacks with him are a huge lack of mobility and some injury issues.
Charlie Batch
Batch is the Energizer Bunny of this team. He just keeps on ticking. He keeps coming back each year and beats the long odds to claim a roster spot. This year, he beat out young Jerrod Johnson. This will likely be his final season, but his value as a mentor and player-coach is very, very high.
Running Backs/Fullbacks: A+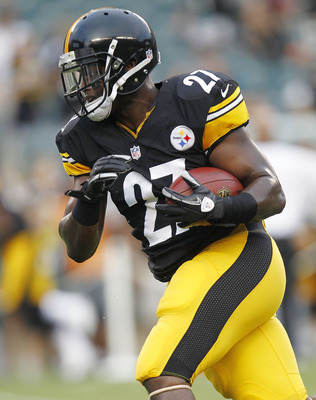 Jeff Zelevansky/Getty Images
Isaac Redman
Redman, while banged up, proved himself to be more than capable as a starting running back. He should have no trouble succeeding in Pittsburgh's scheme. The Steelers will need Redman to lead the group—at least for a while.
Jonathan Dwyer
Redman isn't safe, however. Dwyer is pushing him, and might even take the starting job away if Redman's health fails or if he struggles. Of all the running backs to suit up for the Steelers this preseason, Dwyer was the most impressive and most consistent.
Baron Batch
Batch will slot in on third downs, and has value as a backfield receiver and change-of-pace back. He is going to have trouble getting a ton of carries in this group, however, because of the number of talented backs.
Chris Rainey
One of those backs is Rainey, who had a very impressive preseason. He will serve as the team's primary returner. He will gain a lot of his offensive yards on screen passes, something he seems to really have a knack for.
Rashard Mendenhall (Injured)
Mendenhall is still recovering from a leg injury he sustained last year, and hasn't participated in game action yet. He is going to return to a very different, and very crowded, backfield. I wouldn't be surprised if he becomes a trade candidate once he proves his health.
Will Johnson (FB)
Johnson came into camp as a long shot, but he emerged from it as a great lead blocker and valuable back that can even do a little bit of running and receiving. He has the chance to become very good in this system.
Wide Receivers: B+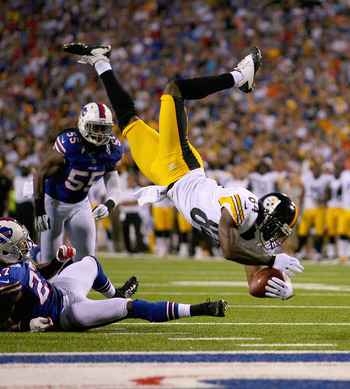 Rick Stewart/Getty Images
Mike Wallace
Wallace may take a game or two to really work himself into the offense, but once he is completely on track with the new system, he will be among the most dangerous guys in the NFL. His speed will stretch the field and help open up the running game.
Antonio Brown
Wallace's presence doesn't seem to be as big an issue as some thought, mainly because Brown has proven to be a very good and very versatile receiver. He can run any route and makes tough catches with ease. He's the team's best receiver overall.
Emmanuel Sanders
Sanders had a healthy preseason and looks to be ready for a breakout season working out of the slot. He could easily eclipse 1,000 yards if the team passes a lot. He should be an integral part of things on the offensive end.
Jerricho Cotchery
Cotchery isn't your typical fourth receiver. He will play a big role as a possession guy and will do a lot of work in the red zone. He'll get some snaps in the slot, as well as on the outside in certain situations.
Tight Ends: B-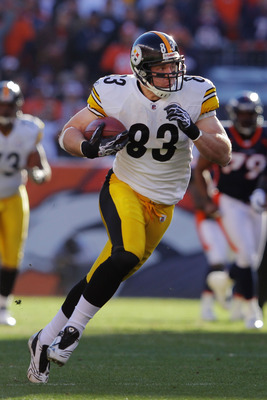 Doug Pensinger/Getty Images
Heath Miller
Miller had a quiet preseason, but he will be an important part of the offense. Todd Haley likes to use his tight ends for receiving, and Miller has a long track record of success working in the red zone. He's quietly one of the best in the NFL at his position.
Leonard Pope
Pope came over from the Chiefs (Haley's former team), and has done a great job so far. He's become a valuable third tight end, but will get a lot more opportunities in the first four games while Weslye Saunders is serving a suspension.
David Paulson
Paulson has made the team for now, but could be gone once Saunders is back. He was mildly impressive in the preseason and his blocking has improved, but he's not there yet. He will still need some time to get acclimated to NFL-style action.
Weslye Saunders (Suspended)
Saunders is a big, athletic tight end that is a good blocker and an even better receiver. He will be out for the first four games, but should come back as the number two guy, and be a trusted part of the red-zone schemes.
Offensive Tackles: B-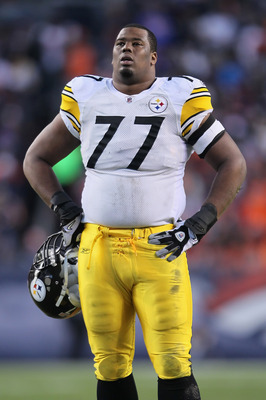 Jeff Gross/Getty Images
Max Starks
Starks, like Charlie Batch, just keeps coming back. He'll slot back in at left tackle while the team prepares to get Mike Adams ready for prime time. He's solid and seems fully recovered from a knee injury he suffered late last year. He just needs to get comfortable in the new offense.
Marcus Gilbert
Gilbert has really grown into a solid tackle. He is probably the team's best lineman after Center Maurkice Pouncey, and has the potential to have a Pro-Bowl season this year. He should take another step forward in his second season.
Mike Adams
Adams was originally slated to start at left tackle, but an injury forced him to miss time. He should still be there by the time 2012 wraps up, but for now he will get a little more time to learn and develop behind Starks.
Offensive Guards: B+
Streeter Lecka/Getty Images
Willie Colon
Colon seems to have experienced a rebirth at left guard. He never fit very well as a tackle, but as a guard he's been a beast. He should help solidify the rushing attack with good blocking and will help as the team breaks in some new guys.
Ramon Foster
Foster will step in for at least part of the season at right guard while David DeCastro recovers from a nasty knee injury that occurred during Week 3 of the preseason in Buffalo. Foster is a solid player and should continue to be a good pass and run blocker.
Doug Legursky
Legursky also serves as the team's top reserve at center. He is adept at playing multiple spots along the offensive line. Guard seems to be his best spot, but he might end up playing a different role if someone else goes down.
Kelvin Beachum
I'm surprised Beachum made the roster, but he will likely only be around until DeCastro is healthy. He wasn't impressive at all during the preseason and made too many mistakes. He needs to show improvement fast.
David DeCastro (Injured)
DeCastro grew a lot during the preseason and looked set to start at right guard. He'll have to work his way back from a knee injury, but should be in the starting lineup once he's healthy again.
Centers: A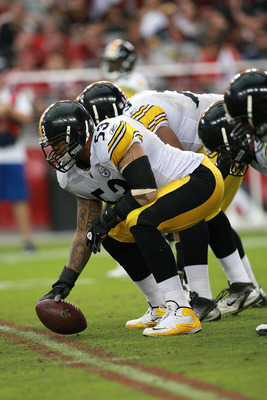 Karl Walter/Getty Images
Maurkice Pouncey
The Steelers are only going to carry one true center. Part of the reason is that Pouncey is a very good player who's had two Pro Bowl seasons in two years in the NFL. The other part is the sheer number of versatile linemen who can step in if needed.
Defensive Ends: A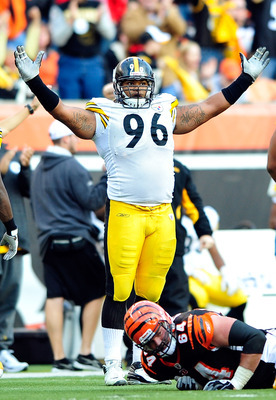 Grant Halverson/Getty Images
Ziggy Hood
Hood has proven to be a very good 3-4 end that has some big play potential. That hasn't been common at the position for Pittsburgh in the recent past. If he can keep growing into the role, he can be a huge part of this defense's growth.
Brett Keisel
Keisel is a top talent that gets very little national attention beyond his trademark facial hair. He makes plays and doesn't make mistakes—this helps open up holes for the team's blitzing linebackers.
Cameron Heyward
If either of the starters go down, the Steelers should have no trouble replacing them with Heyward. He's a big, athletic end that can make plays and create mistakes for an offense. He could start if there was a spot available.
Al Woods
Woods came in and turned in an excellent preseason. He was able to make big plays and showed that he can certainly be successful if needed. Right now, he'll get time to develop even more.
Defensive Tackles: B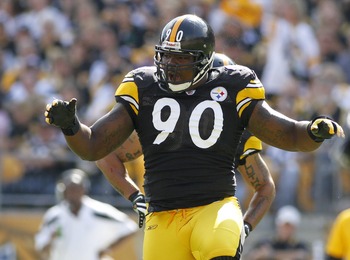 Justin K. Aller/Getty Images
Casey Hampton
Hampton is healthy and looked like he was in great shape when he finally got to play during the final preseason game. He should be able to contribute, although I think the team would be better going younger at the starting tackle position.
Steve McLendon
McLendon had a beast of a preseason, in which he showed that he can bring an entirely different style of play to the nose tackle spot. He makes big plays and shows a great ability to penetrate the line.
Alameda Ta'amu
Ta'amu has soaked up the knowledge of Hampton and McLendon, as well as the advice of the coaching staff, but he still needs time to develop. He has plenty of upside, and could give a decent contribution right now, but he should get a year on the bench to learn.
Outside Linebackers: B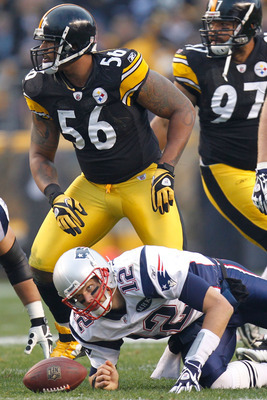 Gregory Shamus/Getty Images
James Harrison
Harrison may or may not be ready for the opener, but once healthy, he should hopefully be able to stay on the field through the season. The Steelers need their feared linebacker healthy or they risk exposing some depth issues.
LaMarr Woodley
Woodley looked very good during the preseason and seems to be ready for a Pro Bowl campaign. He is out to prove that last season, when he was injured most of the time, was a fluke, and that he is still a player to be reckoned with in the NFL.
Jason Worilds
Worilds is still considered the top backup on the outside, but that may not hold for long if he can't prove that he's capable of staying healthy for a full season. He's good when he can get on the field, but the injuries have been continuous.
Chris Carter
Carter played at Harrison's spot for most of the preseason, but he was only slightly impressive. He seems to be a little overmatched at the NFL level, and doesn't bring the same ability to the position that Harrison does. If he needs to start for an extended period, the team is in trouble.
Adrian Robinson
Robinson, if he continues to build on an impressive preseason, could end up becoming the top backup at the outside position. He has really come on strong and made a place for himself.
Inside Linebackers: C+
Jared Wickerham/Getty Images
Lawrence Timmons
Timmons had a daunting task in 2011 because he had to cover for so many injuries. Now he should be able to continue to blossom on the inside. He had a good season last year considering all of the moves. Now he might be able to finally breakout.
Larry Foote
Foote returns to a starting role after spending several years as a backup. He looks stronger, faster and in the best shape of his career. If he can have a successful season, it will help ease the loss of Sean Spence.
Brandon Robinson
Robinson made the team because the Steelers need bodies at the position until Stevenson Sylvester, James Harrison and Jason Worilds return to health. He may not stick. The job of proving himself is certainly not done yet.
Stevenson Sylvester (Injured)
Sylvester's injury is bad news for him. He's struggled to continue to impress coaches after an initially impressive start to his career. He's on the fringes now, and probably benefitted from the injuries at linebacker. He will need to come back strong to get playing time.
Cornerbacks: B+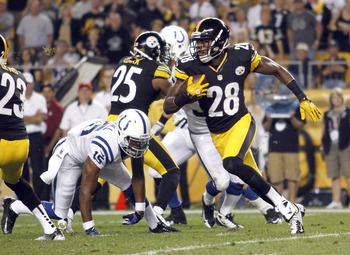 Justin K. Aller/Getty Images
Ike Taylor
Taylor is one of the best coverage corners in the NFL. He plays against every team's top receivers, and does the job without many mistakes. He looks to be a little bit better instinctually this year, and has also improved his hands. That's a scary thought.
Keenan Lewis
Lewis will likely get first crack at starting opposite Taylor, but his hold on the job is tenuous until he proves that his coverage skills are solid. He has the big play skill, but he needs to keep improving his consistency.
Cortez Allen
Allen will push Lewis every step of the way. He gives the Steelers an excellent option in the nickel. He had the most impressive preseason out of the corners, and has planted himself firmly in the team's future plans.
Curtis Brown
Brown seemed to take only a tiny step forward this year, but he has a chance to see some playing time since the team only kept four corners. Brown has tantalizing ability, but he needs to drastically improve his consistency.
Safeties: A-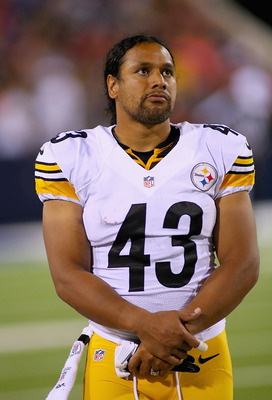 Rick Stewart/Getty Images
The league's best strong safety looks healthy and strong this preseason. He seems poised for yet another signature campaign. The only question with him is whether or not he can avoid the injury bug once again.
Ryan Clark
Clark is a heavy hitter who continues to perfectly complement Polamalu. While he won't play the season opener, he will certainly be a huge part of this season's success. Clark should get more national attention for his play.
Ryan Mundy
Mundy is a solid backup that can step in for Clark when needed. He doesn't do many flashy things, but he plays a mistake-free game and isn't a huge liability in coverage. He doesn't have a ton of potential, but he knows the system and operates well in it.
Will Allen
Allen is mostly a special teams guy that can step in at safety if absolutely necessary. His roster spot is more and more tenuous, especially as the team looks to get younger on defense.
Robert Golden
Golden's excellent preseason has put Allen on notice and pushed Damon Cromartie-Smith off the roster once again. Golden should be able to contribute on special teams and may get some looks on defense by year's end.
Specialists: A-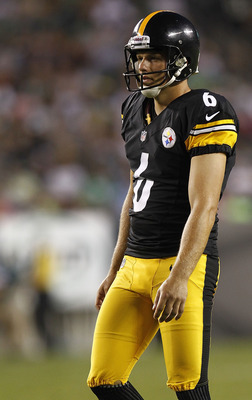 Jeff Zelevansky/Getty Images
Shaun Suisham (K)
Suisham looked much stronger this preseason. He seems to have improved his leg strength and accuracy to some degree. The Steelers were comfortable letting the impressive Daniel Hrapmann go, so the bet is that Suisham can stick for at least another year.
Drew Butler (P)
Butler beat out the injured Jeremy Kapinos for the punting job, and put up impressive numbers during the preseason. His placement abilities continue to impress and improve, and his leg is very, very strong.
Greg Warren (LS)
Warren is as steady as they come as a long snapper and has put his old health issues in the past with a couple of clean seasons. He's back again and should continue to be a good player with no real issues.
Keep Reading

Pittsburgh Steelers: Like this team?