Grading the Dallas Cowboys' Entire 53-Man Roster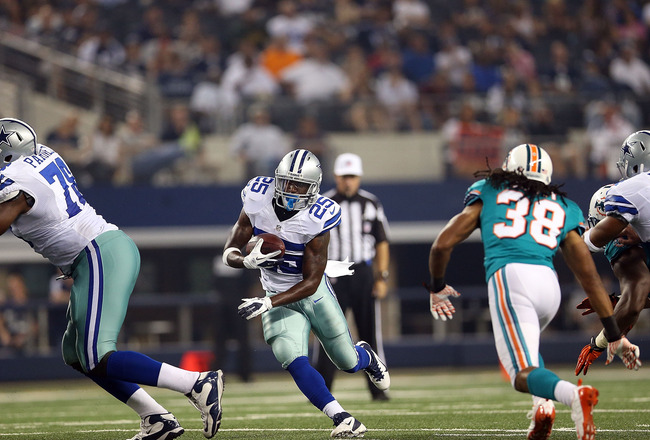 Ronald Martinez/Getty Images
The Cowboys roster is set and ready to ride on Wednesday night against the New York Giants. The stalwarts are still there such as Marcus Spears, Mike Jenkins and Kevin Ogletree.
But is that a good thing for the team moving forward? Spears was in danger of losing his job when training camp first started, and I did not think that Ogletree would make it through camp.
As Dallas travels up to New York to take on the Giants, here are my grades for the Cowboys roster.
Quarterbacks: A+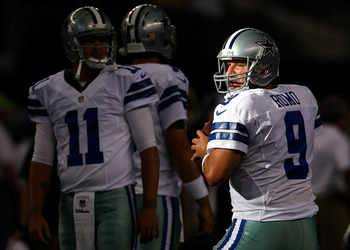 Ronald Martinez/Getty Images
Kyle Orton
So besides Romo, why would the entire roster of just two quarterbacks receive a grade of A+?
Orton can start for the majority of NFL teams and has proved himself time and time again to be a competent NFL quarterback.
He led the Bears and the Broncos to success, and if Romo goes down with an injury, fans should have faith in knowing that Orton can take over the offense without missing a step.
Romo threw 31 touchdowns last season and will have the same weapons he did in 2011. Ogletree seems more confident, Bryant has grown and hopefully will show in the second half of ball games this season and let's hope that Austin is healthy.
Tight end James Hanna is there and has a lot of room to grow.
Dallas is set at the quarterback position because of Romo. Orton provides a new level of stability that the Cowboys haven't seen in awhile.
Running Backs: B-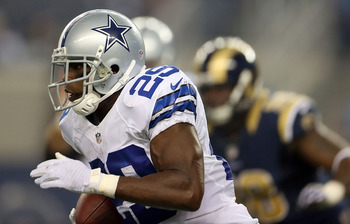 Ronald Martinez/Getty Images
DeMarco Murray
Felix Jones
Phillip Tanner
The expectations of Murray are through the roof right now. His rookie season bested what many thought of what he was capable doing.
The injury is another story.
Murray has an injury history that scared a few teams away from drafting him. Dallas saw what those teams were afraid of when he fractured his ankle.
His 2012 should be good, and hopefully, he can remain injury-free.
This is a make-or-break season for Felix Jones. He is in the last season of his contract, and he has to prove with this performance this year that he's worth another year in 2013.
Jones is one of the more talented backs in the league, but he can't seem to stay healthy. Now, I will give a lot of credit to Jones, as he stepped up when Murray went down with his injury.
He is in the same boat as Murray, as both backs may struggle with durability. Jones has been in Dallas longer, and if he goes down with yet another injury or cannot finish the season due to durability issues, I do not expect him back in Dallas.
Phillip Tanner is an up-and-coming running back who showed his mettle last season when both backs were injured.
Tanner also played well in training camp and preseason.
He may have an opportunity for more playing time in 2012 if Jones and Murray can't finish or misses a few games.
If not, I still expect Tanner to have more of a showing this season.
He's talented and just adds great depth to the Cowboys' stable of running backs.

Wide Receivers: B-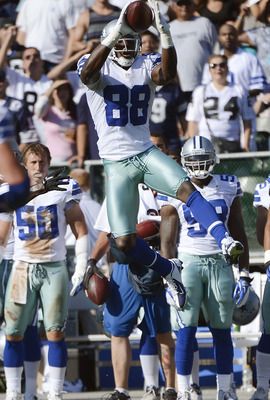 Thearon W. Henderson/Getty Images
Dez Bryant
Miles Austin
Kevin Ogletree
Cole Beasley
Andre Holmes
Dwayne Harris
This group of receivers has a lot of potential. Let's remove Austin and Bryant from the equation for a moment and analyze what Dallas is working with down the depth chart.
Kevin Ogletree would be the "elder statesman" amongst the group, as he would have the most experience.
To my surprise, Ogletree has looked good this preseason. Maybe he felt the pressure of the army of young receivers out to take his job. There was chatter, a lot of it from me, that Ogletree wouldn't make it through the preseason and that he would end up on another team.
But he stepped his game up and showed and proved.
Cole Beasley isn't the right Cole. I really thought that it would be Danny Coale to make the final roster, as he was the fifth-round pick, had the talent and seemed ready to make some noise.
But injuries forced Coale off the practice field, and ultimately off the team.
Beasley signed as a free agent after going undrafted in April. He is only 5'8", but he has a lot of quickness and shows a tremendous amount of burst.
He's even challenging Ogletree for the slot position against the Giants. That is how much the team thinks of the young Beasley.
Dwayne Harris was picked out of Eastern Carolina last year and has grown by leaps since then. His game against the Rams was almost a coming-out party for the young Harris.
He had a long 61-yard touchdown catch and a 38-yard scamper for a touchdown where he made the Rams secondary look silly.
Andre Holmes showed out against the Raiders in the first preseason game of the year and kind of tailed off after that.
But team owner Jerry Jones likes Holmes' size and what he may bring to the table. He stands at 6'4", and Dallas hopes to use him as the Giants did with Plaxico Burress a few seasons ago.
On to Austin and Bryant. The challenges for these guys will be injuries and consistency. Austin is struggling through hamstring injuries, and Bryant needs to show that he can get open and catch passes when the game turns to the third and fourth quarter.
Austin has been close to a bust since signing that contract, and this is the year that he will have to prove that he was worth the dollars.
Tight Ends: B+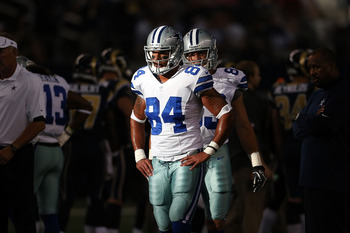 Ronald Martinez/Getty Images
Jason Witten
John Phillips
James Hanna
Witten's spleen is still healing, and he has not been cleared to return to the field.
Look for Phillips and Hanna to play a large role in the Cowboys game against the Giants on Wednesday if Witten isn't cleared.
As far as Witten goes, he is about as consistent and stable as they come. He has only missed one NFL game in his career, and that was due to a broken jaw during his rookie season.
My fear with Witten is just that; he has only missed one game during his career. Eventually, the injuries that he has played through would catch up with him, or he would fall victim to something like a spleen injury.
Rarely do we find NFL players who last as long as Witten with no significant injuries.
Hopefully, this isn't a slow decline or a sign of things to come for him.
In regards to Hanna and Phillips, these two young players have something to prove.
I believe that the Cowboys are sitting on two very good tight ends in Phillips and Hanna, with Hanna being the man to eventually succeed Witten.
Phillips should be back to 100 percent after tearing his ACL in 2010. This is his chance to display why the Cowboys had enough faith in him to let Martellus Bennett leave.
James Hanna is the more versatile of the two, as he can split out as a receiver and run with the best cornerbacks in the league.
Hanna is only a rookie and has room to grow.
I believe that the Cowboys have one of the best tight end groups in the league just based off of Witten leading the group and what I've seen from Phillips and Hanna.

Offensive Line: D+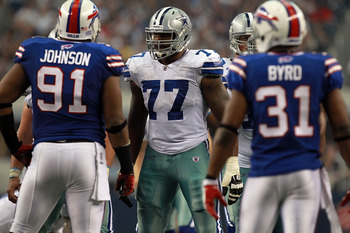 Ronald Martinez/Getty Images
Tyron Smith
Nate Livings
Phil Costa
Mackenzy Bernadeau
Doug Free
Ryan Cook
Jermey Parnell
Derrick Dockery
David Arkin
They were close to receiving an F. The inconsistency amongst this group is troubling.
Tackle Doug Free hasn't been the same since he received a $32 million deal. The team thought that by moving him to the right side, his game would return to its 2010 form.
There is a wait-and-see approach with Free, as we haven't received a full set of what he can do on the right side.
Tyron Smith is in his second year, and I don't believe that we will see a sophomore slump with him. If we do, Dallas is in serious trouble.
He's strong, athletic, has great footwork and a great football I.Q.
Nate Livings and Mackenzy Bernadeau are new starters to the offensive line. Both players will play the guard position and will have a short window to prove that they can hold down starting positions for the Cowboys.
Because both players are new to the front, they will have to gel quickly. Figuring out the nuances of Romo's game, how Murray and Jones like to hit the hole and where these players will be on the field is very important.
That type of experience only comes with time, and if they are able to pick it up quickly, then it is better for the team.
Dallas traded for center Ryan Cook a few days ago to add strength and depth to the center position.
Phil Costa will be the starter to start the season, but if he has the same problems as he did a year ago, I'll expect for him to replaced quickly if Cook can pick up the playbook fast enough.
Guard David Arkin got his turn at center due to Costa's injury, and it did not turn out that well. In fact, Arkin seemed to regress even at the guard position.
Against the Dolphins' second and third units, Arkin was blown off the ball two straight plays.
Derrick Dockery was signed in early August, and we may see a lot of him soon. He is a veteran, and this is his second go-round with the Cowboys.
Dockery has 10 years in the league, and his veteran presence should hopefully provide consistency.
Jermey Parnell is a young player who still seems to be adjusting. I don't see Parnell as an eventual starter, but more of a depth player. That is what he is in Dallas, and will be for the foreseeable future.
Defensive Line: C+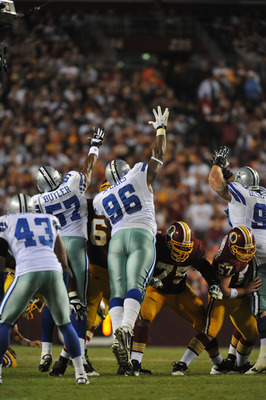 Larry French/Getty Images
Kenyon Coleman
Jay Ratliff
Marcus Spears
Sean Lissemore
Jason Hatcher
Tyrone Crawford
Josh Brent
I actually like the defensive line. Jay Ratliff is injured, and we may see Josh Brent start against the Giants because of Ratliff's ankle injury.
Ratliff is a Pro Bowl nose tackle who can either take control of the line of scrimmage or get swallowed up by it.
He is undersized, but can get off against some of the league's best centers.
Josh Brent is bigger, but doesn't have as much skill or technique. The Cowboys will play him differently, as Ratliff is quicker and lighter.
There is upside to Brent, as he will not be overpowered by bigger centers and can provide more of a plug to the middle of the line.
Lissemore may be the player who always has a lot of potential that we never see develop. The team is very high on his ability, but we haven't seen that turn into success on the playing field.
Crawford is the rookie amongst the bunch who has a lot of growing to do. I saw him either run up the field or try to use his speed and quickness to beat tackles off the ball.
He will need to add a few more moves to his repertoire to become a well-rounded end.
Marcus Spears stepped his game up in the preseason, as the team was thinking about releasing him. He will remain with the Cowboys and will have to keep his level of play up throughout 2012.
Kenyon Coleman was in the same boat as Spears. At one point, these two were fighting for a roster position. Now, Coleman and Spears will fight for time on the field.
Jason Hatcher started 10 games last season and should pick up where he left off last season.
What is key to remember about this group of players is that we will probably not see anyone with a basket full of sacks and tackles. Spears is key to the team's rush defense, but each player on the field will have to work harder and putting pressure on the quarterback.
Inside Linebackers: B+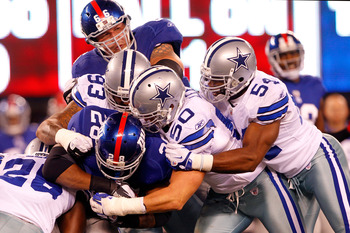 Rich Schultz/Getty Images
Sean Lee
Bruce Carter
Dan Connor
Alex Albright
Let's start with Alex Albright. He was all over the field against the Dolphins and had one of the best defensive performances of the night.
He did the same against the Raiders in the first preseason game and has shown a tremendous amount of growth this preseason.
Albright is out to prove that he belongs, and we should see a lot of more of his in 2012.
Moving on to the likes of Bruce Carter and Dan Connor, Carter will be the starter, with Connor providing depth. Carter just outplayed the older Connor with his youth and quickness.
Don't get me wrong, Connor is still a good linebacker. He is starter material, and there should not be a dropoff when he steps on the field for Carter or in nickel packages.
Lastly, Sean Lee is the bright star of the group. He led the Cowboys in tackles last year and has some of best set of eyes for an inside linebacker in the league.
Oh, I forgot to mention that he led the team in picks last year as well. He is versatile and is only getting better.
Outside Linebacker: B+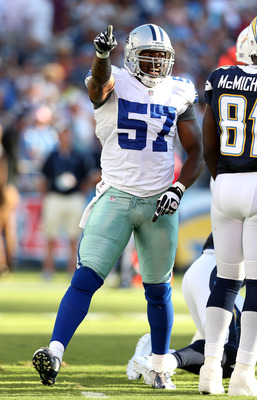 Stephen Dunn/Getty Images
DeMarcus Ware
Kyle Wilber
Victor Butler
Anthony Spencer
Not really much to say about Ware. He is the best pass-rusher in the league and still in the prime of his career.
Spencer is a totally different story.
He's looking for a long-term deal and will have to play out of his mind this season to get there. Meaning he will need more sacks, a larger presence when rushing the passer and needs to remain consistent.
Kyle Wilber is the rookie of the bunch, but has huge upside. He is still sporting a cast on his left hand to protect his broken left thumb, so we may not see him Wednesday.
Wilber has had two hand injuries since being drafted, and he has to get healthy to live up to the hype. Hopefully, his thumb heals soon.
This has to be the year of the breakout for Victor Butler.
Many thought that it would be 2011, and we are still waiting.
Butler can be a great pass-rusher, as we've seen in the preseason. He just has to translate that against better competition in the regular season.
Cornerbacks: C-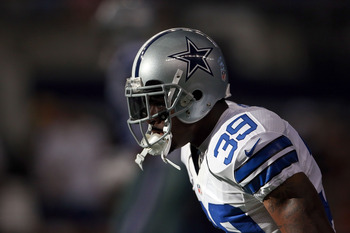 Ronald Martinez/Getty Images
Morris Claiborne
Brandon Carr
Orlando Scandrick
Mario Butler
Mike Jenkins
I cannot give this group a grade higher than a C. Claiborne is a rook, Carr is a free-agent pickup with a big contract and Mike Jenkins is disgruntled.
That may not turn into success for the Cowboys.
Morris Claiborne will be tested against the Giants on Wednesday and we will get our first real shot at seeing just how good Claiborne will be for Dallas.
He has been injured as well, so we haven't received a full helping of what he can do.
Brandon Carr did a great job against the Chargers in the Cowboys' second preseason game. He had two interceptions and showed why the Cowboys invested $50 million in him.
Mike Jenkins is a different story.
He hasn't had much to say to the media, doesn't want to be in Dallas and he just recently returned to practice.
The good news for Cowboys fans is that Jenkins is excited to get back on the field and will play whatever position the team asks of him.
"...Whatever they need. I'm going to do my job. So whatever they're calling, I'm going to answer."
Orlando Scandrick will fight with Mike Jenkins for the job of slot corner, with Scandrick probably starting the season in that spot due to Jenkins' injury.
To his credit, Scandrick has gotten much better. How much better is the question.
Mario Butler made the team by the skin of his teeth, in my opinion. He's young, and Dallas didn't have enough faith to keep C.J. Wilson or any of the other young corners brought to training camp this year.
Safeties: C+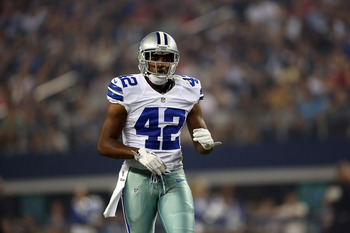 Ronald Martinez/Getty Images
Gerald Sensabaugh
Barry Church
Danny McCray
Matt Johnson
Mana Silva
I'm still not high on Matt Johnson because I haven't seen much of him to change my opinion. He had a hamstring injury and completed his class schedule this summer, which took him off the football field.
Regardless of how I feel, the team wanted to hang on to him. So we will see just how good Johnson can be.
Gerald Sensabaugh is the consistent performer for the Cowboys' safety position. He uses his body really well and may care off a few deep throws because of that.
Barry Church knew that his coverage skills were substandard, so he tried to get better by working with Gerald Sensabaugh. At least we know he recognized his weakness and is trying to improve it.
Mana Silva snuck in due to injuries to some of the other players, which allowed him to get more playing time and prove that he was worthy of a roster spot. We will mostly see him on special teams, but if he continues to grow, he may get time at safety.
McCray is the third or fourth safety on the roster, and with Johnson nursing a hurt hamstring, we should see more of McCray.
Special Teams: B-
Douglas Jones-US PRESSWIRE
Dan Bailey
Chris Jones
L.P. Ladouceur
Bailey is automatic. He will score an innate amount of points for Dallas this season and should get them at least three when they were looking for seven. Get it?
Jones has to prove that he's worth the roster spot. If he does not perform well, don't be surprised if the recently released Mat McBriar ends up with the Cowboys again.
Ladouceur just has to continue being a consistent long snapper. If not, the team will make a change.
It is really that simple.
Keep Reading

Dallas Cowboys: Like this team?