Indianapolis Colts: Grading the Entire 53-Man Roster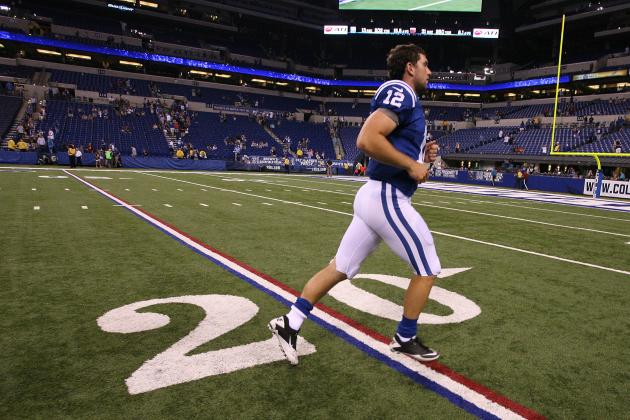 Brian Spurlock-US PRESSWIRE
It all comes down to Luck
In an offseason marked by change, the Indianapolis Colts have completely revamped their roster. As Nate Dunlevy noted, only 21 players from last year's 2-14 team are on the roster this year.
The overhauled roster isn't packed with high-priced free agents, household names and guys destined for the team's Ring of Honor. General manager Ryan Grigson, facing severe salary-cap issues, has assembled a team that is loaded with reclamation projects, role players and young hopefuls.
How will the roster stack up against competition? That's hard to know at this point, as I fully expect the final 53-man roster to change dramatically in the first few weeks of the season.
Let's take a look at where the team stands today.
Begin Slideshow

»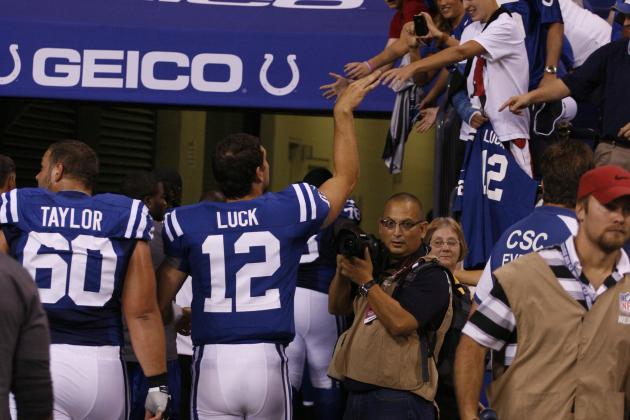 Brian Spurlock-US PRESSWIRE

Andrew Luck
It's hard to argue that Andrew Luck isn't the most NFL-ready quarterback to ever join the league.
At times, he's shown even more poise than his predecessor possessed in his rookie campaign. He's made a few mistakes like any NFL quarterback, but the key is that he looks like an NFL quarterback.
Grade: A
Drew Stanton
Some disliked the waste of resources on a veteran quarterback whose career has sputtered, but thus far Stanton has been a nice security blanket for Luck and third-string QB Chandler Harnish.
His presence isn't likely to forge Luck into a better QB, but he's a safety blanket offensive coordinator Bruce Arians seemingly likes. There's no doubt he's a huge upgrade over Curtis Painter, and he comes at a remarkably low price.
Grade: B-
Chandler Harnish
Calling this hometown product "Mr. Irrelevant" may be a mistake. He made such a mark that not only was the team impressed, they were fearful he'd impressed other teams enough that they put him on the 53-man roster.
Grade: C
Overall
The team's quarterbacks are certainly much improved over last year's motley crew. The team needs Luck to stay healthy, but if he's injured, they feel strongly that Stanton and Harnish could move the team.
Grade: B+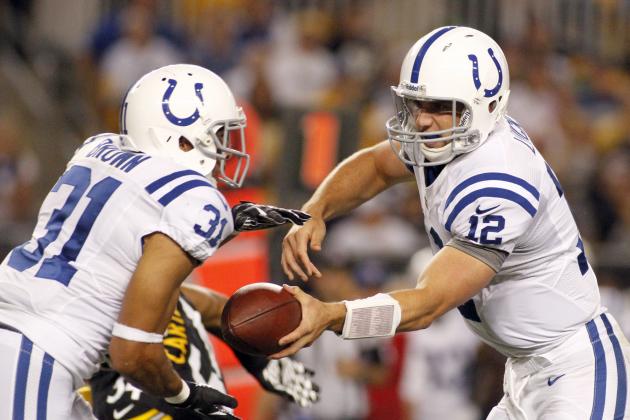 Justin K. Aller/Getty Images

Donald Brown
Brown has been called a bust, but in reality, he's done everything the team has asked of him.
Last year, he average 4.8 yards per carry behind a very suspect offensive line. He's the most reliable blocking and receiving back on the roster and has shown flashes of tremendous speed.
Last year he was more than serviceable—he was the only bright spot offensively. This year, he must be the veteran presence that leads when the offensive line struggles.
Grade: B
Mewelde Moore
Moore had a terrific outing against the St. Louis Rams but disappeared afterward. Despite his injuries, Bruce Arians liked the former Steelers running back enough to place him second on the depth chart.
In his ninth season, it's not likely he has much gas in the tank. He got 22 carries last year in Pittsburgh and should expect to get the ball more if he lands the backup job in Indy.
While I'm not convinced he's better than rookie Vick Ballard, the team thinks highly of his veteran presence.
Grade: C-
Vick Ballard
Ballard has thus far been an eye-opening rookie. He's run with authority between the tackles and shown enough speed to turn the corner. He's been exactly the kind of back the team once thought Delone Carter could be. If he doesn't climb the depth chart early in the season I'd be stunned.
Grade: B
Delone Carter
There are three reasons Delone Carter is still on the roster—there are no better options, the team is thin at tight end/fullback and he's exactly the kind of back Bruce Arians should love.
To date, he's had a fumbling problem, and his performance so far in the offseason has landed him in the doghouse. Last season he tied for the seventh-most fumbles in the league. The sad truth is he averaged fewer than seven carries per game while everyone else on that list averaged more than 10 carries per game.
They may play him at H-back since the team is only carrying three tight ends or use him in goal-line situations. Then again, if something better comes along, they may simply cut him.
Grade: D-
Overall
Brown and Ballard will likely be worthy of the highlight reel, while Moore and Carter will need to contribute. The group is very workman-like. They need lots of speed outside since the offensive line won't likely provide many holes. More importantly, the team must lean on Brown to pick up the blitz in order to protect Luck.
Grade: C+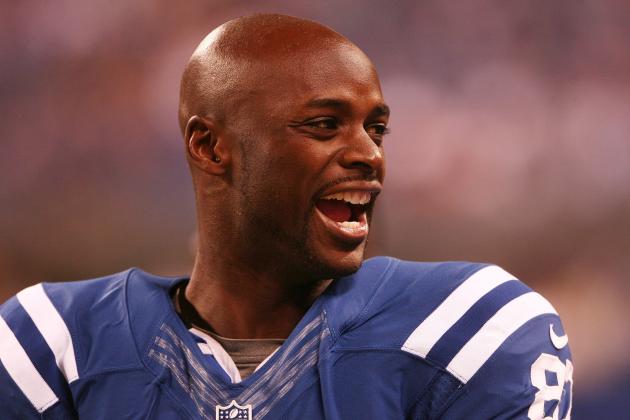 Mark Zerof-US PRESSWIRE

People openly questioned why the team wanted Reggie Wayne to return.
They openly questioned the sanity of Wayne agreeing to return.
Consider this: Despite playing with Curtis Painter, Dan Orlovsky and Kerry Collins, Wayne still managed 75 receptions and 960 yards last year. His performance this year will silence those asking either question and will likely improve upon last year's numbers.
Still, he's lost a step. He's nearing the end of his career. Bigger, younger and faster receivers surround him. Yet he's still the best receiver on the team and among the league's elite targets.
Grade: A+
Austin Collie
When Collie is healthy, he's a receiving machine. He doesn't possess elite speed, size or strength, but he's among the most reliable and intelligent receivers in the league.
If he manages to return—and there are questions whether he should—he'll likely be one of Andrew Luck's favorite targets. His sharp route-running and nifty ability to find the seam is uncanny for a guy with so many head injuries.
Grade: A
Donnie Avery
Avery has elite speed, but his injury-riddled past has limited his chances to showcase those skills. While he was a real risk to get cut, his upside is simply too alluring for the team to pass.
If he emerges as a reliable third receiver, the team will be loaded at receiver in a way Indianapolis hasn't seen since the days of Marvin Harrison, Reggie Wayne and Brandon Stokely.
Grade: B+
LaVon Brazill
Aside from having a tremendous preseason at receiver, sixth-round pick Brazill is contributing to special teams. Rotoworld calls him a "fantasy sleeper," as they fully expect him to fill in should Avery's injuries catch up to him. As the team hasn't had the luxury of depth at receiver, Brazill is the kind of fall-back plan many teams wish they had.
Grade: B-
T.Y. Hilton
It's truly a shame that the team can't put Brazill and Hilton on the field full-time with Luck each snap. These two young receivers could develop into the kind of one-two punch that the team will need in the coming years.
Luckily some very good receivers who will inevitably show them the ropes bury them in the depth chart. If Hilton develops as a deep threat, he'll get some serious work this year.
Grade: C+
Kris Adams
Several teams have given Adams a chance, and he's yet to stick. The team is entranced by Adams' size, quickness and strength. Viewed by many to be the wild card at receiver, he's emerged as a viable option. His routes are still sloppy, but he's also capable of winning the jump ball—something the team has lacked in past years.
Grade: C
Overall
The only thing this unit lacks is tremendous experience past Reggie Wayne and Austin Collie. While I was somewhat hesitant to feel confidence in these guys early, the emergence of both Brazill and Hilton gives me great hope.
Wayne and Collie are elite receivers, the kind of guys that other teams must plan around. I'm not counting on Avery contributing much but feel strongly enough that the bottom end of the roster is capable of making some plays for Luck.
Grade: A-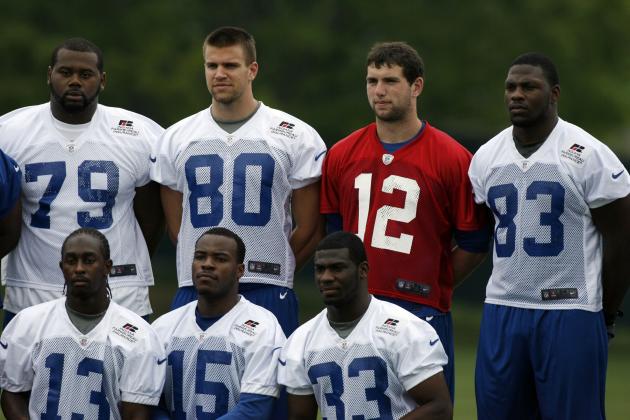 Brian Spurlock-US PRESSWIRE

Dwayne Allen
Allen has clearly been the best tight end on the roster.
He runs good routes, blocks well and will provide Luck the kind of target that fellow rookie Coby Fleener was supposed to be.
His emergence, while not surprising, is a terrific sign for Luck, since he'll need a viable check-down in addition to Donald Brown. Allen also is more than capable of holding off the pass rush.
Grade: B+
Coby Fleener
If the team drafted Fleener due to his chemistry with fellow Stanford grad Andrew Luck then they should be disappointed. Drops have plagued Fleener. He's not had terrific timing with Luck and in general has underwhelmed.
Don't expect that trend to continue, as Fleener will work hard to make his presence felt. Not all of the blame falls on Fleener, however. Arians needs to review Stanford film and attempt to rework the offense to capitalize on the one-two punch the tight ends offer.
Grade: C-
Dominique Jones
Jones was a long shot to make the roster but has shown flashes of becoming a contributor. At 25 years old, he's gotten the most of his experience from the Indoor Football League. He showed off some of those moves against the Bengals when he broke multiple tackles on his way to a 42-yard game-winning touchdown.
Not only is he a reliable tight end, but he's gotten lots of snaps at H-back in short-yardage situations. While the team hasn't been that successful in those scenarios, he's proven to be flexible, which keeps him on the roster.
Grade: C
Overall
This group won't dominate opposition, but should they develop just a bit more, they have a chance to turn this C- into a solid B+. They have good upside but haven't done much with it yet.
Grade: C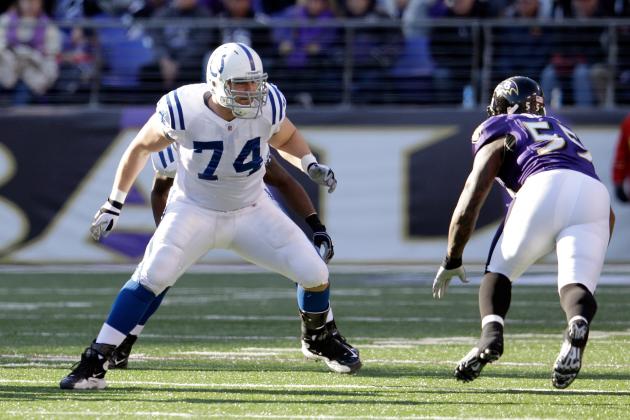 Rob Carr/Getty Images

Anthony Castonzo
Drafted to be the left tackle of the future for Peyton Manning, Castonzo's future turned out differently than expected.
He's been a reliable tackle when healthy and certainly is the bright spot for a unit that has been disastrous so far. It's not enough, however, as he simply can't carry the whole team.
Grade: B+
Joe Reitz
Reitz hasn't had the kind of storybook start to his career that some have, as he didn't play college football. Now he's starting at left guard for the Colts.
He's an Indiana product, and the chance to play for the Colts is something in which he takes great pride. He's not an All-Pro, but he's been the second-most reliable lineman for the struggling offensive line.
One thing is certain: Colts fans and Andrew Luck are both pulling for Reitz to emerge as a dominant guard.
Grade: C-
Samson Satel
Ryan Grigson hailed Satele as being capable of being among the league's elite centers. That was nearly a requirement for the team, as they were replacing Jeff Saturday, a surefire Ring of Honor inductee and a guy who actually has a long shot at becoming one of the few centers to make the NFL Hall of Fame.
Saturday was a brutish player capable of surprisingly physical play, a leader of men and a pillar of the community. Satele so far has been none of those things. He's been manhandled on the field, arrested off the field and nothing short of a mediocre replacement playing in the shadows of a giant.
Grade: D-
Mike McGlynn
Another Grigson choice, McGlynn has not played enough to accurately review. He can't be worse than those who have filled in for him during his injury. To what degree he'll succeed remains to be seen.
Grade: Incomplete
Winston Justice
Ryan Grigson also brought Winston Justice in as a low-cost component for the revamped line. It's very good that he's inexpensive, as there are few other redeeming qualities he's displayed thus far.
It's a shame, too, as Justice is a remarkably bright guy whose upside is tantalizing. If he regains form, he could be the anchor the running game badly needs. As it stands, he's been entirely ineffective in both the passing and the running game. Let's hope he turns out to be a good buy rather than just a cheap buy.
Grade: D-
Mike Person, A.Q. Shipley, Jeff Linkenbach, Seth Olsen
The Colts claimed Person from waivers this week. Shipley has been the most reliable of the backups. Linkenbach has been nothing short of horrific. Were it not for Olsen's play, Linkenbach must be considered the worst player on the roster.
There's nothing that inspires hope that one of these guys can push the starters, making the offensive line better along the way.
Grade: F
Overall
These are all good men who intend to do a good job. The fact remains that they've done a horrible job and likely won't be any better than last year's unit.
That's the frightening reality facing the team and Andrew Luck. I'd fully expect Grigson to scramble to find a way to improve the offensive line.
Grade: D-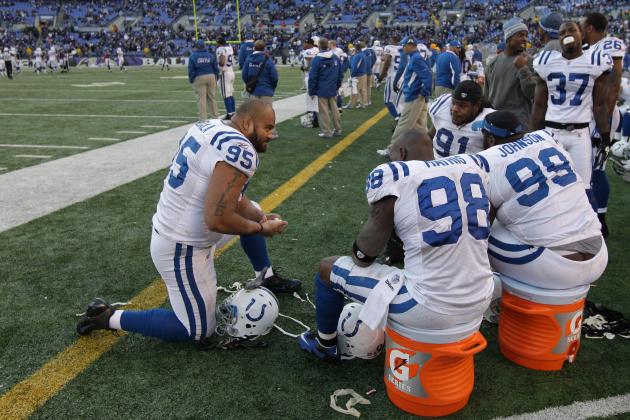 Rob Carr/Getty Images

Antonio Johnson
Fans love Mookie. I love Mookie. He's not much of a two-gap nose tackle, however.
He's certainly working hard to fill the role, but he's simply not cut out for the gig.
He'll do a good job in keeping the spot warm for the team until they draft a monster. He'll work hard, and that goes a long way.
Grade: C-
Cory Redding
Fans don't love Cory Redding yet, as he's been injured. They're going to love him, however, if he can show the kind of skills Grigson hopes he still possesses.
He appears ready for the regular season and would be a huge upgrade against the run. He's a leader, a fighter and clearly loves the game. If the team can get him on the field, it will be a huge boost for this troubled unit.
Grade: B-
Fili Moala
He's been a disappointment for many Colts fans but appears to be on the verge of turning into a quality contributor.
While not stellar this preseason, Moala has seen more playing time than at any other point in his career. He's even gotten to the passer showing some inside pass-rush skills. If he can bring his A game this year, the defensive line has a chance to turn away naysayers.
Grade: C+
Drake Nevis, Ricardo Mathews, Martin Tevaseu
Nevis has been productive while not flashy this preseason. Mathews has been quite solid in replacement of Redding, although his strength needs to improve. Tevaseu, a waiver-wire claim, will get lots of snaps behind Mookie at NT. None of these guys will blow you away but all will offer quality relief.
Grade: C-
Overall
The defensive line is really just a bunch of role players. None excel in this system, nor do they have much chemistry. They're not going to win many battles, but on the occasion they open a hole for inside linebackers they'll get the sack. It won't be a terrific season for these guys, but did you expect it to be?
Grade: C-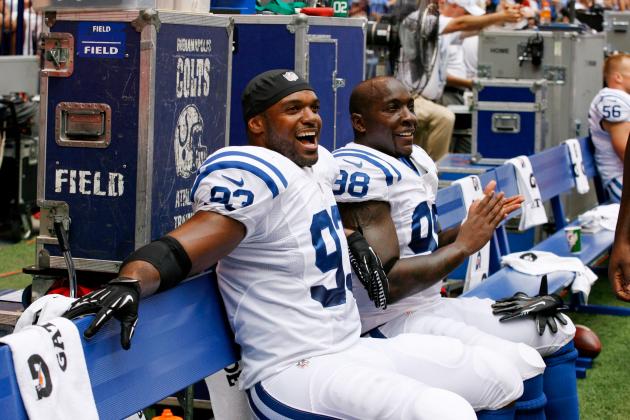 Brian Spurlock-US PRESSWIRE

Dwight Freeney
Some have speculated the end is near for this Colts legend.
While he's not been productive, it's hard to know what he'll do in the regular season. He's not seemed particularly motivated, and the team may decide to move him.
Until then, he should focus on situational pass-rushing. He's got the skills to be a terror from the outside linebacker spot. Let's see if he chooses to use it.
Grade: C-
Robert Mathis
Robert Mathis has embraced the transition to the 3-4 and has in doing so excelled. He's been better than Freeney for several years. The gap is even bigger now, and Mathis will likely be this team's most feared pass-rusher.
Grade: A
Jerry Hughes
Didn't see that coming, did you! Last year I probably wouldn't have guessed he'd make the roster in 2012. Somehow Hughes has emerged as the team's leading pass-rusher.
While Mathis will likely get all the attention of defensive coordinators, don't be surprised if it's Hughes knocking down quarterbacks this season.
Grade: B+
Pat Angerer
Angerer could have excelled in Pagano's system, which gives inside linebackers a good chance to get to the passer in A and double-A gap blitzes. Until he returns, the team is well stocked with Kavell Conner, Moise Fokou, Mario Harvey and Jerrell Freeman. He'll be an upgrade when he returns from his foot injury, but the team is in no way at risk.
Grade: B+
Kavell Conner
Seeing Conner emerge as has been a real pleasure. Inside linebackers as a whole are a bright spot for the team, and Conner has provided quality leadership in Angerer's absence. They will need him to show the way since the defensive line and secondary both have more questions than answers.
Grade: B-
Moise Fokou, Jerrell Freeman, Mario Harvey, Justin Hickman
Three of these guys have had a very good preseason. Fokou and Freeman in particular have been incredibly energetic tacklers. The team has a tremendous luxury at linebacker thanks to these men.
Grade: B+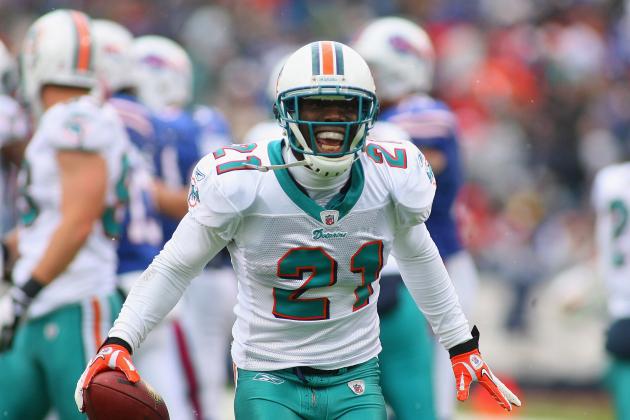 Rick Stewart/Getty Images
Headed for the big time or the big top?
Jerraud Powers
Powers is undoubtedly the best cornerback on the roster at this point.
While he lacks the pure talent that the newly acquired Vontae Davis possesses, he is the more polished and disciplined of the two.
He's going to need to sharpen his man-coverage skills, as it appears he'll be asked to do that more in this system then the previously employed Tampa 2. The team badly needs him to remain healthy, something he's not managed so far in his career.
Grade: B+
Vontae Davis
While Davis isn't currently scheduled to start opposite Powers on the official Colts depth chart, it's clear he'll get the bulk of the work this season. His pure physical talent is clearly first-round quality, while his football IQ and discipline need work.
Head coach Chuck Pagano hopes to shape Davis into a premier corner in this league. If the team can refine his skills and sign him to an affordable long-term deal, he'll be a steal. If they fail, it will be a monumental bust, as it will have cost them a very valuable second-round pick.
Grade: B-
Tom Zbikowski
If you've heard the coaching staff speak of Tom Zbikowski, you'd think they got a Pro Bowl safety. While he's certainly exuded an energy during his time in Indianapolis, it hasn't been very productive.
Also, he's never started more than six games in his career and has never had more than 24 tackles in a season. He played behind some good safeties in Baltimore, but he clearly wasn't good enough to earn a starting spot there.
Zbikowski is fortunate that there's really no one else on the roster that can push him for the spot.
Grade: D+
Antoine Bethea
Bethea will lead this group, and his veteran presence may be the only thing keeping them together. He's a Pro Bowl-caliber safety who has only missed three starts in his NFL career.
Last year, he had a career-high 80 tackles. It's clear he's the best defensive back on the team.
Grade: A
Cassius Vaughn, Joe Lefeged, Justin King, Josh Gordy, Sergio Brown
While Cassius Vaughn is a reliable backup, he's been largely invisible this preseason. The other backup defensive backs might struggle to remain on any roster. Gordy was horrible against the Bengals. Sergio Brown claimed off waivers this weekend.
It's hard to be enthusiastic about this bunch, and my hunch is the coaching staff feels the same. Look for the back end of this group to change throughout the season.
Grade: D-
Overall
As a unit, this team has been abused throughout the preseason. They've lacked continuity, shown an inexplicable inability to cover any receiver and have incited a feverish salivating among even backup quarterbacks.
The addition of Vontae Davis may help shore that up, but I'm predicting rough times ahead based on their performance so far.
Grade: D+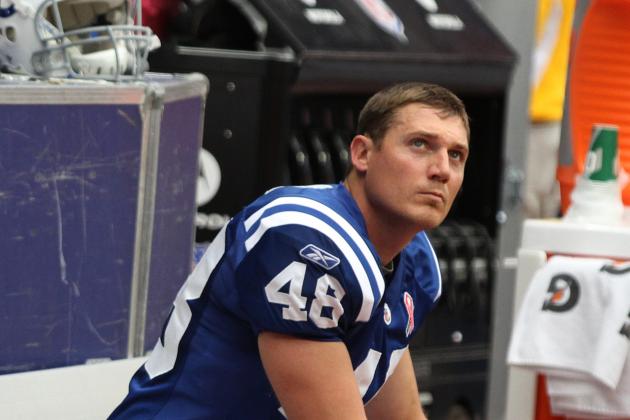 Thomas B. Shea/Getty Images
Goodbye to a selfless Classic Colt.
Pat McAfee
McAfee is a weapon, and to question that would be a mistake.
He was ninth in the NFL in punting average. The sad part is that is highly misleading, because he also led the special teams unit in tackling at various points in the season.
Had he only mediocre coverage last year, he would have given Shane Lechler a run for his money in the AFC.
Grade: A+
Adam Vinatieri
Aside from being older than dirt, Adam Vinatieri is still a great kicker. Last year, he was 23-of-27 and connected on a 53-yard kick for his longest of the season. If that doesn't prove that he's still got it, consider this: He connected on two of three attempts past 50 yards.
If the team could get him into field-goal range, he's more than capable of kicking this team to a win.
Grade: B+
Matt Overton
It hurt me to write those two words. I've got nothing against Overton, and by all accounts he's going to play very well for this team. The man he's replacing is an unheralded Classic Colt: Justin Snow.
Snow, like the recently released Atlanta long-snapper Joe Zelenka, is a man who meant as much to the community as he did to his team. On his way out the door, he gave Overton every bit of advice and help he could. That selfless nature is what endeared him to fans and teammates alike.
Let's hope Overton lives up to that heady legacy.
Grade: B
Punt/Kick Return and Coverage Units
While these teams are made up of players we've already covered, I'd be remiss if I didn't mention that they've all looked much better than their predecessors. They will not be a dominant unit, but if they only reach mediocrity they'll be a huge upgrade over the Caldwell era special teams.
Grade: C
Overall
Special teams just need to hold their own this year. If they can cover kicks and punts well and get Vinatieri into range enough, they're going to contribute much more than they have in the past.
Grade: B+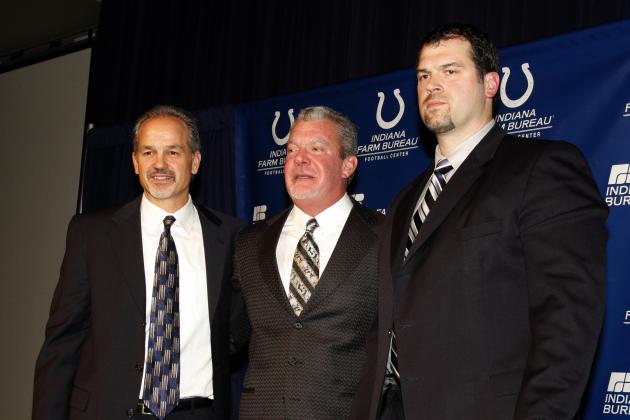 David Kohl-US PRESSWIRE

The 2012 Indianapolis Colts roster has some high points and some very deep low points.
It's clear that this is still a team in transition, and they will struggle at times throughout the season.
There's a great deal of young talent to develop. If Chuck Pagano succeeds in turning some of these young men into reliable starters, this will be considered a major coup for rookie GM Ryan Grigson.
Of immediate concern is the offensive line, which has struggled with consistency. The team badly needs to protect Andrew Luck and currently cannot be trusted to do so. Depth and talent are a major issue for this unit and should be Grigson's first priority.
Also of note is the lack of production from the defense. While newcomers Cassius Vaughn and Vontae Davis provide much-needed help, there is still much to be done in the secondary. Nose tackle is also a spot of concern.
Not all is problematic, however. Andrew Luck looks like the kind of quarterback that only comes along once in a generation, and his backups are better than those the Colts employed last year.
The receivers, while young and facing some nagging injuries, are speedy and quite talented. Finally, the linebacking corps is poised to be quite productive despite losing Pat Angerer for six weeks. All three of those areas are dramatically improved from last year.
Overall, the roster is in better shape than should be possible given the resource constraints the team is facing. What they do with that talent remains to be seen, but it's reasonable to assume they will win more than two games in 2012.