How Maurice Jones-Drew Ending Holdout Affects RB's Fantasy Stock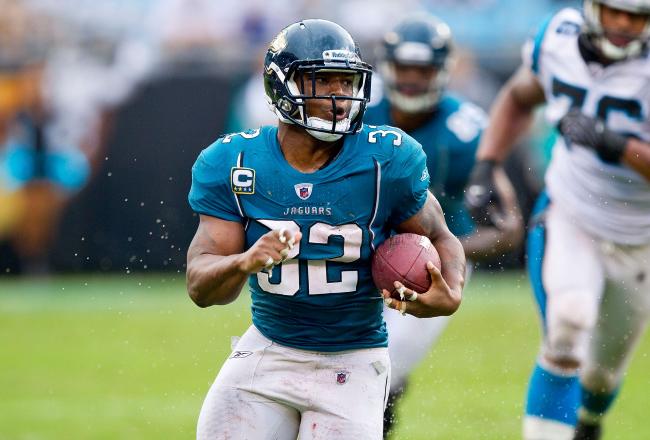 Brian A. Westerholt/Getty Images
Fans of the Jacksonville Jaguars owners, fantasy football owners and those of you who simply hate holdouts, today brings wonderful news—Maurice Jones-Drew has reported to camp.
ESPN's Adam Schefter (who else) was on the story early:
Here we go: MJD returning to Jaguars today. Carry on.

— Adam Schefter (@AdamSchefter) September 2, 2012
And MJD's running mate, Rashad Jennings, soon followed with a tweet of his own:
Just shared some love with @jones_drew32in the locker room. Glad to see you back - Let's work brah!

— Rashad Jennings (@RashadJennings) September 2, 2012
But I know what most of you are really worried about: How will this affect Jones-Drew's fantasy value this season?
Despite his return to the team before the season begins, will MJD be in shape and motivated upon his return? Or will he pull a Chris Johnson (showing up out of shape) or a DeSean Jackson (playing poorly due to unhappiness with his contract situation)?
While I don't have definitive answers to those questions, I can tell those of you who already own MJD that you should probably keep him on your bench in Week 1. Ian Rapoport from NFL.com has some information pertinent to MJD's Week 1 status:
To note with #Jaguars: I'm told they are still planning on starting Rashad Jennings in Week 1. MJD's holdout makes him No. 2 for a week

— Ian Rapoport (@RapSheet) September 2, 2012
Truthfully, I'm a bit worried that MJD will be rusty early in the season, so if you do draft him or already have him on your team, I would recommend having depth at the position. He might not be himself for the first few weeks.
With a meeting against the Houston Texans in Week 2, he would be a tough play even if he wasn't coming off a holdout. By Week 3, he should have shaken out the cobwebs and, with a meeting against the Indianapolis Colts, should be firmly planted in your starting lineup.
Maurice Jones-Drew will be _____________ this year.
And I do think he will be a professional and perform on the field as such, so if you haven't had your draft yet, he could end up being one of this year's biggest steals if he continues to drop down the board. Just do what I did—talk about how worried you are he won't perform after the holdout, then snag him in the fourth or fifth round with the rest of your league-mates scared off.
You know he'll get plenty of touches, even if Rashad Jennings impresses in Week 1. The Jags don't have enough weapons on offense to ignore the best one they have, after all. And while he won't be a top-five back this year more than likely, at worst he should be a solid RB2 for your team.
So if you can get MJD at a nice value—or if you already own him—Sunday's news should excite you. Temper your expectations early, but start inserting him into your lineup by Week 3. At the worst, he should be a top-15 fantasy back this season.
Hit me up on Twitter—my tweets would never deprive you of key features like franchise fantasy drafts.
This article is
What is the duplicate article?
Why is this article offensive?
Where is this article plagiarized from?
Why is this article poorly edited?