North Carolina vs. Elon Football: Positives and Negatives of Tar Heels' Win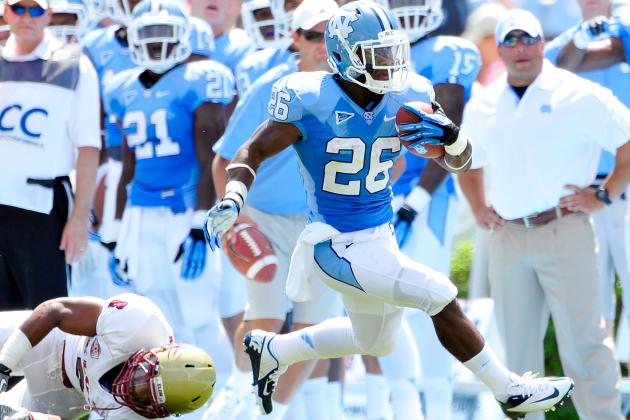 Grant Halverson/Getty Images
Giovani Bernard takes it to the house.
It would be tough for Larry Fedora to ask for a better start to his North Carolina coaching career than laying down a 62-0 romping of the first opponent—albeit Elon. The Tar Heels were still one of only three FBS teams to score 60 points or more in their 2012 opener.
This isn't your usual Tar Heels football. We've seen the exciting, fast-paced basketball ever since Roy Williams took over the program. Now Larry Fedora has implemented the same theory on the gridiron—and it is every bit as entertaining to watch.
And don't tell these kids they don't have anything to play for. They aren't laying down just because they can't play in the ACC championship. They are full steam ahead, looking to take the Coastal Division.
That's Tar Heel pride.
UNC dominated this game from the jump, but they weren't without mistakes. Yes, even in a 62-point shutout, there will still be some things that will drive the fiery Fedora crazy in the film room.
With the first game in the books, it's time to talk the positives and negatives of this matchup.
Begin Slideshow

»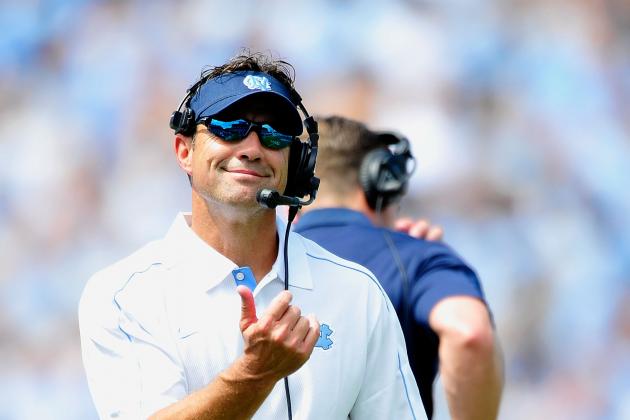 Grant Halverson/Getty Images
Larry Fedora has trouble holding back his smile on this day.
Let's go ahead and get the negatives out of the way. The Tar Heels didn't make many mistakes in this game, but there were a few things worth pointing out.
Defense
Only one thing stood out to me as a negative for the Tar Heel defense. They seemed to give too much cushion on third downs, allowing Elon receivers space to take bubble screens and short digs or curl routes for easy first downs. They did improve as the game went on, but this should be a major area of focus in the future—especially when facing spread offenses such as East Carolina.
Miscues
The Tar Heels' extremely efficient first drive was halted with a couple missed balls by tight end Eric Ebron. I have to give it up to Elon's David Wood for breaking up the first pass, but the second one was all on Ebron—despite how the announcers called it.
I watched the play in slow motion and, sure enough, the ball went right through Ebron's hands. Credit was given to Akeem Langham for deflecting the pass, but it was all on Ebron.
I don't want to be too tough on the sophomore, but he has to learn to use that 6'4" and 235-pound frame to his advantage. He needs to physically take his position and snatch the ball out of the air. He just can't allow smaller defenders to get to the ball.
A.J. Blue also had a major miscue in the red zone. He got the edge on a screen play and pushed inside the 10-yard line, before spinning his way to a fumble. The first spin was executed perfectly, but it was so perfect he decided to try it one more time.
The result of his second spin was getting popped in the elbow, which sent the ball about 15 feet in the air and into the open arms of an Elon defender. Never spin twice.
Even Bryn Renner wasn't without flaw on this day. Working on Elon's side of the field, Renner tried to hit his receiver on a slant, but he failed to see Edward Burns already had inside position and was easily picked off. His vision also failed him downfield, where Ebron was running wide open for the end zone on the same play.
Getting Too Fancy
I love to see risky plays, but that's something coaches have to be careful not to do too often. The first two reverses were executed perfectly, as they added a passing twist to the second one, hitting an open Bryn Renner for his first career reception.
They tried it for a third time in the first half. That might have been alright if they added another twist, but it was just another obvious reverse that got stuffed in the backfield. Of all trick plays, the reverse is definitely one that shouldn't be attempted that many times in a game—much less in one half.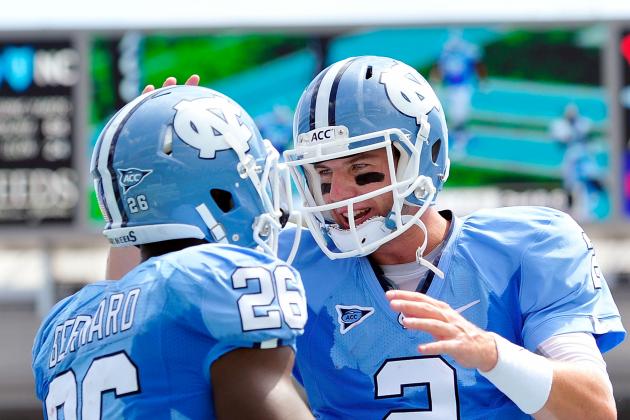 Grant Halverson/Getty Images
Bryn Renner congratulates Giovani Bernard on another stellar run.
Now it's time for the good stuff. This opening game was jam-packed with positives, and there's nothing more I'd like to talk about when it comes to Carolina football.
Big-Play Defense
In its third possession, Elon was finally able to move the ball on Carolina's stingy 4-2-5 defense. Taking it 58 yards on eight plays, they Phoenix looked poised to stuff it in and make it a game.
Jabari Price had something to say about that, jumping the short sideline pass and picking it off at the UNC 16. Ouch.
Late in the second quarter, Tim Scott would join the party—this time on the other side of the field. Yet again, it was another short route jumped by these corners. Scott's was the more impressive of the two, diving in front of the receiver and picking it off just inches from the ground.
When they weren't giving receivers 10-yard cushions, this is what they were doing.
The defensive line maintained constant pressure on the quarterback and did an outstanding job stuffing the run. Kareem Martin and Sylvester Williams were way too much for Elon's offensive line. Williams finished with two sacks.
The defense also managed to force two fumbles, for a total of four turnovers on the day. They also held Elon to a total of 170 yards—128 yards of that was in the passing game. The run game was completely shut down, only picking up 42 yards on 36 attempts.
That's like playing Madden on "rookie."
Fast Offense
We knew exactly what we were getting with Larry Fedora—overall intensity and an extremely fast-paced offense. He doesn't want to just score points, Fedora wants to wear his opponents down. With an average of around 16 seconds left on the clock at the snap in this game, I think he's just about on target.
That's pretty impressive, considering this is their first year in Fedora's spread offense. They also managed to fit in four plays in the first 30 seconds of the game. Even the ACC Network had trouble keeping up, missing a few plays on a commercial break.
Passing
After watching the potential ooze out of Bryn Renner in 2011, I knew this would be a special year for him. He made some huge mental mistakes last season, but it's hard to argue with his accuracy.
Completing 68.3 percent of his passes in the former pro-style offense is pretty impressive. Now he's in the spread and we should eventually see those numbers go up from there.
He wasn't far away yesterday, completing 14-of-21 passes for 236 yards and three touchdowns. He was pulled after scoring on the first drive of the second half.
Freshman Marquise Williams came in for him and did a fine job, too. He was 5-of-6 for a mere 27 yards, but he was also playing with bench receivers. He showed off his wheels, too, rushing for 43 yards on six carries.
I was impressed with how poised and comfortable he was in his first collegiate game. I think this team will be in good hands when Renner is done.
Even Erik Highsmith got in on the action with an 18-yard pass to Bryn Renner off a reverse.
Giovani Bernard
Giovani Bernard was a human highlight reel in the first half, scoring a touchdown in every possible scenario. It started on the ground, though, with 93 yards and a touchdown on just nine carries. The touchdown was a 59-yard run, bouncing off a tackle and tip-toeing the sideline on the way to the house.
He scored another touchdown on the next possession, catching the ball at the 6-yard line and breaking two tackles to hit pay dirt.
Roughly seven minutes later, Gio caught a punt on the left side of the field and practiced his usual patience, allowing a wall to form and breaking it to the outside. Nobody had a chance to catch the speedy back on the 70-yard return for a touchdown.
His other punt return went for 30 yards.
Receiving
The Carolina quarterbacks spread the love to 14 different receivers on Saturday. Erik Highsmith led the team with three receptions and showed his toughness, breaking tackles for a few extra yards.
Ebron also made up for his earlier miscues, getting behind the defense for a big 49-yard catch.
Carolina's other tight end, Jack Tabb, caught a 12-yard pass on a slant and took it another 10 yards for a touchdown. Jheranie Boyd had the third touchdown catch from Renner, connecting on a 35-yard pass for six. Boyd left the defender about 10 yards behind on the play.
The catch of the day came from freshman receiver Quinshad Davis, though. On a 2nd-and-14, Renner tried to hit Davis on the sideline, but was short enough for the Elon defender to tip it up in the air. Davis reached out, tipping it one more time and catching it as he fell to the ground.
Rushing
Beyond Bernard, the rest of the wrecking crew held their own carrying the ball.
Freshman Romar Morris picked up 49 yards on 10 carries and A.J. added another 39 yards on nine carries. He also finished with two touchdowns to help make up for the fumble. Blue is a tough guy to bring down on the goal line.
Between the running backs, quarterbacks and receivers, Carolina totaled 243 yards on the ground.
And for those that were worried the run game would disappear with the spread offense, there is no need to fret. UNC carried the ball 46 times, compared to just 28 pass attempts. Rest assured, the Carolina ground game is alive and kicking.
Blocking
There is nothing negative I can say about the blocking, from any aspect. The big offensive line was opening up nice holes for the runners and gave Renner plenty of time to work from the pocket. Preseason All-American lineman Jonathan Cooper also secured the edge on multiple occasions, with outstanding upfield blocks.
The receivers also showed some impressive blocking on runs and screens and the running backs seemed to pick up every blitz that got by the front line. There was just great blocking all over the field, including on punt returns.
A lot of credit should be given to the returners, as Bernard, Highsmith and Roy Smith found every seam that was created by the stellar blocking of the special teams unit. The three returners combined for 268 yards on nine returns and one touchdown.
That's 80 more yards than anyone else put up in FBS play.
Summary
Though we shouldn't put too much weight on this game against a much lesser opponent, it shouldn't just be glossed over, either. This was the Tar Heels' first shutout since 1999, and they have played plenty of bad teams since. They also haven't scored 62 points since the Mack Brown era in 1995.
This was definitely a game to hang their helmets on. If their focus stays on getting better, this will be a tough team for anyone in the ACC to deal with. They may not be able to get a title, but they can certainly ruin the season for a few teams.