Michigan vs. Alabama: Final Report Card for Crimson Tide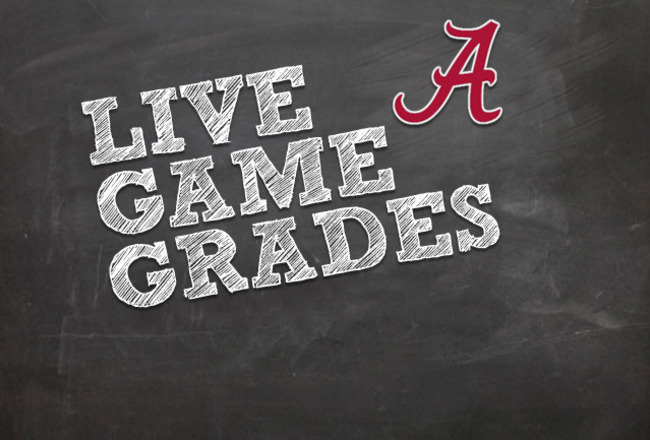 The Tide experienced some hiccups en route to routing the Michigan Wolverines 41-14. Of course, as the inaugural game of the season, some rust was expected.
Through four quarters, the Tide dominated the Wolverines with rare exception. The Tide look poised to repeat as national champions if they perform to their potential.
So, how close to their potential did they perform against Michigan? In the next 10 slides, we will cover everything from the quarterback to the coaches and let you know what they did right and where they can improve.
*All statistics are from ESPN.com
Quarterback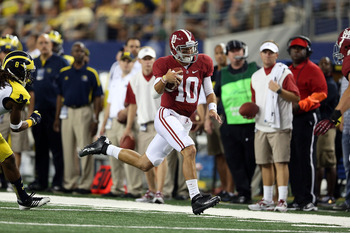 Ronald Martinez/Getty Images
While the Tide's signal-caller looked much better than he did last year (which is saying a lot), there was clearly room for improvement.
He hit eight different receivers for no more than three receptions each for one of the most balanced games in his personal history. However, he had some excitement issues in the 2012 season opener.
He needs to improve situational awareness and mental composure. If he can do that over the next few weeks, Alabama may be on its way to a repeat national championship.
He finished the game 11/21 for 199 yards, 2 TDs and 0 INTs. If he can keep stats like that coming while he warms up, then Alabama is in for a special season.
Overall: A-
Running Backs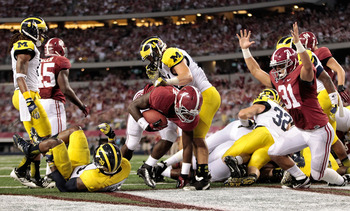 Leon Halip/Getty Images
T.J. Yeldon absolutely dominated the Crimson Tide's stat line. Alabama rushed as a team for 231 yards, and Yeldon was responsible for 111 of those yards. He showed quickness, vision and balance unlike any seen in recent memory from a freshman.
Yeldon also scored a touchdown in his Tide debut.
Yeldon's Overall Grade: A+
Jalston Fowler came in second to Yeldon in total yardage with 67 on the ground. Though he didn't hit paydirt in this particular game, he did ding the Wolverines for a huge 18-yard gain.
Fowler's Overall Grade: A+
Eddie Lacy had 35 yards and found the end zone once. Though he landed far short of Yeldon's yardage total, it has to be taken into account that Michigan had prepared for Lacy, whereas Yeldon was most likely ignored during Michigan's prep time.
He is better than his stat line showed against Michigan. At this point in the season, the voters may want to consider handing out three Heisman trophies sculpted to one-third the size of the usual trophy.
Lacy's Overall Grade: A
Dee Hart carried the ball the same number of times as Lacy, though he only gained a modest 19 yards. Hart is a valuable asset to this team, and he will likely have his opportunity to shine before the season is over.
Hart's Overall Grade: A-
Wide Receivers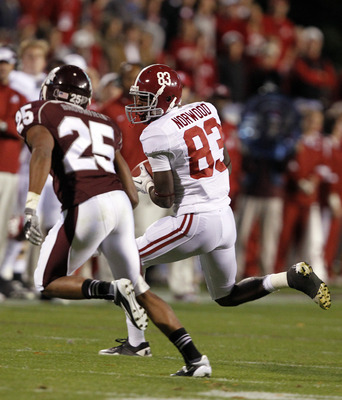 Butch Dill/Getty Images
The Crimson Tide receiving corps is absolutely lethal this year. That much could be told from one game against a Top-10 opponent.
Kevin Norwood snagged three balls for 53 yards and a touchdown, DeAndrew White hauled in a 51-yard touchdown pass and Kenny Bell hauled two of his own in for 26 yards.
Even when they weren't catching passes, they were making room for the ridiculous rushing performances from the previous slide. If for nothing else, they were pulling defenders all over the field that had no chance of catching a tailback.
If this performance can be repeated every week, Bama is running the table.
Wide Receivers' Overall Grade: A+
Tight Ends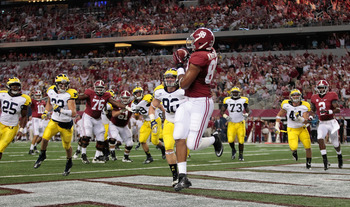 Leon Halip/Getty Images
Michael Williams was the headliner for the TEs this game (unless you count penalties, of course).
Williams finished the game with one TD reception that was scored on a brilliant play called by the new OC, Doug Nussmeier.
Bama had run the ball for 90 percent of the drive, and Williams sneaked around a rushing defender for an easy pitch-and-catch.
Williams made the position look easy.
Williams's Overall Grade: A+
Offensive Line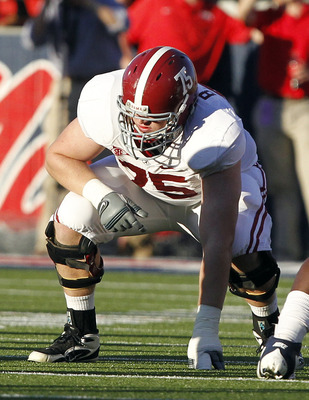 Butch Dill/Getty Images
Alabama's offensive line is the best in the nation. All through the offseason, Tide fans wanted to believe it was true. Against Michigan, the line proved itself on national television.
Barrett Jones could feasibly play in a third national championship at a third position at an All-American skill level.
The entire line only allowed one sack all game, and McCarron would have avoided it himself if it weren't from his blind side.
The line paved the way for a 231-yard rushing performance against a Top-10 Michigan team, and they made it look so easy.
Offensive Line's Overall Grade: A
Defensive Line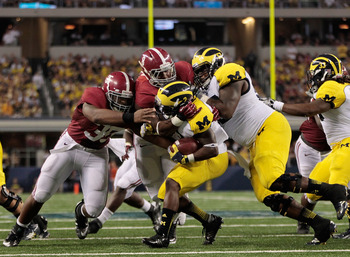 Leon Halip/Getty Images
The Tide's defensive line dominated Michigan pretty much across the board. The third quarter was where the Tide broke down and let Denard Robinson go all Denard Robinson on them.
They dominated the first quarter, and they were only slightly less successful in the second.
Whatever halftime speech Brady Hoke gave, the Wolverines listened to him in the third.
But the Tide resumed absolute domination in the fourth quarter and saved themselves from what could have been a nail-biter.
To be fair, the fault is not all on the defensive line here. The line was sometimes doing exactly what it was supposed to, and the linebackers were missing tackles.
Defensive Line's Overall Grade: B+
Linebackers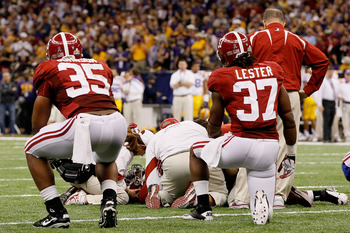 Kevin C. Cox/Getty Images
Overall, the 'backers performed better than expected, especially for a group that lost some serious talent to the NFL last year.
The only things that took away from a perfect performance were some missed one-on-one tackles and some issues in the third quarter with Denard Robinson breaking out past the first-down marker.
There was a roughing-the-passer penalty called against Nico Johnson, and there was a 12-man penalty that was due to Xzavier Dickson. (That was a personnel issue, not a positional issue.)
Other than that, it was easy to see that these guys are closely related to the team that shut out LSU in the National Championship game.
Linebackers' Overall Grade: B+
Defensive Backs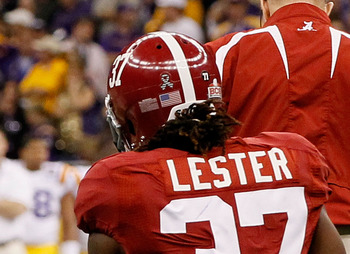 Kevin C. Cox/Getty Images
Vinnie Sunseri mistimed a blitz and was called offside. Almost the entire secondary misjudged Robinson's arm strength and allowed a 71-yard Michigan completion in the process.
The great news is that they caught up to Jeremy Gallon and stopped him on the 1-yard line. (Denard Robinson punched it in on the next snap from six yards out following a Michigan 12-man penalty.)
Overall, this secondary is stellar. They will just take a couple of games to gel as a unit. (Hopefully, it's just a couple of games. They need to be gelled against Arkansas.)
Michigan got 200 of its 269 yards through the air. The secondary is the weak link on defense. However, the No. 8 team only scored 14 points against the Tide. If that's as weak a link as Alabama has, the Tide can repeat.
Defensive Backs Overall Grade: B+
Special Teams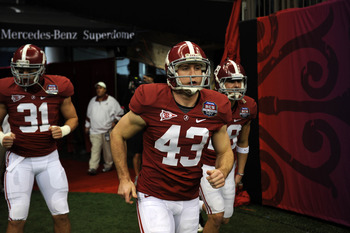 John David Mercer-US PRESSWIRE
Adam Griffith needs to put some weight on his frame. Cade Foster was 1-for-2 on field goals (both from over 50 yards out). Jeremy Shelley hit his only attempt from 22 yards.
No kickoffs went for touchbacks, but one did go into the end zone. (Michigan should have taken the knee, but we're Bama fans, so don't tell them that.)
Special teams only had one major return, and it was only for 32 yards. The coverage team looks like it has improved over the 2011 squad, and the kickers look marginally improved.
Shelley's performance in the National Championship game seems to have turned him around as a kicker. (It's a shame that his leg isn't stronger.)
If a game comes down to special teams this year, it's going to be a rough night for the Tide and its fans all around.
Special Teams Overall Grade: B
Coaching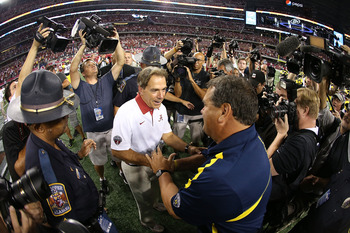 Leon Halip/Getty Images
The coaches on the sideline for Alabama are the best in the nation. Nick Saban was (rightfully) upset at what was happening on the field. While it was far short of perfection, it ended in a 41-14 beatdown of a highly ranked Big Ten title contender.
Saban showed the world why he's the best. Doug Nussmeier showed a little flair with his offensive playcalling. Kirby Smart got "the look" from Saban when Dickson got penalized for being the 12th man in the huddle, but it's not like Smart hasn't told his squad before that there are only 11 men allowed on defense.
Saban let plenty of time go by at the end of the game when he could have used timeouts to score again. I believe there are two reasons for this:
1) Saban has never been a guy to run up the score. He wants to end games before something horrible happens to rip a win away from the team.
2) With all the miscues all over the field, he was in a rush to "talk" to the kids in the postgame. (He has a 24-hour rule about negative feedback, so he's essentially on a "yelling clock.")
The only blemish on the coaches' performance was the fact that Brady Hoke found a new Denard Robinson at halftime that Bama couldn't answer for the first half of the third quarter. (That can't be blamed on the coaches, because it was failed execution on the field.)
Coaches' Overall Grade: A+
Keep Reading

Alabama Crimson Tide Football: Like this team?